Pokémon Go was mere child's play. An exciting influx of new augmented-reality-enabled apps designed expressly for the home is making waves this week thanks to some newly debuting technology from Apple. ARKit, a software development framework designed for developers to make AR apps, may not be of much interest to the average smartphone user. But AR, the technology that places virtual objects into the smartphone user's actual reality using the phone's camera, is set to transform the way designers and consumers shop for the home.
Take a look at what's out there:
Over 2,000 products will be available at the launch of the IKEA Place app this month, and the brand says that in the future the app will be an important part of launching new lines.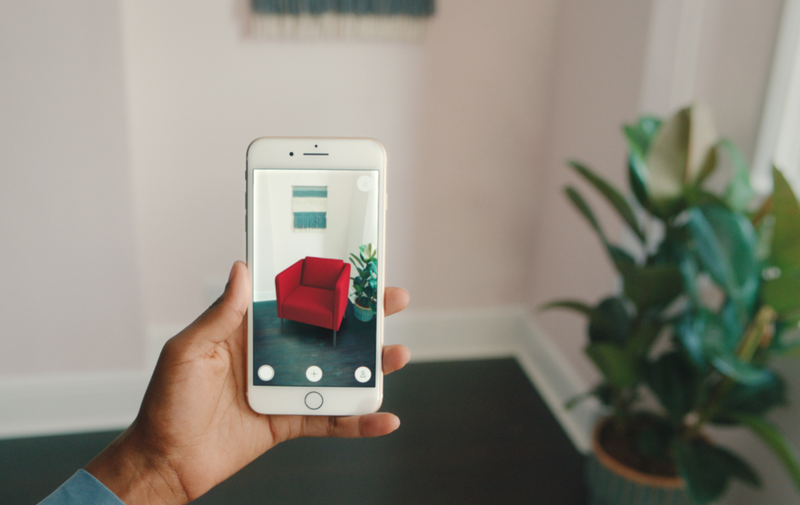 "IKEA Place makes it easier to make buying decisions in your own place, to get inspired and try many different products, styles and colors in real-life settings with a swipe of your finger," says Michael Valdsgaard, leader of Digital Transformation at Inter IKEA Systems. "Augmented reality and virtual reality will be a total game changer for retail in the same way as the internet. Only this time, much faster. ARKit gives us the opportunity to help shape the development of AR as an accessible tool for real-life decision making."
All of the products in the IKEA Place app will be 3-D and appropriately scaled. Users will also be able to capture the image within the app and share as an image or video with friends, and purchase the products directly through the IKEA website. The products in the first release include larger furniture for the living room: all sofas, all armchairs, all footstools, all coffee tables and top-selling storage solutions that can be placed on the floor.
Anthropologie's app now offers users the ability to design pieces to their specifications and preview them in real environments. Scale and color accuracy are nearly 100 percent.
The app, which also features high-quality, 3-D, 360-degree CGI images, is enabling a new level of customization. "As much as our customers delight in personalization, custom furniture design can be challenging," says Andrew Carnie, president of Anthropologie Home, Garden and Europe. "It involves an incredible number of considerations and represents a significant financial investment. As we made more customization choices available, we recognized they needed to understand not only how a piece would look, but how it would look in their homes."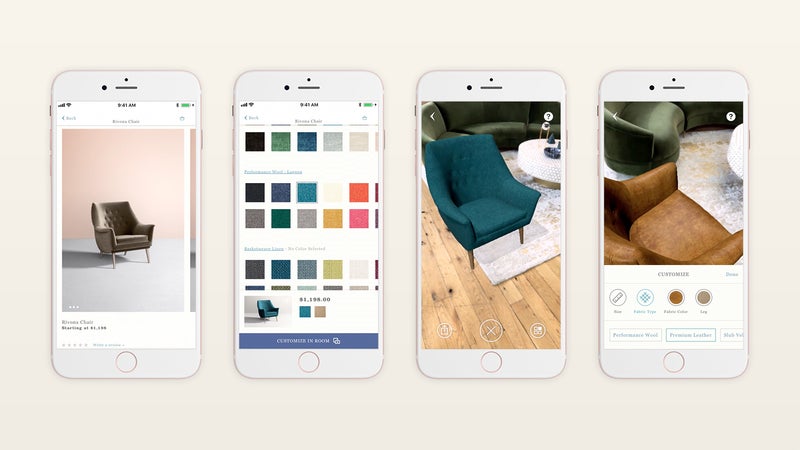 The AR feature will be available for use with 42 custom furniture styles. The brand's remaining styles will be added by October.
"We're dedicated to using technology in ways that bridge the gap between online and offline realms to meaningfully impact customer experience. Our new digital tools will complement physical resources like our stores and home personal stylists to present the full range of furniture customization opportunities and to give customers the confidence they need to enjoy them," says Carnie.
Houzz's upgraded ARKit-enabled app lets its users virtually arrange some 500,000 home furniture, decor and remodeling products. The new upgrade also means that via a feature called View in My Room 3-D, users can "walk up to products to see realistic materials and textures, which display according to the room's ambient lighting using the device's camera."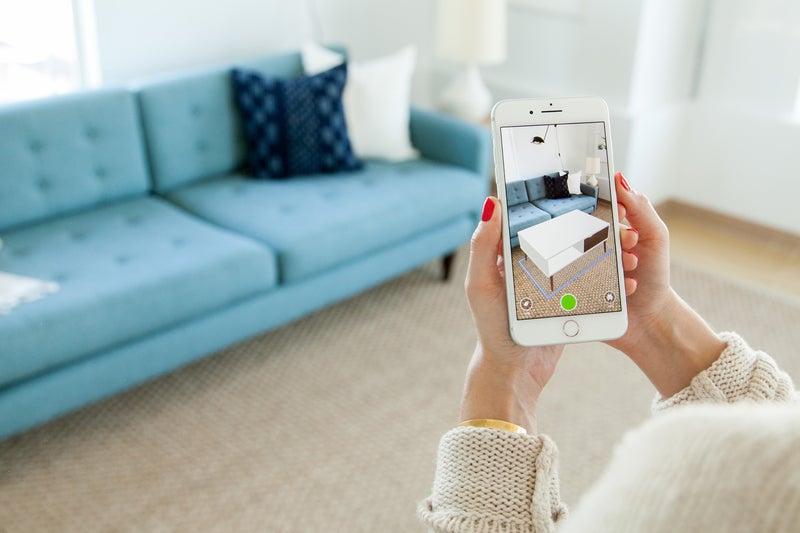 The upgrade, which, like the app, is fully integrated with the Houzz platform and its features, also lets users add multiple, true-to-scale 3-D products to their rooms.
"We've created a true AR-enabled home design and shopping experience where you can experience the largest 3-D product catalog available in your home, and also buy the items you love directly on the Houzz app," says Alon Cohen, Houzz president and co-founder. "At Houzz, we're focused on building tools that transform how you renovate and design your home and that deliver the single best experience for this industry."
Two new apps from The Mine and its parent company, Lowe's Company, have debuted: Measured by Lowe's and Envisioned by The Mine. Measured by Lowe's uses the iPhone (6S model or newer) camera to allow users to measure anything and save it for later. The app can be used to calculate, align, layer and filter measurements, from the height of a ceiling to a particular decorative object. "We learned how much we actually measure on a day-to-day basis, and set out to create a beautiful device that would help people quickly and easily measure moments, and not just moments in home improvement, moments in life," says Gihad Jawhar, vice president of Digital at Lowe's. "The app's versatility and ability to address virtually any consumer measurement need, with both accuracy and an entertaining user experience, is pretty incredible."
Envisioned by The Mine, on the other hand, is a shopping app built specifically for ARKit compatibility for iPhone models 7 and above. App users browse The Mine's catalogue and place accurate-to-scale 3-D versions into their rooms and can also modify, rotate and duplicate their selections, as well as capture images, share and purchase product. The app integrates with the site. Michelle Newbery, president of The Mine, says, "Our customers come to The Mine for a seamless, high-touch shopping experience that combines design-inspired home furnishings with a personal-concierge level of service. With our new app, designed in partnership with Lowe's Innovation Labs, we're taking this virtual showroom a step further to build customers' confidence before they buy."

"At Lowe's, we believe in harnessing the power of technology to solve everyday problems," concurs Jawhar. "Beginning with the Holoroom debut in 2014, to the launch of Lowe's Vision last November, to the introduction of In-Store Navigation in March, Lowe's has been at the forefront of exploring how mixed-reality technology can enhance the customer experience. So, we were immediately on board to expand this capability into Apple's ARKit to address some of the most common visualization barriers: measurement and design."
Interior designer tool Morpholio has debuted two new exciting developments. For starters, it has added AR to its Trace app: a new drawing tool that lets users apply virtual perspective grids to any environment. "The uses for Perspective Finder are as endless as the opportunities that AR has opened up," says Morpholio co-founder Anna Kenoff of the technology. "Stand in your kitchen to sketch a renovation, or in an open floor plan to layout a new office space. Look down over a plaza, garden or streetscape to cast a grid and create a new landscape or planting plan."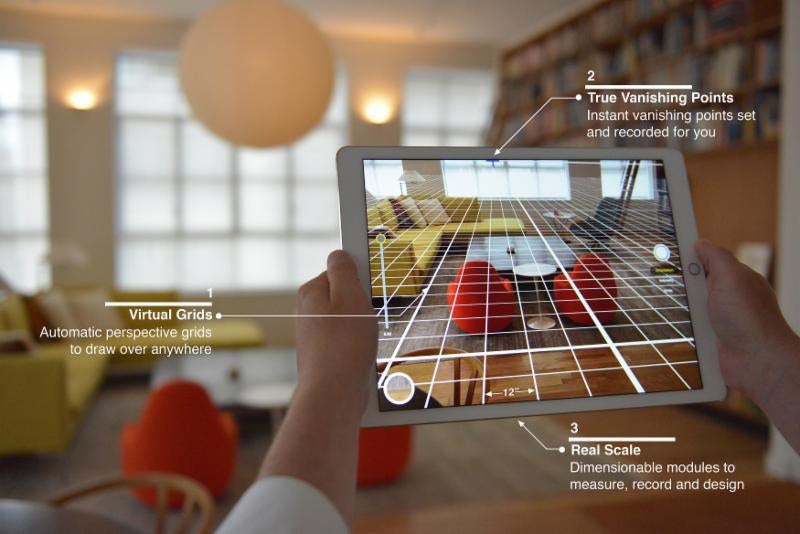 Additionally, Morpholio is debuting AR Color Capture, a new feature of Board, its mood board and inspiration app, for the iPhone and iPad. The new tool lets users sample and record colors from real life, from their phones, turning the found color into a swatch and helping users source products in that shade. "For decor, furniture and style, color is at the heart of many design processes—especially in the interiors world," says Kenoff. "Using ARKit, we were able to develop the Color Capture tool, and a color-themed search feature called Color Seed. Users can now explore color in various dimensions and then discover matches in our extensive catalog of products."
But is the ARKit-related hype overblown?
Shanna Tellerman, founder of Modsy—a web-based platform that's also mobile-optimized and lets users visualize, three-dimensionally, home furnishings within their own homes (and also provides designer recommendations)—says the technology is revolutionary. "ARKit will change the way we shop for everything, including for our homes, because consumers have a difficult time with even basic visualization. We have a hard time imagining the color of a car, how that item of clothing will look when we try it on, what the paint will look like on the walls, and what the scale of an item is without a scene around it," she tells EAL.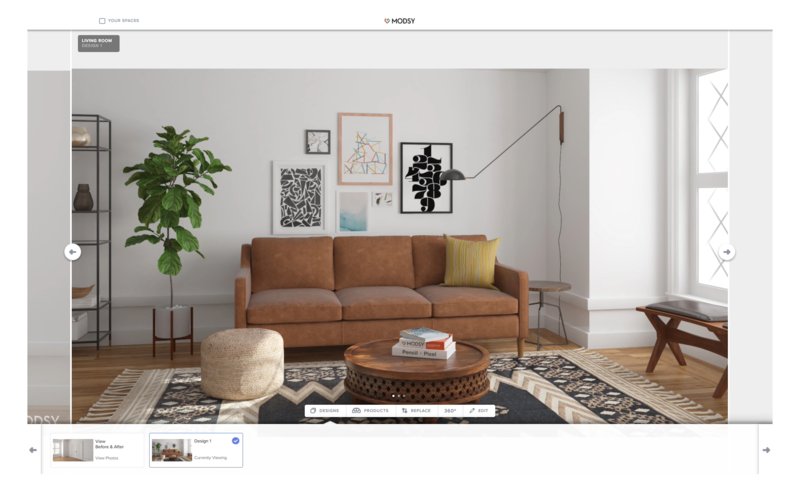 Hutch, which virtually decorates a photo of a room, is currently building an AR feature that will allow users to pull products into their spaces. Hutch CEO Beatrice Fischel-Bock notes that the marketplace's adoption of AR is a positive sign on the whole. "It is very promising that this is where the market is moving," she weighs in. "We have known that visualizing furniture in your space is a valuable step in the buying process for a very long time. These are good signals in the market of where the industry is going. Our approach is more consumer friendly and approachable by showing what you can have in scale and curated by our expert designers. ... AR is an add-on [for Hutch], not a core experience."

ARKit apps are great for shopping for a single item, but fail to beautifully demonstrate the way multiple items look together. —Shanna Tellerman, Modsy
The technology is also not a complete solution. "ARKit does not solve all of the problems of visualization for home design. In its current state, ARKit apps are great for shopping for a single item, but fail to beautifully demonstrate the way multiple items—a rug, couch, and side tables, for example—look together," Tellerman explains. ARKit apps, she points out, are also "do-it-yourself," and don't proffer human advice or recommendations the way a service like Modsy does.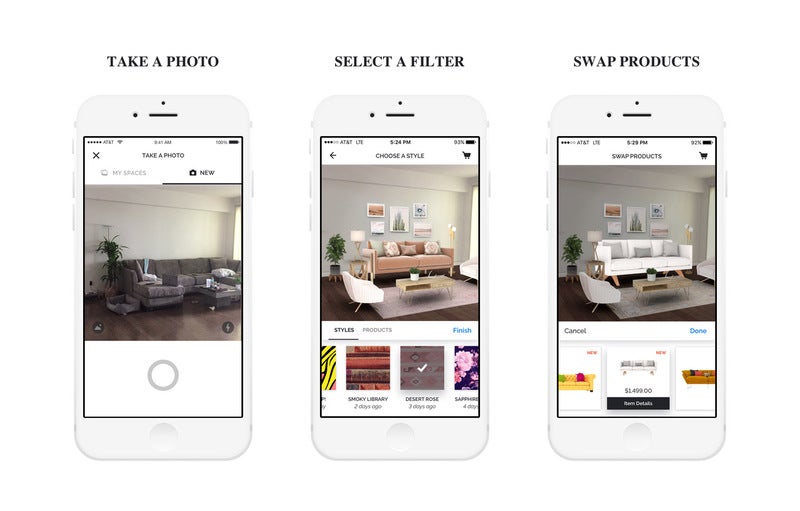 The tech is delivering a badly needed kick in the pants to an industry that, as Fischel-Bock says, "for too long has been untouched by technology and any form of disruption." Yet, like Tellerman, she also highlights the industry's perennial need for a distinctly human touch. "Design has and always will be something creative that goes far beyond making sure a piece of furniture fits. AR doesn't tell you what piece will go with your taste and current decor." Hutch is using AR at the final stage of its design process, once key decisions (ideal style, budget and vendors) have been made. "Clients still need the tools to get them to that end point."
It is a point that perhaps even the retailers themselves would concede; yet the greater implication has more to do with retailers moving the needle forward, one sofa at a time, than with particular app features. As IKEA's Valdsgaard put it, "Now, technology has caught up with our ambition. AR lets us redefine the experience for furniture retail once more, in our restless quest to create a better everyday life for everyone, everywhere."