Next Level is a labor of love—for the design work, and between the project's collaborators. Six thousand square feet in New York's NoHo neighborhood is home, at least until May 23, to a contemporary design gallery curated and hosted by Asher Israelow Studio, Patrick Weder Design, Hart textiles, Here Projects, and Eskayel, featuring pieces from 11 additional artists and designers, including Huy Bui, Avo, and Fort Standard.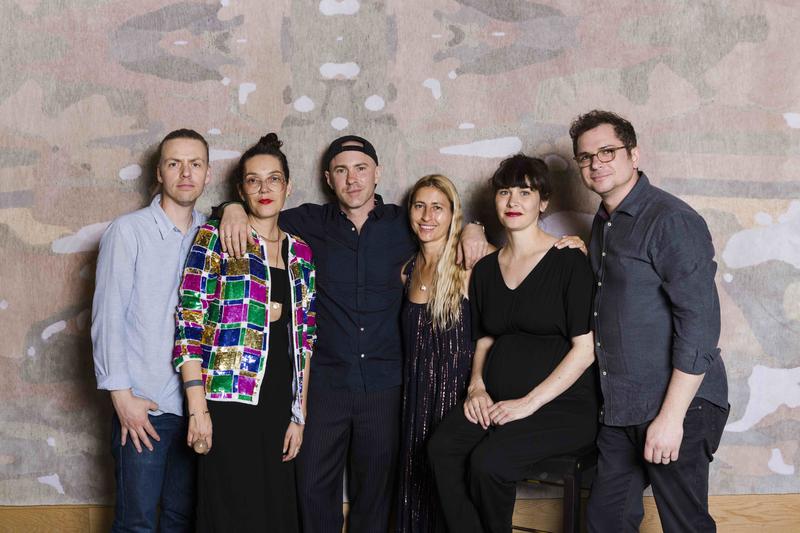 The main players just so happen to be couples. Jamie Israelow, Asher's wife and one of the project's organizers, explains: "Most of the contemporary designers in New York and the surrounding areas are friends. We share resources and material sources, suppliers, and even workspace. Why not show our work in an environment that reflects and celebrates that?"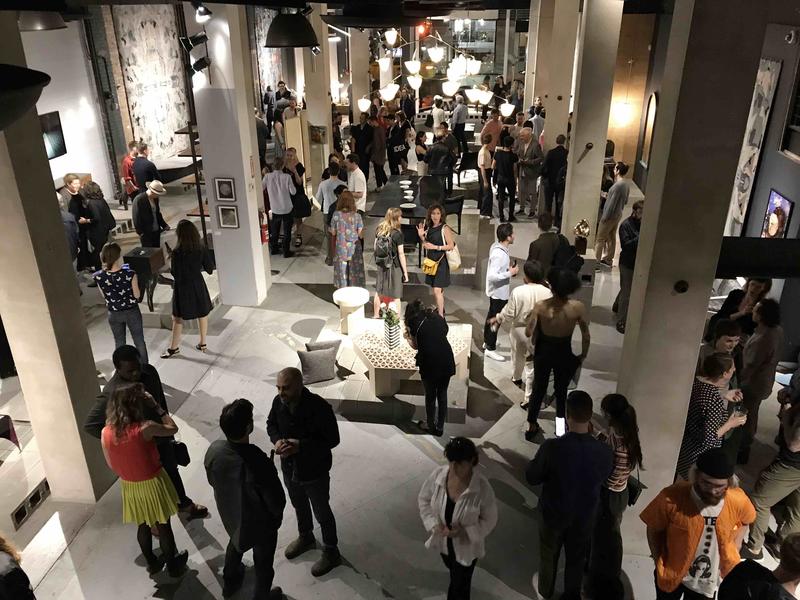 Among the pieces on view are Fort Standard's stacked stone vessel, Andrea Claire Studio's porcelain-brass chandelier, an elegant room divider created by Asher Israelow and Hart, which is run by Jamie Israelow, and Eskayel's new line of silk and merino rugs. There is also work from Kin and Company's newest line, a new lounge chair and table from Token, ceramics by Philadelphia-based Felt + Fat, photographs from Ghost Curatorial's first-ever collection of prints, bronze sculptures by Dorian Goldman, and an upholstered leather chair, the product of a collaboration between Avo and Asher Israelow Studio.
Jamie Israelow of Hart and Shanon Campanaro of Eskayel took a break from the launch madness to walk EAL through the show:
What are your favorite pieces (other than your own) in the show?
Jamie Israelow: Patrick Weder's square coffee table. I don't know how he does that with concrete. Patrick has a background as a sculptor, and he hasn't compromised an ounce of his artistic nature in creating functional furniture. Kin & Company's Phase Pendant light. I need it. Now. Eskayel's Mamoun rug—there's something so subtle and also so bold about it at the same time. Simone Bodmer-Turner's ceramic vases (part of Here Projects). I bought one for myself.
Shanan Campanaro: I'm in awe of Patrick Weder's work. I love how he mixes organic forms with such precise craftsmanship. Each piece is a work of art and incredibly beautiful, and I especially like how his work sits with my rugs. I'm trying to convince him to let me make payments on a console for my apartment! I also love Asher's coffee table with the cosmos-looking inlay and his new side table with the marble top. I love how his architecture background informs the dynamic shapes of his pieces. And I really loved seeing Andrea Claire's giant chandelier installed in person. We have been surfing buddies for a while, and on drives out to the beach, I have heard countless stories about all of the technical details that go into fabricating and installing one of these pieces but had yet to see one in person. It is so beautiful in the space.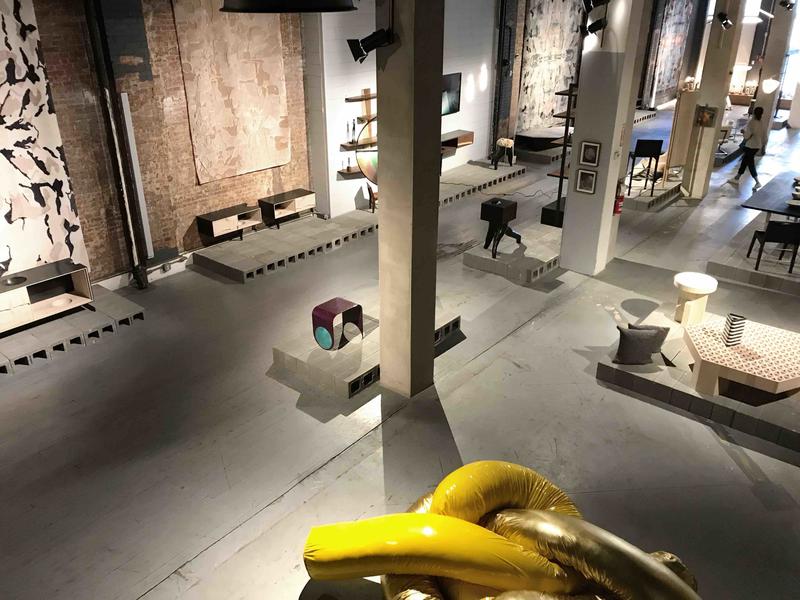 How did you come to be involved?
Jamie Israelow: A group of us have been throwing around the idea of doing a pop-up showroom during design week instead of a trade show for a while now. In essence, we wanted to control the narrative of the show experience and celebrate the ecosystem of New York design instead of showing in segregated booths. My husband, Asher, mentions this idea every year, but when he very seriously floated the idea by me with an actual space in mind, I was excited to jump in and help in any way I could.
Next thing knew, we were on a conference call with Nick [Chacona, of Eskayel], Shanan, Patrick, and Tamika [Rivera, of Here Projects]. There has been a nice division of labor, with each of us six lead designers (three couples) taking the lead on whatever we are each best at. Asher and I have known Patrick and Tamika for years, and have collaborated on various projects with them before, in official ways like organizing a Brooklyn designer sample sale, and less formal ways, like spending a weekend stacking wood for winter (which Patrick is exceptional at). I only just met Nick and Shanan of Eskayel (Asher has known them longer), but was immediately amazed by their super-laid-back attitudes and simultaneous drive and willingness to get things done.
Shanan Campanaro: Last year in Milan, Patrick, Asher, Nick and I hung out a lot and I think we were really inspired by how work was displayed in raw, empty spaces around the city as part of the Fuorisalone (outside of the main trade show grounds). It was inspiring to see work in that context and not see the work in the sterile trade show format. We all kind of dreamed of doing something like this in New York, but it is incredibly difficult to get a space—and it can be really expensive. When Patrick and Asher secured the space we used for Next Level, they knew we had a rug collection that we wanted to launch and thought it would be a perfect complement to the furniture they were planning to show.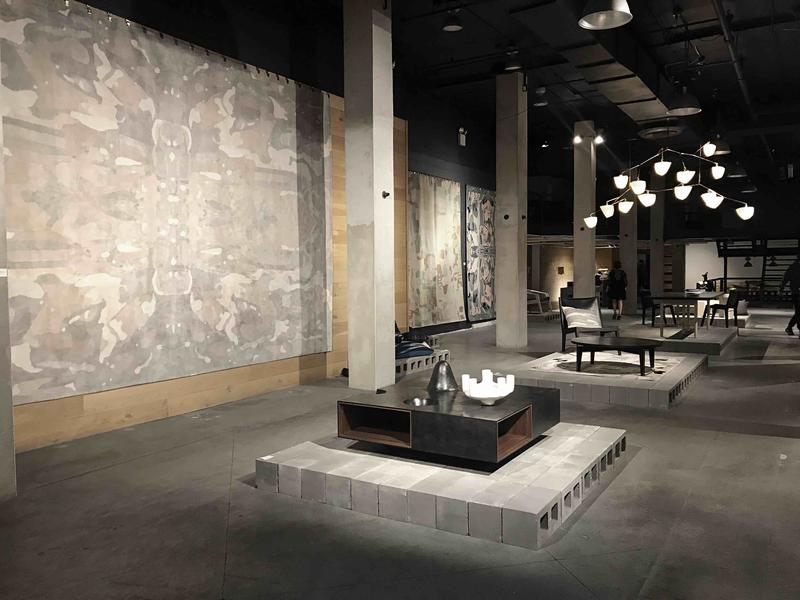 Why do you think the show works? Do you attribute it to similar values, aesthetics, or other qualities?
Jamie Israelow: It works because we are all aspiring to be somewhere between art and design. We create work that is true to a vision that is as enjoyable to live with as it is to make—the experience of the object is as important as the aesthetic. Craft and quality are key, as is experimentation and a real love of materials. All of the work in this show fits this description.
Above all, though, I think the show works because we all really like each other's work. We started with an idea to showcase just the five main design brands (Eskayel, Asher Israelow, Patrick Weder, Here Projects, and myself, Hart textiles), but as we looked at the space and started imagining what we could do, we organically ended up inviting 11 of our favorite people whose work we know intimately and love to join us. We told them that anything they submitted to be shown had to be "next level." And everyone delivered.
Shanan Campanaro: We all really value handmade artistry that is timeless, that lives outside of trends. I think each host brand has established a creative language that is recognizable, but we are also trying to push the boundaries of what we are doing and continue to be innovative. The other designers we chose to include have work that we are really impressed by, and we think it falls into that category of "next level" work. We were really careful to keep the vignette tight and not have too much overlap in each discipline—textiles, furniture, lighting, carpets and accessories.
Next Level runs daily through May 23 from 11 a.m. to 7 p.m. at 718 Broadway, New York.