Phoebe Howard was already a successful business owner, managing five home decor stores across the South, when Buddy Sherrill first approached her at High Point in 2012 to … well, we'll let her tell the story. Suffice it to say, the Mr. & Mrs. Howard label has been a staple within Sherrill Furniture ever since. In the perfect right brain–left brain partnership, Phoebe brought the savvy of a buyer and vendor to the proverbial table that her husband, Jim—the titular "Mr." of the brand—designed.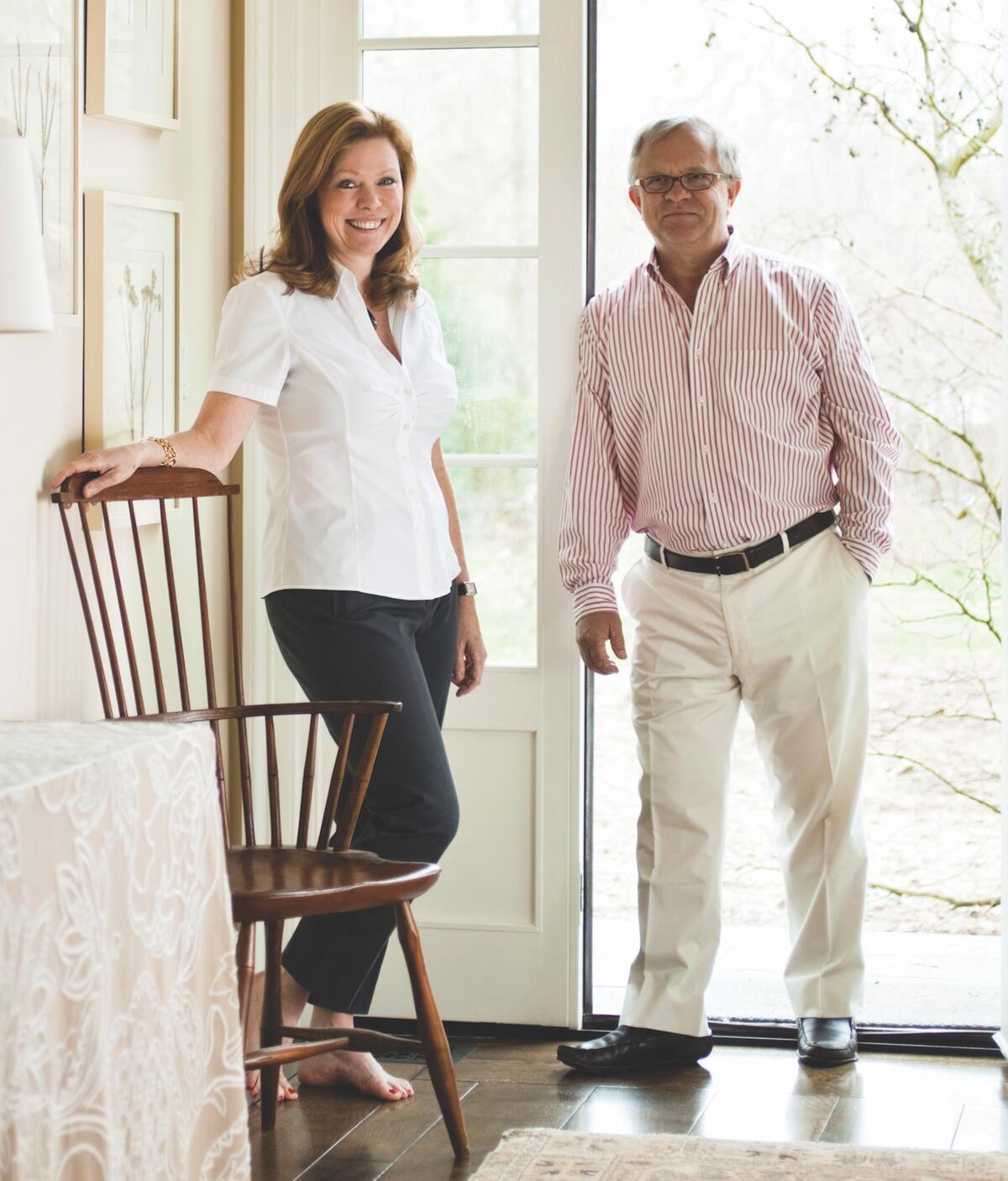 Courtesy of Sherrill Furniture
The couple's portfolio of traditional yet on-trend pieces includes upholstered sofas and chairs, beds, desks, case goods and more, sold through Sherrill dealers, designers and at dedicated Mr. & Mrs. Howard retail locations in Florida, Georgia and North Carolina. While continuing to refine their own diverse collections with intricate details like tapered legs and marble tops, the Howards have also extended their dynasty to the next generation: Nellie Jane, their daughter's eponymous new capsule line, reflects Turkish Revival influences and a retro millennial penchant for ruffles. In anticipation of this month's High Point Market, where Sherrill and Veranda will host a party on Friday to fete the brand's 10th anniversary, Phoebe Howard takes it back to the beginning with a top 10 list of memories, then turns it up to 11 with one more bonus moment.
1. A BRAND IS BORN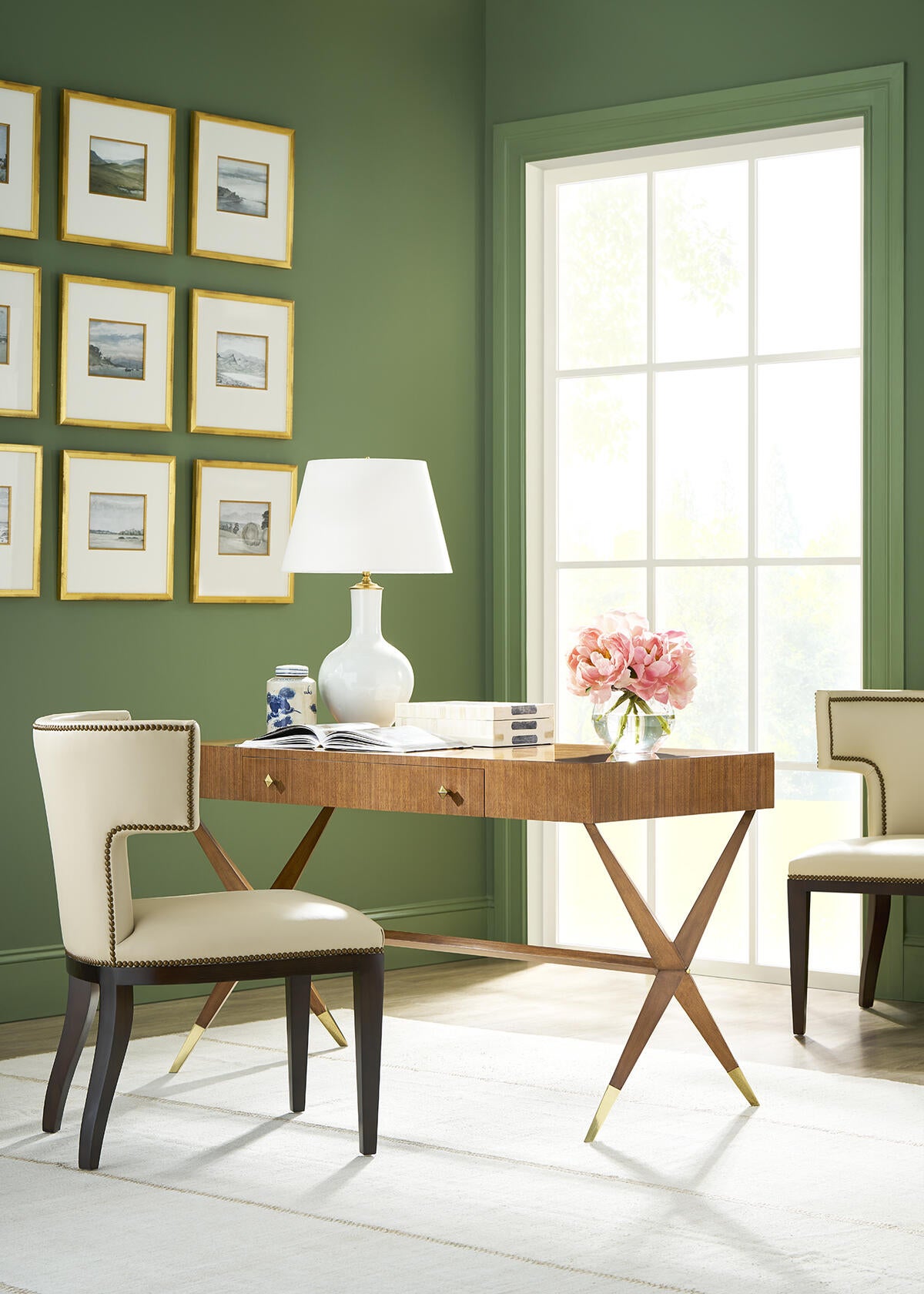 Courtesy of Sherrill Furniture
"It all began when Buddy Sherrill started calling my Atlanta store weekly, asking to speak to me. The famous Atlanta decorator Dan Carithers was a friend of mine and used to shop in the store all the time. He'd done a beautiful line for Sherrill that I loved and bought. Sadly, he had begun to suffer from Alzheimer's, and in the months before he passed he'd told Buddy that I was the only person who had the taste to style his showroom. But I was not the least bit interested. The girls in Atlanta were like, 'You have got to call this guy back. He's not going to give up.' So I went down to High Point to meet him. I said, 'Buddy, I can't do Dan's showroom, but what's all this empty space above yours? Why don't we do a line of furniture instead?' From our first conversation to the opening of the showroom it was four months."
2. THE INCREDIBLE BUDDY SHERRILL
"Meeting Buddy Sherrill was like meeting the king of High Point. He was charming. He was witty. He had a great biting sarcasm about him and sparkling blue eyes. Literally the seas of people would part at Market when Buddy Sherrill walked by. He was something else. That first meeting, I thought, 'I don't know who this guy is, but I've got to have a part of it.' And he took a leap of faith with me."
3. SHE SAID, HE SAID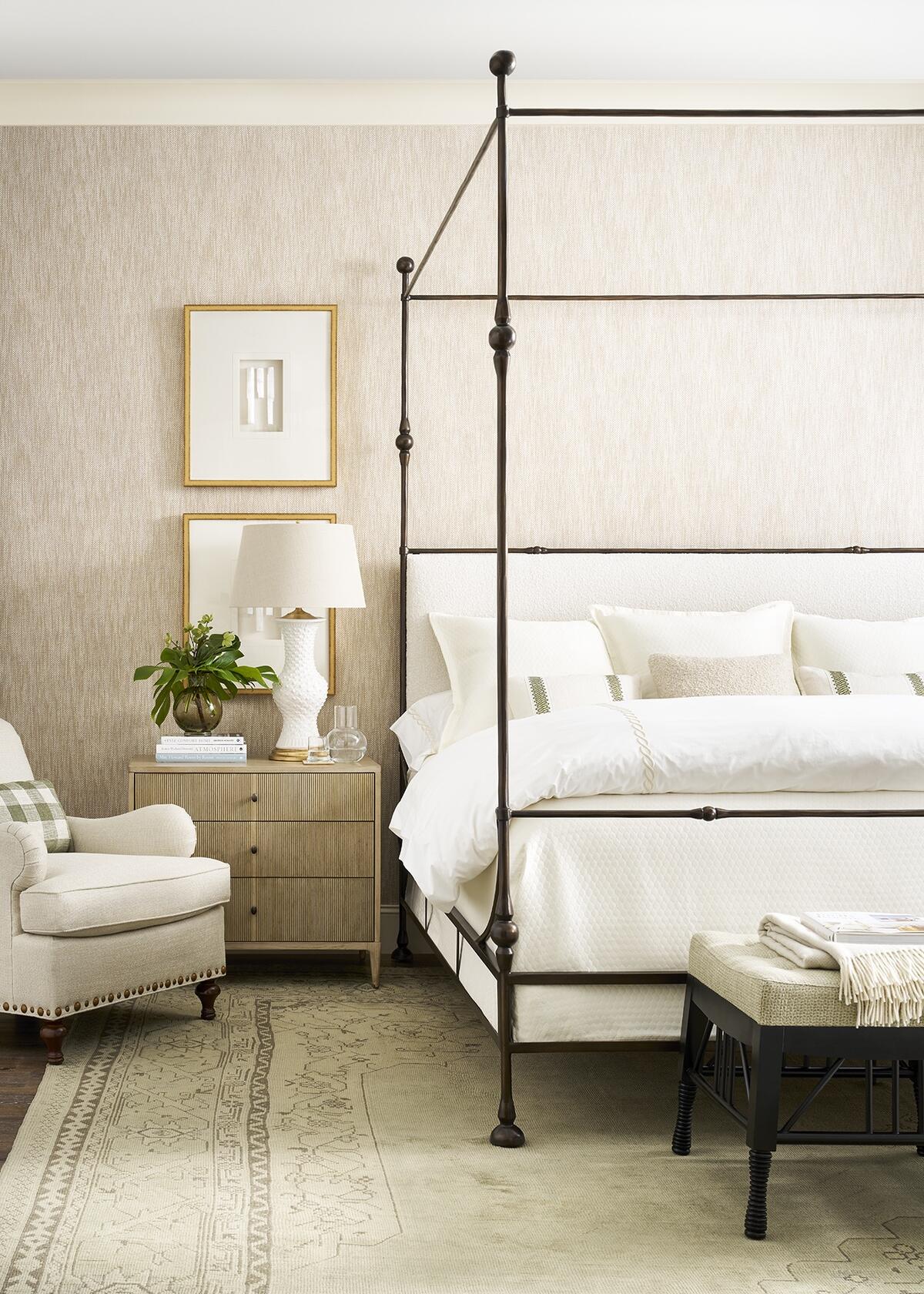 Courtesy of Sherrill Furniture
"I don't design the furniture, Jim does. After that meeting with Buddy, I went home and said to my husband, 'OK, you've got to create a line of furniture.' And he's like, 'What?' I'm like, 'Yeah, and fast.' He did it, and then wanted to call the line 'Mr. Howard' because I wasn't really involved other than being the salesperson. And Buddy said no. Jim was like, 'Wait, I'm doing all the work.' But I said, 'The name of my store is Mrs. Howard. There cannot be a separate Mr. Howard.' So we decided we would name it Mr. and Mrs."
4. HECTIC HIGH POINT
"Going to High Point is like going to war. And I've been going for 35 years. Nobody understands how hard it is, how much there is to see and all the walking. Everyone is in the trenches together. I did gain a unique perspective once we opened the Mr. & Mrs. Howard showroom, being both a buyer and now a vendor. It gave me much more compassion for the other vendors, who have to set up their showroom in a short amount of time, run it, then break it down again a few days later. Once we had the showroom, I still had to buy for my five stores, so Jim and I would take turns: He would man the fort while I was out and about."
5. HOW SHE MET HER HUSBAND
"We've been married for 36 years and met about 38 years ago. I was working in a clothing store in Jacksonville, Florida, and he was hired to redesign the dressing rooms. He called and asked me out and the rest is history."
6. HOME SCHOOLED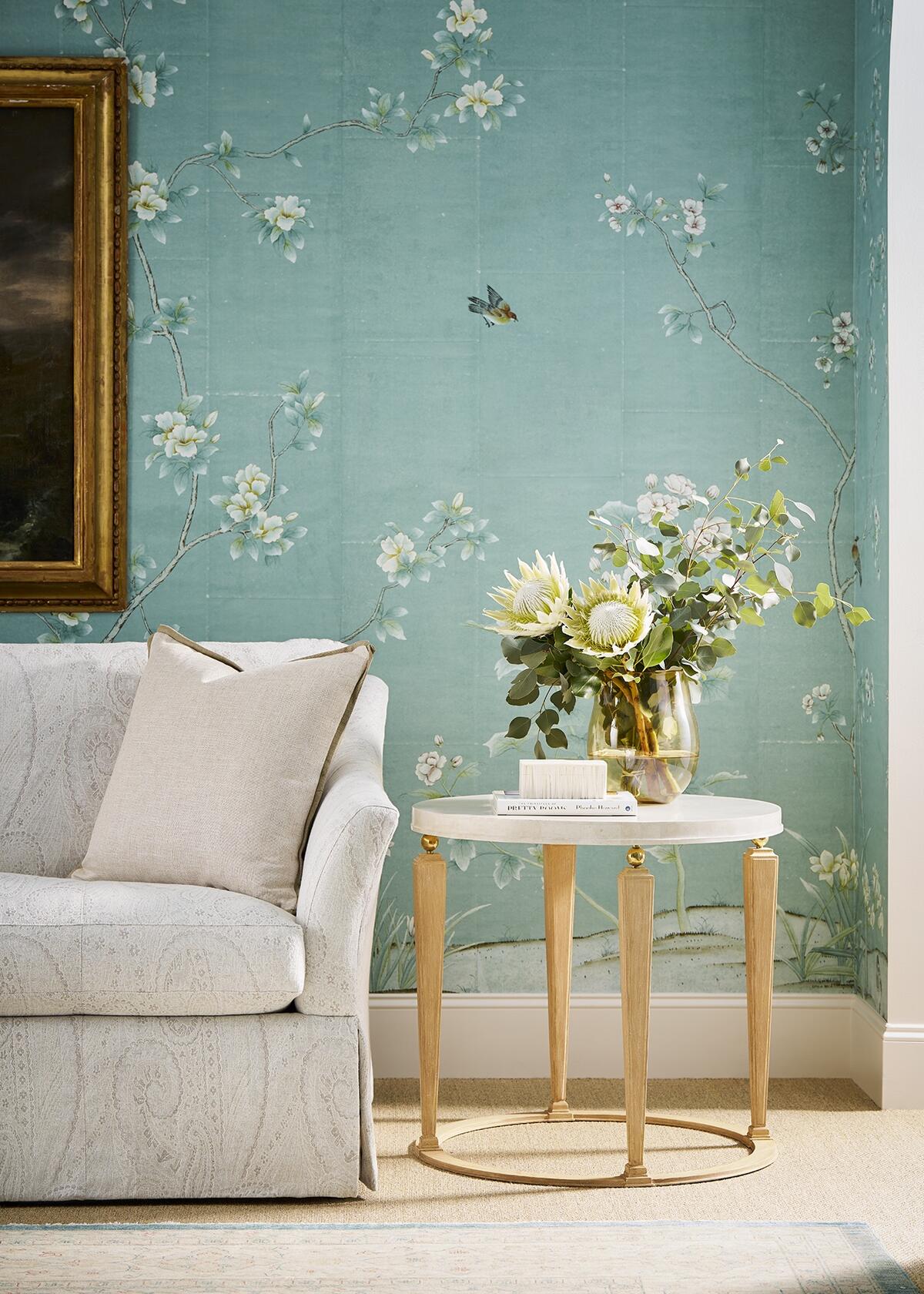 Courtesy of Sherrill Furniture
"I just love my stores. They're like my design laboratories, because I've never attended design school or worked for another designer. I taught myself how to put together a room, and that eventually evolved into me becoming a designer—sorry, a decorator; I prefer to call myself a decorator. But like anybody else in the industry, Jim and I like to see what's going on in the world, what the trends are and whether we're going to have anything to do with them."
7. THE COLLABORATIVE PROCESS
"Jim designs and I have my retail business, so we're our own clients, all the time. It gives us an awareness of what's missing, what the gaps are in the market and how we can fill those voids. In the beginning, on top of designing, Jim was also putting the showroom together, and it got to be too much, so I've since taken over the setup. Now he asks me for more input on the furniture. Every year he puts a stack of images in front of me and asks what I think about each piece, which we should add and which we should not."
8. A DESIGN THAT HAS STOOD THE TEST OF TIME
"The South Hampton is a four-poster bed with removable posts, so it can be a low-post or high-post piece, and it's been an amazing seller. It's something we love having in our line. We're super Southern, so we've always been pro four-poster beds. We've never wavered on that."
9. A STYLE THAT TOOK HER BY SURPRISE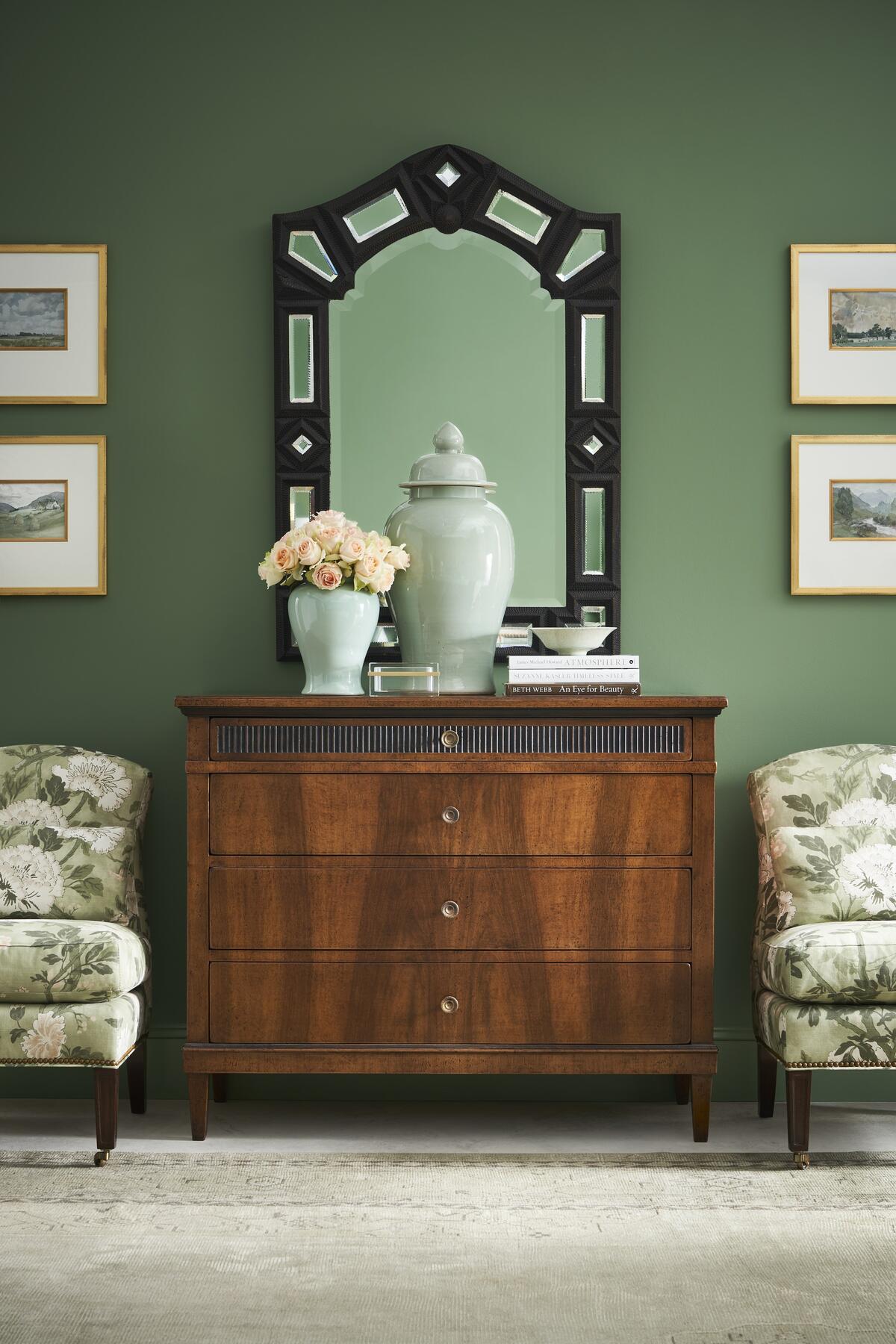 Courtesy of Sherrill Furniture
"Most of our pieces are traditional, comfortable and informed by movements such as French classicism or coastal modern. Years later, I still like them. Whether or not it sells nationwide is what determines if an item stays in the line. But there are trends I didn't expect to participate in. Curved sofas—I never thought I would have any part of that. And now we have curved sofas in the line!"
10. AT THE ANNIVERSARY PARTY
"I would like to toast Buddy Sherrill for giving us a wonderful opportunity and having been such a caring and generous partner, and his son, Charles, for continuing to run the company in such a great way in his father's place. I feel very fortunate to be partners with Sherrill Furniture. The team doesn't ever try to restrict our creativity. They're very experimental and open to new ideas, which makes for an amazing relationship."
11. LIKE MOTHER, LIKE DAUGHTER
"It's so gratifying as a mother to have your daughter follow in your business. She runs my stores. She's becoming a designer herself. She's got her own clientele now. And to see her have a collection within our collection is so exciting because we're a family business operating inside of another family business. Nellie went to Charles Sherrill and said, 'I'd like to do a collection.' He said, 'OK, put something together.' Bing, bang, boom! The Nellie Jane line is her own style. It's her own flavor. It's a little grandmillennial, maximalist, with a lot of ruffled skirts, box pleats and scalloped trims. And it's feminine. It's been a wonderful complement to the Mr. & Mrs. Howard portfolio."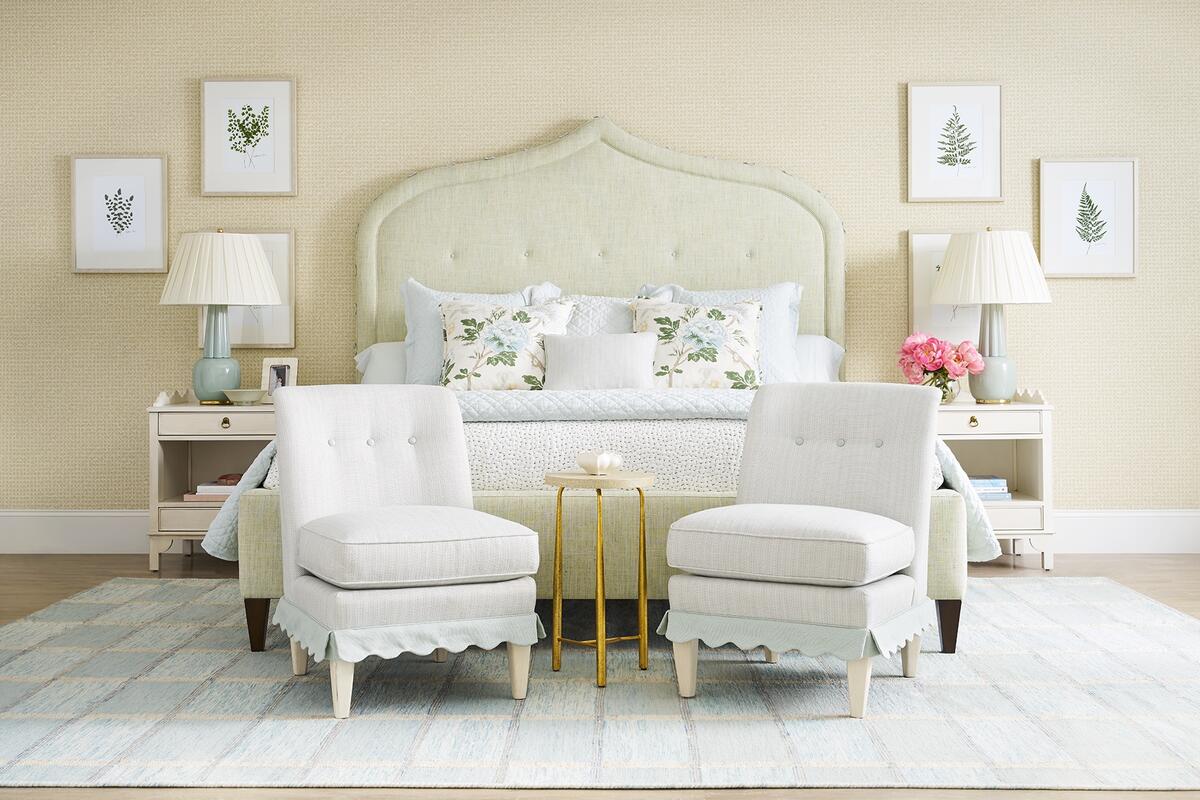 Courtesy of Sherrill Furniture
Visit the Mr. & Mrs. Howard showroom at Sherrill Furniture, 315 Fred Alexander Place, Floor 2, on Friday, October 13, at 5 p.m. for a party hosted by Veranda editor in chief Steele Marcoux celebrating the brand's 10th anniversary.
This story is a paid promotion and was created in partnership with Mr. & Mrs. Howard for Sherrill Furniture.
Homepage image: Mr. & Mrs. Howard's portfolio of classic yet contemporary furnishings incorporates elements of interior styles such as midcentury and coastal modern; anchored by the Letitia buffet, skirted Yves chairs and a curved-arm sofa surround the Turin coffee table | Courtesy of Sherrill Furniture