A light installation composed of redwood beams—carbon dating says they're three centuries old—salvaged from a downtown Manhattan water tower has garnered much attention and taken home NYCxDESIGN's Best In Show honor for the year. "Ambassador," a 16-foot-wide by 8-foot-tall installation by lighting brand Stickbulb in collaboration with RUX, radiated an arc of light over attendees at the Collective Design Fair, held at Skylight Clarkson Sq.
Nearly 150 beams were salvaged for the installation, which was designed to reflect the towering redwoods characterized in John Steinbeck's book Travels With Charley. (In the classic, the author writes, "The vainest, most slap-happy and irreverent of men, in the presence of redwoods, goes under a spell of wonder and respect.")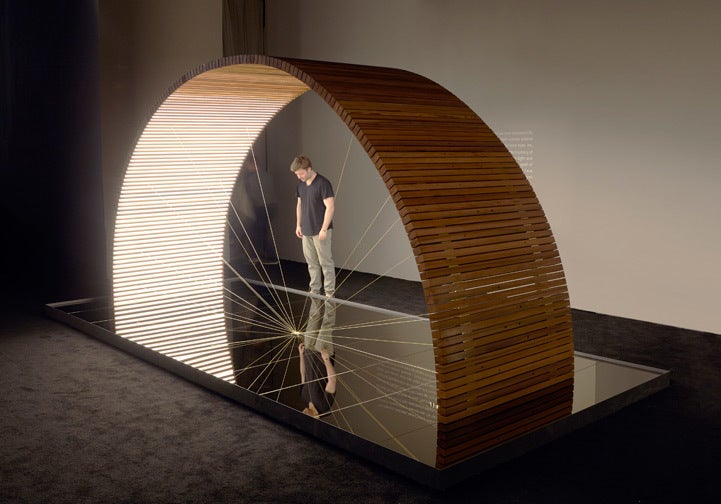 The NYcxDESIGN Awards, the second-annual competition from Interior Design magazine and ICFF, is designed to highlight top products and projects across New York's month-long design fest. The Best in Show categories were originally intended to source the best of each anchor show (WantedDesign, Collective, ICFF) but this year folded the three categories into one, with Stickbulb honored as top dog across the three shows.
A panel including David Alhadeff of The Future Perfect, Emmanuel Plat of the Museum of Modern Art, Clodagh, Clive Wilkinson, Mark Zeff and other global and New York–centric design and architecture notables was tasked with choosing winners from this year's selection of some 700-plus entrants, spanning two categories: product (wallcovering, lighting, furniture and more) and project (such as boutique hotel, health and wellness, and urban landscape).
Winning firm Stickbulb was founded five years ago by Yale School of Architecture graduates Russell Greenberg and Christopher Beardsley and has been rooted in the pair's passion for architecture, modular systems and sustainable manufacturing. Stickbulb has worked with brands including Google, Facebook and Whole Foods, in addition to creating private commissions for hotels, offices and residences.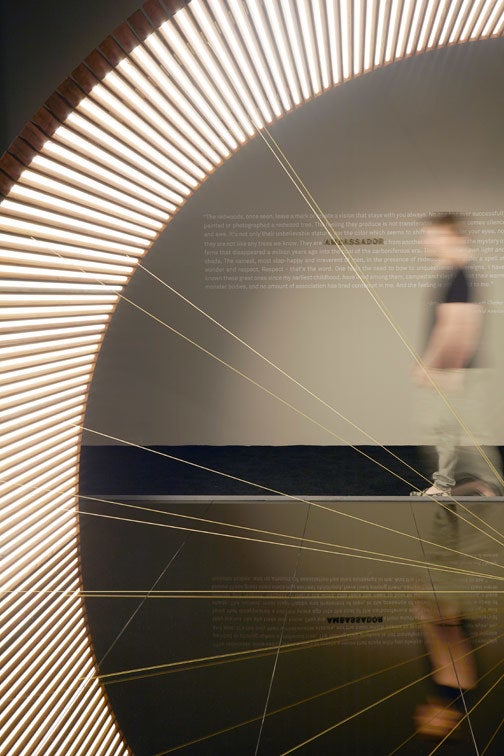 The brand's LED fixtures are designed by RUX and made in New York, from reclaimed materials found locally via demolished buildings and sustainable forests.
For the "Ambassador" installation, Stickbulb sourced locally: As co-founders Greenberg and Beardsley tell EAL, "The construction and dismantling of water towers in New York is scheduled and methodical and there is a market for the reclaimed wood, for sure. Following a lot of research and development, we've developed strong local relationships that allow us to get access to select material that is optimal for the fabrication of our products. A big part of our business and philosophy is sourcing beautiful reclaimed wood that has a meaningful and poetic history."
Is it typical to see water-tower wood as old as the wood featured in their installation? "Not all water towers are made from redwood, but for the ones that are, yes, it is typical to see material that old," the team explains. "Redwood trees can grow for centuries, and by the time the material has reached the end of its useful life as a water tower (between 30 and 40 years), the wood itself has been around, either as a tree or a tower, for quite a long time."
Stickbulb's work wasn't the only piece inspired by literature to earn accolades from design critics: Best in Show honoree Bae Sejin's ceramic "Waiting for Godot" sculpture was based on the play by Irish novelist Samuel Beckett.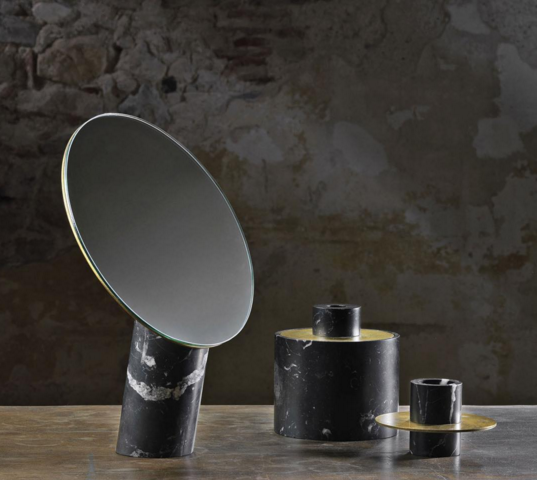 The piece appeared at Collective, alongside contemporary ceramic, glass and bronze works of art from other J. Lohmann Gallerydesigners, like Erna Aaltonen, Halima Cassell, Sandra Davolio and Sidsel Hanum. "The lapse of time involves duration, repetition, transformation and circulation," Sejin told the gallery of his sculpture. "It is continuous, repetitive and circular. Working with clay as a natural material is unifying the time of nature and human existence. I think the essentiality of the clay material is the passing of time and I work with this material to reveal the lapse of time through a continuous repetition of labor."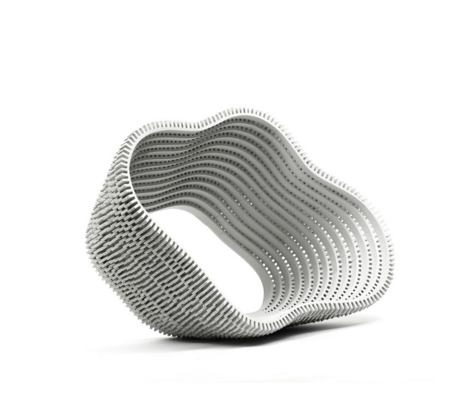 "This continuing repetition helps me to overcome the alienation of human beings and to discover myself by the super temporal experience," Sejin added. "In the boundary of art, a study of the lapse of time is ultimately a study of the human. Samuel Beckett revealed the passing of time in nature in his play Waiting for Godot, in which the two main characters are repeatedly waiting for Godot, who never arrives. Beckett's play becomes the motivation for my work."
With his inaugural participation in Collective, Sejin, who hails from South Korea, exhibited his porcelain sculptures in the United States for the first time.
The other Best in Show honorees included one of the top debuts at ICFF, Desco Collection by Italian marble brand Pibamarmi, a partnership with designer Vittorio Longheu that is rendered in stone, marble and brass and comprises accessories including a mirror and candlestick; and furniture designer Louis Lim of Makingworks, in collaboration with 3form, who was celebrated for Mobius, his bench-meets-lighting experience. The interactive furniture collaboration, shown at WantedDesign Manhattan, was the result of Lim's five-week residency at 3form's Salt Lake City headquarters and factory.
Mobius is made of Dark Chroma, a 3form material that changes from black into colored light when touch and pressure are applied. When the furniture is not being interacted with, it remains dark black and sculptural. "Black is the absence of light, it is space and void, yet Dark Chroma expresses color, light and form. I find this paradox beautiful, mysterious and magical—making it perfect for Mobius," Lim told 3form's blog.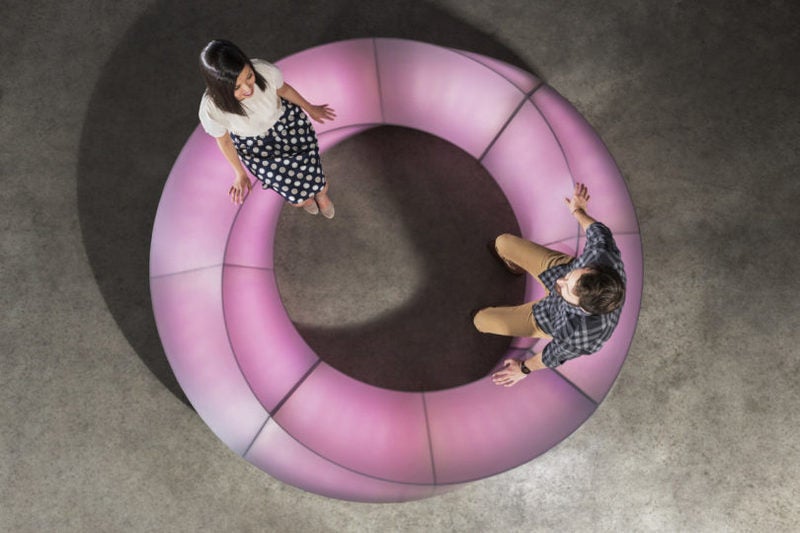 NYCxDesign will return next year. The "Ambassador" installation was designed and built as a site-specific installation for this year's fair; Stickbulb is seeking either a temporary or permanent new home for it.