In the BOH series What I Love, we're asking designers to build us a mood board of what's inspiring them right now.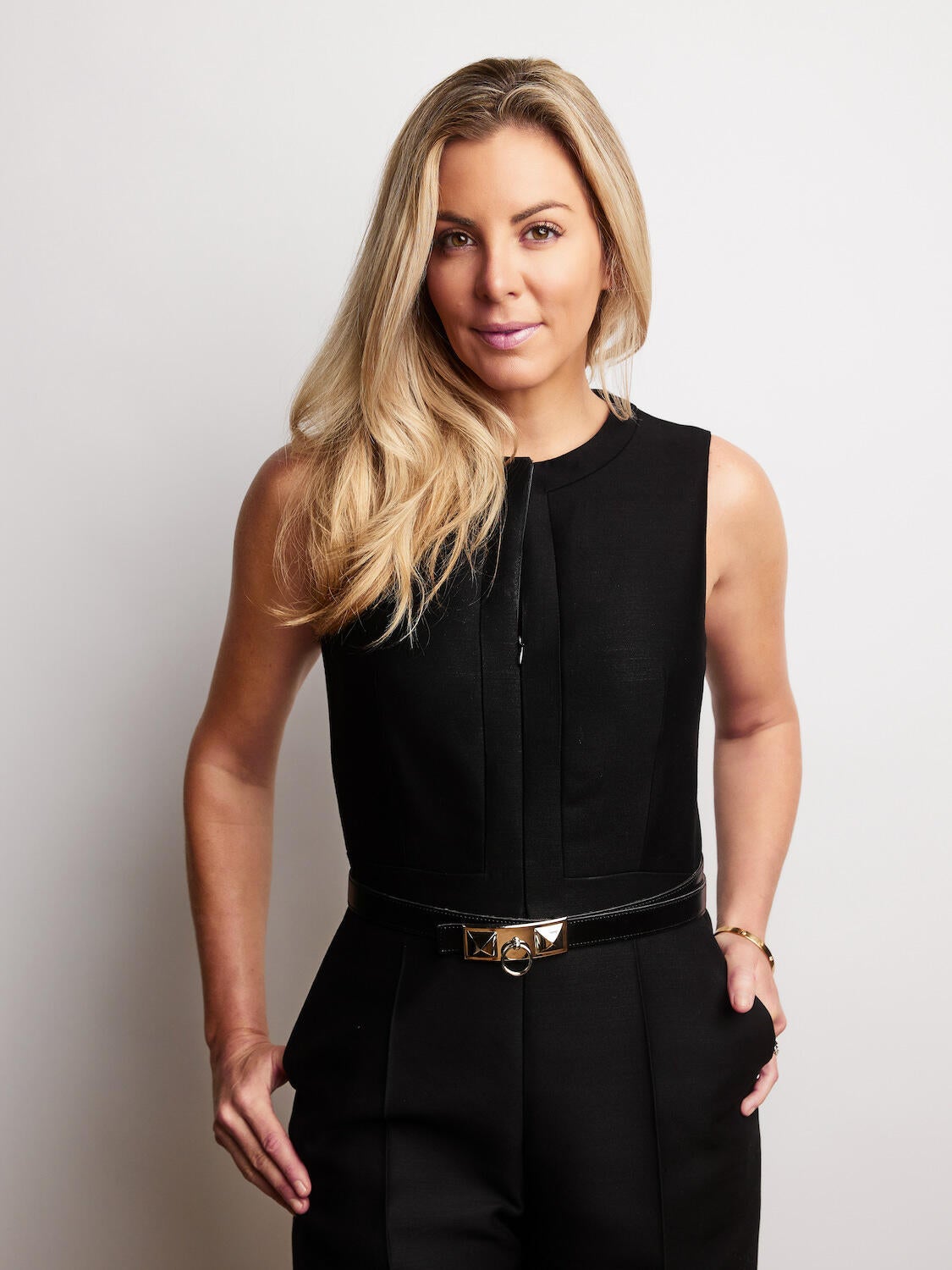 Kristen Nix has a knack for natural elements. The Austin, Texas–based designer turns to earthy hues and organic materials to infuse her interiors with warmth and patina. "We always gravitate to neutral tones with loads of texture," she tells Business of Home.
The designer fashioned her current flat lay with a similar ethos in mind. She drew inspiration from outside the home when designing the scheme, which brims with sumptuous stones and solid woods, including walnut and white oak. "I feel it's important for the interiors of a project to feel connected to the exterior," she says. "The architecture, hard finishes and environment all play a big part in a project feeling cohesive."
Nix layered a sleek assortment of artisanal metallic fixtures and three-dimensional finishes to energize the palette, and sprinkled in a few dark pieces to help ground the final design. "Our flat lay embraces a mix of cool-toned neutrals with pops of charcoal and black," she explains. "We prefer materials with subtle texture and hand, so all of the elements feel relaxed—with nothing too precious."
Here, the designer breaks down the details, from sheer linen window fabrics to sculptural ceramic wall art.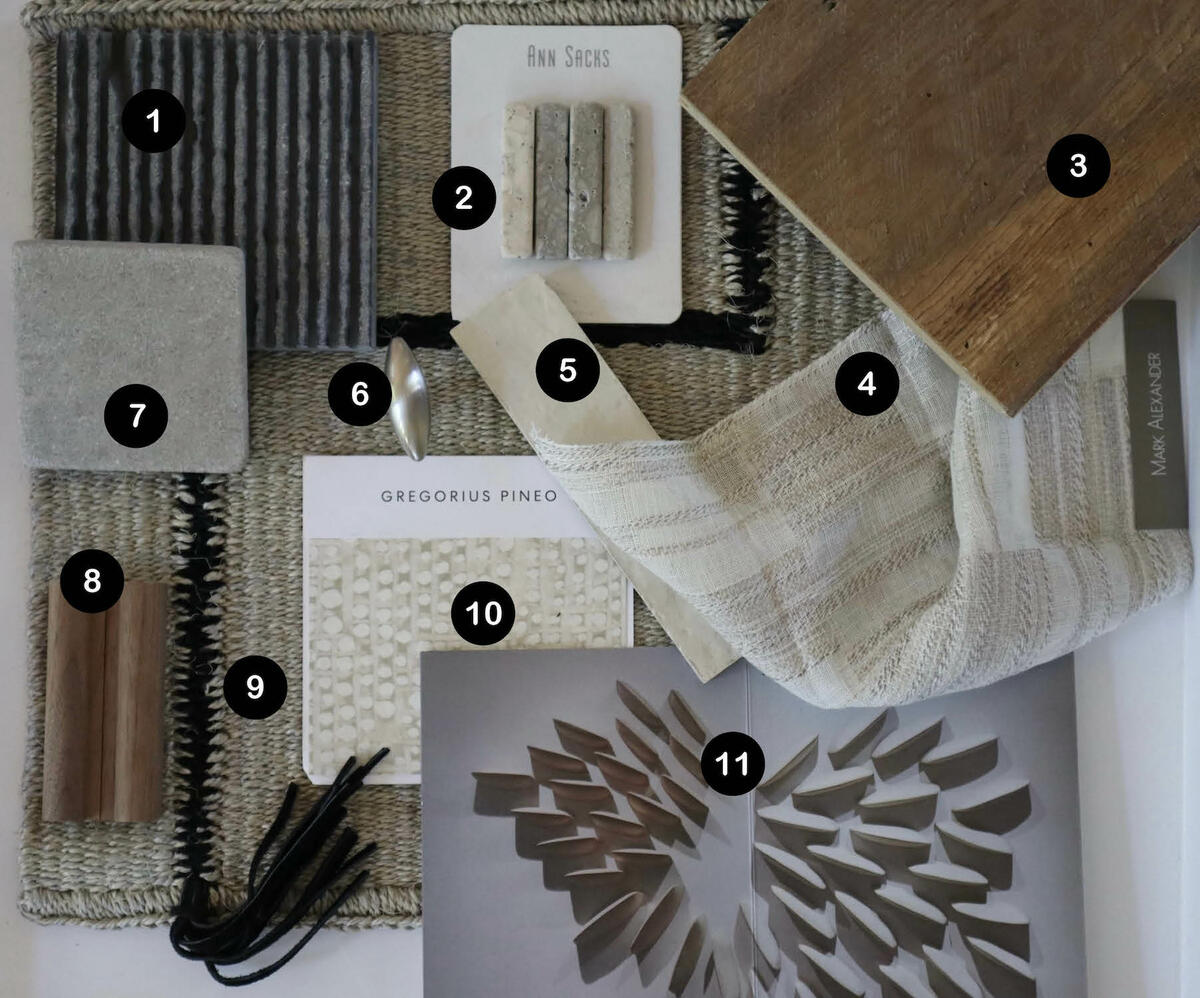 Courtesy of Kristen Nix Interiors
1. VASIO PRINCIPAL STONE IN RATISEE BY ALKUSARI STONE
"I love textured stone, especially with a reeded or ribbed profile."
2. PALA STICK MOSAIC IN PALLADIUM BY ANN SACKS
"This great texture adds patina to a space."
3. VINTAGE RECLAIMED WHITE OAK HARDWOOD FLOORING
"We've been speccing reclaimed white oak wood floors for a lot of projects recently, mixing the old with new. It's a great way to recycle Earth's materials."
4. MATRIX WIDE-WIDTH LINEN SHEER WINDOW FABRIC IN GREY MIST BY MARK ALEXANDER
"This is a twist on a traditional sheer. I love how there's an added layer of texture paired with the sheerness. It is great for a space where you want a subtle design, not a heavy drapery."
5. GLAZED THIN BRICK WHITE GLOSS CEMENT TILE BY CLAY IMPORTS
"A zellige that has great hand and sheen."
6. SHREWSBURY SMALL T-HANDLE IN BRUSHED SATIN NICKEL BY TOP KNOBS
"This hardware shape feels fresh and different; plus, the brushed satin nickel offers a cool tone to any space."
7. CHARCOAL LIMESTONE FLOORING BY MATERIAL
"This is my favorite flooring—it complements almost every finish."
8. TAMBOUR WALL PANEL IN WALNUT BY SURFACING SOLUTIONS
"I've been really drawn to tambour, as it can be used in so many ways—[like adding] depth and dimension to a wall that needs it."
9. TOURO RUG IN BLACK PEARL BY ASHE & LEANDRO AT MERIDA STUDIO
"A mix of sisal and suede feels textured and masculine, and it's something you don't see every day."
10. SNOWFALL WALLCOVERING BY NADINE WEATHERSTONE FOR GREGORIUS PINEO
"I'm so eager to use this material in an upcoming project. The texture is amazing."
11. CONVERGENCE II ARTWORK BY MAREN KLOPPMANN AT HOSTLER BURROWS
"Any sort of installation art will always catch my eye. This one is made of ceramic and casts a great shadow on the wall as the light changes."