What do you get when you buy a fabric company? Three years ago, Texas designer and showroom owner Lauren Hudson found out, when she rescued two heritage brands—Rose Cumming and Classic Cloth—from the throes of the Dessin Fournir bankruptcy. Along with inventory, some beloved patterns and marketing rights, she had also purchased a problem: What to do with the rolls and rolls of retired fabric?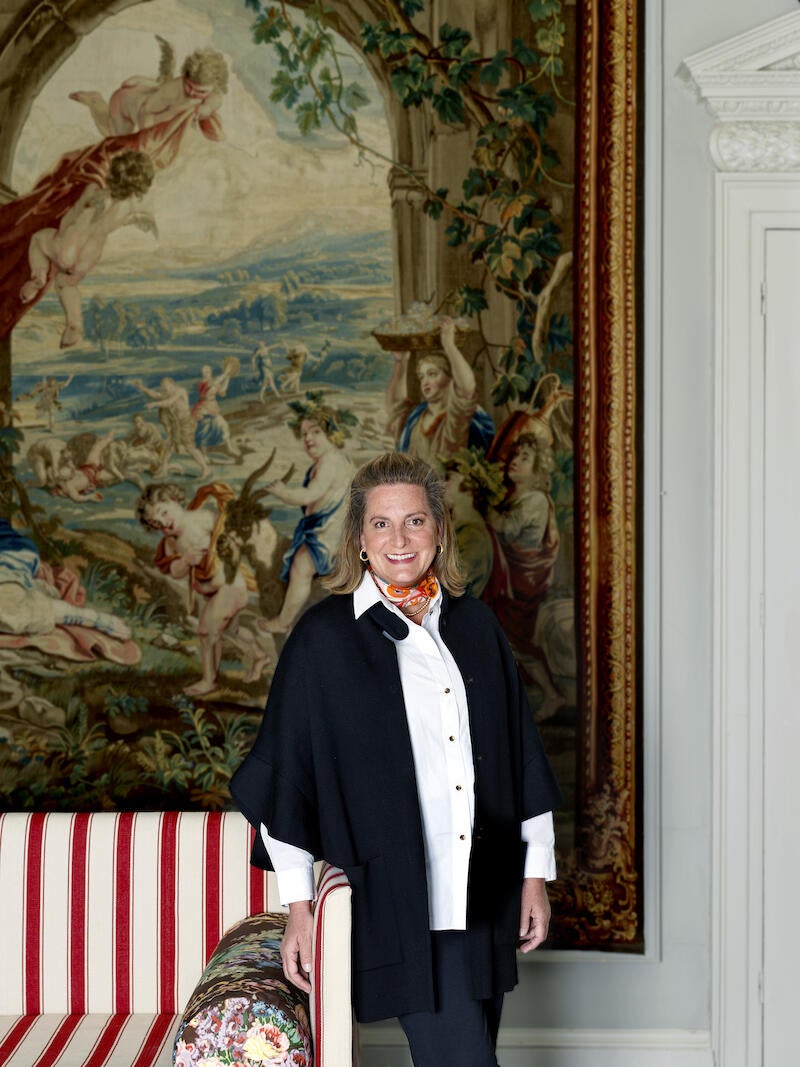 Courtesy of Cottage Textiles
"When we acquired both, we pared down the selection a lot—we probably cut the lines in half," says Hudson, who has relaunched the brands under the name Wells Textiles. "Some patterns we cut just to better curate the selection, others we cut because the mill went out of business, or because we no longer had the exclusive on the design … in the end we were left with thousands and thousands of yards of fabric we weren't going to sell."
Called "discontinueds," forsaken yardage is something of a backdoor problem for textile brands of all sizes. Hudson found that fabric liquidators—yes, that's a thing—would only offer pennies on the dollar for her stock, and the cost of transporting the rolls would far outweigh the revenue made selling them. Nor was there any kind of scaled fabric recycling program that Hudson could use. As best she could tell, thousands of yards of fabric were "quietly disappearing into the landfill … It's pretty distressing."
She settled on a uniquely modern solution: Re-brand the fabric and sell it online, at an accessible price point. Launched just last month, Cottage Textiles is Hudson's first foray into direct-to-consumer selling. The site offers up deadstock Rose Cumming and Classic Cloth fabric and wallcovering for often as little as $39 a yard.
The selection includes a few chintzes and chinoiseries that might have fallen a touch out of style, but much Cottage Textiles's wares would feel at home in a contemporary grandmillennial bedroom, and the site carries plenty of basics too—not to mention silk velvets for as little as $59 a yard. "A lot of these patterns were bestsellers and were retired for reasons that had nothing to do with their quality," says Hudson. "It's just: The mill closed."
Cottage Textiles represents both an inventory reduction strategy and a sustainability initiative. It's also a complicated marketing maneuver. In an industry where designers are increasingly sensitive to clients having access to the same sources they do, "direct-to-consumer" can be a dirty word. It can also be risky for luxury brands to have inventory splashed across the internet on sale at liquidation prices. To that end, Hudson is quick to point out that there's no crossover between Cottage Textiles' selection and the contemporary relaunch of Rose Cumming and Classic Cloth. Likewise, Cottage Textiles' website isn't explicit about the origins of its selection—the names "Rose Cumming" and "Classic Cloth" are nowhere to be seen.
Courtesy of Cottage Textiles
"At Wells Textiles, we are committed to showroom distribution. I own the Wells Abbott showrooms. I'm in the showroom business on all levels," says Hudson. "We're creating something that's completely separate from the trade—we're not targeting the showroom client, that's not who we're selling $39 fabric to. But there is a whole group of people that maybe can't afford the services of a designer but still want beautiful fabric—look at something like Calico Corners. That's the audience we're trying to reach."
In setting up a DTC business, Hudson faces plenty of obstacles. The first will be finding a customer base online for a product that is notoriously difficult to sell to everyday consumers. At a time when online advertising is expensive and the pandemic home boom has tapered off, it will be an uphill battle. Another challenge: Stock is inherently limited. Once a Cottage Textiles pattern runs out, that'll be it. But if the site is a hit, Hudson says she'll invite other companies to sell their discontinueds.
In spite of the hurdles, Hudson is optimistic, saying she's already made some sales (the site operates like a normal e-commerce business, without sampling or a CFA process). And even if Cottage Textiles doesn't turn into a cash cow, she believes it's a worthwhile experiment, and not an expensive one. In setting up the business, she was able to take advantage of her warehouse, tapping into an existing logistics team who works on her to-the-trade textile lines.
The last remaining snag? What to do with fabric if it won't move online at a discount. "We're still working on that, what to do with the fabric after it's had its second life at Cottage Textiles," she says. "I don't really know what the answer is yet, but we're going to figure it out—I want it to feel good. We, as an industry, need to figure it out."
Homepage image: Cottage Textiles offers up deadstock Rose Cumming and Classic Cloth fabric and wallcovering | Courtesy of Cottage Textiles