In 1996, Don Finkell, then the CEO of Anderson Hardwood Floors, received a letter from the Department of Corrections, informing him of an opportunity to hire a number of hardworking men—inmates at a South Carolina prison.
At the time, Finkell's business was expanding so rapidly that he'd had to add a night shift to his factory. "And that caused all sorts of problems," says Finkell, now the CEO of American OEM Wood Floors, a private label manufacturer. "Productivity issues, safety issues, quality issues—it wasn't working."
So, when the letter came, detailing an initiative which allows private businesses to contract labor through the state, Finkell's interest was immediately piqued. He inquired about bussing men to and from his factory, but was told that the only inmates who would be allowed to do that would have shorter sentences, which, given the amount of training they would need for the job would likely be more trouble than it was worth. Instead, the Department of Corrections suggested that Finkell open a small plant within the grounds of the prison.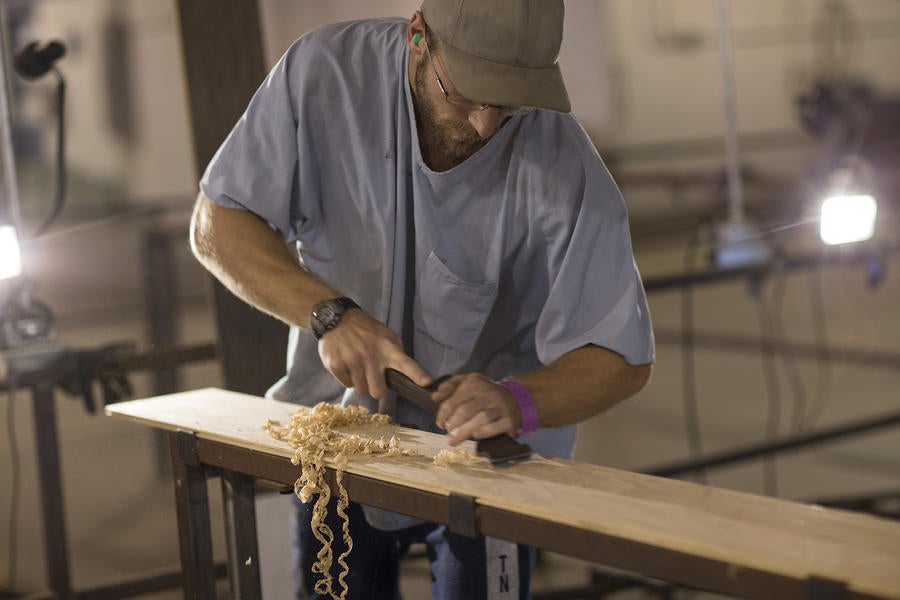 Courtesy of Emily Morrow Home
More than 20 years later, Finkell has established six prison plants. Five are now operated by Shaw Industries Group, the Berkshire-Hathaway owned company to which Finkell sold Anderson in 2001. He operates just one plant himself at the Turney Center Industrial Complex, a prison outside of Nashville. There, Finkell has 200 employees—and an additional 1,000 approved men on a waiting list. To get a position in the plant, inmates must have a perfect behavior record for at least six months before going through an application process; for the privilege of operating a plant within a prison, Finkell pays the state an overhead fee.
Early on, Finkell realized that the prison plants offered an opportunity to create slightly different products than what was being made at the civilian plants. A workforce guaranteed to stay at the plant for several years could be taught complex skills, like crafting hand-scraped wood, which takes longer to master than the automated process used to make engineered hardwood. In a civilian workforce, high employee turnover rates for those types of jobs can discourage companies from spending 60 days teaching employees a new skill. But in the prison setting, paying inmates to learn a trade was a viable option, and one that would allow the company to offer more unique products in addition to the automated, engineered hardwood being made at Finkell's civilian plants.
Finkell's wife, a designer who runs the eponymous Emily Morrow Home, has become his best client. "This model that Don has created allows for so much more flexibility in the design process," says Emily Morrow. "Because this is a smaller operation and it's not all automated, it allows me to create styles that are special and aren't offered at the big companies. And the look is one thing, but it's great to be able to say it was made in America and that it has an amazing story behind it."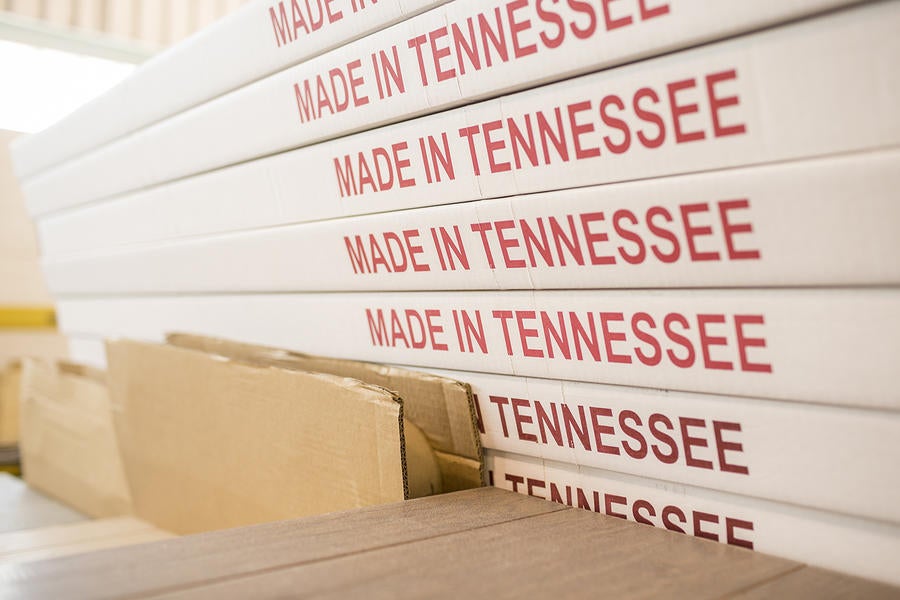 Courtesy of Emily Morrow Home
While Finkell's program is one of the few opportunities that inmates at the Turney Center have to make any real income while in prison, the majority of prison labor is unpaid. (This fact alone makes prison labor a divisive issue; many people object to the practice under any circumstances.) Most incarcerated people working regular prison jobs (such as custodial, maintenance, or food service roles) earn between $0.33 and $0.63 an hour, while inmates in Alabama, Arkansas, Florida, Georgia, South Carolina and Texas are not compensated at all.
The program that Finkell uses, PIECP, accounts for a miniscule portion of prison jobs. The men working in his factory earn an hourly fee that's comparable to what civilians doing similar work in the area are paid (based on a wage survey by the Tennessee Department of Labor) and earn a bonus based on productivity. Finkell estimates that, with the bonuses, some inmates are earning $20 an hour. Before the men are paid, however, the Department of Corrections deducts for things like victim restitution, child support, alimony, taxes and room & board (yes, prisoners have to pay to live in prison). After those deductions, 10 percent of each paycheck is put away for when the inmate gets out. What's left after all that is theirs to keep, though Finkell says that most of the men send the money to their families. "It seems to help them maintain a good relationship with their families," he says. "Most of the men are married and have kids, and they're able to buy their kid a book or do something that keeps them connected. From a self-esteem standpoint, they're able to still feel like they're providing even though they're away."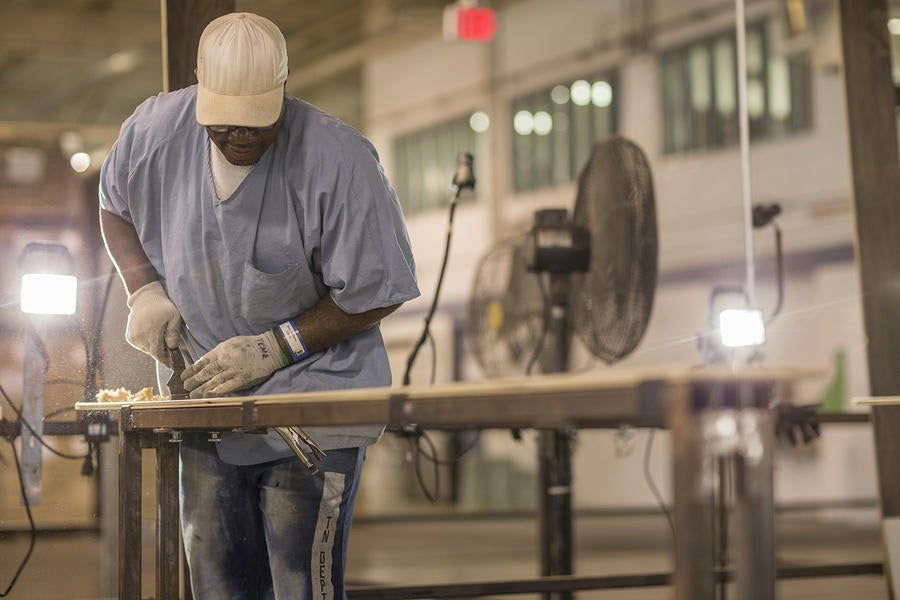 Courtesy of Emily Morrow Home
The average rate of recidivism (returning to prison after discharge) in America is astonishingly high. The National Institute of Justice estimates that 68 percent of released prisoners are arrested again within three years. Finkell says that the recidivism rate for men in his plant hovers around just 7 percent. He thinks that it goes back to the fact that the men are able to send money home, which can help them ensure that they have a home to go back to.
Finkell has also worked to hire men who've worked at the prison plants, or to help them find work at other companies. A civilian plant in Indiana that Finkell owns is currently being run by a man who worked at a prison plant. "You could just tell he was a natural born leader and a hard worker," Finkell says of the man. "We've been pretty successful in helping these guys even after they get out."
Proud of both the program and the product it turns out, Morrow brought a group of designers on a tour of the facility last April. "I thought for sure I was going to walk into some archaic operation," says Nashville-based designer Stephanie Sabbe of the trip. "Nope! These guys had so much joy and pride in their work. They wanted to show us everything, even how to hand scrape a board. It was just really awesome."