The 50 States Project is a series of candid conversations with interior designers across the country about how they've built their businesses. This week, New York–based designer Nina Barnieh-Blair tells us why she wants to give her team flexibility, how she gets clients to stop cutting corners and why she switched to charging a flat fee.
Did you always know you wanted to be a designer?
My parents are from Ghana, and I was born there. We moved to England, spent about a month in London and then moved to the countryside because it had great schools. I always wanted to do some sort of art or design, and when I finished A-levels and was getting ready to go to university, I told my parents that I wanted to study the history of art. My father was like, "What exactly are you going to do with that, and is it going to pay the bills once you finish?" For them, the whole system of being immigrants who work super hard night and day—the idea of actually going to school and doing what you love did not run in the family.
I ended up getting a business degree. I always thought I would go into accounting—that honest, immigrant-living-type thing—but instead, I worked in public relations for 10 years in London. Then, my boyfriend at the time got a job in the U.S. We had been dating for a while, and he was like, "It would be lovely if you came." I thought, "I'm going to move to New York—but if I move, I'm going to do design." My gift to myself was to start a new career.
A new country and a new field. How did you approach that transition?
I applied to the interior design program at Parsons, and somehow I got in, so I moved to New York and started classes. When you're doing college a second time around, it's different. You know exactly where you want to be. I had the desire, but I didn't know how to process it properly. Being at Parsons was a really great start because it honed that passion for design into a skill.
What was your next step professionally?
I left Parsons in 2008, and nobody tells you what you do when you have no job and the market isn't working. I did an internship three days a week with Nathan Egan Interiors, which has since closed down, and then I spent the other two days doing small projects. My boyfriend and I had just gotten engaged, and we bought a place in Tribeca. Some friends of ours who are architects were looking for projects just like I was, and it was sort of like, "We just bought this place, and I don't think I can afford anything else, but I can draw the plans and do all the construction documents if you can be the architects and guide me." They also had a project that they were working on and asked if I would want to partner with them to do the interior design. We ended up forming a group—two architects, one engineer and myself—and between the four of us had a few clients together. That became a nice launchpad and kept us busy for two to three years.
When did you start to think about forming your own firm?
When my husband and I got married, and we started thinking, "How do we even make this work with a family?" A lot of my friends back in London who were having kids got a one-year maternity leave—and full pay for six to eight of those months. That's just typical there.
I probably had about two years before I wanted to start a family, and when I wanted to explore working with a design agency, one of the questions that I kept asking was, "What's included in your maternity package?" But when I asked that, people kept looking at me like, "Are you pregnant?" I wasn't, but I am a planner, and it's very normal to ask that question in England. Employers explain that if you're at the company for six months, you get a certain package, and after two years you get your full benefits, and at least that way, you can go into a job knowing how to plan. For a lot of my friends [in England], once they had their kids they went back to the company because they knew they had rights. That, weirdly enough, is what made me unsure I could work at a firm [in the U.S.]—I wanted to have the flexibility, so I started thinking that maybe I should just set up my own business. I did it so that I could have some sort of control.
That's still such a pressing issue.
Let's hope the silver lining to COVID is that we recognize that everybody has different needs—and that if we give people flexibility, there will be loyalty. A very good friend of mine from university has what she calls "flexi-work"— going to work three days a week, then being wherever she needs to be the other two days. Her employer understands that she has family, and that she gets the work done. She's been at the company for 12 years. I once asked her, "Have you ever thought about setting up your own firm?" She said that when she does the pros and cons, she's very happy where she is because she has the flexibility. For me, this is a no-brainer. If I had the option, this is a structure that I would want for my company. We're not there yet, but that's the vision.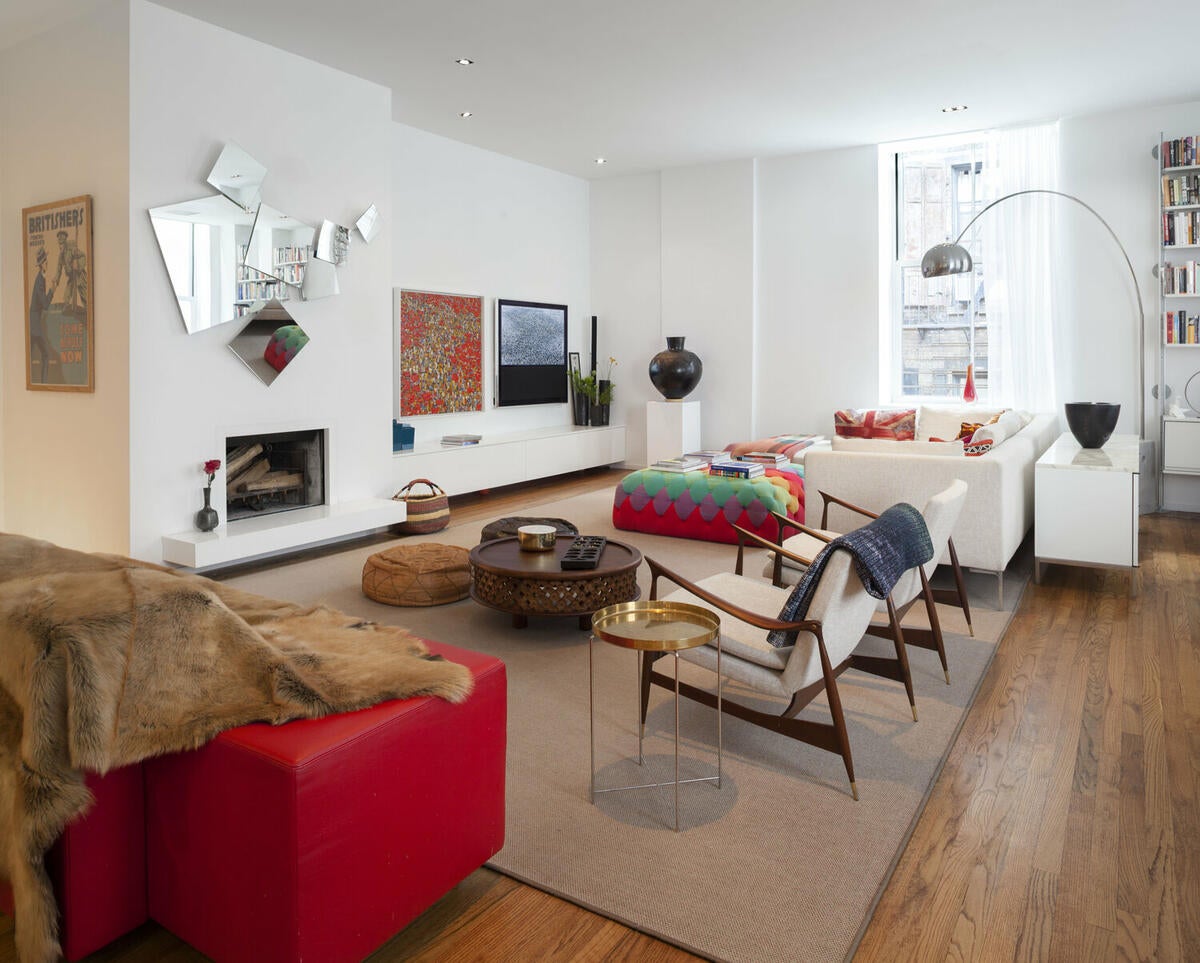 How is your firm structured today?
We just had a client recommend us for a project in Texas and I'd love to take it on, but I know I don't have enough people. When I'm working with a client, you get me—I'm involved all the time. But as we do expand, I know that I can't be there at every single stage. We are definitely at that point where it would be great to have more people, but I just want to get the systems in place that would allow me to employ them and give them access to what I didn't have in terms of ground rules and structure. I want them to be excited about working together in a collaborative way. But I also want to show them their options and be flexible about it—we're not robots.
What kind of flexibility do you mean?
This idea of creating a work environment that allows you to give whomever you employ that flexibility: If you're going to be at work, you're present. If you're going to be on vacation, you're with your family. Then when you're back, you are much more productive.
I try to take holidays properly. I actually just took two weeks off. Most of our family is in Europe and we don't see everyone often, so every year we try to pick a place and meet. This year, we were in Tuscany. My siblings and I all brought our laptops and phones, but we tried to put it all away. By that second day, everybody's sort of looking around like, "Nobody's called," and you can go to the pool. By the third day, you realize, "Yep. Your clients are good. Nobody needs you." We're so used to going at a certain pace the whole time. Especially as creatives, we don't really switch off. But if you don't switch off, where does the inspiration come from?
We had a chef teaching us how to make spaghetti and sauce and pizzas. My kids were holding the pasta they had just made, and all of a sudden, a mind block I'd had on a couple of projects [resolved itself]. I remember thinking, "Oh, my goodness, this could be a really nice feeling for that bathroom floor." But there's no way I would have got this inspiration had I not switched off from Instagram. It just came organically when I was doing something that had nothing to do with work.
We were away for 10 days, and [now] I feel like, "Oh, my to-do list doesn't look too bad." It's the same to-do list that was giving me anxiety before this trip, but it doesn't feel too bad anymore—probably because I slept properly. Life feels lighter and more balanced, even though I ate more pasta.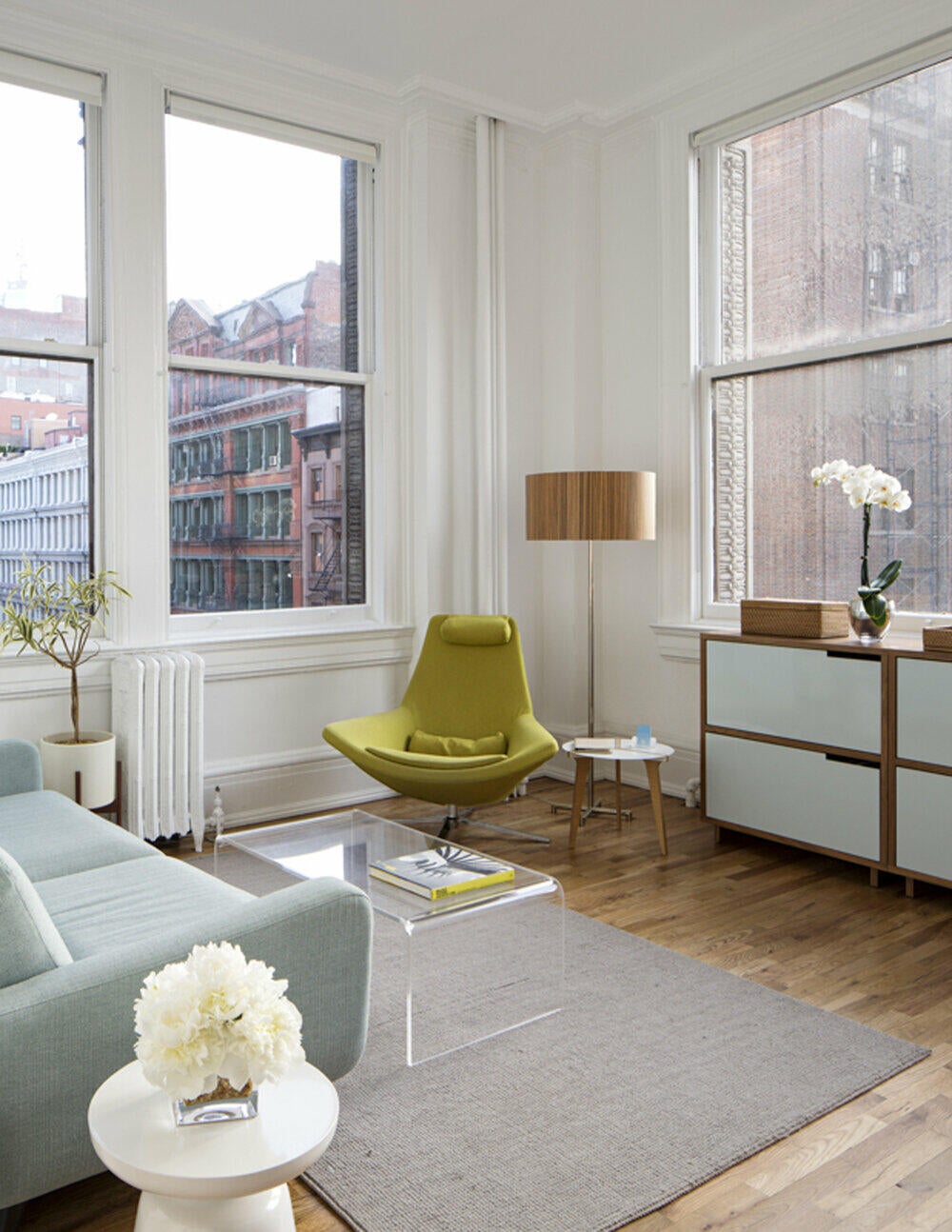 What does your team look like today, and what are you working on?
At the moment, I work with an assistant as well as three other employees on projects with my architectural partners. Depending on how many projects come in, an intern helps us too. We're doing four projects right now, and I think I'll probably take the project in Texas. The clients are great, and it'd be quite nice for us to do a full house.
It will also be our second project in Texas. The first was for a lovely Ghanian lady—we discovered that she actually comes from the same town I was born in! Both she and her husband are very proud of where they come from, and they needed somebody to help bring their vision together. They had seen our Tribeca space and loved how we merged my Ghanian side with the Scandinavian side of my husband. She shared the design with a friend, who called me saying, "This couple had great things to say about you. We're thinking about buying this space, would you consider [designing] it?"
Referrals like that are pretty priceless.
It's been quite nice. To them, it's not just about design, it's about getting a full family history. I've always thought that anybody can design a good hotel, but designing a home should be a representation of the people who live there. It's about storytelling.
Is that where you start—with the family's story?
Maybe that comes from being born in Ghana and living with my grandparents—a lot of what you do in the evenings is very much narrative. They tell you a story about a place, and half of it is probably made up, and nothing is really written down; it's all Ghanian tradition. It's probably one of the things I miss most about Ghana. And that whole idea of taking the client for who they are and really telling their story so that the space speaks to the people who live there—it's lovely.

That small Brooklyn project with blue walls that was in Domino—when I met with that client, it was a really gray day. He said, "Maybe next time, we should meet when the weather is really lovely, because sometimes I just sit and watch the sky. In the spring, when trees have their new leaves, I feel like I'm in a tree house." The way he described it was so visually appealing. He was literally waiting for the skies to be blue, so why not bring that blue sky inside? From there, the whole idea was to bring in leather and natural materials to send a message that feels good on a gray day. That inspiration came from having a conversation with my client and asking, "What makes you feel good?"

What kind of structure do you imagine for the firm? Who would you hire, and what do you want to change about the way you work?
I'm working with a very good friend now who, unlike me, is very process driven. I get too wrapped up in the creative side. I overthink things and spend way too much time on it, so I definitely want somebody who is not similar to me, somebody who's a little bit more business savvy. We all have strengths and weaknesses, and after working with with my friend these past four months, I realize we start and finish projects really well when she's involved—she complements me.
What's something where you feel like you've recently found your footing?
When you start in the business, you take on everything because you're so desperate for work. You're just excited about having an opportunity. But this year, I've done one or two projects that made me think, "Never again." The money might be good, or the budget, but it's just like, "Oh." I'm incredibly passionate about what I do, and the process is so intimate. Yes, every single project has its challenges, but there should be a [sense of] fulfillment at the end.
It's taken so long to have the confidence to say no, but not everybody is going to fit your process. Now, I want to be very mindful of who I work with. If we can do four good projects a year, they will be good projects. It's a learning process.
How have you approached billing?
We started off hourly, and it's not very good for my anxiety. I would spend three hours looking for some random [product], then think, "I cannot bill my client for that, it's embarrassing." On the other hand, if I've been on vacation, I can do all my recommendations on a project I thought was going to take two to four months in a month because I feel inspired.
At the moment, we do the percentage of the total construction budget as a flat fee, because it's just so much easier to track. We're a small team, and the clients we work with want to know, "What should I expect?"
How did you get comfortable talking about a project's budget?
It comes with experience and just being comfortable with saying no. I tell clients, "This is your forever home—I'd much rather do it well for you, even if that means making this [part of the project] phase two instead of trying to squeeze everything in." Clients are usually responsive when we say, "You don't have to do everything at once." I'm happy to come back next year when they actually have a proper budget to finish the space, rather than trying to do everything at once, because then you're cutting corners and you are not going to be happy. When you explain it to them in those terms, clients are comforted by that.
Is that good for your business?
It really depends on the client. We often do the public spaces first, and then the bedroom, bathroom and basement can be phase two. You want to finish a project so you can get it photographed and featured, but sometimes it becomes more long-term.
Can you tell me a little bit about working in New York, and what is so different and unique about having your business rooted in the city?
We forget how incredible it is to have everything you need within Manhattan. In terms of inspiration, access to great design stores and great designers, everything I need is here. l can go to Queens and look for tiles or Brooklyn to [check on] my millwork. I take it for granted that everything is a train ride or an Uber away. When I'm doing things like this project in Texas, I'm saying, "Why don't you guys come do a shopping trip in New York?" I've gotten them obsessed with Brazilian midcentury furniture, and I'm so excited about planning a weekend for them to come see at least five of the pieces I have recommended.

Does that happen often?
One of the things I love is taking my clients out to see things once I've made my recommendations. I've been so excited since stores started reopening [after the pandemic]. It's one thing to do everything online, but it's something else to take a client on an experience. Sometimes you just want to give them something fun. Most of the time, all I'm giving is, "This is the budget, this is the plan, you have to sign off, now things are delayed." When you do have a day or two to take them on that journey, it's easier when something is delayed for another 10 weeks. You can say, "Remember what it felt like when you sat on that sofa? Let's not forget why we're doing this." As designers, we know the process, and we know that most of the time, people are going to be happy at the end of it, but most people need something to hold on to. Every home we design takes time, so clients are a bit more responsive because they remember the experiences that you've given them.
To learn more about Nina Barnieh-Blair, visit her website or find her on Instagram.