The Middle East is known for excess—just look at luxurious monuments like the towering Burj Khalifa skyscraper in Dubai or the all-gold Erbil Citadel. This region has never shied away from owning its opulence, and until recently, the design scene has stayed within that vein. However, November's Dubai Design Week brought a slew of stylish pieces from local brands that reinterpreted local grandeur and turned it on its head—by recreating minimalist pieces that still stay true to their cultural heritage. From furniture to accessories, check out the brands changing the Middle East's design aesthetic.
The Line Concept
Furniture studio The Line Concept creates its products within its facility in Dubai, using all locally sourced materials. The pieces read as minimalist—think clean lines and muted colors, with bits of metal for an added kick. The result is a decidedly trendy mix of old and new, which is exactly what co-founder Dana Almatrook intended.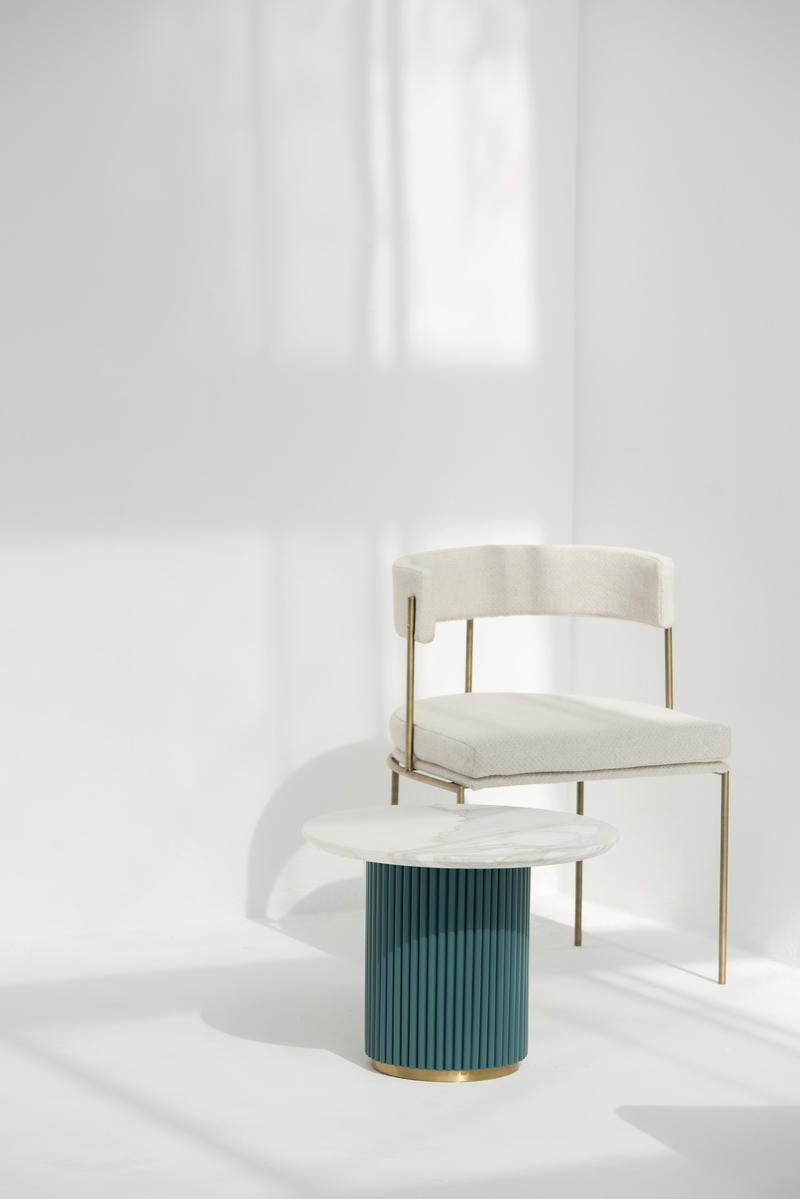 Courtesy of The Line Concept
"We're passionate about reinventing modern ways of using traditional materials," Almatrook tells Business of Home. "We always adhere to our ethos that design must be simple yet impactful, yet we are known for being able to seamlessly blend numerous materials together, such as steel, wood, stone, and fabrics or leathers."
Thus far, Almatrook has relied on word of mouth as his biggest marketing channel. "Outside of participating at Dubai Design Week, our products are never showcased. We don't have a showroom, and don't showcase at any retailers yet," he says. "[I think we do well because] the UAE has always been avant-garde in looking to foster different types of industries, interests, and culture, while staying true to its own."
Mosaico
Launched just two years ago, Mosaico is the first brand within the GCC (Gulf Cooperation Council) to manufacture decorative cement tiles by using an old-school method that's been employed for almost two centuries. Each tile is custom-made for the client, but all boast cheerful, colorful patterns on a background of geometric shapes. Local artisans use inorganic pigments, marble powder, and cement to handcraft each tile.
"In order to offer a product with a low carbon footprint, we follow an age-old manufacturing process using innocuous ingredients, a hydraulic press, and ambient open-air conditions to naturally dry and harden the tiles," founder Patricia Harvey explains. "The shade of each tile is unique, and is dictated by the mixing of pigments in batches and the drying conditions."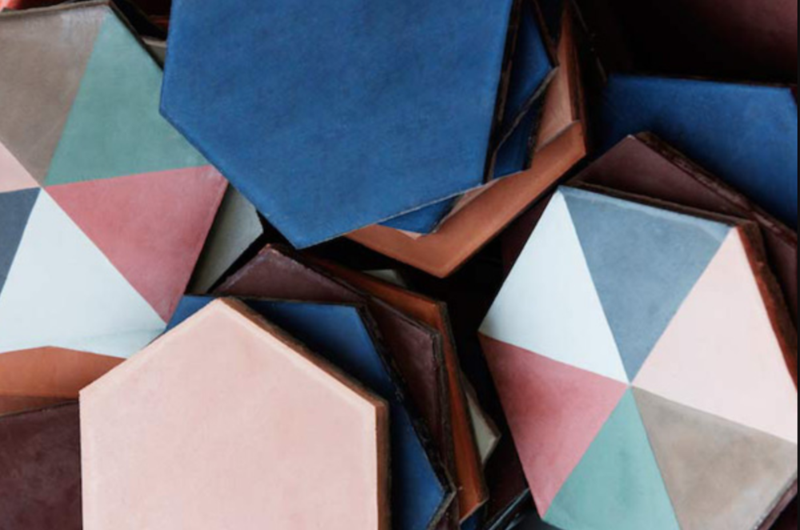 The appeal of each of these tiles lies in its ability to be customized: Even if a client wants a slightly more opulent look, it can be arranged on a backdrop of minimalist design. "I realized that there was no local cement tile manufacturer in the UAE—any order had to be shipped from abroad, which can be very expensive," says Harvey. "So, I decided to start manufacturing them here. The positive response from the regional design and architecture scene has been overwhelming."
The Foundry
A concept store extension by London and Dubai–based multidisciplinary design team Tinkah, The Foundry plays with the idea that local materials can be reimagined as decor. Their latest collection, Ramel, consists of a multitude of coffee cups that imitate sand dunes from the Arabian desert … appropriately, they're even made from sand.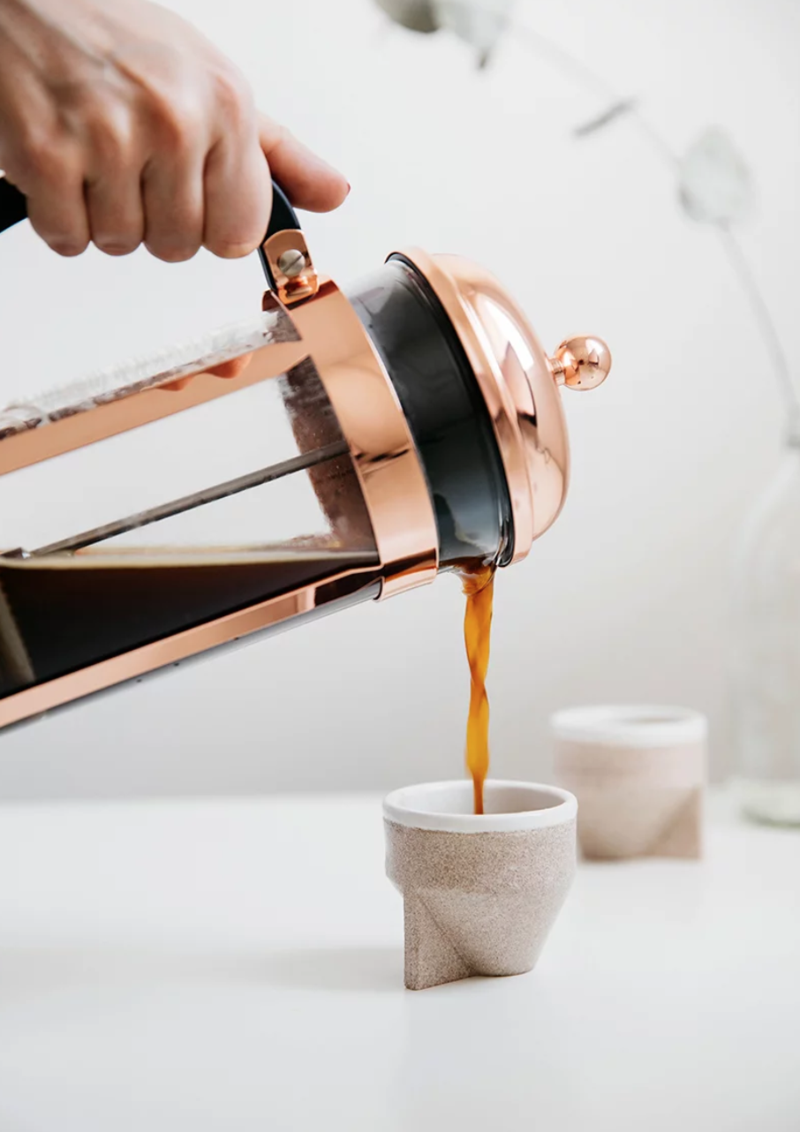 According to the company, the goal was to use the most underused, yet abundant material in the UAE to create a sustainable, eco-friendly product. The desert sand is transformed into a ceramic surface by controlling the mold and moisture, leading each piece to look different—much like the ever-changing dunes themselves.
Aljoud Lootah
The collections of Lootah, the first Emirati designer to have her work acquired by an international gallery, explore the juxtaposition of modern trends with local materials. For instance, at one of her first Design Days Dubai in 2013 (now known as Downtown Design Dubai), she exhibited the Unfolding Unity Stool, a delicate, geometrical creation that was given a local spin with the use of ash wood. Similarly, Lootah's latest Teber collection might look like a modern take on geometric glassware, but if you look closer, you'll see the intricate architectural motifs carved on the exterior. Inspired by the motifs seen on an old wooden door found in Al Ain Palace, the residence of the late Sheikh Zayed bin Sultan Al Nahyan, the collection aims to interpret Emirati culture for the younger set through unique design and traditional craftsmanship.
"I'm very much influenced by my cultural background," says Lootah of her vision. "I often use elements from Emirati culture—mainly crafts—in an effort to strengthen the appreciation of them. I derive my inspiration from those elements, and compose my creations by mixing those traditional silhouettes and concepts with modern aesthetics in order to appeal to the current times we are living in."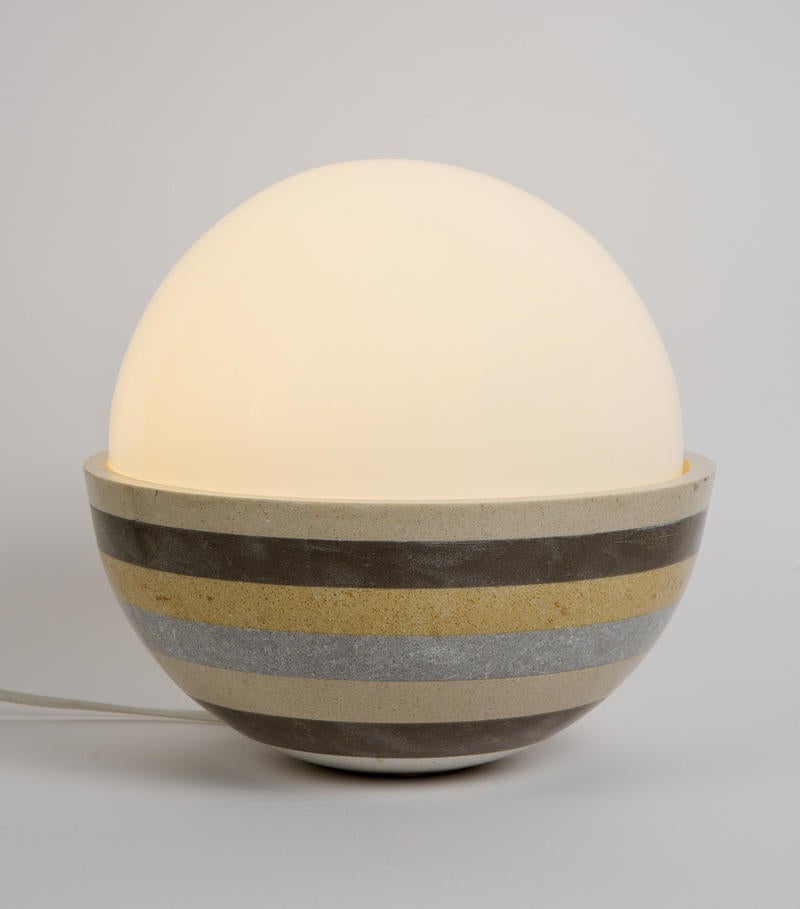 Yaghmour Architects
A multi-disciplinary firm based in Jordan, Yaghmour Architects have been working with local materials for all their planning needs, from a pool renovation in Bethlehem to residential buildings in Amman. Recently, lead designer Rula Yaghmour expanded upon that idea by launching Kutleh, the firm's first foray into product design. Consisting
of blocks that have been repurposed from the cladding tile from the firm's projects, Kutleh serves as a new medium that both is eco-friendly and pays homage to the region—the striated colors on the block evoke the natural stones found in the Levant and Mediterranean.
"It is important for Kutleh to reflect the local feel of our region: However, Kutleh is a project that extends beyond the boundaries of Jordan," explains Yaghmour. "Just like the raw material itself, each block is different from the other, and that's where the beauty of it lies."