The 50 States Project is a yearlong series of candid conversations with interior designers across the country about how they've built their businesses. This week, Houston-based designer Benjamin Johnston tells us why he takes his team to High Point Market twice a year, how bringing on a business manager unlocked the key to growth, and why he's obsessed with creating beauty (but knows design is a service business).
Did you always know you wanted to be a designer?
Growing up, I didn't really see what options might be open to me in the world of interior design. For me, as a kid from Houston, the only path that I was aware of was architecture. I went and got my undergraduate degree in architecture from Texas A&M University, then proceeded to get my master's degree in architecture from the University of Texas at Austin, which really opened my eyes up to the built environment, and how to create spaces and memorable experiences.
My first job out of graduate school was working for César Pelli—he's a big starchitect who had an office in Tokyo. I worked for a year at his firm in Japan, and it was an amazing experience. I learned so much there, but it also taught me that what I was longing for was looking at the small scale and focusing on the details.
A lesson in what you didn't want to do.
Exactly. I finished up my job in Tokyo, then I moved back to Houston and put my shingle out. Nomenclature in the design industry is very specific, and I did not want to going into business as an architect, but I also didn't want to call myself an interior designer. I felt most comfortable with just the title "designer." At the start, I hustled for work to see what would come in the door.
What did that look like in practice?
I did everything from furniture design to graphic design. I designed websites and menus and business cards—anything that I could do to help with various hospitality projects. Those hospitality projects led me to being invited into people's homes. People would see what I had done in a hospitality environment and say, "I loved the bar that you designed at this restaurant, and we're looking for something like that in our home." I would get invited to do these kinds of projects, and then they'd say, "Well, if you can do that, can you also do our kitchen remodel?" That led me on a path that ultimately was serving in the role of an interior designer.
How did people find you back then, when you were first starting out?
I had my very first business at the ripe age of 23—with a business partner who had already been doing some work in the hospitality market designing and painting murals for restaurants. I saw an opportunity to expand that offering, and then that expanded into everything else that we did.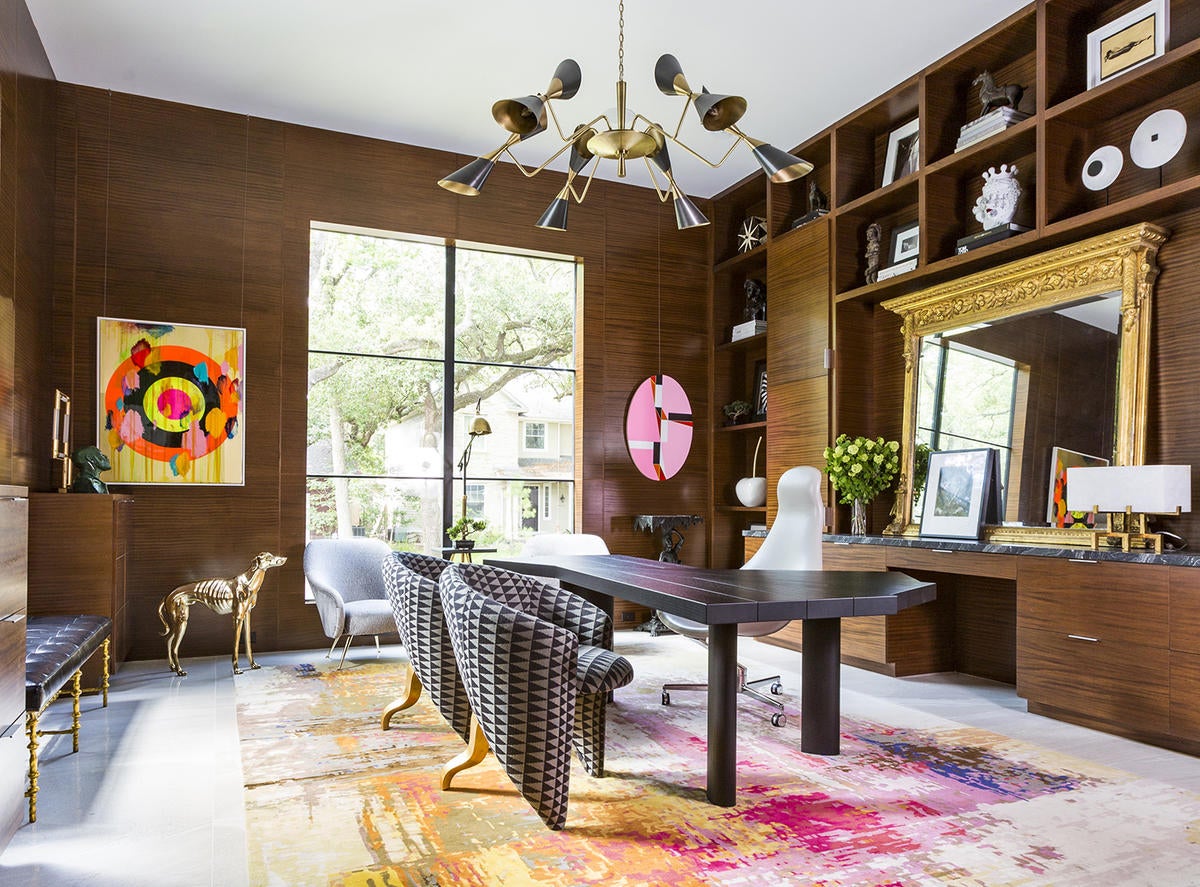 Courtesy of Benjamin Johnston Design
How did you ultimately decide residential interiors were where you wanted to focus your time and effort?
It was partly because that was the majority of the work that I was doing at that time, but also because I had a real desire to refine my craft in that area. I was much more interested in working with residential clients and creating a space that they could call home, and that passion allowed me to say, "I'm going to focus on this and become a master." I was feeling like I was a jack of all trades and a master of none, and I wanted to have a more robust, more focused practice.
Around 2010, I decided to exclusively focus on residential interior design, and I built a practice to support that. Since then, my company and offerings have grown, and we now offer full architecture and interior design. We also don't just do residential—we also do commercial and hospitality work, which has been a very exciting period of growth.
Had you done anything in the residential space when you left school and got that first job?
I think architecture courses are very much divided. You'll have a semester where you're focusing on residential design, and then a semester focused on commercial or hospitality design. There was some engagement in architecture school around doing residential projects. However, most architecture schools keep the focus of what you're working with—the materiality and tools in your belt—very focused. I think a lot of architecture school students or alumni would agree that most of the time you graduate only knowing about a few materials: you know about concrete, wood, steel, glass and stone, and that really makes up the majority of what you understand about how to build and create spaces. Not that that isn't relevant to residential design, but obviously when you're an interior designer and you're dealing with real-world projects, the materiality is so much more varied and diverse. It's layered and nuanced, and filled with historical references and precedents, and with color and texture. It's just a much more rich world in practice than it is in school.
Was that a self-education process for you?
Oh, for sure—and just as I was focusing my firm on residential design, I got invited to teach interior design at Houston Community College. In some ways, that experience felt like I went back to school for interior design. I was learning what I had already been doing, and it gave me a lexicon to describe and formalize the process that I use to this very day.
What drew you to teaching?
In Houston, there are only two design programs: there's the Art Institute, and there's the Houston Community College. The Art Institute attracts a lot of younger students who are going into college for the first time knowing they want to do design. But I admired that many of the students that I was teaching at Houston Community College were doing it as a career change—they wanted to learn the tools and the technical skills that would make them successful. They were from all walks of life, from a lot of different countries, and of all age groups, and I was really bolstered and enthused by that experience.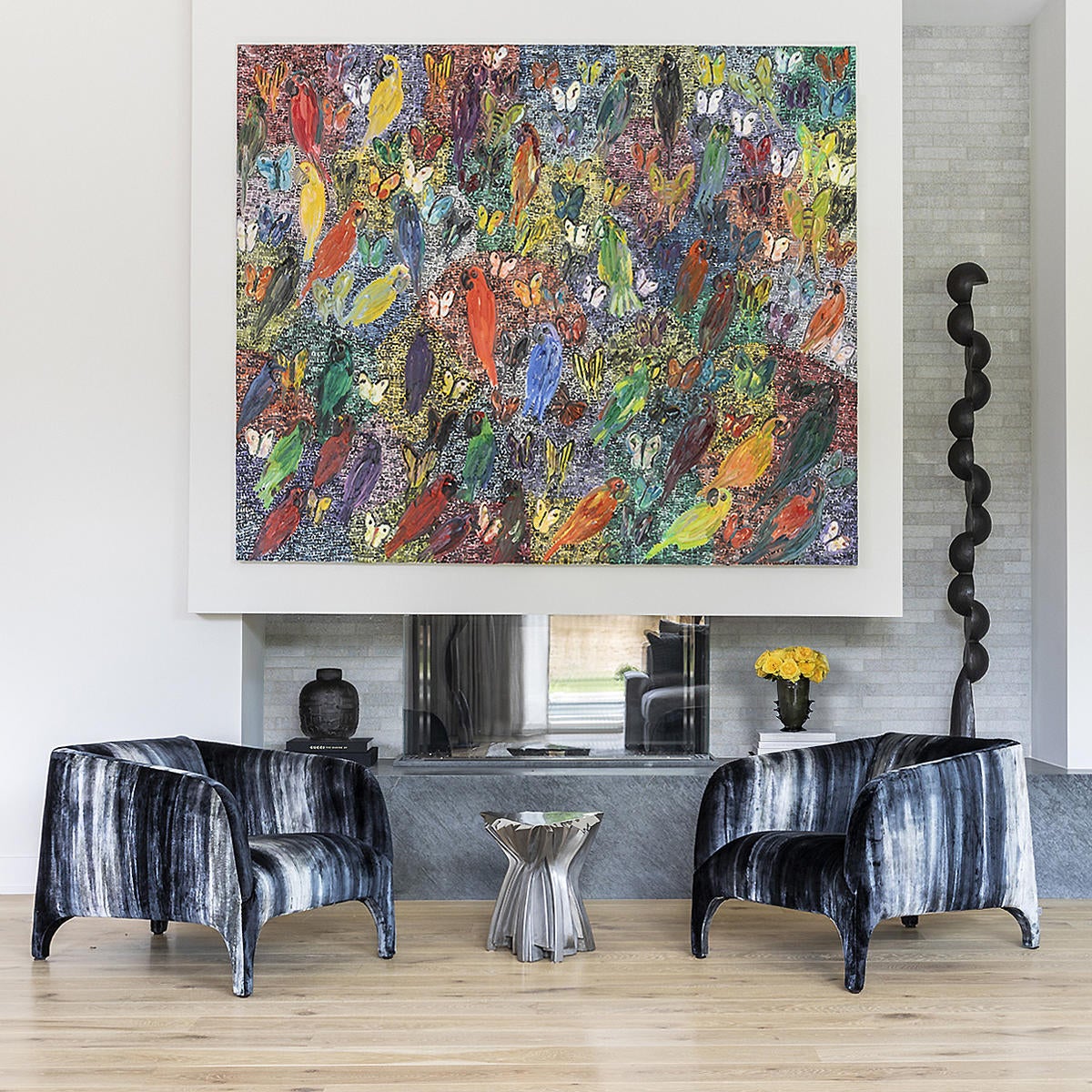 Courtesy of Benjamin Johnston Design
You said that you refined the process you still use today. How did that take shape?
Experimentation. Even today, I am constantly tweaking and experimenting with what works in my process and what doesn't work. Just because it worked last year doesn't mean it works this year. Just because it worked with one client doesn't mean it works with another. So I've tried to be very open to adjusting the way that I operate my business in order to best serve my clients and the team members that work alongside me.
Going back and teaching, it meant I had to teach those tools in the most basic way—and teach a process you could use to approach any design problem. I had to ask critical-thinking questions that were applicable not just to the students, but to any designers they might collaborate with in the future. For example, how do I give them the tools to effectively communicate design intent? Those technical skills and that process are things I still use every day, and [thinking through that course] has had a huge impact on the way that I run my business.
That's such an interesting moment of soul searching.
Because of my architecture background, I really stress to my team and to my clients that we must first satisfy function over form. In our process, I want to make sure that spaces are operating in the best way possible and answer our client's specific needs before we really delve into the aesthetic quotient of that project.

Is that difficult for clients? Do they want to go right into the pretty stuff?
I always tell our clients that every author works hand-in-hand with an editor to help tell their story in the most beautiful and effective way possible—and that's us, too. I tell them that early on in the process, I want to be a sponge. I want to absorb all of the information that they're providing me—and look, sometimes it is related to the pretty things. Sometimes clients hand me things that they've collected, or furniture that they've acquired over time that they love and want to continue to use. In the process of absorbing all of that information, my job is to be an editor: to tell them what's working and what's not, and to explain how I can effectively tell their story through the interiors of their home in the most beautiful way possible.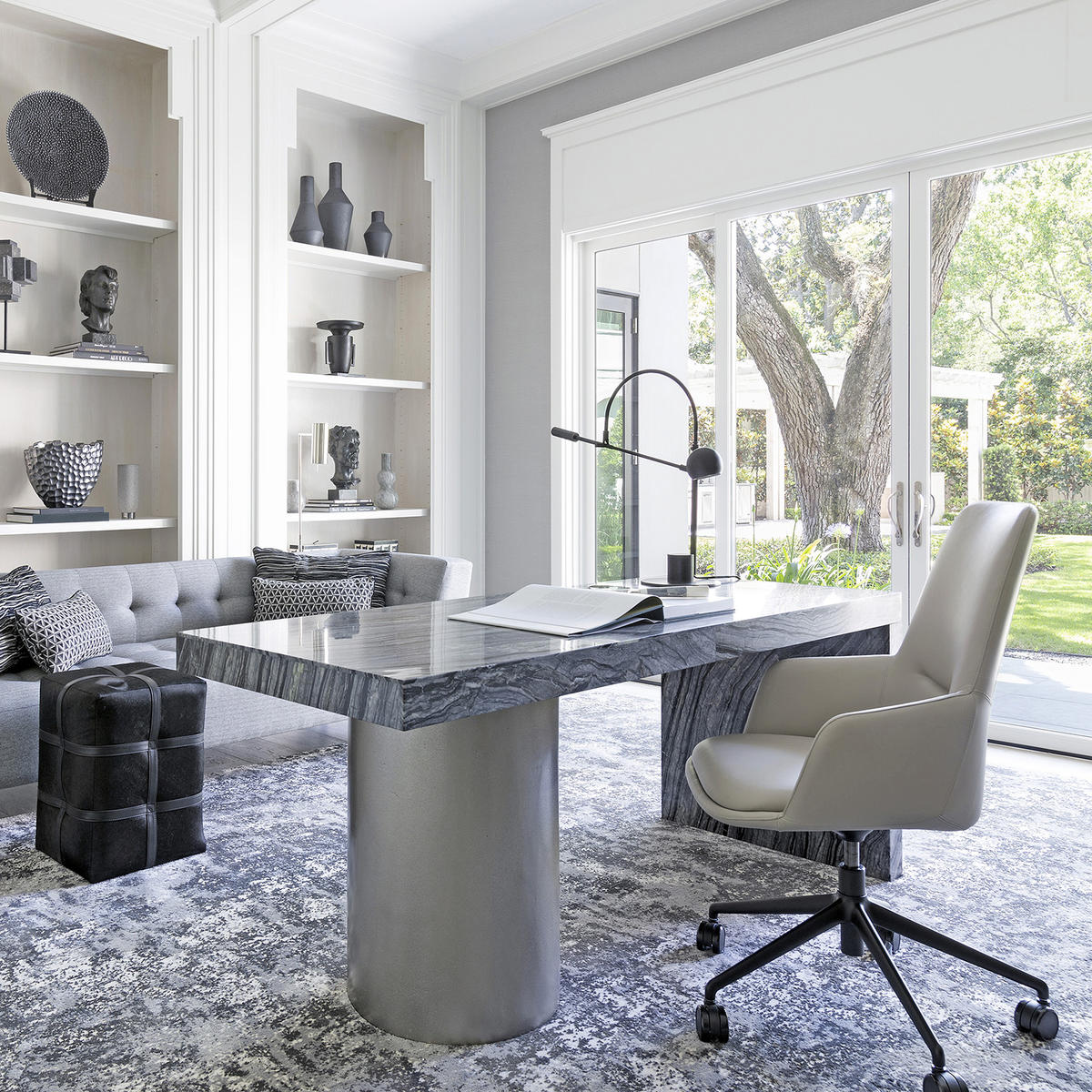 Courtesy of Benjamin Johnston Design
I know you have a team now. How long was it before you made your first hire?
So I was going at it with a business partner for probably the first five years. Back then, I really saw my capability as a designer and my benefit as being a lean, mean machine. But what I realized was that I could not do this alone. Ours is one of the most humbling industries I've ever encountered, because what you learn very quickly is that if you're not good at something, you shouldn't continue to do it: You should not be doing your accounting if you're a terrible accountant. You should not be doing the design work if your interest is in the business.
My firm's managing partner now, who is also my life partner, is Erich Ploog. He has spent his entire career advising Fortune 500 companies, and he was a business consultant for many, many years. He stepped into that role at the firm around 2015, but he had been advising before that, starting in 2011. He was the one who said: "Let's talk about this business as a business. Let's talk about the kind of business you want to run, the kinds of projects you want to work on, and the tools that are going to be necessary for you to offer that kind of service and experience." I was focused on residential interior design at the time, so our first hire was Paola Neri, a very accomplished designer and architect from Bolivia who is still with the company today. It was important for me to hire somebody who was incredibly talented, as well as just a really great reflection on the business and on the company. I feel like I found the best.
That first hire really allowed me to start trusting that I could include more people. We started scaling up—we hired more interior designers and continued to refine our process. For me, it was an opportunity to be a mentor again, as I had been when I was teaching.
How many people do you have on your team today?
Fourteen.
Is your vision to get even bigger, or is there a sweet spot for you of how big your team needs to be to achieve the things you're dreaming up?
That's a brilliant question, and one that Erich and I ask ourselves all of the time. For now, I can tell you that I feel like we have found a really good sweet spot. But we've also recently expanded into more architecture—so if that has exploded a few years from now and I see the need for more architects—we might grow again.
You trained as an architect—but you sound so surprised that your firm is now doing architecture!
I had sworn off architecture for so long. I was assisting clients and collaborating with architecture teams all over the country, and it really came as a result of our clients saying to us, "We know your background is architecture, and you have interior architects on your team. Couldn't you have saved us all of this time and effort, and realized a luxury experience for us in a more efficient way?" This past year and a half has been so insane for everyone, and it makes you question everything. It made me realize that there's no reason why we shouldn't bring that process in-house to create an experience that is turnkey, and it was something that I decided was necessary. We didn't even advertise, but we quietly told a few of our key collaborators that this was something that we were going to be doing, and we started it in November of last year. We already have 20 projects—either in development or breaking ground or starting construction—as we speak.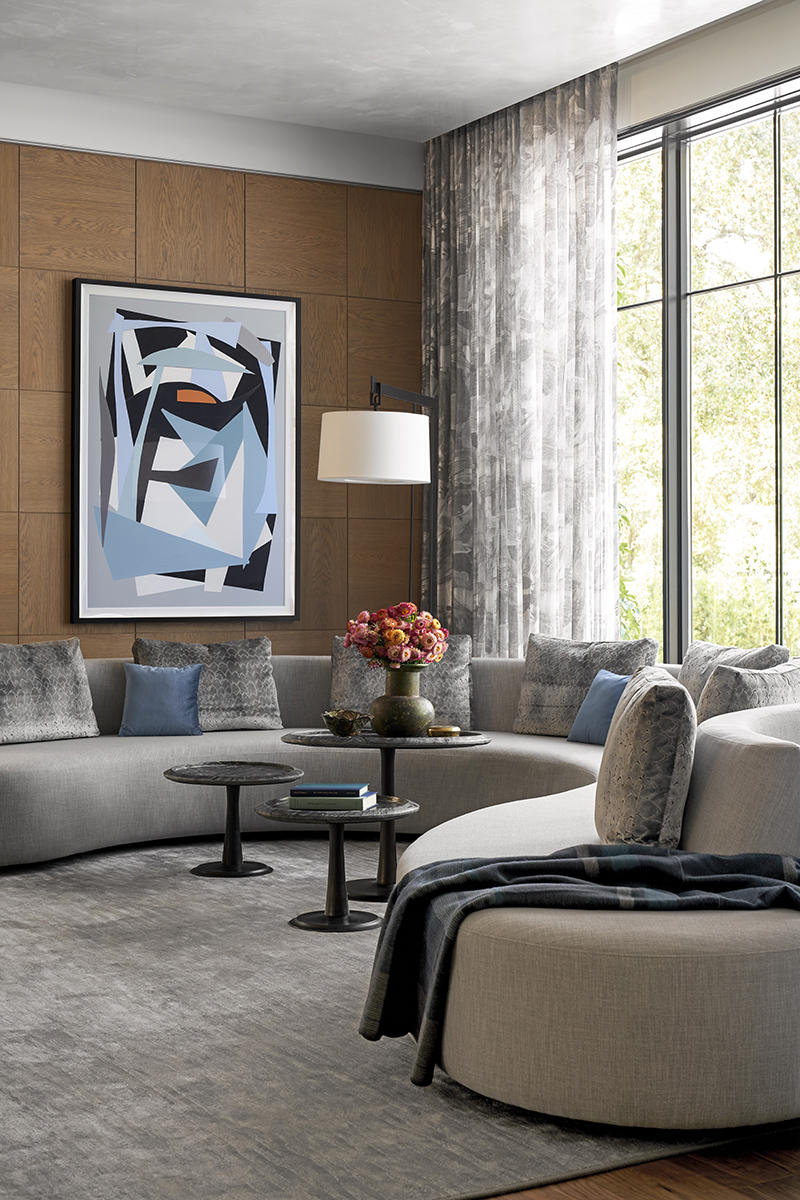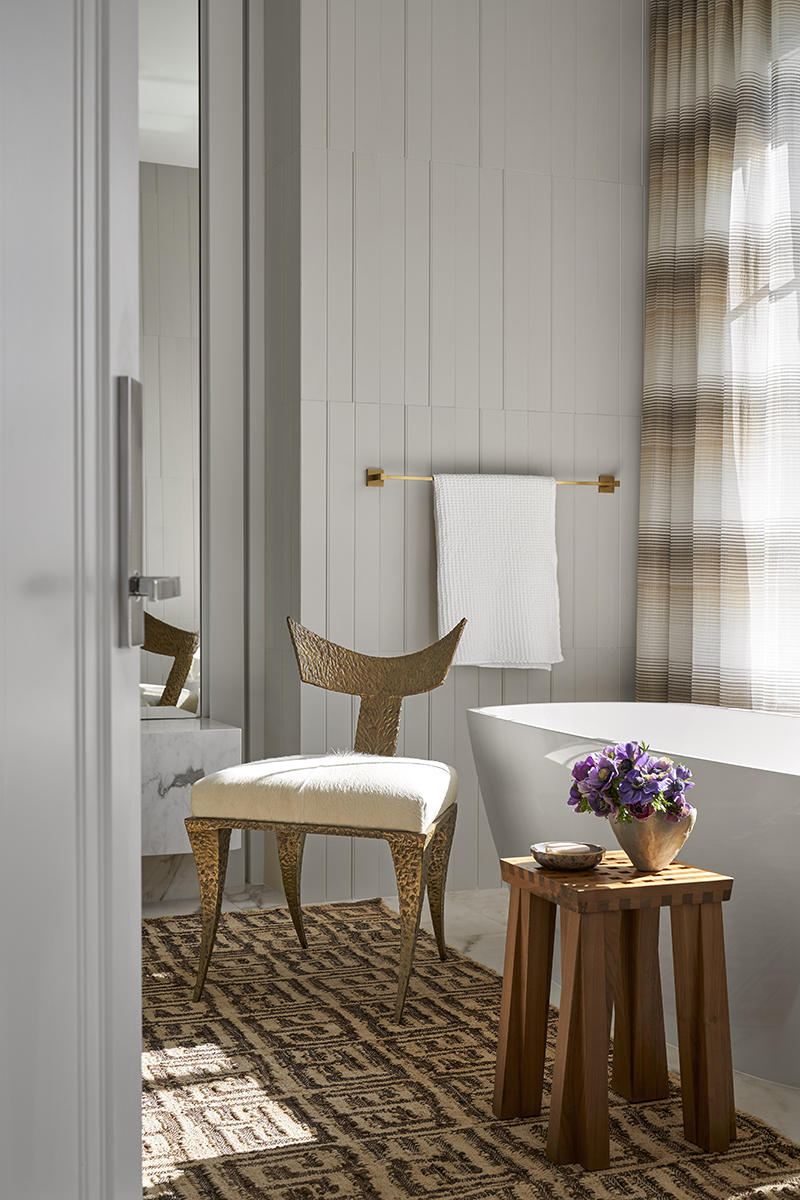 How many projects are sort of in your books in different phases right now?
We have about 70 projects in the office right now, and about 10 of those are early in the process. But we have 60 going right now.

How hands-on are you with each? Where does the client see you in the process?
They'll probably say they see me too much. I serve the role as the creative director for every project, and then every project typically has an architect and an interior designer working on it. I am typically at every meeting, and I'm involved with the creative process as well.

Even as you grow, is that the role that you want to hold onto?
It is, mainly because that's the part that I am most drawn to: the process of creating beauty. If I'm not doing that, then I'm not serving my purpose. I want to enable my team to create beauty, too, but I need to always be creating beauty in some form or fashion.

Are there any projects where you're the lead designer on the project, as well?
I am, and it just depends on the client that I'm working with. There are certain clients that have very strongly expressed that they want me doing every aspect of their project, and that's fine. I accept that, and I'm happy to do that. I'll still include some of my design team members for support, but I am making most of those decisions on those particular projects.

How has working with Erich, and really having someone to manage the business side of your business, given you a leg up as you assess how and when to grow?
Well, it meant we had to grow the company large enough so that we could support him the way that his business had been supporting him for his entire career. But really, I feel like he is the secret sauce. The truth is that I believe design is a service. Yes, it is an art, but first and foremost we're a service industry—and Erich has really allowed us to grow this company in a way that allows us to run a really, really smart design business that gives our clients unparalleled service.
He has also brought so many of the processes and experiences that you might have with a large business—things like full benefits, maternity and paternity leave, and quarterly reviews with all of our team members. That is something that I think really sets us apart, and it allows us to be very competitive in the job market. We have designers and team members who are excited that they have potential for vertical growth. They have benchmarks, and we do goal-setting with them to make sure that they are going to be happy and grow in their positions for many years to come.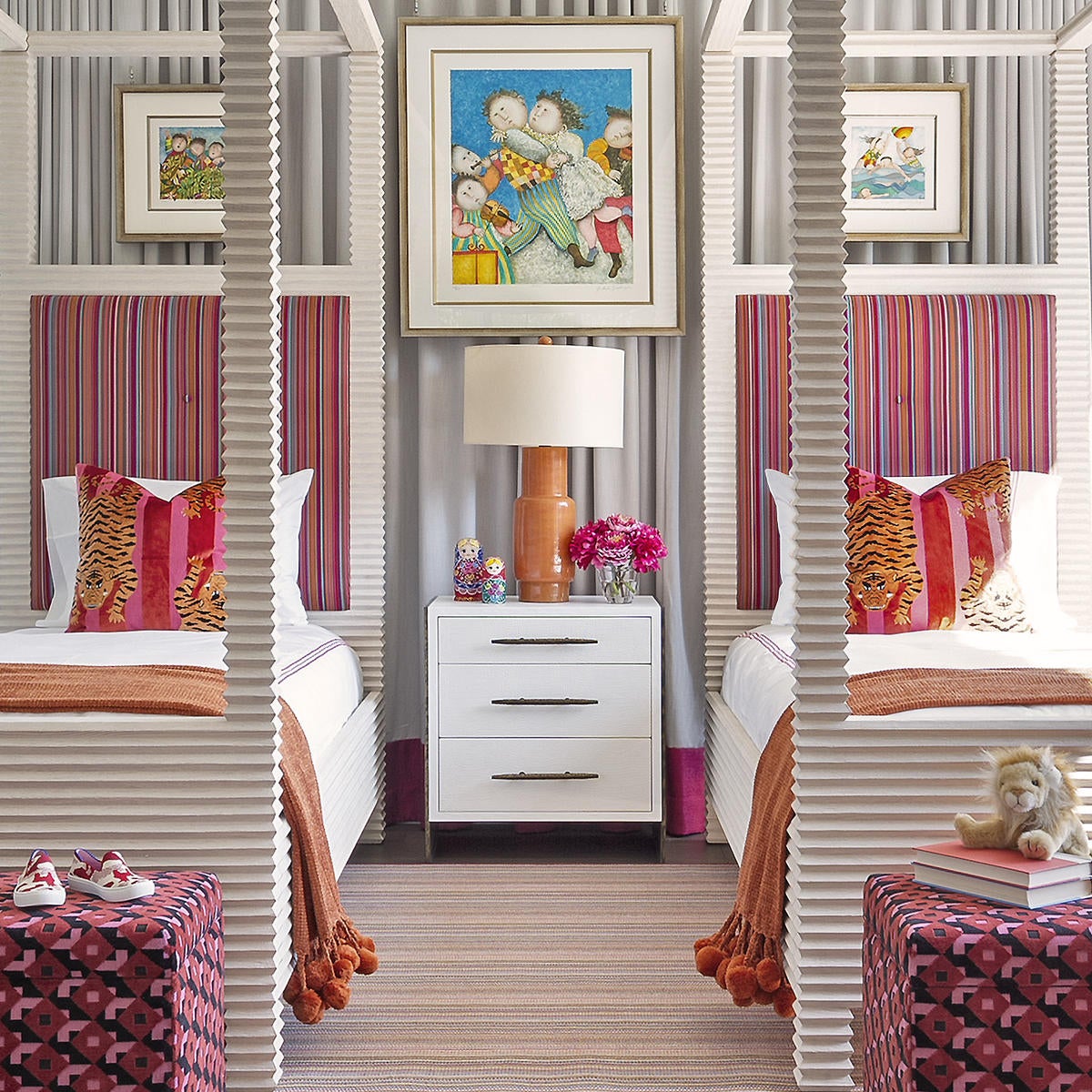 How do you decide what jobs you say "yes" to?
We used to have these conversations with clients where they would say, "What is the magnitude of cost associated with this project?" We needed to give them the information they needed to see if we would be a good fit for them, but also for us to discern whether or not they were a good fit for us. We created a document based off of all of our accounting records, [outlining] what our clientele had spent not just on our services, but also on furnishings, which we turned into a large matrix that defines the various factors that affect the costs of a project. It tracks the scope of the project, the number of rooms in the house, the number of types of spaces, and the sizes of those spaces, as well as the price point of furnishings—lower and medium price points, or exquisite artisanal product—for each room.
That's a lot of data to wrangle.
It is, but we were able to create a guide that allowed our clients to see reasonable budgets based on our history. It allowed us to say, "OK, Mr. And Mrs. Smith, you're asking us to design all the rooms of your house, and we can tell you what you can expect at the low, medium and high price-points for this type of project. If you're going to want to get the kind of spaces that you see on our social media, this is what it's going to take to get you there." We obviously say it with a lot of respect and professionalism and love, but some prospective clients hear that and are like, "OK, I can see that you're not the right designer for me." We allow them to come to that conclusion, and we don't have to be the one who sits there and says, "You know, you're just not a good fit for us." On the flip side, it also sparks an important conversation that has to be had when you're setting expectations with clients about what it is this project is going to cost and how much of my and my team's time they are going to be paying for.
By the time many of our clients have worked with us, they've worked with other designers or gone through the process of furnishing a house for themselves. They are wise enough in the world and well-traveled enough that they understand what it takes to build a magazine-worthy interior, and they are generally receptive to the conversation. But there are still people who just don't understand what things cost in the market, and they're shocked when I tell them what it took to make a project so exceptional.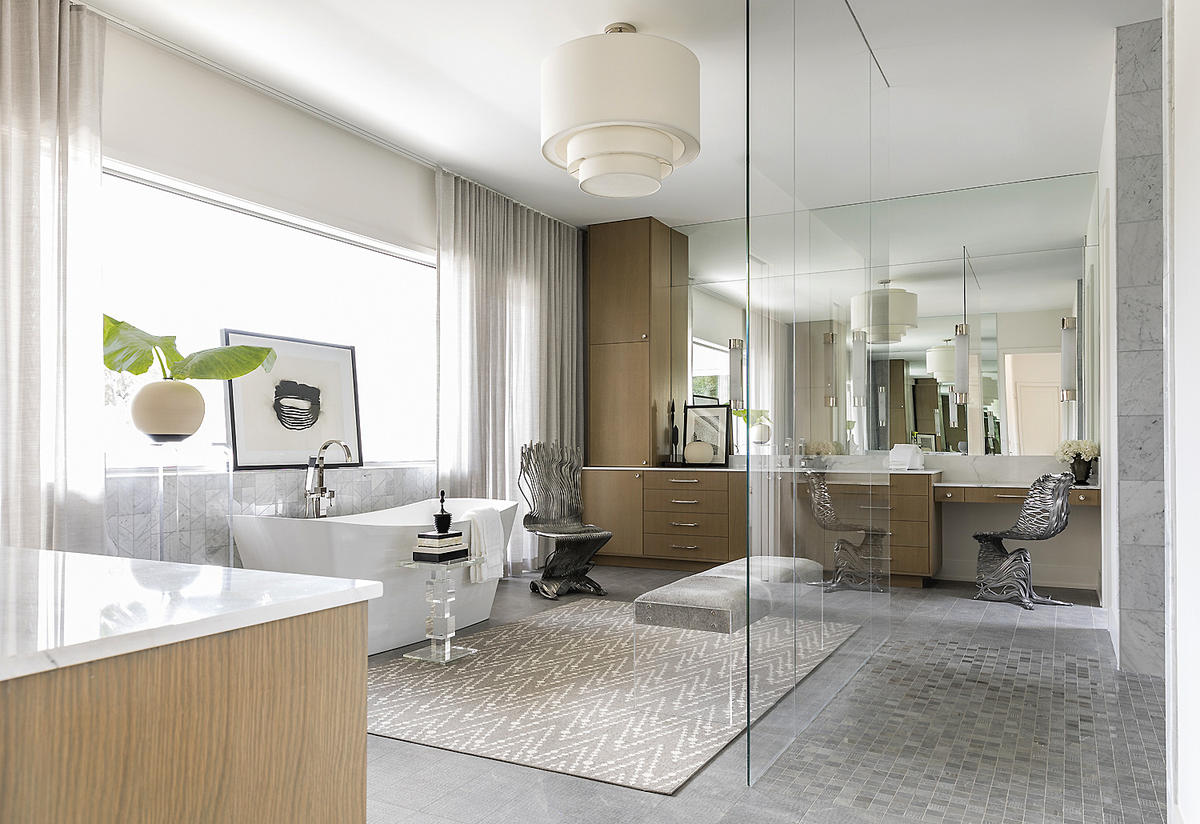 Courtesy of Benjamin Johnston Design
Tell me about the design community in Texas, and about what you're seeing in the homes you're working on.
What I'm seeing is a lot of very large homes. You know everyone jokes that everything's bigger in Texas—and by and large, if you talk to my friends in New York, they're not dealing with the same kind of square footage that we are. We're working on projects at 5,000 square feet all the way up to 35,000 square feet on the residential front. I'd say most of our houses are between 11,000 and 12,000 square feet.
That is big.
The grass is always greener, but I love to create jewel-box spaces where every detail is considered and every single piece is exceptional. That is a lot more achievable to do when you're dealing with a much smaller footprint, and a smaller scope. If you try to do that on a 12,000-square-foot house, it's literally like trying to spread the tiniest bit of butter across a dry piece of toast—there's only so much you can do to touch and meaningfully affect those spaces when you're dealing with that kind of square footage. For us, talking to our clients about if they want every space in their home to feel considered and look like the images that you see in publication—we explain that it requires a significant investment on their part to create the number of layers necessary over their entire house.

Is the solution to say, "Some of these spaces are going to be very considered and personal, and some of them are going to be just beautiful"?
That's part of the reason why that cost matrix is so important for us. We tell our clients, "You don't necessarily need to spend the same amount of money on all of your spaces, but we have to carefully invest your resources to where the biggest impacts are going to be felt." I would rather tell a client, "We're not even going to do this space if we can't do it in a really beautiful way." I would rather they shelve that part of the project until they have the funds to do it, than to do it in a way that is not optimal, and is not a good reflection on them or on us.

I will tell a client, "You seem like a wonderful family, and maybe we don't furnish everything in your house to begin with. Let's outline a strategy, and as the resources become available to finish the project, let's continue to address it." I've had many of my clients for my entire career, and I love the fact that I have continued to be able to grow with them.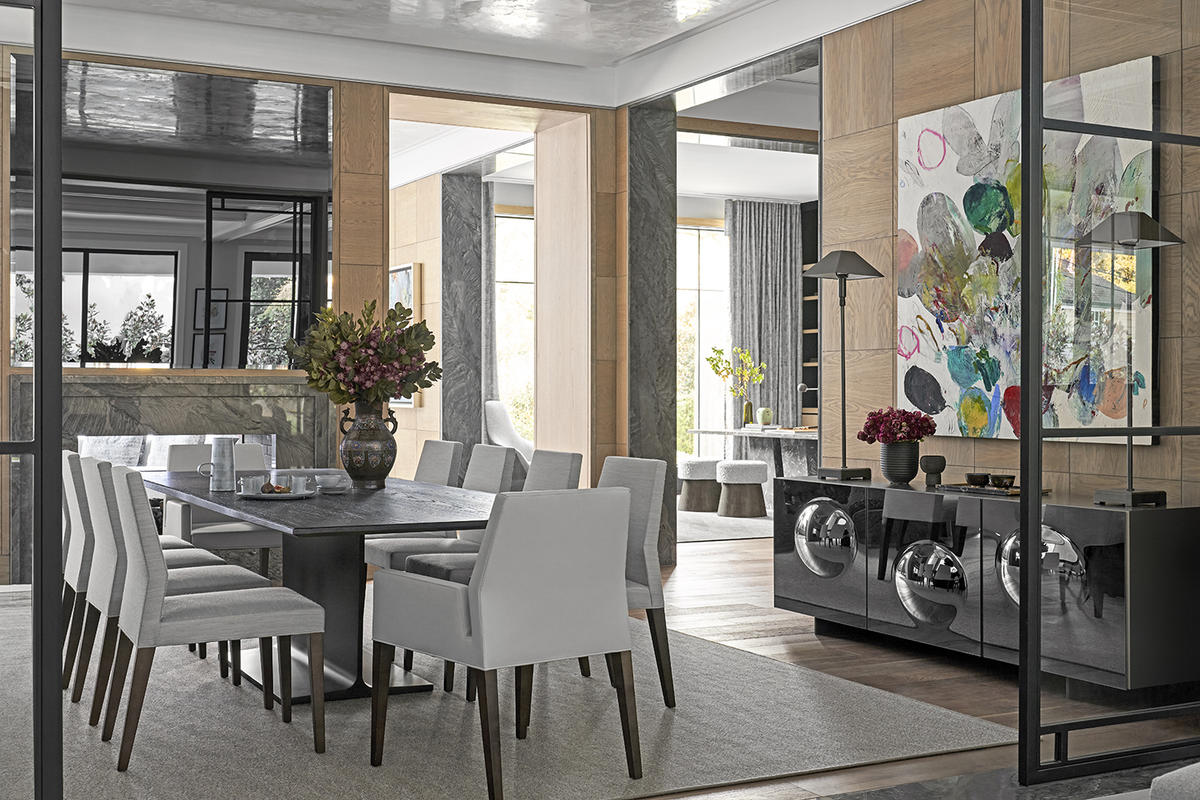 I just saw you at High Point Market. Was that just a shopping trip, or what were your goals while there?
We bring our team to market twice a year. Our purpose is to really educate ourselves in terms of quality and the way pieces are manufactured. We all know that seeing a picture online or in a catalog is very different than seeing it in person, so for us, it's about being able to be a resource to our clients by saying, "I've seen that in person, it's executed beautifully," or, "I've seen it in person, it's not comfortable," or, "I don't think it's going to be the right fit or the right scale or the right quality for your project."
We also go because it's obviously wonderful for inspiration. We love to see the new product that's out there. We created a project a couple years back that was inspired by this adorable pair of twin beds that we saw at Market. We said to ourselves, "Note to self: If we ever have a client do a little girl's twin bedroom, we're going to use these beds." A few months later, we had a pair of clients who wanted to decorate a room for their granddaughters. We knew exactly what to do—and that was the project that we ended up winning the Luxe National Red Award for best use of color. It was just a wonderful space, and we were so excited about it. It also generated a slew of other clients saying, "I know we said that we weren't interested in designing and decorating our kids' bedrooms"—but now they want us to do their kids' bedrooms, which is a lot of fun.
What does success look like to you?
Success is seeing and creating beauty, and it's generating an opportunity for our collaborators to do the same. It's also about really happy team members who are able to provide not just for themselves, but for their families. Success is really about seeing a healthy, happy community and creating an opportunity for them to do the same in their own spheres of the world.
To learn more about Benjamin Johnston, visit his website or find him on Instagram.