The 50 States Project is a series of candid conversations with interior designers across the country about how they've built their businesses. This week, Scottsdale, Arizona–based Kaitlyn Wolfe of Iconic Design + Build tells us why she recently hired a coordinator to manage the client experience, how she plans to start releasing a product line in limited-edition drops, and why she likes defying expectations about her age.
Have you always wanted to be a designer?
The short answer is yes, this was always a dream of mine. But I didn't feel like I could pursue design as a career. I was always told, "Oh, interior design is just a hobby. You can't make money doing that. What are you going to do to make money?" None of my mentors or my friends had gone into creative careers, either, and I ended up listening to others and going to school for biology and neuroscience. When I had been in school for a few years, I was looking at the next steps with this degree, and everything I [found left me thinking], That's not what I want to do for the rest of my life.
At that point, I decided for myself: If I don't do this now, I'm going to regret it. I ended up applying to the graduate program at my school to get my MBA because I also knew I wanted to own my own business. And that's how I ended up moving to Arizona.
You were coming from the East Coast, right?
I went to Wilkes University, which is in Pennsylvania, but the MBA program had a satellite location in Arizona. While I was in school, I ended up getting a job at an interior design and architecture firm here. Immediately, it was like, OK, this is what I want to do.
What made the firm such a great fit?
The owner of the firm had run her company for over 20 years. She was a licensed architect and an interior designer who had studied in Paris. There were only seven of us for architecture and design, and the design side was pretty small, so I was working alongside her, assisting her lead designer and then doing a lot of things for her personally. They hired me for an administrative role, but of course in my interview I told them that I'm absolutely in love with this field, and I would take anything just to get my foot in the door professionally. I was wearing so many hats in her firm; I just dove in and it didn't feel like I was working.
How did that role shape the way you run your business today?
That experience was huge for me in terms of learning the more technical side of design—especially the drawing programs. I learned so much on the backend, too, because I was doing all of her bookkeeping as well. I was doing all of the ordering, preparing for client meetings and doing client communications. Working there really prepared me to have my own business one day because it wasn't a huge firm where I was just doing one thing. After I graduated, I ended up working there full-time. When the lead designer moved to California, I was promoted to her role.
At the same time, I also learned a lot about how not to run a business in terms of managing people and creating a culture. The culture there was very toxic, and there was a lot of turnover. I was there for about a year and a half, and even though I loved what I was doing, I eventually had to leave because I was an emotional mess.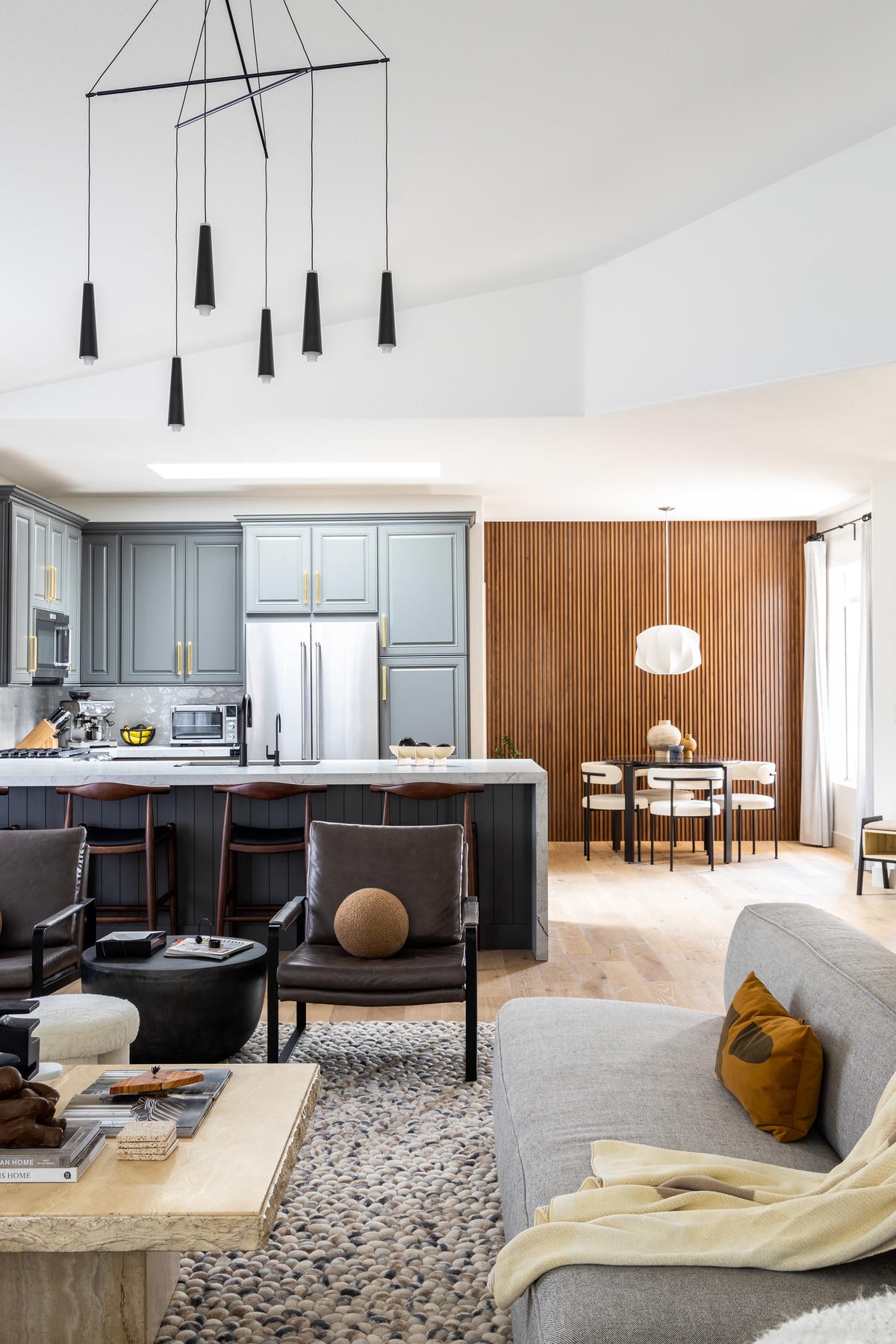 Where did you go after that?
Even though I had helped a team of people on some really high-end residential and hospitality projects in the area, I didn't have anything under my belt that was just my own. That's when I created my own LLC. I was like, I'm just gonna start my own business and see what happens. I joined a networking group and started meeting other business professionals, and several members took a chance on me. At first, it was a lot of small projects for members in the group, but I was growing my portfolio.
At the same time, I realized I wanted to know more about construction. I felt like I understood the design side, but I wanted to know more about how things are made, or what's involved in renovating someone's kitchen—not just what it could or should look like, but how it happened. So I got a job for a general contractor and worked for them as a project manager and designer. I was running construction jobs and managing big renovations, and then I kept my LLC on the side to do furnishing and decorating.
You're a GC yourself today. How does that change what you can offer, and what was that process?
In addition to working for that general contractor, I also worked for a flood and fire restoration contractor, so I had built up enough experience and had the credentials to get my license. Working [on the build side], I was able to see where things were lacking in the renovation process—there were a lot of things I wanted to do from a design perspective that were shot down from the construction side of things, either because they didn't want to take risks or they wanted to do things how they had always done them. Or, we would partner with a client's designer, and the communication between the design and construction [teams] was just not there. I loved both, so I was like, This is what I can do: I can be a one-stop-shop for people. That's what really drove me to get my GC license. I felt like it'd be such a competitive advantage, but also a nice service for clients to have one point of contact instead of hiring a designer and a contractor and playing middleman between the two.
When did you decide to go all in on your firm?
It was March of 2019. I had kept my LLC business on the side for decorating projects, but I was getting to the point where I was getting calls for full-home, 5,000-square-foot furnishing projects, and I knew I couldn't have a full-time job and do that project on nights and weekends if it was just me. Then one person turned me down because it was a side hustle for me; she didn't want to hire someone who did design on the side, which I totally understand now that I look back. Some of the clients that had hired me for furnishing were also asking me about renovating their kitchens, which felt like it was starting to cross over to what I was doing for the other contractor. I had to leave and take the leap—if I didn't, I was going to start missing out on opportunities.
What have the past three years been like for you?
Our growth has been pretty crazy year over year. When I went full-time, it wasn't like I was just starting out—I already had clients, and had started to build a portfolio and an online presence. I also bought my personal home in the fall of 2019—renovated it, fully remodeled it and furnished it. People saw my home on Instagram and really liked the style, so I started to create more of a brand. And in that first year full-time, I started to get more projects that were more of my personal aesthetic. Instead of me saying yes to anything, I was getting some really good projects where I felt like they were trusting me with my style.
How long did you keep working on your own?
I actually hired one person the first year, and then the following year I hired a couple more—and now we have a team of 11. In March, it will be a year since we moved into our office, where we did a full build-out and remodeled it to really make it our style. And I feel like we've just been elevating our portfolio. When I started, my clients were homeowners who wanted to renovate and furnish, but the renovation was really more of a cosmetic remodel. But in the last six to eight months, we've been getting projects where we're partnering with really big builders and developers in town. For those projects, we're coming in as just the design firm—but contractors love working with us because we understand the construction side and we know what they need to make the job successful.
What were you hiring for initially—and how did you grow so quickly from one to 11?
My first hire was actually one of my clients. At that time, she was like, "I hate my job. Do you need help?" And I really did, because I was doing everything myself. She came on to assist me, but it wasn't really a long-term solution. She ended up getting pregnant and moving back home to Canada, but she helped me transition to someone new, who's still with us now as our project manager. My next hire was a draftsman, who helps me with renderings—sketching my design concepts to help me speed up the rendering process so that I could focus on the design.

After that, I hired a designer. She was assisting me with design at first, and now that we've worked together for a couple years, we've found that we are really aligned in our style. I trust her to be on site, and we think the same way. Between her and my project manager—they've been with me for the last couple years—they've definitely helped me grow the business and take it to the next level. They treat it like it's their own business, which is amazing.
After we got the office, we needed somebody there full-time to accept packages and answer the phone, so we got an administrative assistant. Then we hired a design intern—and we loved her, so now she's a part-time designer. Over the summer, we brought on two more full-time designers. Right now, I'm still doing all of the design concepts: I create the concept and source all the materials, and then the team pieces it all together, creates the visuals and gets the samples we need.
Most recently, we realized we needed some more help on the admin and operations side, so in December we brought on a procurement coordinator to do all of the ordering and tracking, and a client coordinator to manage our client intake, prospects and the whole onboarding process.
I don't hear people talk about a client coordinator very often, but that's a really cool job.
She only started about a month ago, but it's already been so helpful for us because we're managing so many things that it can be hard to take the time to put a proposal together—but that's also so important, because taking on new clients is how you keep the business growing. As she gets comfortable with the client onboarding, we're also going to have her help guide our clients through the process. There's so many steps in what we do—especially because we do design and construction—so we have to do a lot of explaining of what happens next and what the expectations are. My hope is she'll just call our clients and be like, "How are things going? How are you doing? Do you have questions?" We're always putting out fires or dealing with super time-pressing things, and we don't have time to sit down and check in. I think having her on the team is going to really change the experience for our clients.
How many projects is the firm working on right now?
We float somewhere around 30 right now—but if you look at our full client list, some of them just gave us a deposit and we're starting in a month or two, and there are others where we finished a month or so ago, but we're waiting on that one last chair to arrive.
How have you approached billing for the firm's work, especially as the business has grown?
We have an initial consultation fee, which is a flat fee for that first meeting. After that, we create a design proposal, and it's another flat fee for that. We don't do much hourly work at this point. If it's a custom home, it's usually a cost per square foot; if we're working directly with the homeowner, we'll meet them at their home, look at the scope and come up with a proposal. They pay us 5 percent upfront, and then we'll get the remaining 50 percent when the design phase is done. From there, we work on estimating the whole job if we're doing the construction—we'll put a full estimate together, with the materials and the labor, and then we have a set markup. We do the same cost-plus model on our furnishing, and I've found it's a really transparent way to do it. We basically show our clients our exact cost, and then we just add a set markup that we've agreed upon. That cost-plus takes care of our management time over the course of the whole project. And then when we're on-site at the end, installing furnishings and styling, we have an hourly rate.
Where do you grow from here?
It's not about growing the number of team members. We're at a good spot. I'm sure we will get bigger, but I don't want to be a huge company. I just want to do high-caliber projects. At this point, we have an amazing reputation in the area and online. When people come to us, they're not really considering other firms—they know they want to hire us because they've seen enough of our work and followed me on Instagram, so it's not really about the cost. So I think [growth comes from] continuing to grow the brand, elevating our portfolio and knowing the value of the design is there in our design fee.
Where do you see the most opportunity when you look ahead?
I really see the next step as moving into a bigger space. I have this vision of walking into this building and you've got a coffee shop in the front, an art gallery and boutique with really unique pieces—whether it's vintage or local artists—and then in the back is our design-build studio. I just love the idea of incorporating the community in that way. And then behind all of that, ideally, we'd have a warehouse where we could receive our own furnishings. Right now, we have to send all of our furnishings to a receiver, and sometimes it's difficult because we're getting photos of damages, or we're constantly following up with them to say, "Did this piece arrive? Did it come in the right color?" If we had those things physically in our space, that would help us a lot.
In terms of resources, where do you shop locally?
I wish we had more showrooms here. There are a couple of design centers, but they're pretty small. When I go to L.A. or New York, I just die; I have to go to every single tile showroom. We end up ordering a lot of samples online, and then we have reps who come visit us and who can get us materials.
I also love going to markets—we went to Las Vegas Market last year, and to KBIS the year before that. I like to switch off between them. I'm also considering going to High Point in April. I think it's so important to see things in person. But also, once you order enough, you get familiar with certain vendors and you know their quality.
You have a second business related to design, as well—a product line?
It's called Syfte Collective, which means purpose in Swedish, because I feel like every piece in a space should feel intentional and have purpose. It's in Swedish because we incorporate a lot of that type of design in our spaces. So we're designing custom items—from furniture and lighting to small goods like shelving or bookends—and doing small collection drops a few times a year. It's all limited-quantity, custom, one-of-a-kind pieces that are built locally. It's a way for people to own a piece that we've designed without hiring us to design their entire home.
What made you think there was an opportunity in that space?
We design a lot of custom things for our clients—coffee tables or chairs or lighting—and I just thought, How amazing would it be if we could have a few more made, or modify the color and size to have different variations of it? By doing the collection drops, it's more free-flowing for me. I can decide when I want to drop it, or make each collection a little bit different and evolve as our style evolves. It's a new creative project for me; we announced it this summer, and our first collection will be in the next couple of months.
Are you just holding inventory until the pieces sell, or how will those collection drops work?
Yes. I am designing everything and sending it out to our fabricators, and we'll go from there. It's already part of our process with our clients, so it's pretty seamless for us.
Your design firm is called Iconic Design + Build. Where did the name come from?
It's funny you say that, because I was just looking at an old picture on my phone from when I was considering all these different names. When I came up with it, I didn't really know exactly what our direction or niche was going to be, but I did have this midcentury modern, Scandinavian, desert, organic influence. I started putting together different words that described those spaces and how they make you feel, and one of those words was iconic. It's a word everybody knows, and it's easy to say.
It also captures our goal, which is that every space is different. I feel like at some firms, a lot of the work looks like it could all be in the same house. Our focus is really to push ourselves and our clients to give every space its own unique feel, and the word iconic really represents that.
Do you ever regret not branding the business around yourself or your name?
I still question that. I mean, I'm not going to change it—I'm committed, and I think that recognition will come over time. Eventually, people do associate the owner and their name with their company, even if it's a different name. We're getting there.
What is the biggest thing you know now that you wish you had known when you started your business? What surprised you most about being an entrepreneur?
I would say managing people and processes. Every time we bring on someone new, they're coming into a role that didn't exist, so we're having to figure out, "What does their day look like? How does this affect everybody else on the team, because all of their tasks used to be done by other team members?" We have to adjust everybody's task list and look at everybody's role in the company. I would say that's been the biggest learning curve.
How has being younger than a lot of your contemporaries influenced the way you approach your business?
I like being young. I know people are judging me, and I kind of like that. Let's just say I'm going to source for a project in a really high-end showroom I've never been to before—I just know that they're looking at me like, "OK, this person isn't going to buy anything." Then I walk in and am like, "I'll take that sofa, that chair, that rug." They're confused, and I like that. It happens to me every time I go shopping.
From what I've heard, people like working with us in part because we're younger and we have fresh ideas. We also answer our phones and texts late at night when they need an answer, we whip up drawings fast, and we try to stay on top of everything. I look at the people I idolize the most and I'm like, Wow, those people are twice my age, and I want to get there one day. I can't imagine where we're going to be in 20 years.
To learn more about Kaitlin Wolfe, visit her website or find her on Instagram.