This past Monday, top architects, educators, critics, and planners hailing from outside New York City gathered to choose 32 winners from within the Big Apple for the 2018 American Institute of Architects (AIA) New York Design Awards. The awards were given across four categories: Architecture, Interiors, Projects, and Urban Design. The Smithsonian National Museum of African American History & Culture by Freelon Adjaye Bond/SmithGroup was named Best in Competition.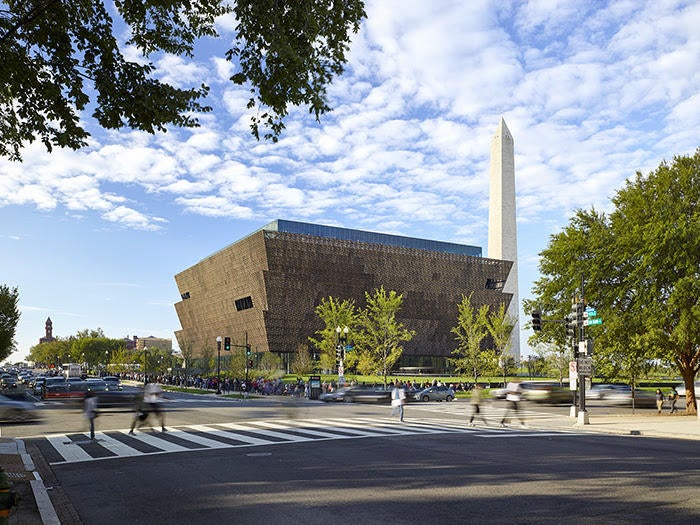 "Each winning project, granted either an Honor, Merit or Citation award, was chosen for its design quality, response to its context and community, program resolution, innovation, thoughtfulness and technique," explains the organization. The projects had to have been completed by AIANY members, architects and designers practicing in New York; submissions could also be New York–area projects designed by architects and designers based elsewhere.
This year's winners—12 of which are located in New York—include temporary installations and exhibitions as well as large-scale urban interventions. The jury included Gro Bonesmo, partner, SPACEGROUP; Ila Berman, DDes MRAIC, dean and Edward Elson Professor, UVA School of Architecture; Aaron Forrest, AIA, NCARB, principal, Ultramoderne; Walter Hood, creative director, Hood Studio; Tom Kundig, FAIA, principal and owner, Olson Kundig Architects; Debra Lehman Smith, partner, LSM Studio; and J. Meejin Yoon, AIA, co-founder, Höweler + Yoon Architecture, professor and head of the department of architecture at Massachusetts Institute of Technology.
They awarded the following in the Interiors category:
HONOR
Architect: NHDM/Nahyun Hwang and David Eugin Moon

Architect of Record: ALab Architects

Project: Nam June Paik Art Center Renovation

MERITS
Architect: LEVENBETTS

Project: Cornell University Rhodes Hall

Architect: Peter Marino Architect

Project: The Lobster Club

Architect: Rice+Lipka Architects

Project: Parsons Making Center

Architects: SheltonMindel in association with A+I

Project: New York Family Office

CITATION
Architect: Young Projects

Landscape Architect: Future Green Studio

Project: The Gerken Residence

Get the full list of winners from AIANY.