Restoration Hardware's Cloud Sofa represents, as the brand puts it, the culmination of British designer Timothy Oulton's seven-year journey "to create the world's ultimate sofa." The three-cube, customizable sofa, whose softness is achieved via 100 percent goose feather cushions wrapped in down, is currently available in three different depths. It was this summer released with Cavalo Leather, a South American hide requiring 42 hours of hand-finishing. Oulton, of Timothy Oulton, discusses his process, his inspiration and the result: a sofa "so soft it overwhelms the senses" with EAL.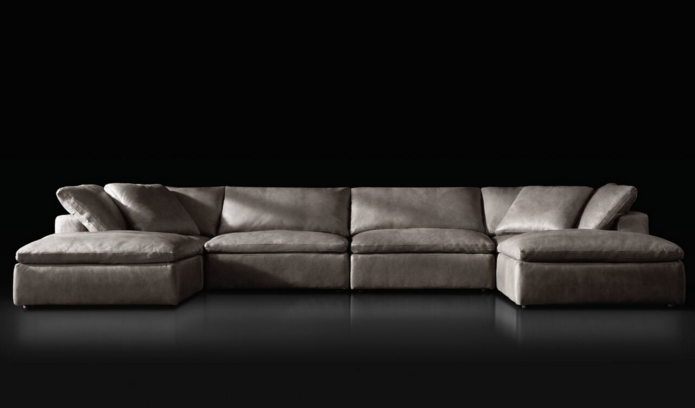 Walk us through your partnership with RH. When did it begin? How did it evolve?
It all began about eight years ago. From my early days in the antiques trade, I had this idea that antiques on their own weren't that interesting—beautiful maybe to the discerning eye, and obviously beautifully made—but kind of stuck in the past. And so I was thinking about how to capture those essential notions of great traditional hand-craftsmanship and materials, but infuse them into something much more modern and relevant for today.
We were both sensing a shift and an opportunity, and luckily the stars aligned, we met, and it was kind of love at first sight. Gary [Gary Friedman, Chairman & CEO of RH] and I​ were so philosophically aligned from the very beginning.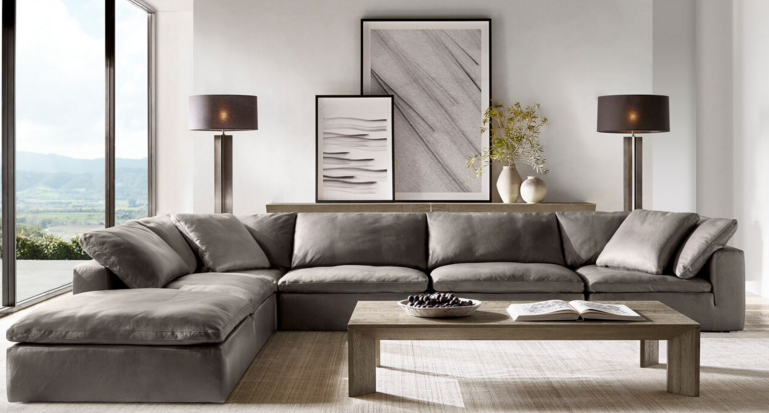 We started with a collection that included some really iconic pieces: the Kensington sofa and Professor Chair in beautifully distressed leathers, the Salvage tables from reclaimed English timbers, the Aviator Tomcat chair and Valkyrie desk, and the Foucault's Orb. All the pieces had an obvious heritage but were at the same time unlike anything people had seen before. Since then, we've continued in the same vein, focusing on beautiful materials and fabrications, but always with an eye to making it relevant for today.

When I saw the final design, I knew we had a great thing.
—Timothy Oulton
Tell us about the process of designing the Cloud Sofa.
Cloud is a great example. It's an epic product, and our way in, as always, was the exploration of materials and craftsmanship techniques. In the olden days, feather-filled sofas were pretty common, but were often hard, or overstuffed. We were playing around with that idea, experimenting with different kinds of fillings, but thinking through how people lived today.
In that exploration, I was struck by how incredibly soft goose down feathers are. They are very small and have the tiniest curl of any feather, which beautifully traps little pockets of air. It's so soft it overwhelms the senses. And something in that idea struck me as totally in tune with today, not heavy, but light, and airy, and elemental, and emotive.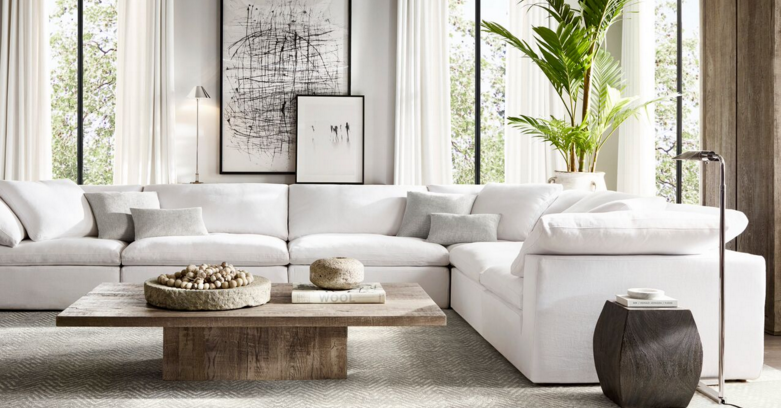 And so we took this idea, building up the concept but all the time trying to pare it back to an essence, and all the time thinking about today's modern lifestyles. And after literally hundreds of trial-and-error combinations, we were able to marry two critical elements: a totally new, almost disarmingly soft seating experience—which literally is like sitting on a cloud–and a design and proportion that was perfectly balanced and streamlined, while still being modular and configurable. When I saw the final design, I knew we had a great thing.