In 1936, 10 years after he'd turned Williamsburg, Virginia, into the pristinely preserved living-history museum it is today, John D. Rockefeller Jr. realized that there was a unique opportunity to monetize it. His idea was to create high-quality reproductions of the furnishings in the 88 buildings that make up the museum.
The furniture line was a runaway success, with pieces sold in the major department stores of the day like B. Altman in New York and Marshall Field's in Chicago. The Williamsburg Brand continued to be a successful source of revenue for the Colonial Williamsburg Foundation until the '90s, when traditional American design began to fall out of fashion. "That's when we realized we needed to evolve with the times and meet customers where they were at," Liza Gusler, the museum's product manager, tells Business of Home. "Our mantra now is 'Trend meets tradition.'"
Courtesy of Colonial Williamsburg
Gusler and her colleague Kiri Franco are now stewards of the oldest museum-home-furnishings business in the country and are responsible for the more than 40 licensing partnerships that Colonial Williamsburg currently boasts. Among them are collections with Benjamin Moore, Reed & Barton, Global Views, Mottahedeh, and York Wallcoverings.
Back in the '90s, when the need to expand their partnerships became evident, the team came up with the idea to repurpose some archival botanical prints and use them on bed linens. "We had a formidable product-review committee that consisted of curators, archeologists and architects, and they were horrified at the idea of turning historic prints into bedsheets," says Gusler. But the deal went through, and the sheets became part of the Garden Images print collection. All told, the sheets have generated more than $100 million in revenue for the museum over 25 years, all of which goes directly to preservation efforts.
When working with a new brand, the museum invites its new partners to spend a few days visiting, going through the archives and getting a feel for the place. It has often resulted in inspiration coming from unlikely places. Pieces offered through Global Views include a tray that was inspired by a jacket button and a mirror that was based on the architectural moldings surrounding a door. "It's amazing to see how they'll take these details and make it work for their particular brand," says Franco, the foundation's director of brand and licensing.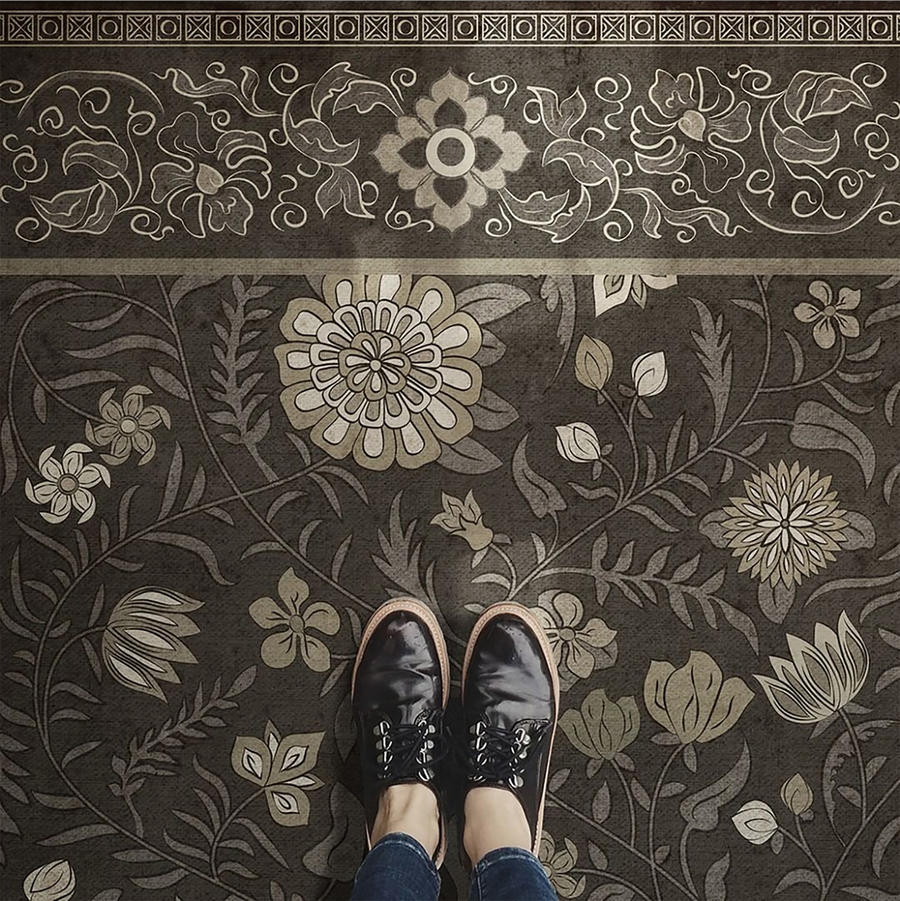 Courtesy of Colonial Williamsburg
Part of the challenge of her job is keeping the array of partnerships suitably vast and varied. "It used to be that we might partner with one brand for flatware and another for linens or toys," Franco says. "Now, brands have expanded so much that you could have all of that through one partnership. But we want to keep expanding our reach and educate and inspire people through a diverse range of product offerings."
Reaching new audiences is an enduring goal for Franco and Gusler, particularly when many still associate Colonial Williamsburg with mahogany sideboards and other reproduction pieces that wouldn't be out of place on the set of Outlander. "We can be victims of the success that we've had being so traditional," Gusler says. "Many people say things to me like, 'Oh, my mother loved your furniture,' or 'My grandmother had your Schumacher fabric line in her living room.' It's taken a while to make people see that we're embracing new trends."
When asked what the most daring product they've produced has been, Gusler points to their collection with Global Views. "We signed an agreement with them in 2004, when they were a new company and we weren't entirely sure what to expect," she says. "They've continued to push us in interesting directions."
She pauses.
"But I think I would still say the bedsheets—those were pretty out of the box."
Header image is courtesy of Global Views, featuring a mirror inspired by a shoe buckle at Colonial Williamsburg.