This morning, I designed a seaside reading nook, a chic Parisian getaway, a soothing home office and a grand lake house living room. No, I'm not the world's fastest interior designer—I'm not even a good, slow one. I was trying out a prerelease version of a new mobile video game, Playhouse, in which players decorate glamorous homes from around the world using only their thumbs.
Launching this week, Playhouse is the brainchild of gaming industry veteran Jill Wilson and the first release from her venture-backed startup Robin Games. If it's a hit, the game could join the ranks of mobile smashes like Angry Birds or Candy Crush Saga, which would be great for Wilson. But Playhouse comes with a twist: It's uniquely plugged into the real world of design. Most of the furniture in the game comes from real brands, ranging from Tom Dixon to Arhaus to Room & Board. Publications like House Beautiful and Hunker are providing content, and IRL designers like Peti Lau and Marie Burgos are helping to create in-game challenges.
All of which begs the question: Can an interior design game be good for the interior design industry?
The image of gamers as energy-drink-chugging teenage boys dies hard. In fact, the demographic of the video-game obsessed is extremely broad. The teenagers who blistered their thumbs on Nintendo controllers in the 1980s are getting into their 50s, and some have developed expensive taste (Herman Miller makes a gaming chair that retails for $1,795). Also, gaming is increasingly female—women make up almost half of the video game players in the U.S.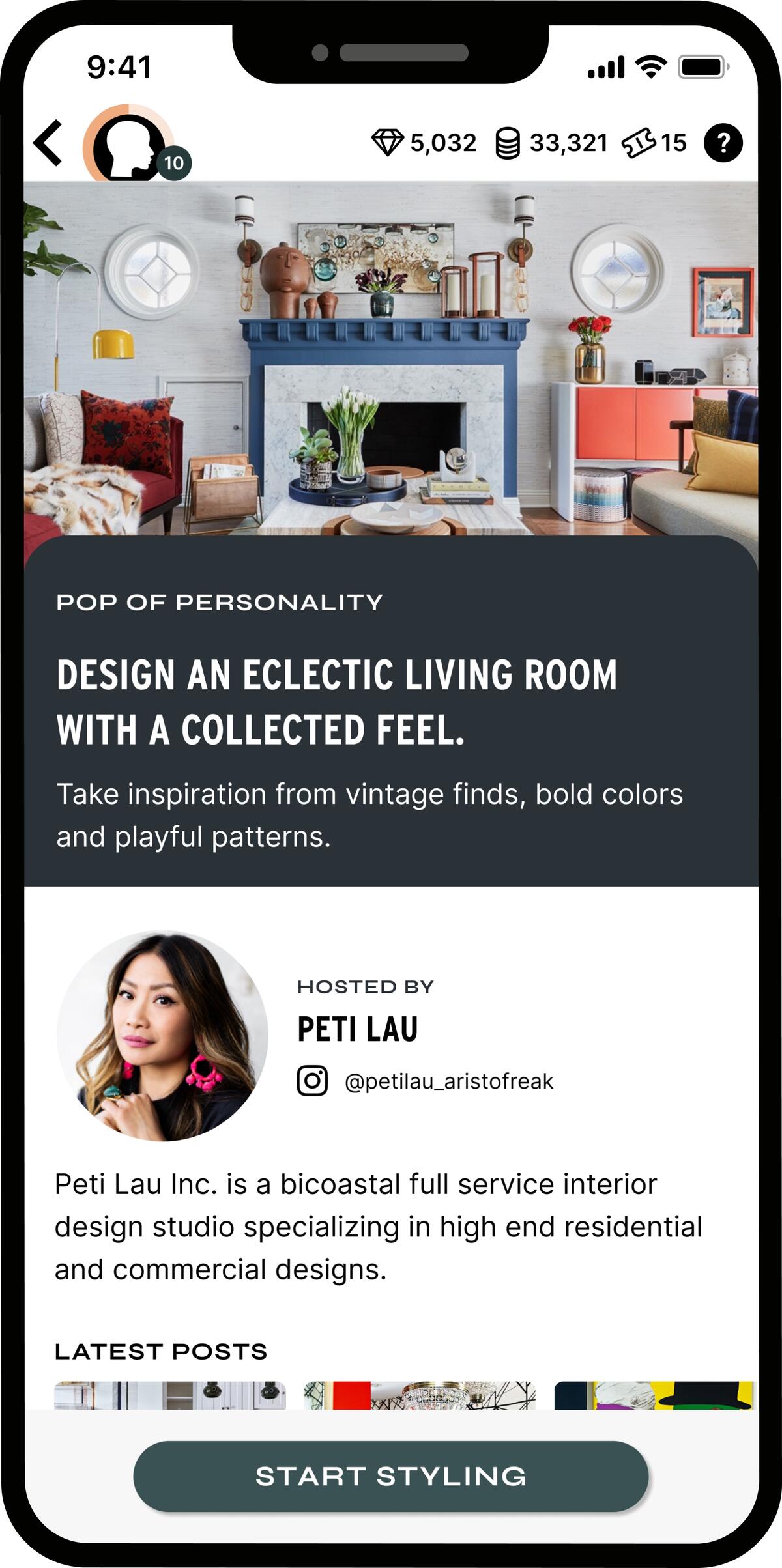 That's particularly true in the world of so-called "casual" games. Usually smartphone-based, casual games tend to feature simple interfaces and hooky, can't-put-it-down gameplay. Riding a combination of ad sales and in-game purchases, the casual games industry has become a cash-generating behemoth, raking in tens of billions of dollars a year. Its player base leans heavily female, with more than 60 percent of casual gamers identifying as women.
The people making them? Not so much. A 2020 survey found that men occupy the vast majority of executive roles in the gaming industry and that women only make up a quarter of the broader workforce. That imbalance, says Wilson, has led to a landscape of female-oriented games that don't always hit the mark. "[Those games] are often made in a kind of cartoony, playful way. And I thought: 'There's a ton of people out there who have amazing fantasies about things that games aren't covering yet, like bold modern beautiful design, being able to redesign your living room over and over, or use products you couldn't use in real life. Why couldn't games be about those fantasies?'"
The dearth of female decision-makers in gaming also leads to surprising gaps in the market, she adds. "There are really only two games that are solely about interior design [Design Home and Redecor], which is really shocking, because they're both wildly successful," says Wilson. "Normally in our industry, when something does well, a million people go after it. Why hasn't that been the case? I believe it's because there aren't a ton of people who flock to the game industry and are like, 'I really want to make a game about interior design.'"
Wilson herself is a veteran of the mobile gaming industry. After some early career successes she took a hiatus to travel the world and find a higher calling but found herself coming back. "I realized at the end of it, I really just wanted to make games," she says with a laugh. "The small contribution I wanted to focus on was attempting to get more women in decision-making positions."
With that in mind, Wilson founded Robin Games, launching the company with a $7 million seed round in early 2020 (she's since raised an additional $14 million). The company is currently majority female, and Wilson says that though the exact gender balance may change over time as the company grows, it's her goal for women to make up more than 50 percent of the board seats, C-suite and employee base.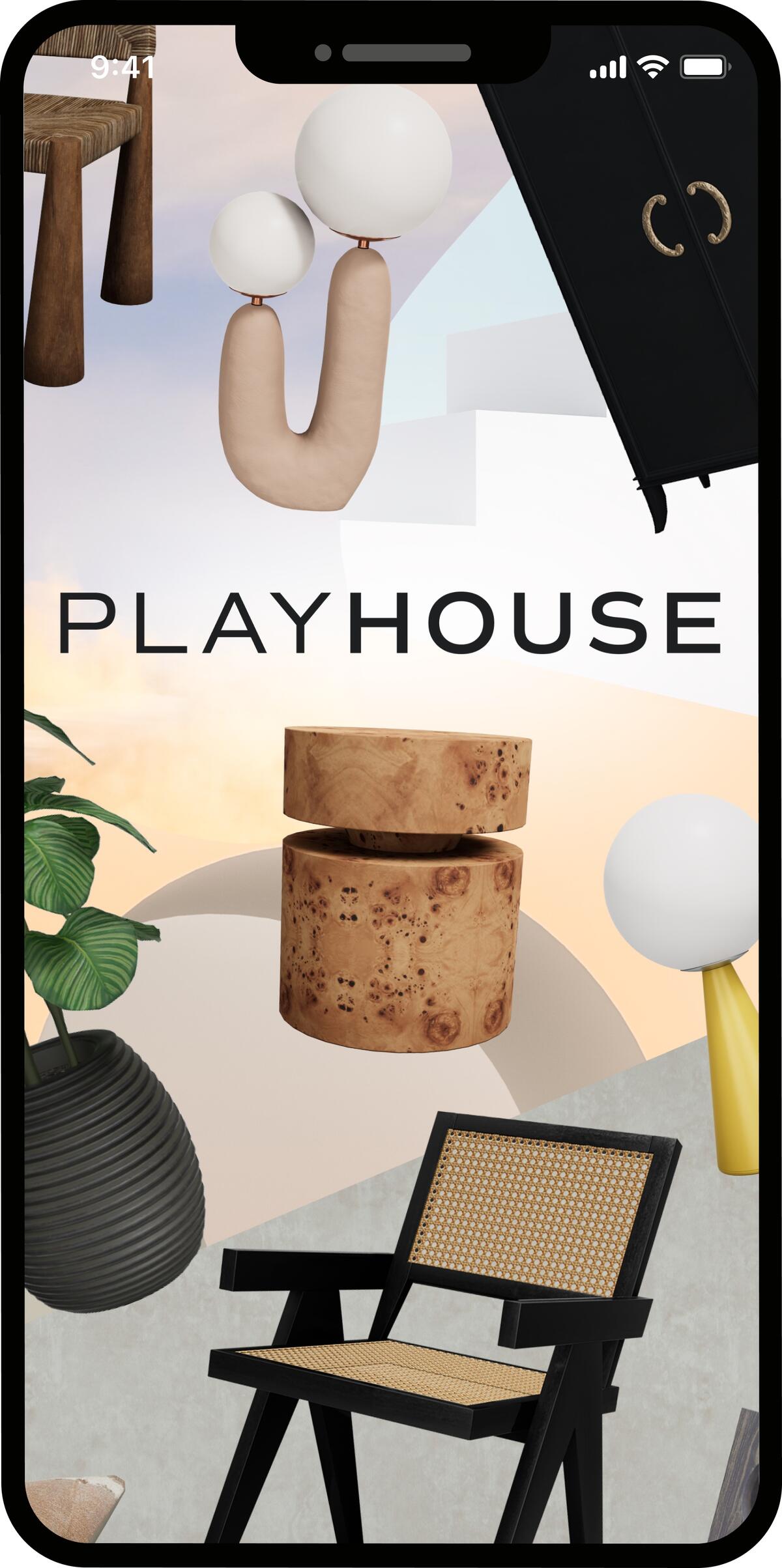 After launching Playhouse, Robin Games is looking to roll out additional "lifestyle games" in beauty and fashion. For now, though, the goal is to make Playhouse a uniquely plugged-in hit. "We have real interior designers featured in the game, but we have design challenges created by real clothing designers, textile designers, even bakers, real people that we're inspired by," says Wilson. "We're really trying to tie things to the real world in a way that hasn't been done before and could be an extension of what our audience is already looking at online."
So what does a women-led, culturally clued-in interior design game actually look and play like?
In Playhouse, gamers are invited to complete "challenges" by decorating rooms according to a simple design brief. You browse furniture, lighting, textiles and decor using an intuitive menu, and can then "buy" pieces using in-game currency and place them in the room. (The game is free to play; Playhouse makes money when players purchase additional in-game currency using real money.) Once you submit a design, other users rate your work—winners rake in points.
The most elite of design enthusiasts may not connect with the aesthetic of Playhouse: You're not harmonizing the palette of a custom wallpaper with a vintage Milo Baughman credenza. But many of the challenge rooms wouldn't seem out of place in the pages of a glossy magazine, and even Playhouse's loading screen feels like a nod to the aesthetic of the moment: It features an homage to the ubiquitous Pierre Jeanneret Chandigarh armchair and a close approximation of Eny Lee Parker's endlessly copied Oo lamp.
All of which is to say, in comparison to the handful of mobile decor games on the market, Playhouse feels a titch, well, cooler. The mechanics of the game also give players more freedom: You're able to move and manipulate furniture and decor within a room, as opposed to simply placing it within a predetermined slot.
"That might sound small," says Wilson, but it makes Playhouse unique among its competitors. "We've tried to make it the most creative option on the market so people can really express themselves."
Playhouse is not alone in featuring real-life furniture and decor brands. In Design Home, for example, players can select pieces from a wide variety of manufacturers, ranging from Kathy Kuo Home to Nathan Anthony Furniture to Jonathan Adler. However, Wilson wanted her game to tie the playing experience in with product discovery. To that end, Playhouse is launching with more than 100 brand partners and 6,000 real items—the vast majority of which can be purchased via shoppable links.
The deals, Wilson says, are structured as no-cost on both sides. Brands lend the game their logo and a list of preferred products. Robin Games then converts product imagery into usable 3D models and integrates the selection into the world of the game, taking no commission if a player ultimately buys a real-world piece (likewise, brands don't make money when players buy digital versions of their decor). Wilson says that all of the home brands that Playhouse approached ultimately agreed to be featured in the game.
"It seemed like a really interesting way to get in front of a potentially new audience," says Jill Linville, marketing manager at Room & Board. "We've been around for a while, so we're always trying to find new ways to reach people where they're at."
For the designers involved in the game, the calculation was similar. New Jersey–based designer Beth Diana Smith is partnering with Playhouse by submitting a handful of her own real-world projects, which will be converted into in-game challenges. "I only had to do two things: Go over the contract with my lawyer, and send them photos," she says with a laugh. "I look at it as a way to gain exposure for my aesthetic, the same way I look at Instagram—only with this, I don't have to post every day."
The same goes for the brand's media partners. Dan Fuchs, the senior vice president of brand strategy and business development at Hearst Magazines, says that House Beautiful's deal with Robin Games will help expose the magazine "to a new audience of mobile gamers and design enthusiasts." The publication's editorial team has been tasked with creating design challenges, and the magazine itself—stocking the shelves of a digital magazine rack—will be a prop within the game. "The growing audience numbers around gaming, particularly among women, indicate significant opportunities for contextual brand integration," says Fuchs.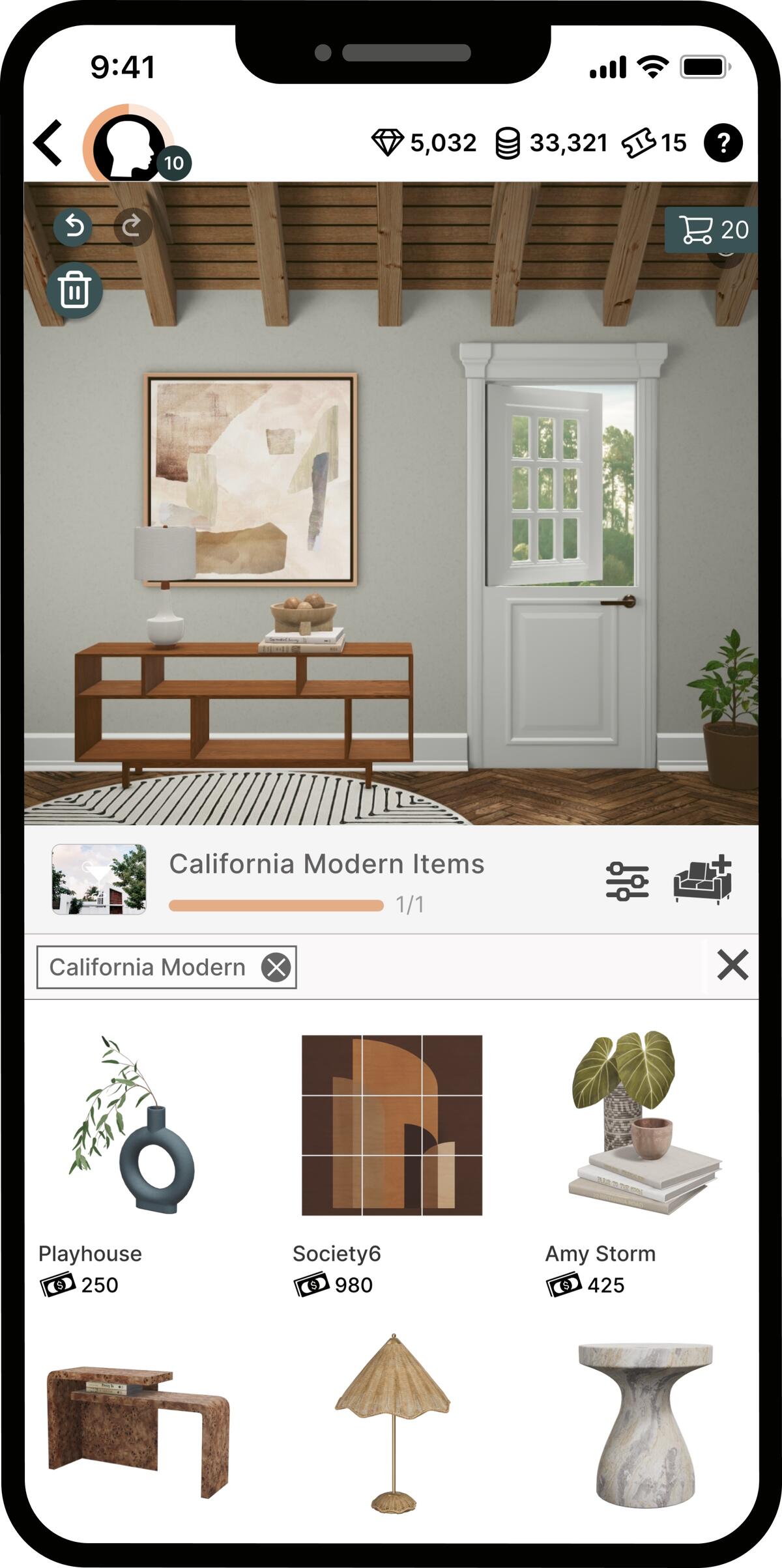 Though Playhouse does give gamers the option to buy the furniture they use, Wilson says that for most brands, the expectation is exposure, not direct sales. "My instinct is that the reason you play this game is it's an escape—I don't believe the primary reason people are going in is to shop. The brands all understand that. It's more of a marketing play than a revenue channel."
For companies in the home world, a notoriously difficult place to build a recognizable consumer brand, a boost in profile is more than enough to make the partnership worthwhile. In that way, placing furniture in a video game may not be dissimilar to participating in the ever-increasing litany of digital promotion opportunities available to brands. "If users click through and check out Room & Board's website and explore, that's great," says Linville. "But it's not like we have a green T-shirt that costs $50 that people are just going to click through and buy. Sofas are a considered expense."
Though the partnership may not lead to a bonanza of direct sales, Playhouse will generate tons of data, which brands might also find useful. After all, if players get obsessed with a particular decor item, could that be a kind of proxy for consumer interest? "Anything is helpful," says Spencer Jahnke, Room & Board's senior vice president of digital marketing. "We look at everything, from what people are putting in their carts on the website to social hits—we'll take whatever data we can get and share them with the product team."
He'll get plenty if Playhouse catches on. The early signs are certainly positive—in a soft launch leading up to the debut, users completed more than a million design challenges. "I think there's a real hunger for games that don't condescend to people and activate their taste," says Wilson. "Of course, they have to be fun too."
If there's a potential risk to the industry lurking in the rise of design-based video games, it's probably something along the lines of the "HGTV effect." Just as the popular network has led some obsessive watchers to think design is easy, fast and cheap, is there a chance that a generation raised on design mobile games will fancy themselves "real" designers, ultimately devaluing the profession? For the working pros involved in the game, it's a minor concern.
"Those people are going to be there anyway, and Playhouse isn't going to change that," says Smith. "Some people already think interior design is easy, but plugging and playing things in a game is just different than it is in real life—you can't just drop a fireplace in the middle of a room. If people walk away from Playhouse thinking it's all fun and games, wait until they get into the permitting process."
Homepage image: Playhouse's interface | Courtesy of Playhouse