By Katy B. Olson
A veritable 86-page meditation on space and organization, Ideas of Order, the California Closets-produced magazine launching this month, draws its fitting title from a book of poetry by Wallace Stevens. It is not available for sale; its initial print run numbers nearly 115,000 copies, which are to be distributed solely via showrooms and sent directly to clients. The brand is careful to iterate that Ideas of Order is not a catalog: "The intention of this magazine is to create desire, not pitch product."
To that end, its pages are filled with brief but graceful profiles of people and their passions: the Seattle Central Library by architect Rem Koolhaas, commercial and fashion photographer Baldomero Fernandez, and Suze Yalof Schwartz, CEO and founder of Unplug Meditation studio in Los Angeles. It will also feature reflections on, among other topics, cottage life, in a piece by Toronto interior designer Christine Ralphs of Lloyd Ralphs Design. Closets, however, while decidedly not a selling point, are not entirely absent: Quick looks at notable walk-in closet owners the likes of Kimberly Lapides, a Los Angeles–based fashion blogger, chronicle both diverse aesthetics and square footage, while another photo-heavy feature shares the joys of "unexpected storage" and the "little bliss" that it brings.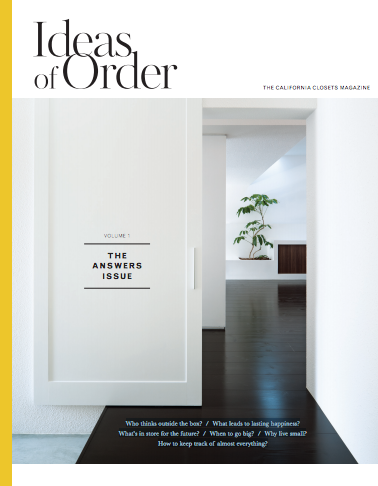 The team behind Ideas of Order includes Carrie Tuhy, former Real Simple editor, who serves as editorial director; Edward Leaman, a creative consultant who has played a key role in growing the identity of California Closets; and Sam Toole, the company's chief marketing officer, who arrived from Serena & Lily three years ago to spearhead rebranding. The Redbird Group of Los Angeles produced the magazine with Satoko Furuta, California Closets creative director, overseeing design.
Though it exists within a media landscape where advertorial is nearly indistinguishable from traditional editorial content, with brands like Cambria and Airbnb producing their own publications, the concept is not necessarily a new one for California Closets. Back in 1999, the brand launched HUSH, a thoughtful glossy with editorial devoted to topics as varied as Japanese fashion designer Issey Miyake, progressive childhood education options and farmstead cheeses. That magazine ran for five years, and was, as Leaman says, "perhaps a little ahead of its time." (In one article for HUSH's second issue, Leaman grappled with the question of corporate authenticity, writing, "How do I put my hand on my heart and say to you that this magazine matters and that our company matters? I worry about it because we want your experience of us to be genuine and real."

I wanted to make the soul of the brand physical, to make it clear that the company and the customer were a good match." —Carrie Tuhy,
editorial director, Ideas of Order
Of the decision to try again, with Ideas of Order, he explains, "We felt that with the continual radical changes in marketing in which community and content very much shape strategy, now was the perfect time to introduce a new magazine that speaks to all we believe and do for—and with—our customers. Like HUSH, Ideas of Order is non-branded, because it's about the impact and idea of the brand that really excites people. Everyone has ideas about how their lives can, and could be, lived more in alignment with their feelings and hopes."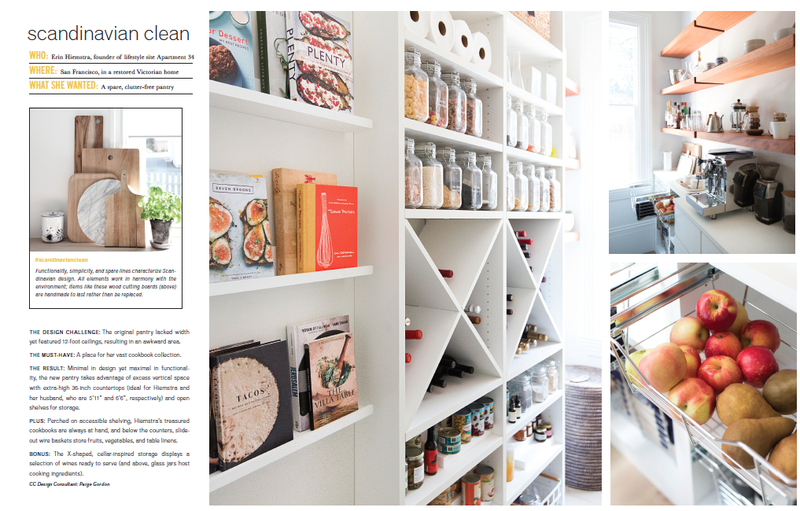 Tuhy had, earlier in her career, been recruited from InStyle to lead the organization-focused lifestyle magazine Real Simple "after three issues and a disastrous launch." Re-launching, she says, was both a challenge and a joy. "I wanted to make a new kind of women's magazine—for women who didn't read traditional women's magazines," she says. While Real Simple and California Closets "developed independently," she explains, they both "were responses to the same zeitgeist. Women were looking for solutions to make their lives easier—and, we found in our editorial research, they craved order. If they could get things in order, they could live the lives they were supposed to live, live up to their potential."
The parallels were such that California Closets, founded in 1978, became an early advertiser in Real Simple, which launched in 2000.
Tuhy's goal for this new magazine is informed by that experience and "driven by the mission of the advertising agency that brought me to the project. Redbird, a women-driven firm in Culver City, California, believes in humanizing brands. Redbird's co-founders have deep roots in magazines and they recognize that customers are bombarded by information 24/7 by the internet. They understood that the time and the format was right for something different, more tangible, enduring and eloquently calm."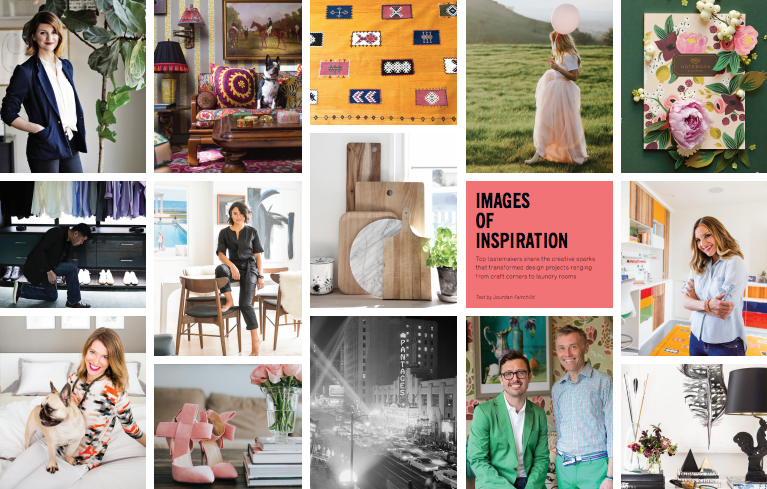 The result is a publication "that customers could hold in their hands, [that] they could read and refer to," she explains. "I wasn't charged with making a catalog, but rather to make a print companion with the attributes of a satisfying book. I wanted to make the soul of the brand physical, to make it clear that the company and the customer were a good match in their goals and ambitions—make something that customers want to have in their homes alongside their friends and family and pets."
Did the brand ever consider taking a more traditional marketing route? "We really didn't think about a more advertorial format," says Toole. "We wanted the content to evoke a connection with readers, regardless of their space or organizational needs. The idea behind Ideas of Order was to show, and share, stories and photography that communicate the beauty that exists in a well-ordered life—whatever that may look like to you."
"We are not trying to sell our customers anything with Ideas of Order," concurs Leaman. "Perhaps down the road we move it in another direction, but for now our joy and pride in putting the magazine out in this way is quietly seeking to align with our customers' joy in having asked us into their homes to do what we do, deliver our promise and, mutually, look forward to the next time we have the opportunity to serve them again."
The magazine, which will also have a site and dedicated community established online in early September, is the latest stop along the brand's evolution. "Our brand image has changed consistently over the span of the company's history, and we have always had the courage to change it," summarizes Leaman. "From the brand image starting out with home improvement [1978 through 1994] to lifestyle [1995 through 2013] to design authority [today], we believe the role of brand leadership is to lead with a point of view in harmony with where California Closets resides in the discussion around the role of home, and what our prospects and customers seek from the category we initiated, innovate and evolve."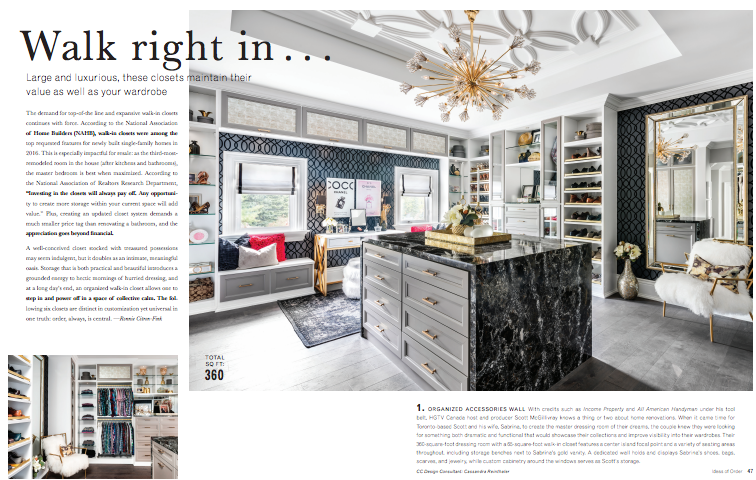 The inaugural magazine, The Answers Issue, tackles cover-story questions from that authoritative point of view, such as "Who thinks outside the box? What leads to lasting happiness? What's in store for the future? When to go big? Why live small? How to keep track of almost everything?" It is intended to be the first of a yearly offering.
The content within, concurs the team, answers those questions, bringing symmetry to an often helter-skelter world. "The goal, pompous as it sounds, was not to just consider how to bring order to the reader's home, but to an increasingly chaotic universe," says Tuhy. "Aren't we all endlessly trying to figure out how to do just that? Aren't we all longing for meaning and connection to the family of man? And, at the same time, readers will find a place to hang their hats, stack their shoes, shelve the linens and corral those toys."