In Business of Home's series Shop Talk, we chat with owners of home furnishings stores across the country to hear about their hard-won lessons and challenges, big and small. This week, we spoke with designer Tim Pfeiffer and brand director Jodi Davis of Seattle's Housewright Gallery.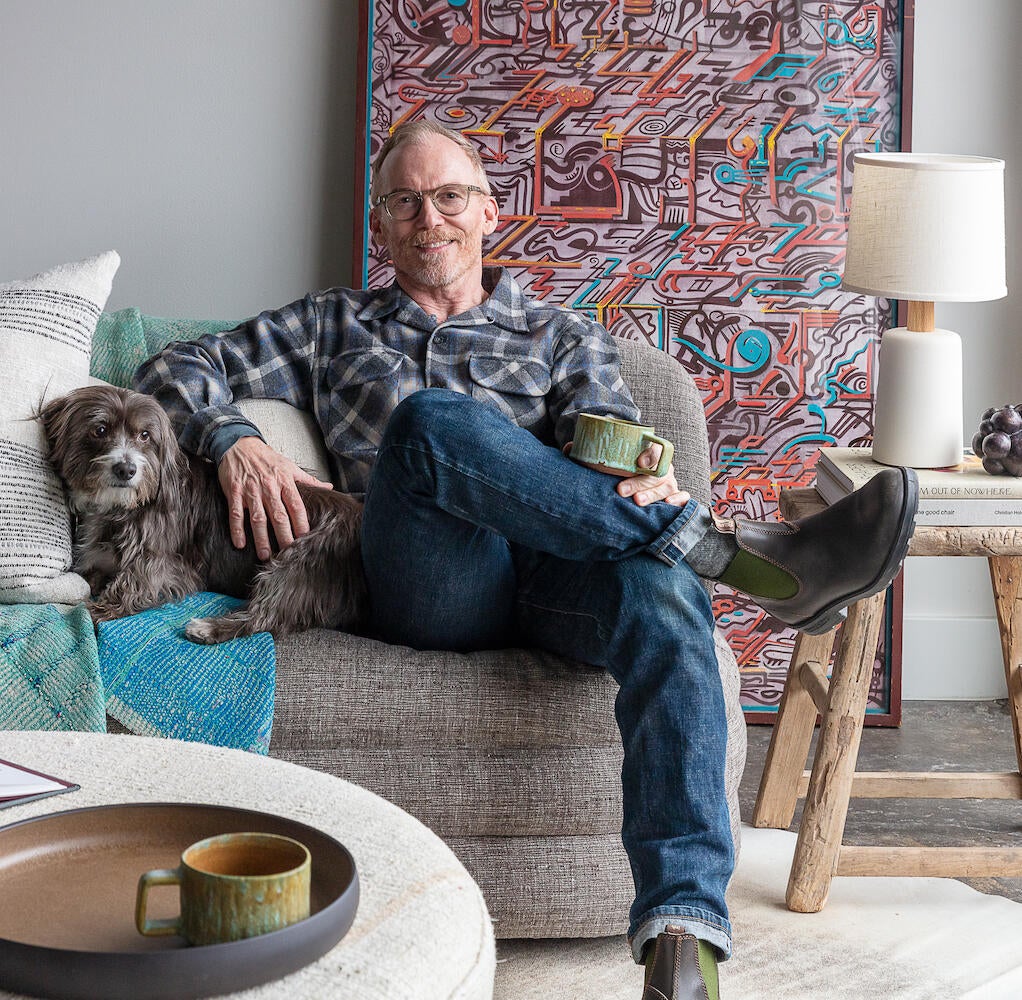 After an illustrious, decadeslong career designing stores as an executive at Ralph Lauren and Starbucks, Pfeiffer launched a multidisciplinary design firm, Hoedemaker Pfeiffer, with architect Steve Hoedemaker, a fellow Pacific Northwest native. In 2013, they expanded to create Housewright Gallery, a showroom for art, antique and found objects, and bench-made furniture in the Georgetown design district of Seattle. Here, Pfeiffer is joined by Davis to chat about their beloved vendors, the city's style scene and what area is exciting them next.
What was your career like before the shop?
Pfeiffer: I studied architecture, then took four years of studio classes. [After that, I] had a gallery in Pioneer Square in Seattle for just shy of three years, [and was then recruited by erstwhile luxury San Francisco department store I. Magnin and Co., after which] I was the creative director for [local upscale fashion brand] Wilkes Bashford for six years, which got me back to architecture because I designed and built five stores for them. Then I hit New York and was with Ralph Lauren for 12 years, from creative director to senior vice president of global store design. In 2009, [Starbucks CEO] Howard Schultz hit me up over a two-and-a-half-hour brunch with lots of champagne on top of The Mercer hotel, and said, "I need you to help me rebrand Starbucks." I stayed for exactly 24 months, and it was the craziest thing I'd ever done. I was on a plane every week. We opened 24 flagship stores. It was a really fantastic, really successful moment, but it burned my soul.
Steve Hoedemaker comes into this picture [because] his older brother and I went to school together. We started hanging out a lot when I was back in Seattle working at Starbucks, and we talked a lot about business and just fantasized: "What would it be if we partnered?" In September 2013, I joined forces with him. I was [always a collector and] really good at filling a warehouse. The notion for Housewright was that it was a playground for me to have the kinds of things that weren't available in Seattle.
What is the balance of merchandise now?
Davis: It's kind of a 30-30-30: 30 percent custom, orderable furniture; 30 percent vintage; and 30 percent art. It fluctuates—there are times when we have shows, so we have more art pieces, but right now we're between shows.
How would you describe the aesthetic of the store?
Pfeiffer: Not to be cheesy, but it's "casual elegance." There's a sense of hand-craft, in the beautiful practice of ceramics, of carving, of statuary that jump between contemporary artists doing ceramic works and ethnographic things from around the world. There's a sophisticated rustication, is one way I think about it: rustic furniture pieces paired with very heavy, upholstered linen. You want to sit down in every chair, and people always do. The space is set up like living room after living room.
Who is your typical customer, and how much of it is trade?
Pfeiffer: I would say we're light on foot traffic, but it's decidedly destination foot traffic. Probably 90 percent of people who come in the door come because they want to see us. Then there's the 10 percent of people who are Californians, New Yorkers, folks from Canada, certainly Vancouver, that want to check out the space. Our sales probably run somewhere in the neighborhood of 70 percent to the design community.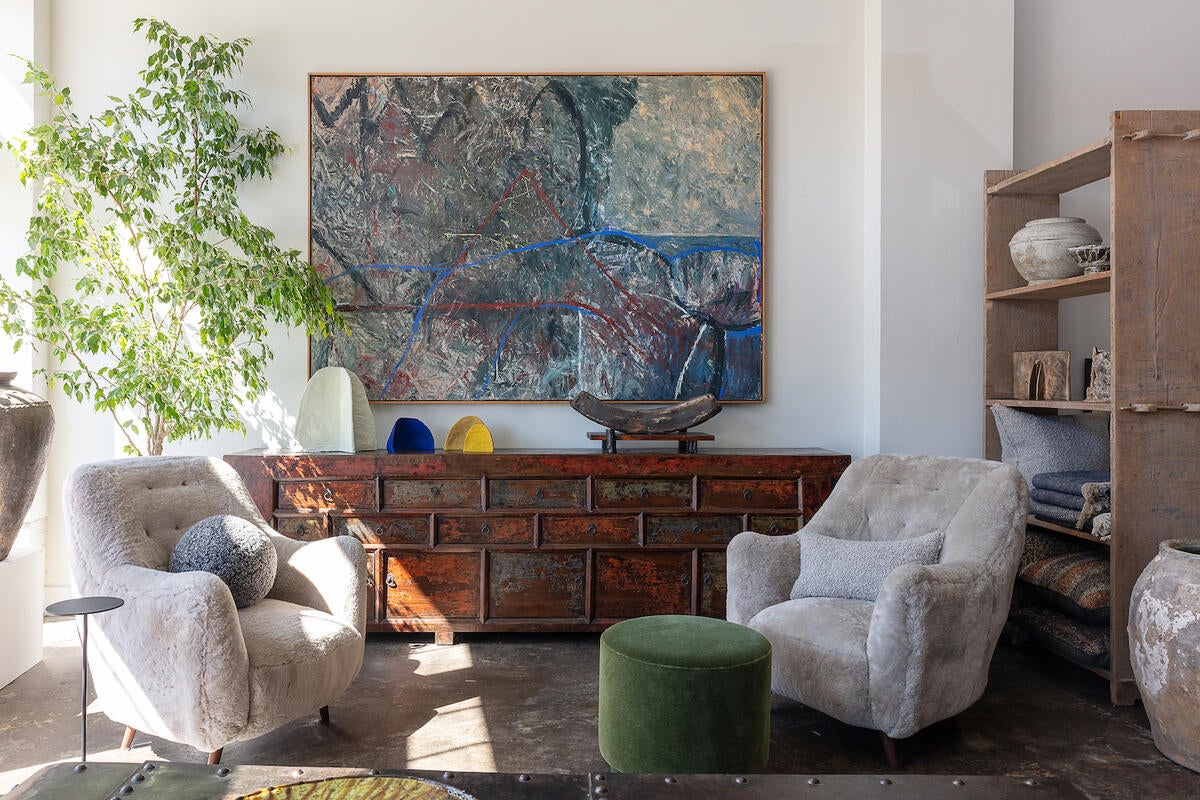 What is your approach to sourcing? Are you in-person, at markets, and are you using any of the e-platforms?
Davis: In person. It's in Tim's DNA. It's in mine. We're treasure hunters. It'd be great if there might be an easier source for us, but truly, we like to get out there and touch, feel, talk with artists. We want the stories behind the pieces.
Can you tell me a story of a favorite vendor or favorite artist that you work with?
Davis: Right now, we're super excited about Elias Scalise. He calls himself a clay artist, and he does beautiful, sculptural ceramic pieces, all wood-fired. He found us—he came into the store a few years back and remembered loving it. When he started feeling a little more confident in his work, he came to find Tim. He just knew that this was where his work needed to be. His energy has been really fun to be around. He's growing as an artist; he hitchhiked across the United States and lives in Port Angeles on some scraggly cliffs, and it definitely influences his work. We're really fortunate to connect with people who have such great work, great personalities and great energy.
What are some challenges of operating in Seattle? When we covered another Seattle store, the owner said it can be weirdly difficult to get people in the area to spend money on things because people don't want to flash out in a very crunchy tech place.
Pfeiffer: That's not so far off. We've got a lot of super affluent, wealthy people who would be willing to drop $15 million on the design of a home and then question whether or not they need an interior designer. People want quality and comfort, but it's understated. Stores here never supported interiors folks, so they did most of their sourcing abroad or in New York and L.A. The number-one comment we get is, "I can't believe this store is in Seattle."
All of these one-bedroom apartments the city's built in the last five to seven years don't help anybody doing home furnishings. But there's a wave of people starting to pay attention, and the pandemic was instrumental in that. People wanted better sources, better comfort. They wanted to see things in their own area, so I think we've gotten more client-designer pairings coming through the shop than we have historically, which is great.
Is there any element of education on your part? Do you have to explain to nondesigners why things cost what they cost, how they're not made of particle board?
Davis: I think that the education starts with the stories; we talk to them about how these pieces end up at Housewright, why we are inspired by them, where we found them, how they're made. I don't feel like I'm educating anybody. I feel like I'm sharing our enthusiasm.
Pfeiffer: The furniture we do carry, it's all really beautifully made. We're on the higher end when it comes to our upholstered goods. We have a couple of different lines with Alfredo Paredes—fantastic case goods, all made in America, hand-kiln, hand-tied. There's storytelling when we talk about those pieces and why we carry them. We've got the Antonia line, [designed by] this dynamic couple from Colombia. The husband's family ran all the factories for Karl Springer, a famous L.A.–based designer, and he reopened those factories and put all these people back to work in his community. [Antonia Caicedo] does all the design. We're partnering with these people because they have great stories to tell, and the integrity and the quality comes through.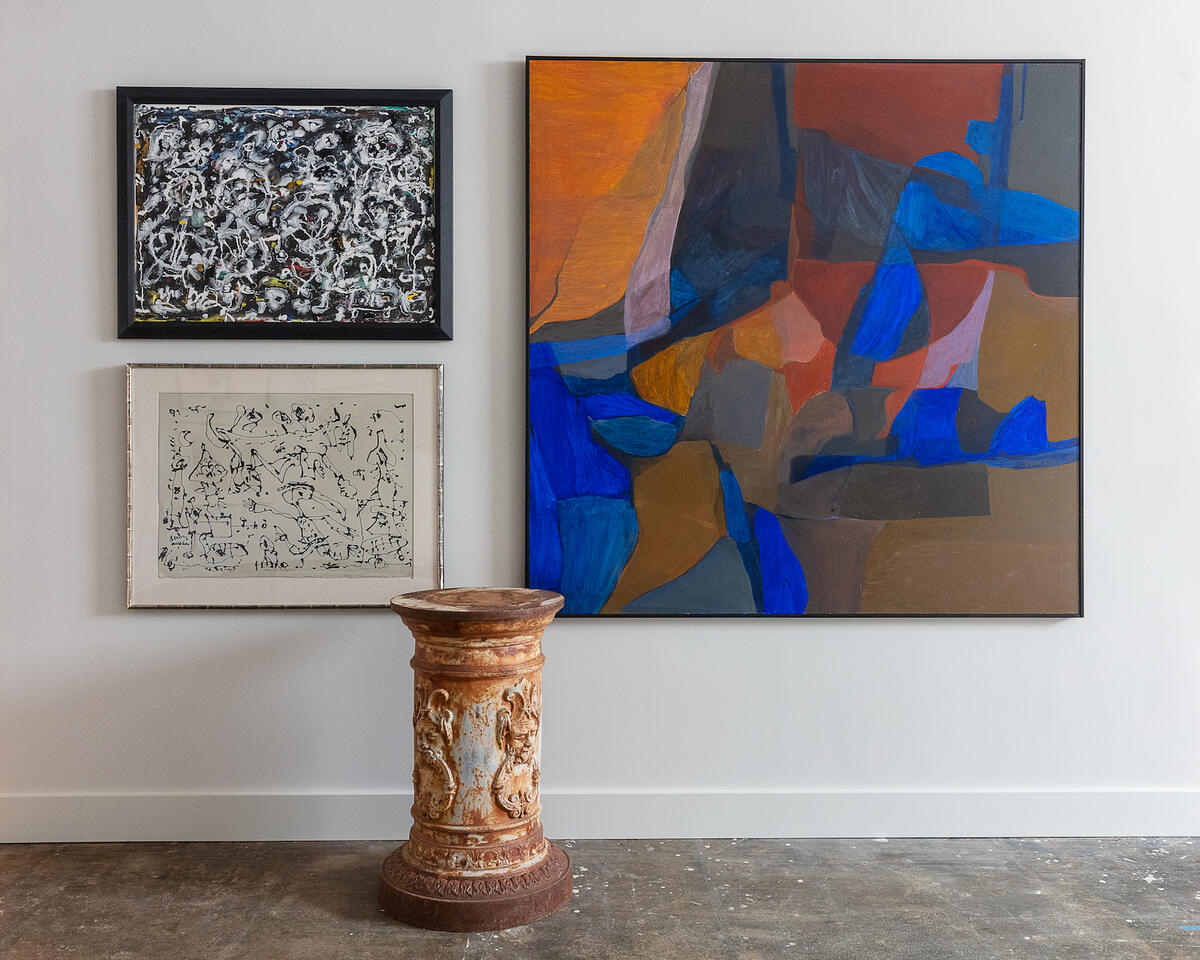 What is a category or even a specific product that sells the best?
Davis: Housewright pillows. They're flying.
Pfeiffer: They're bespoke and beautifully made, with really amazing found fabrics. There's not many offerings like that in that category, particularly in Seattle. Designers just love them.
What were some of the pandemic issues that hit the business the hardest?
Pfeiffer: Everybody paid far more for getting our things [delivered]. The upside was we got some notoriety online—we were voted one of the top stores in AD Pro—and did some good business. We were able to keep afloat because people were searching, and so we got a bunch of East Coast folks finding us.
Davis: Yeah, probably the greatest challenge for anyone you talk to is the price of shipping. Sometimes, you have these sad conversations with people where they're in love with a piece, and they just can't get there on shipping. It's tapered off a little, but that would be the pandemic ouch.
Pfeiffer: That's mostly for the large-format, beautiful, huge pieces of furniture.
What has been your e-comm approach generally? How much time and effort do you invest?
Davis: We're always adjusting. I think every business is. E-commerce offers a lot of visibility. Almost everything we have at Housewright is online, including those big pieces of furniture. It's been a part of the business from the very beginning, and we're always trying to grow it and grow with it. We spend a lot of time photographing things for our site.
When you think about the future of the store, do you have any dreams of further expansion?
Pfeiffer: We've made a huge investment in an idea, in brick and mortar, but also in a sense of time, place and point of view that can live in other places. I've been approached to partner and open more Housewrights, so that is a conversation that may ensue. In recent years, I've been doing more work in the desert, in the Palm Springs–Rancho Mirage zone. Our kind of easy elegance has a real West Coast vibe that could live down there so well. The design world there is growing—so many showrooms and things opening. That's where I'm working right now. There's always that possibility.
We've just taken on a warehouse space connected to the back of our store so that we can have our own workshop/craft room/upholstery zone, all of that in-house, which is going to be really important for the kinds of things we like to keep in stock. Sending people across town to a warehouse to pick something up is not efficient. We grew the front-of-house; now we need to grow the back-of-house.
Davis: It ties back into private label as well. The success we've seen with the Housewright pillows—we have other collections on the drawing board that we're excited to produce. There's a lot going on. There's a lot of growth.
Homepage image: In 2013, Housewright Gallery, a showroom for art, antique and found objects, and bench-made furniture opened in the Georgetown design district of Seattle | Ian Eland