Will you be attending High Point? Rifle Paper Co. will: The stationery brand has announced its first-ever collection of rugs and pillows with textile producer Loloi. Anna Bond, co-founder and chief creative officer at Rifle Paper Co., is behind the collection. Her brand's success may appear to be an overnight one, but it's been a long road, she tells Business of Home.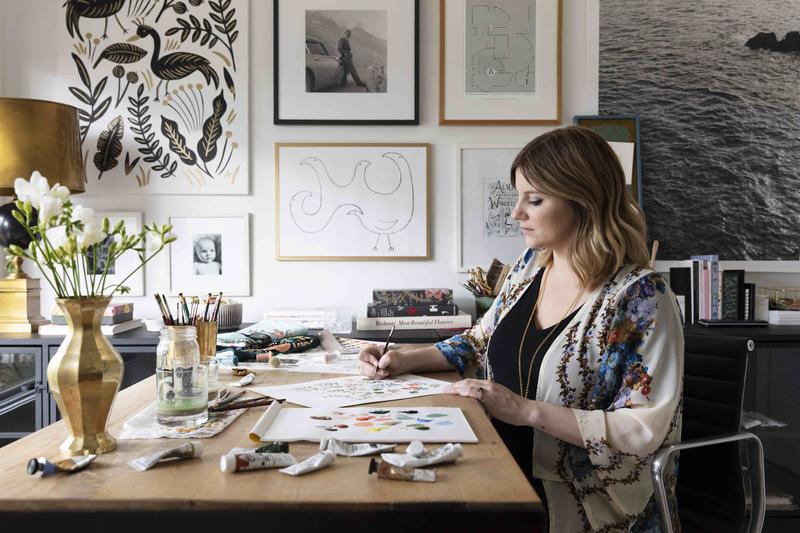 Courtesy of Rifle Paper Co.
The designer and her husband, Nathan Bond, launched the brand—known for its illustrated greeting cards, planners, calendars and lifestyle products—in 2009, with most of the paper products printed locally in the U.S. and assembled by hand in Florida.
"Looking back, founding Rifle Paper Co. was both the culmination of many years of working to find my artistic voice and a somewhat unexpected stumble into the stationery world via designing wedding invitations for friends. I grew up painting, went to school for graphic design, and then spent the years after school working as an art director and taking on numerous freelance illustration projects. I did everything from rock band posters to phone book ads," Anna Bond explains, noting that nothing "truly clicked until I started painting with gouache—best described as an opaque watercolor—and honing the style that the brand would become known for."

We honestly had no idea what we were getting into, but we did feel we had something special and were willing to dive in and figure things out as we went.
" —Anna Bond
The response was quick, and positive: "I saw an immediate reaction from the online community when I started posting my invitations and gouache illustrations and felt I had something that was not being represented in the stationery world," she shares. "Beginning in late 2008, I designed as many invitations as I could. Nathan and I used the money we made from those clients to fund our first collection of products, which launched on riflepaperco.com in November 2009. We honestly had no idea what we were getting into, but we did feel we had something special and were willing to dive in and figure things out as we went."
From that point—with the groundwork set—the growth for the brand came fast and furious. "Soon after we launched, we started getting requests from stores that wanted to carry our line, and we quickly had to figure out so many things we knew absolutely nothing about. We had no clue what a line sheet was or how to even properly manufacture our products. Our growth strategy probably boils down to a series of things, including being adaptable, being willing to say yes, evaluating every opportunity, growing within our means, and delegating to an amazing team," Bond recalls.
"We've experienced fast growth, but tackling one decision or problem at a time has made the growth more manageable. Every few years—including now—it feels like we have to start a new business within a business to keep up, and we go through a learning process of what it means to operate at our current size."
The brand has partnered with the likes of Loloi, Keds, Anthropologie, L'Occitane and others. What makes it work? A mix of enthusiasm and outlook. One of the most important things when looking for a brand partner is that they share the same vision and excitement. We look to work with brands who are experts at what they do and who are making products that we think our customers will resonate with. We also take into account things like quality, craftsmanship and design."
____________
Business of Home magazine's Leadership Issue, out now, spotlights the stories of eight notable female leaders in the home furnishings and design world. To celebrate the issue, we're featuring a selection of pivotal women sharing their experiences changing and evolving the industry. Follow along: #PivotalWomen.