The LGBTQ+ community is a pillar of the interior design industry. At the Winter Show, an annual antiques fair in New York, a dialogue with artist Peter McGough titled "The Oscar Wilde Temple and Other Works: Art, the Past, and LGBTQ+ History" will boldly dive into aspects of that community's past.
Courtesy of McDermott & McGough
McGough is one half of a popular artist duo called McDermott & McGough who rose to fame in the 1980s. Part of McGough's artistic practice revolves around antiques. He and his (once romantic but no longer) partner David McDermott called their works "living time machines." In their residences around New York City—the East Village, the West Village, Williamsburg—the pair ripped out appliances and replaced them with what would have been used at the time the building was built. Antiques were involved; electricity and plumbing were not always. "We dressed in 19th century clothes with top hats and capes and walking sticks," says McGough. "It was a living performance, a daily living performance."
McDermott & McGough were entrenched in the 1980s Manhattan art scene. While they were living in their time machines, riding around the city in a horse and buggy, they created paintings, photographs, sculptures and films—provocative, often ironically modern meditations on pop culture, sexuality, gender, class and materialism that were displayed in galleries around the world. Their work was featured at the Whitney Biennial for the first time in 1987, the same year that the U.S. removed homosexuality from the DSM, its classification system for mental disorders.
"Our work has always been about homoeroticism," says McGough. "We made this painting called 'A Friend of Dorothy' with all the letters in [what were then queer slur words]. 'You fucking queers,' they would call us on the street. We were pretty radical then, taking the sting out of that word. Now, it's queer politics, queer cinema, queer ... chocolates? I don't know. But it's really incredible."
Though many aspects of LGBTQ+ history are heartbreaking to relive, it's an important discussion, especially since the worst parts of that history are still a reality for many. The current life expectancy of American trans women of color is 35. A quarter of London's LGBTQ+ youth are homeless. (On a brighter note, yesterday New York's state senate passed a law that would help protect transgender residents against discrimination). Still, the scope and depth of challenges faced by this community mean that every bit of activism and awareness-building through art can make a difference.
McDermott & McGough's Oscar Wilde Temple is a pagan house of worship for the LGBTQ+ community that the duo originally installed in New York's Methodist Church of the Village in 2017, and is open now through March in South London's Studio Voltaire, a nonprofit gallery in a restored Victorian chapel. In addition to paying homage to Wilde and other historic queer activists including Alan Turing and Harvey Milk, the temple donates proceeds to the Albert Kennedy Trust, a British charity that supports homeless LGBTQ+ youth.
"[We] took this converted chapel and turned it back into its original space and put aesthetic movement wallpaper on the walls and hung chandeliers," says McGough. "[Studio Voltaire] went hog wild, it was amazing."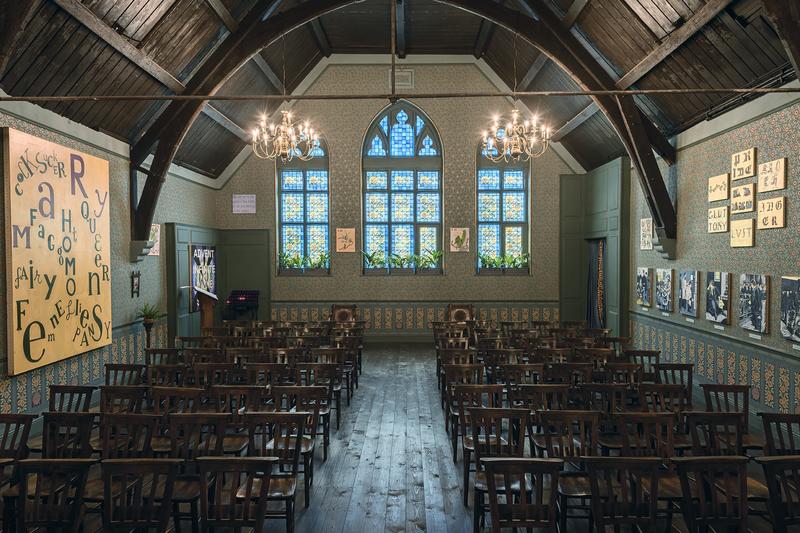 Courtesy of McDermott & McGough and Studio Voltaire; Francis Ware
Inside, visitors are greeted by reams of flowers, stained-glass windows featuring lilies and shamrocks and a four-foot statue of Oscar Wilde with a shield bearing the engraving "C33." (While imprisoned for sodomy and gross indecency in the late 19th century, C33 was Wilde's identification number, and became the byline of some of his final works.) The temple is both an exhibit and a functional space—it is available for LGBTQ+ ceremonies of any kind, including weddings, vow renewals and transgender naming ceremonies. ("Who wouldn't want to get married under the statue of Oscar Wilde?" McGough quipped to The New York Times in October).
McDermott and McGough have known their own fair share of adversity. For a time, things were good: The pair owned an 18th century brick house in the Catskills that was never modernized. "We put 18th century and early 19th century furniture in there and cooked over a stove fireplace on a hook," recalls McGough." But the wealth they accrued didn't last.
"When they were unable to pay their taxes, they lost their house in the Catskills and all its contents, along with their vintage cars, their carriages and their horses," reported The New York Times in 2013. "And when their landlord on Avenue C sold [their] town house, they were thrown out of there, too, and Mr. McDermott moved to Ireland."
At the time McGough spoke to BOH, he was living in a 1905 tenement he keeps as a "bohemian artistic space" to avoid likening its decor to a "glorified garbage can." A reflection on Wilde's past as well as McGough's sparks the question: Does great art require great suffering? It's an age-old inquiry, still hotly debated.
"[When you] go out your apartment door, the world isn't so great sometimes," says McGough, who, at this point, has had several doors. "But there's also beauty. And pathos. I go where people don't want to look. Making work about homoeroticism is a very small market. That's the thing about art—you never know what you're going to get."
"The Oscar Wilde Temple and Other Works: Art, the Past, and LGBTQ+ History, a conversation with Peter McGough presented by The Magazine ANTIQUES" will be held at the Winter Show (Park Avenue Armory, 643 Park Avenue, New York) on January 26 at 4:30 p.m. Purchase tickets here.