The 50 States Project is a series of candid conversations with interior designers across the country about how they've built their businesses. This week, Houston-based designer Sherrell Neal tells us how she went from forensic pathology to House Beautiful honoree, why she renamed her markup for better results, and why she's not obsessed with growth.
Did you always know you wanted to be a designer?
I have always been a creative. I can think back to when I was a little girl, designing my room, recovering dining chairs with my mom, or picking out china plates and silverware for family dinner at my grandma's house, and always really being [attuned] to color and scale, how things feel, and how people respond to their environments. I've always exercised that part of my brain. However, I didn't start out knowing that I wanted to be an interior designer. My father owned a construction business, so that was part of the makeup of my surroundings as a child. When I was old enough, my dad would sometimes bring me out on jobs, and I'd get to meet the painter or be a part of the crew that day—it was a form of babysitting for a dad who was a contractor, but for me, it was really fun. Looking back, that was part of my training ground that I never knew I would need.
Growing up, I was on a completely different career path. After I took a biology course, I fell in love with science. At first, I didn't know how I could be a science geek and help people at the same time. Then one of my teachers said, "Have you ever watched CSI? Do you know what they do, and what that's called?" So I chose forensic pathology, and that tugged at my heart from a young age. I even went to a [specialized] high school that was hyperfocused on criminal justice and law enforcement. I was planning to go to college and study forensic pathology, and I wanted to be in criminal justice.
When did you start to have second thoughts?
My sophomore year at University of Houston. I don't really know what triggered it—maybe it was conversations with peers as I was getting more comfortable in college, or connecting with old friends from high school and seeing what they were doing. I remember being so intrigued and passionate about what some of my friends were doing in architecture school, and I had to come to grips with, like, "Am I having second thoughts about my major? What are these feelings?" For so long, I was so sure that forensic pathology was what I wanted to do, but I started having a little self-doubt. I talked to my dean, and they were like, "When you came here and interviewed, you had a lot more creative interests." It wasn't a total shock for them—but for me, at 19 or 20 years old, it felt like I was changing my whole life perspective. I thought I had a plan, and suddenly it was different. What does that look like? What is the next move? What am I supposed to do from here? How do I have this conversation with my parents?
At the time, U of H did not have an interior design program, just architecture, so I transferred to The Art Institute of Houston. My parents were really supportive—and honestly, my dad was probably super happy, thinking, "Maybe you can take over the business," you know? There was this whole moment in my early life when I was unsure about what I wanted to do and didn't really know how to go about making that change. But once I did, I have never looked back—and I'm so glad, because I absolutely love being an interior designer. I did design school in four years because I was also working a full-time job—I wasn't a full-time student. I went from working retail at Gap to a great salaried job in accounting, which allowed me to pay bills and buy a car.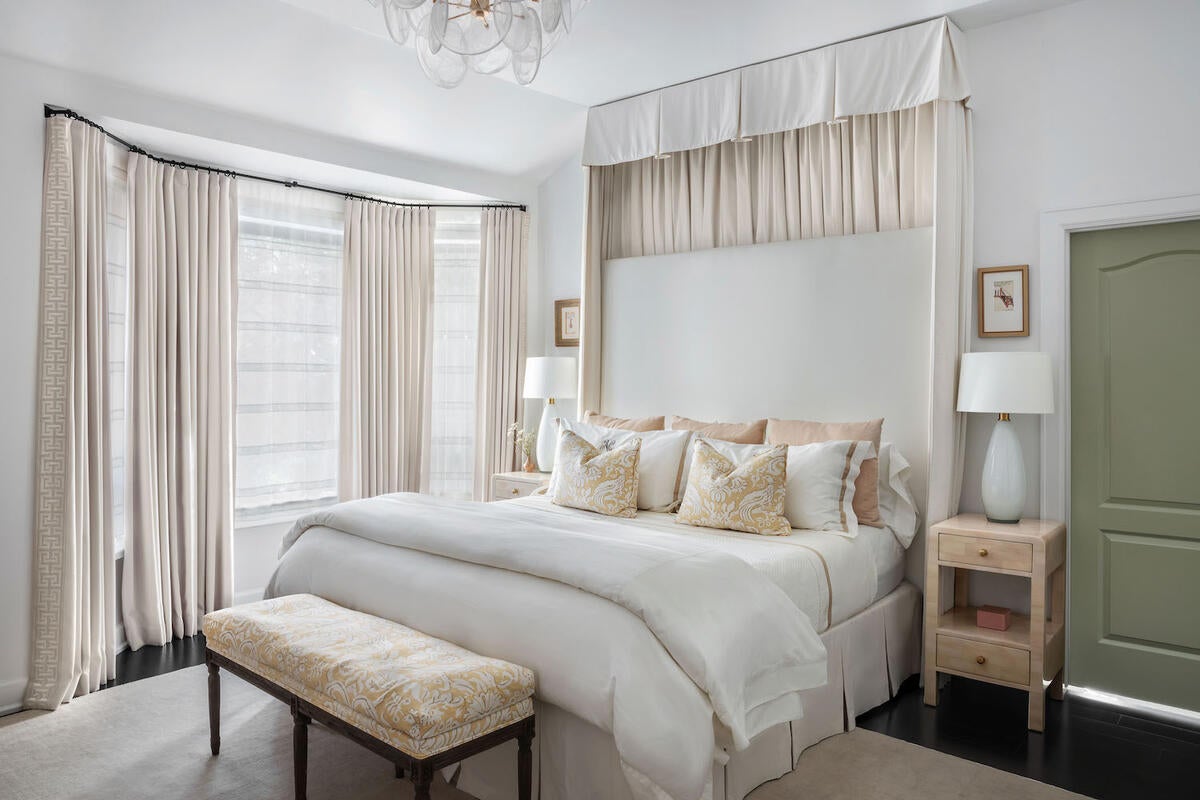 Professionally, where did you go next after getting that design degree? How did you make your way into the industry?
I knew I wanted to own my own business one day because I had seen my father be an entrepreneur. It's hard and you have a lot of responsibility—there's a lot on your plate—but I love what I do, and I always remember my dad loving what he did, too. But I also knew that I would have to get exposure to the right areas in the industry in order to gain technical experience and understand the field language. I had a few design jobs in the kitchen and bath space, where I was drafting. The biggest impact on my entry-level design experience was when I went to work for a design center that officed about 10 different builders. Everyone who was buying a home would meet with the realtor, look at the model or spec home, and then come to our design center, where we would have a set of their house plans and help them make all of the selections for the interior of the home—cabinet options, plumbing fixtures, spare parts, appliances, that sort of thing. Some builders were more custom than others; it just really depended on which account that you were on. But that experience really allowed me to flex more of my design-school training and get a little bit of field experience.
One of my strong suits was being able to visualize the space and immediately figure out how to make it more functional or flow better. I love looking at floor plans and working in CAD. That job allowed me to learn how to run an appointment and lean on my own confidence. I learned everything I could about every product we were selling—like understanding joinery and different styles of cabinetry, and how certain materials or the way things are constructed can modify cost—so that I could sell it to the client or talk them out of the decision, whatever the situation required. And anytime I got an opportunity to work with a client on a more custom home, I realized it was a lot more fun—the budget was a little bigger, so the products were a lot more elevated. You're working in marbles, mosaics and travertines, and you can customize patterns as opposed to just square, straight lay or diamonds.
I had gotten married, and things were good on the job, but after a few years, it was just a job. I didn't feel that it fully exercised all of my capabilities, and I still felt this tug that there was more for me. I remember my dad saying, "If you want to go off on your own, I know you'll do great—and we can work together." And in my head, I was thinking, "You do really big projects, there's no way I'm ever going to get to that level." I was thinking so small. I did not realize that maybe my parents saw something in me that hadn't quite come to fruition yet—and when it did, because it absolutely did, I did get to work on projects with my dad. I even worked on my mom and dad's home—we remodeled it top to bottom, and I did all the interior design, and it was so fulfilling to give back to my parents and collaborate with my dad on the home he had built and that I grew up in.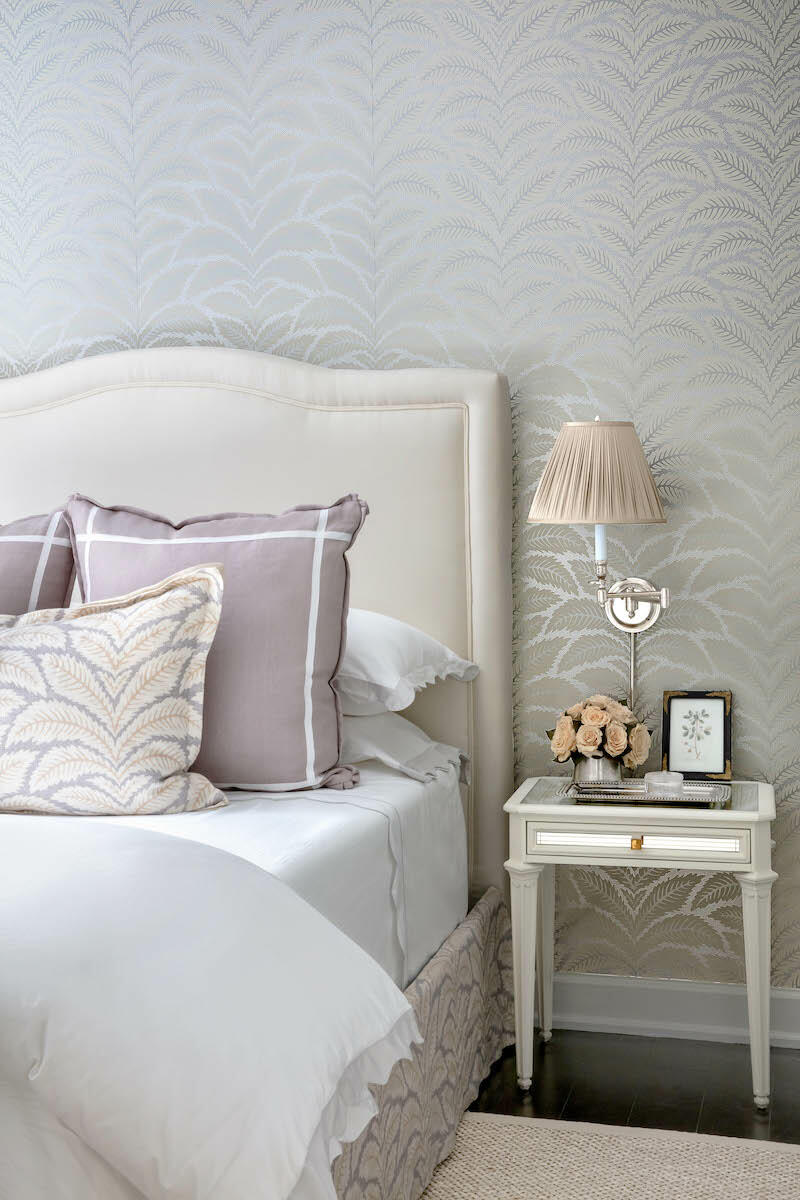 What gave you the confidence to ultimately start your own business?
At the builder job, I had spent about a year and a half working with my last client on their new home, and they decided they wanted to hire me to do interior design. At the time, I was like, "What are you talking about? I'm still working here. We can't even talk about that." It was a surreal moment for me. But they were super open, and they just said, "Sherrell, you were so helpful and relatable, and you really guided us through this whole process. We learned a lot—you didn't just pick and pull and make choices, you hand-held us the whole way and told us why you think this or that would be a great choice, or to wait and do this later."
[That approach] was just me being really honest. I find in this industry there can be a lack of honesty and transparency. But if there's one thing I knew that my dad was good for, it was integrity—it's not always about making the money. Sometimes it's just helping someone. And, you know, if it means that it checks all their boxes, and I make a little less money, then I did my job and I feel better in the end that they're happy. It's not like me robbing them of their life savings because I sold them on some upgrade—a $20,000 refrigerator, or whatever—because I get an extra incentive by selling it through the builder. And as a result, that client felt confident trusting the rest of their experience with me, as green as I was—and even for them, because this was their first time ever buying a home, and it was close to a million dollars and a lot of square footage.
I was already feeling indecisive about what I was going to do next because I felt like I was outgrowing the position that I had. I went home and talked to my husband, and he was like, "You should do it. You're so dedicated and committed and passionate about what you do. You could totally do this for yourself and charge your value because obviously someone sees it." So I have to give huge kudos to my husband for championing me and pushing me to start Sherrell Design Studio. That was my first client, and that's how it started.
Where else did the early clients come from?
Three months in, I got another job through my mentor from U of H, who called me and was like, "Hey, I have a project for you." A sorority sister of hers had just bought a house here. I remember meeting with them, and I was like, "OK, this is legit happening. I have two clients." It was just crazy how it was happening—things were organically coming into my lap. My second client referred me to a family member, but I worked with that second client from 2016 all the way to 2021. It wasn't the whole house at once, but we were able to come up with an overall concept and plan for the house first, and both of those projects were such a great training ground for me because I was able to work at a slower pace. I had never done interior design in that way—I could talk cabinets, appliances and labor, but I was reaching back to color fundamentals and textiles classes to run an appointment about things like how we're going to space plan and what furnishings to buy.
You mentioned that your husband said going out on your own would give you the opportunity to "charge your value." How have you approached billing for your work?
Oh, Lord, I had no plan. And coming from the construction and builder side, it was completely different. Fast-forward to now, [and I've learned] there's no one-size-fits-all when it comes to pricing structure because it really depends on your process. [At the beginning of my firm,] because I was so new, still developing my process and learning what my strengths were, I didn't really know how much time should be dedicated, let alone allocated—I didn't know what that structure should look like, so I tried lots of different things. At one point, I think I charged $1,500 as a per-room fee. I now know that I was literally taking money out of my own pocket. As I've worked with more clients and become more comfortable with my design process, it has helped me develop a more structured contract and process that I can implement and explain.
What experiences shaped the way you charge today?
Sometimes, it was not making money, or seeing how the client wanted to negotiate the price, or when things came in damaged and I lost money because I couldn't return it or there was a restocking fee. I mean, it was all of those things. Eventually, I worked with a small business attorney to help me with all the legal verbiage and the liability—all these things that you need to have because you're handling people's money. As my business continued to grow and the numbers got bigger, I definitely had to become a lot more legit.

I like to understand upfront how much time a project is going to take and what all it's going to entail. Then I work backwards. I have always sort of been like that in my brain—like, "This is the [desired] result—how do we get to it?" I've been able to structure my design process so that if a potential client wants to do a design consultation, I'm able through experience to say, "Typically, this is how long this takes, so this is the design fee." And for the design fee, the formula is simple: It's just estimated hours. Plus, there is a markup, though I don't really use that word. But there's an expediting fee.

You call it an "expediting fee"?
I do. I typically attract clients that don't want to be heavily involved in the design decisions. Of course, they want to see the concept, and they want to like it and have some flexibility to make changes, but they're not saying, "I want this fabric." It's more like, "Sherrell, come look at our house."
Clients are very intuitive—and I honestly feel like the pandemic propelled a lot of conversation in our industry and perked a lot of homeowner ears to listen to the things that we say. Words like "markup" are trigger words. And look, it's not actually a bad word. It's used in lots of industries. But for some reason, there's a negative connotation tied to it in design because they understand: "I'm paying more for an item than what you're paying for it, which means that I'm not really getting the savings." But that's not actually ideally true. I have tried to stress to my potential clients everything that they're getting by hiring me—it's full service, so you're paying for my service. I want you to have less to do, and to trust that I have your best interests and your budget at heart. And if I can't meet your budget, I'm going to be upfront and communicate that, not down the road but in the beginning.
I set those expectations early on—and by replacing the word "markup" with "expediting," especially in this day and age [of slow delivery times], it's like, "Oh, wow, she's going to get our stuff real quick—that sounds good to me." It's just smoother to have the conversation. When they ask, "So how do we buy things? Do we buy them ourselves or do you buy them for us?" I can say, "I take care of all of that for you—you don't need to be online, putting in promotion codes. You don't need to worry about any of that, because I am going to have a much better price because I work directly with my partners; we have a great, trusting relationship, and I stand behind all the items that I procure for your home." I really sell up why you should just let me handle it, and you should just write the check. Just know that on install day, because of the things that we picked out, it's going to be beautiful.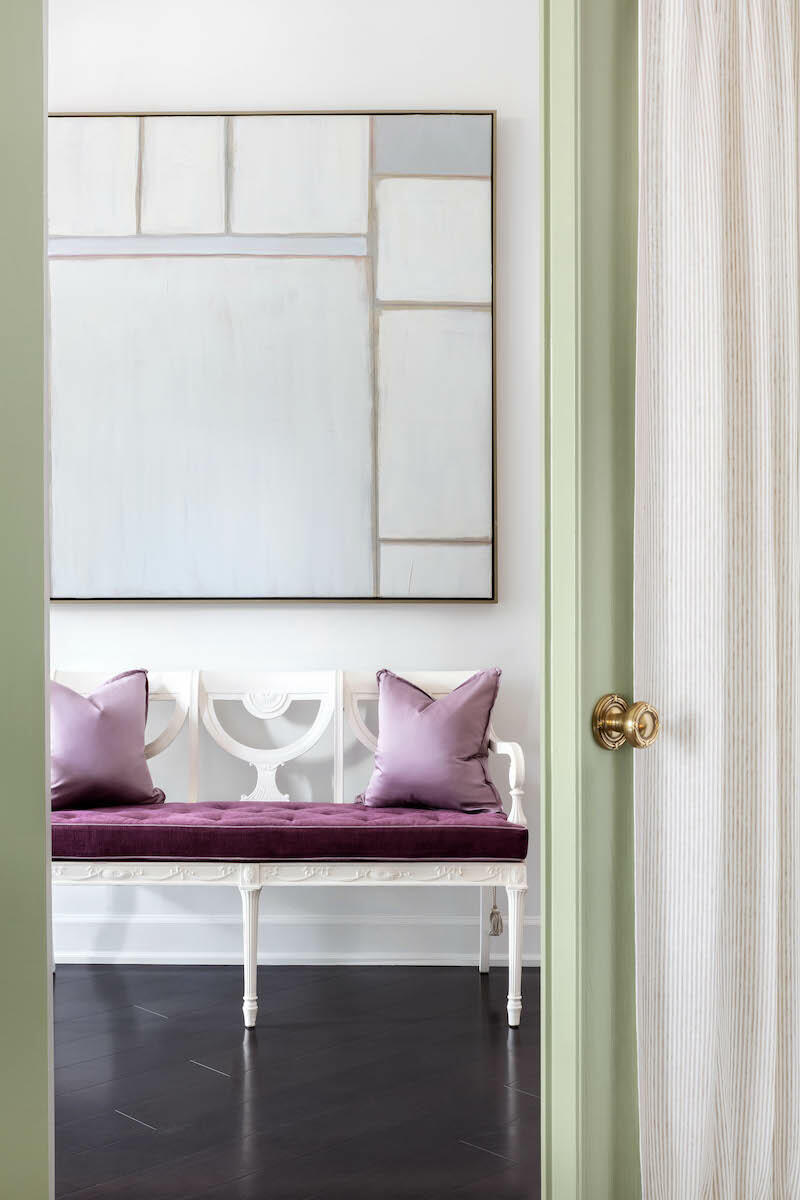 It would not be the 50 States Project if I didn't ask you about Texas, and about Houston. Can you tell me about the local design scene?
Texas is so diverse—between Dallas and Austin and even San Antonio to Houston, all of our design aesthetics have their own vein, which is so interesting, because we're only hours apart. Even within Houston, it's so diverse, and it's constantly growing. The home value is all over the place in Houston. You can live 30 minutes outside of the city and have a $2 million house, but your property taxes don't match what property taxes are on a $2 million house in the city. And there's a lot of opportunity for designers here in Houston because our city is so spread out.
So many people from Houston are from somewhere else—it's almost rare to have a conversation with someone who was born and raised here in Houston—so there are many different aesthetic influences. My family's from Louisiana. I was born and raised here, but I was also raised in Louisiana. A lot of my design influence is based on my Southern roots. I love antiques—we have lots of that here in Houston. There are so many different districts you can go to, whether you're looking for midcentury-vintage shops or boho-chic shops or antiques shops or specialty lighting shops. That, too, really allows us to find our niche and makes it easier to support local businesses as much as we can.
Where else do you shop?
I also go to High Point and Round Top, where I try to make as many connections as possible to help influence my design, my projects and my sourcing list. I think this fall was my 14th time going to High Point. My husband is also in the industry, and when I started my business, he was like, "You want to make money? You need to go to High Point if you want to really see your margins grow." And I totally get it: Selling wholesale is a game changer for an interior designer in addition to developing those relationships and seeing all the new products. Our design centers in Houston are great but limited—we don't have the capacity to show every single collection, so it's critical education to be able to go to these markets that are geared toward furniture and all things home fashion, just to see what's out there and place orders. It's a whole educational experience that I definitely try not to miss.
What does a full plate look like for you these days?
Right now, I have one very large project. It's the biggest project of my design career, which I'm so thrilled and excited about, and I hope it opens more doors for me. My husband and I bought a new house last year, so that was also a project—a nine-month renovation, which took some time away from other projects. And then I'm working on some smaller projects, mostly smaller rooms from repeat clients.
I don't have an in-house staff for assistance, but I do have a back-office team. One of my first business expenses was hiring a bookkeeper, which took a lot off of my plate. I also recently hired an entire purchasing team through my accounting software, DesignerAdvantage, which has been very cool. I really needed someone following the item from the beginning of the proposal all the way through to install day, but I couldn't hire someone in-office to fulfill that position because I don't have lots of projects to be able to keep that person on.
Now, I put the item in the system, I add it to a proposal, send it to the client, and if the client approves or declines it—whichever option—the purchasing team immediately takes action. They're able to jump right in after a proposal is approved and paid for, to start creating purchase orders and communicating to all the different vendors that I work with, and are completely managing every order from entry all the way to being received by my receiver. It's fantastic. I have gained time back this last quarter, which has propelled me to become a little bit more aggressive with finding that next client, because I definitely would love to have another large project like the one I'm working on right now. That's probably the most I can handle by myself. And I think once I get that next client with a scope as large as this, I definitely am ready for a new hire.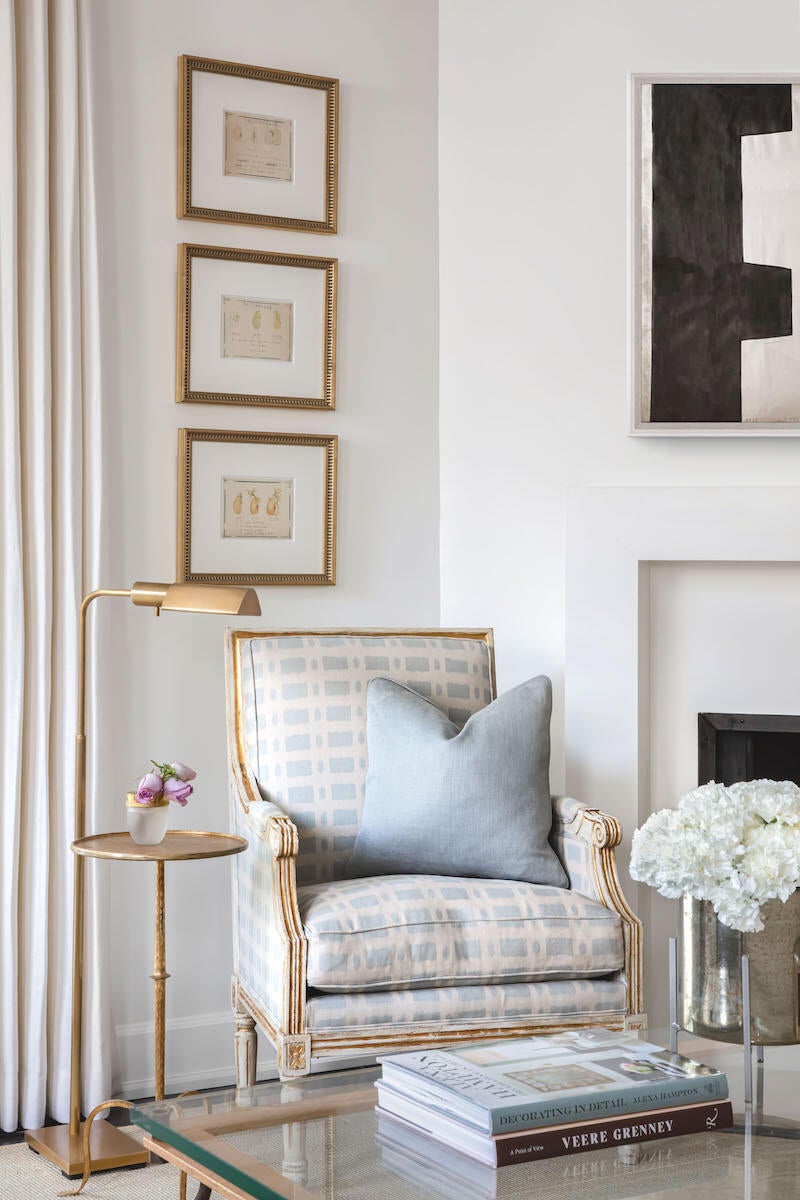 What does growth look like for you? How do you want the firm to unfold?
I think clarity for me is so critical. I don't like being busy, or saying I'm busy just to be busy so my peers respect me more. I don't apply that pressure on to myself, so I'm OK with a slower pace. But I also understand you can't stay there—you have to build on that momentum. Now that I'm in my seventh year, I'm like, "Sherrell, you can't do all the things—and you aren't good at all things. And that's OK. So let's figure out how we can remove some of those roles from your plate to help continue to sustain this organic growth." I've tried to think of it from that perspective, instead of comparing to what someone else is doing. It looks like they're so successful, but maybe they're not, or maybe they're stressed out. And I'm not saying I don't have stress, but I think I have a lot less stress. I have tried to create balance. Growth, for me, is what I'm doing right now.

You were a House Beautiful Next Waver this year. Did that feel like a turning point for you?
That was so surreal. Even now, I'm welling up in tears because of how I started—just complete grassroots—so to be noticed by a national publication is a major confidence booster. It's so gratifying and so humbling. I've never imagined that was something I could ever be—it was never on my checklist, and I guess that's just me thinking small. But to be acknowledged in that way has put me in a different mindset—that you're meant to be here, you're really talented, you definitely have a voice.
What does success look like to you?
I think I am present in my success story. And there's still more of that on the way—I don't put a cap on success. I think continuing to be a solo entrepreneur, having learned what I've learned and being able to slowly, organically grow and attract relationships that really fit and were meant for me is a success story. It has allowed me to be myself, drive my own narrative and stay very honest and genuine.
To learn more about Sherrell Neal, visit her website or find her on Instagram.