For most, launching a business is a risky undertaking. And in a saturated market like small-batch candles, finding a meaningful niche is no small feat. But for brothers Jake and Max Stern, the co-founders of Jam Labs, this game was worth the candle.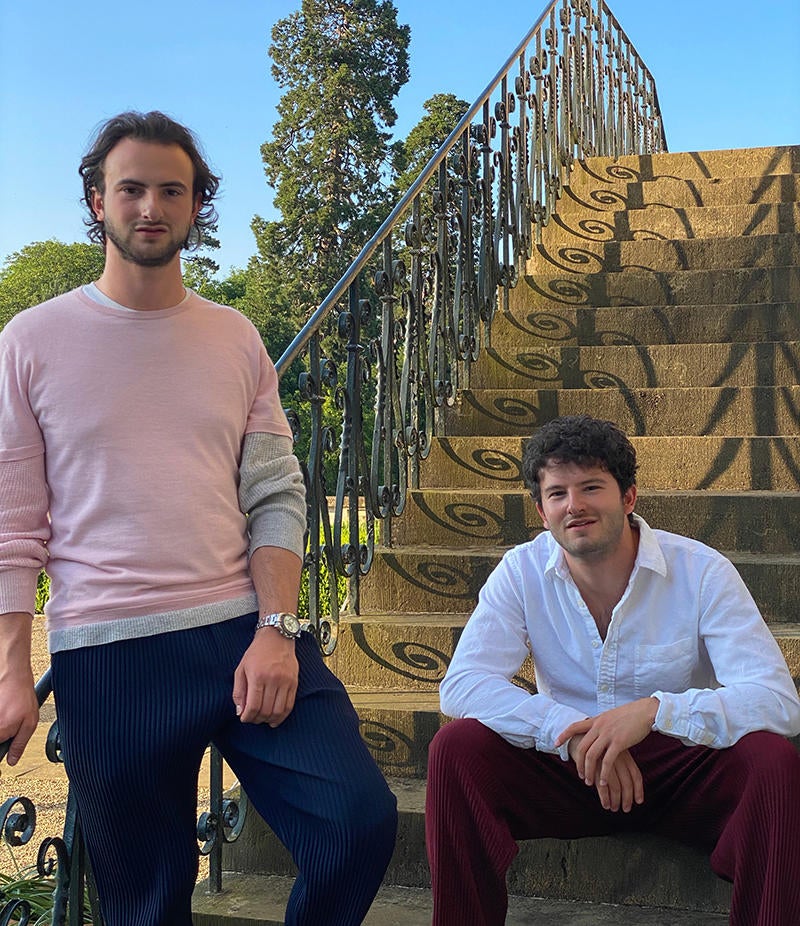 The idea for the company came in December of 2020, when Max was thinking back on a glut of small candle brands that he had encountered while living in New York. He thought that there were so many, they were starting to blur together, and he had a feeling that there was more that could be done from a design perspective using wax as his medium. Having recently graduated from NYU with a degree in architecture, he had long been immersed in design, but often without the satisfaction of true fabrication. "When you're doing architecture in school, you come up with all these ideas, but it never actually gets made," says Max. "You have all these really beautiful designs and conceptual renders, and I guess people see architecture and art as different things, but I think they're super similar."
So he began tinkering with the idea of combining his passion for architectural design with the opportunity to stand out in the candle industry. Jake's background in the music industry had equipped him with the business know-how, and seeing as the two had been living together through the pandemic, it wasn't long before a brand and a vision solidified between them—architectural candles. "I thought it was a very cool medium to make architectural sculptures," says Max. "And it's one of the most accessible forms of art in terms of getting it into people's homes. [Candles] are relatively affordable but can be very beautiful—and it's not [just] a sculpture; it has a function."
From the start, they knew that they wanted to approach their brand with an intentionality that they find largely lacking in today's digitally native market. "We were doing research into whether we could actually fabricate the candles," says Max. "We didn't want to outsource any of this. Our entire thing is we would only do it if we were in control of everything."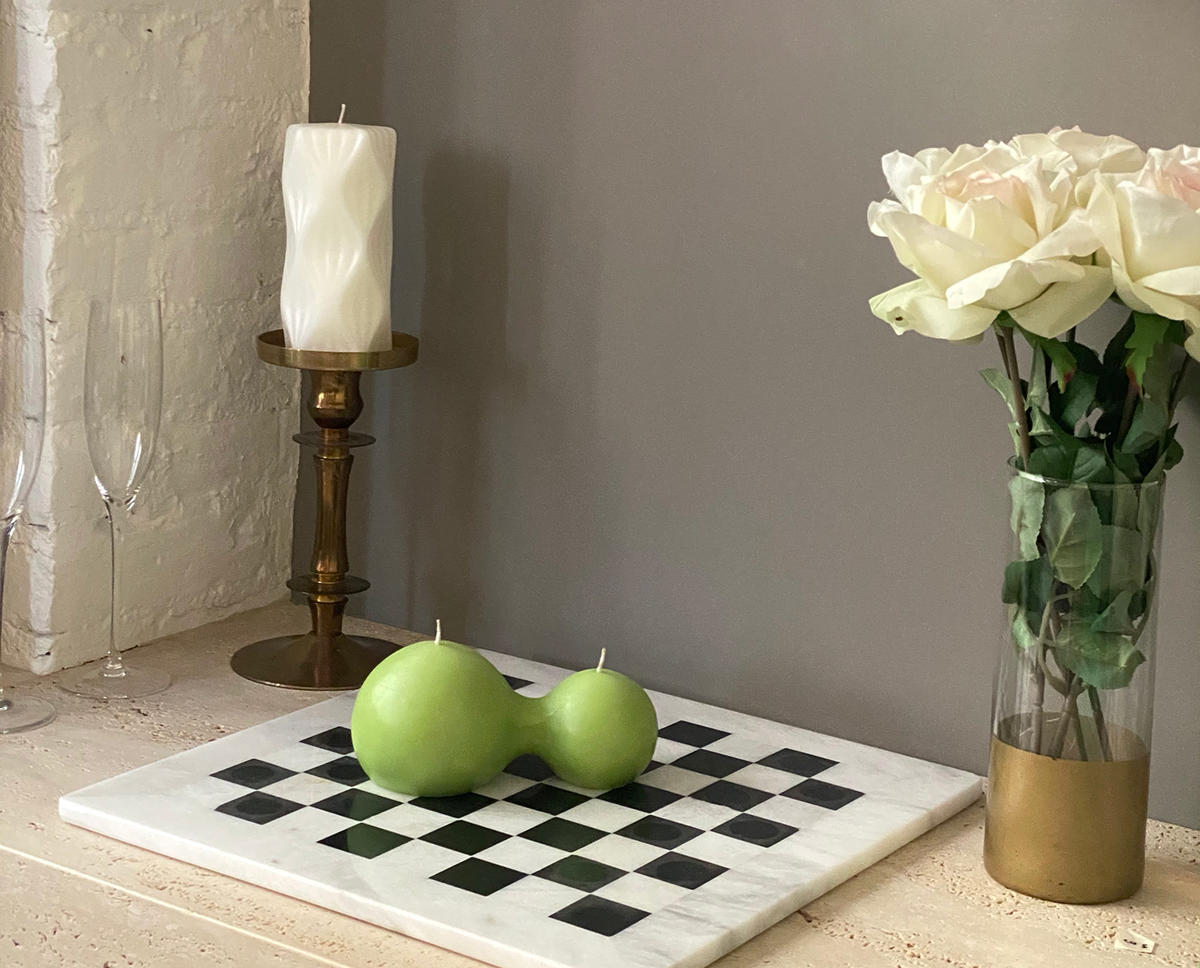 The process behind the Jam Labs candles reads a lot like mad science with an edgy end result. Months of prototyping involved ceaseless experimentation, from nailing the right wax recipe to the drop-by-drop calibration of the brothers' colorways. Their apartment has been consumed by the business, going from residential kitchen to home studio in a matter of weeks—it's a minefield of tall metal pitchers and thermometers, with silicon molds strewn about, trails of cotton wicks and stacks of ready wax. "It took hundreds of iterations," says Jake. "We've probably been through 50 different blends of wax, and the colors were also an obsessive thing."
To land on the right molds, the Sterns took Max's digital renderings to NYU's 3D printer to create the initial candle forms in resin before casting silicon molds in their kitchen. Then, using a large soup cooker, the duo melt down the initial batch of colorless, scentless wax, simultaneously heating up the molds in their oven to avoid any bubbles that would form from a temperature differential. Once the dye has been added to the tempered wax, the wick is laid into the heated mold and the candle is poured. "The thing that I find super interesting is the process—we go from the extreme end of 100 percent digital to 100 percent handmade," says Max. "We're using parametric design and rendering, but at the end we're pouring something and wrapping it by hand."
At present, Jam Labs offers four main candle forms, each one a tectonic marvel. The brand's signature candle, Papi, is the most structurally challenging candle to make, an offset pair of columns connected by a sloping bridge; the lowest-priced candle, Mooki, is a whorled number that strikes a confectionary air. The co-founders wanted to make sure that their business model took an engaged approach to their product development, which is why despite having crafted 10 candle designs, only four are on the market right now, priced at $24 to $128. "From day one it was very much a feedback-driven thing, down to the colors—we did surveys on Instagram and sent prototype renderings to our friends," says Jake. "We want to make things that people actually want instead of trying to get people to buy them," adds Max. "I always want people to feel like they really want it."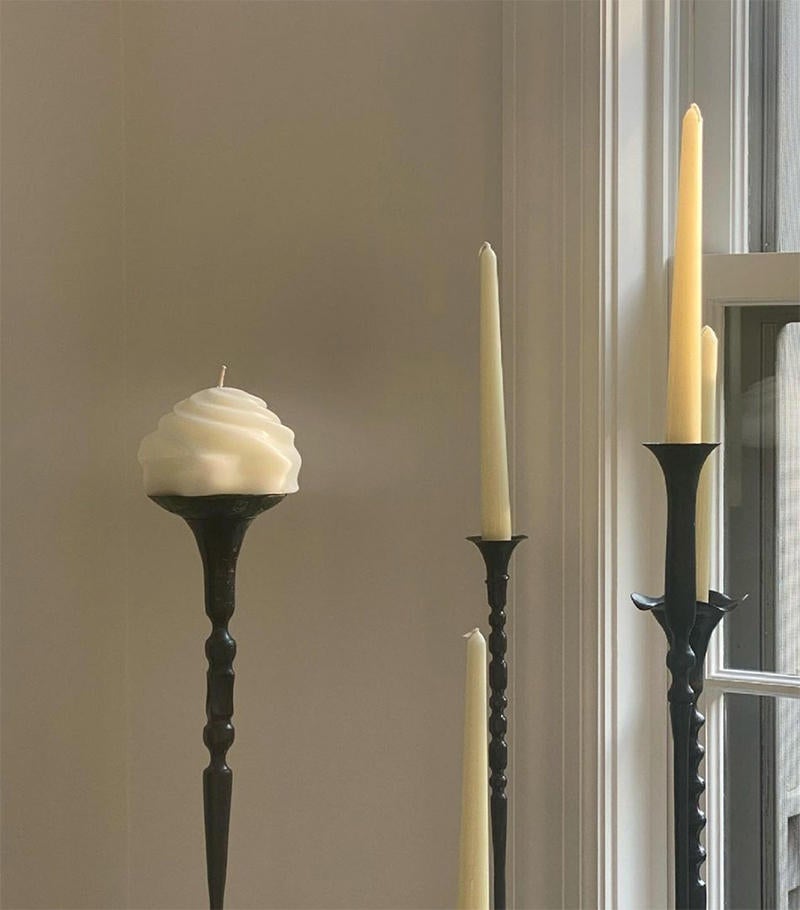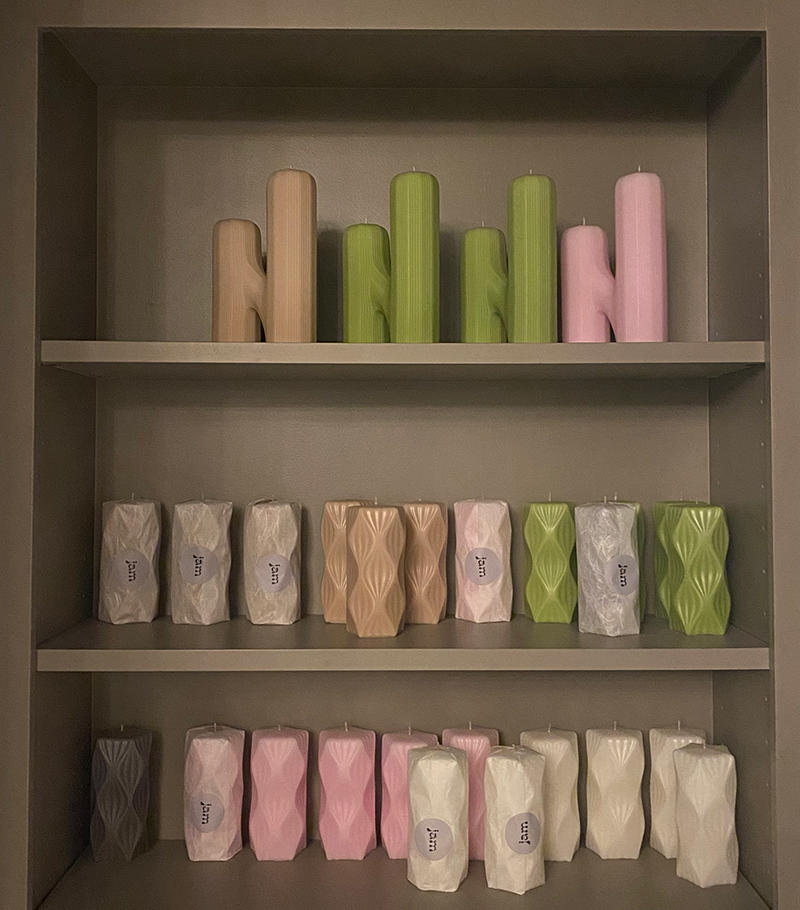 That ethos has led the Jam Labs away from an aggressive social media marketing play, as many brands of this type might otherwise be tempted to make—no influencers, no ads. And despite opting for a quieter sales strategy, the seven-month-old business is selling more candles than the duo can keep up with. Jam Labs already has a retail foothold in two New York shops—the Abode pop-up and Here Nor There—on top of their website, which handles the e-commerce orders.
It'll be a slow burn for Jam Labs—the brothers, 23 and 24 years old, are already at work developing new concepts for the next phase of their design business, setting out to fill homes with thoughtfully designed, accessibly priced objects. "This is really just the beginning," says Max.
To learn more about Jam Labs, visit their website or follow them on Instagram.
Homepage image: The Papi candle in the Matcha colorway | Courtesy of Jam Labs