Galerie Magazine has its finger on the pulse of today's art scene. Here, discover three young talents making waves in the art world and catching the eye of collectors.
LINA IRIS VIKTOR by Janelle Zara
Since making her debut in 2013, Lina Iris Viktor has been turning out fantastical portraits and intricate abstractions that plunge viewers into the depths of art history. The artist's distinctive paintings—sometimes layered with digital prints—are often coated in ultra-saturated shades of Yves Klein blue and embellished with glinting gold in patterns that evoke Gustav Klimt, Afrofuturism, Byzantine decoration, and Dogon sculpture, among other references.
Significantly, Viktor often appears in her work, gilded and shrouded in blue and oil-black paints like some ahistorical queen or goddess, finding a cosmic resonance in the contrast between the blackness and luminous gold. These portraits can be seen as a kind of nose-thumbing gesture directed at the art-historical canon—where the black female body is largely absent—especially with all that glorious gold.
It's shaping up to be a busy year for Viktor, who splits her time between New York City and London. First, Seattle's Mariane Ibrahim Gallery presented her latest paintings at New York's Armory Show in March. Then in the summer, the artist will head to Palermo, where her work has been selected for the latest edition of the itinerant Manifesta contemporary art biennial, and in the fall, the New Orleans Museum of Art will unveil her first solo museum exhibition.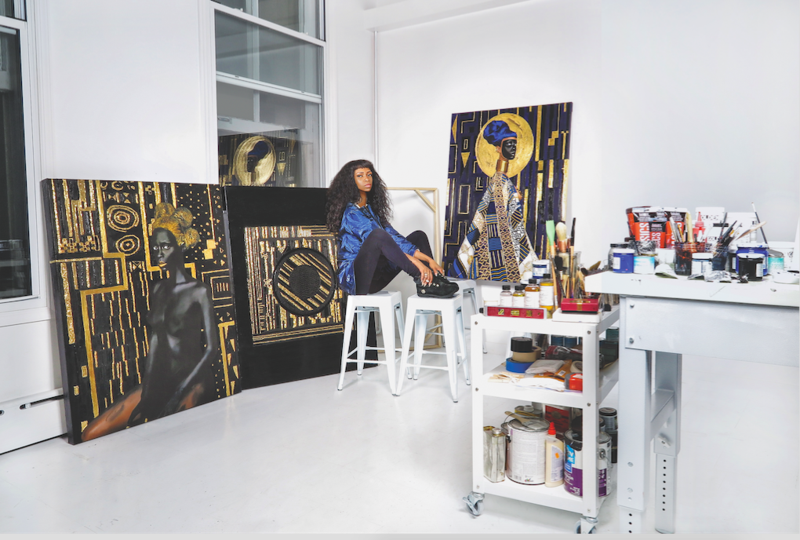 MANUEL MATHIEU by Sara Roffino
Just a couple of years removed from graduate school, Haitian-born Montreal painter Manuel Mathieu has already had two solo exhibitions in London. The first took place at the Institute of Contemporary Art in 2015, and the second, last fall, was at Tiwani Contemporary. The show completely sold out.
At once soft-spoken and effusive, the artist expresses quiet surprise at his rising success, which was nearly inconceivable just a few years ago. While finishing his MFA degree at Goldsmiths in London in 2016, Mathieu was hit by a car and spent six months recovering, only to improbably be hit by another the following year. The experiences triggered a reckoning in his life and his art.
Employing a mostly muted palette and expressionist gestures, Mathieu melds abstraction and representation in compositions that can be as haunting as Picasso's or Francis Bacon's darker works. After Tiwani Contemporary dedicated an entire booth to his new work during New York's Armory Show last week, and a solo show opening at Kavi Gupta Gallery in Chicago on March 23, Mathieu will reveal what kind of balance he has struck.
DERRICK ADAMS by Antwaun Sargent
Over the course of his career, multidisciplinary artist Derrick Adams has created a dizzying array of works—from vividly hued collages and assemblages to large-scale sculptural installations and performance pieces—that explore the black experience and its intersections with pop culture, consumerism, fashion and art history. In recent years, he's spent a lot of time thinking critically about leisure.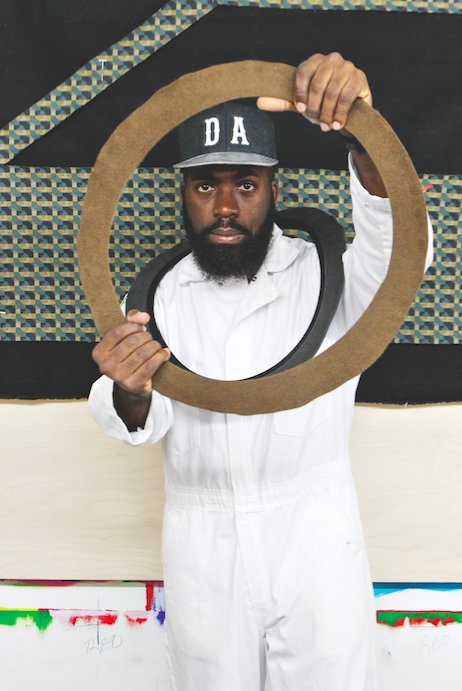 "For people like me, struggle has been part of our culture, and within that, I've been looking at the ways black people keep moving and thriving. There's something to be said about showing that side of reality. It gives people hope," says the Brooklyn artist, whose ongoing series of "Floater" paintings feature black figures reclining blissfully in pools.
Following recent solo outings at the Tilton Gallery in New York, Chicago's Stony Island Arts Bank, and the California African American Museum in Los Angeles, Adams's timely work is the subject of an exhibition at New York's Museum of Arts and Design through August 12.
Titled "Derrick Adams: Sanctuary," the show was inspired by black postal worker Victor Hugo Green's The Negro Motorist Green Book, a little-known annual guide to restaurants, hotels, clubs, service stations, and hair salons where black vacationers in search of refuge and a good time were welcome during America's Jim Crow era.