It's a debate that has sometimes riled the artisan community: When it comes to making, how much machinery can be involved before the integrity of the craft is compromised? Yet as the world continues to change and innovate, so too must the way we look at makers—like Timbur, an Atlantic Highlands, New Jersey–based design and fabrication studio that deftly walks the line between high-tech and handmade.
Timbur founder and president Ezra Ardolino discovered his interest in design early in life, leading him to attend the Pratt School of Architecture in the early aughts. At the time, computer-aided design was booming. "Formal experimentation was at an all-time high," he says. "We were getting all these weird forms in the computer, and nobody knew what to do with them. We'd make renderings and animations and study them, but when it came to making a model or understanding what it meant as a tectonic system, there was nothing out there." After finishing his degree, he began teaching digital fabrication to graduate students at Cornell University's architecture program, where he continued to explore the frontiers of digitally supported architecture.
In 2006, Ardolino launched Timbur as a fabrication studio, collaborating with other designers, architects and creatives to bring their ideas to life. For the first two and half years of the business, he completed projects out of his New Jersey garage, using a CNC router to do most of the heavy lifting. "It was your classic garage small business story," he says. "I was running a CNC machine until 4 o'clock in the morning, with my children sleeping above us and a mountain of plywood trash in my suburban driveway." In those early days, one of the company's breakthrough projects was fabricating the chairs for Hakkasan restaurant in Times Square.
More commissions rolled in, and after finally moving into a dedicated studio and adding a few more gadgets to the equation, Ardolino's own ideas began to materialize. He started to design furniture pieces under the Timbur brand—a play on the word "timber," because nearly all of the products that he makes start with wood in some capacity. Typically, they begin as plywood stacks that are glued together before being machined back down into furniture or other objects. "It's additive and subtractive," says Ardolino. "With the stack lamination work, we take the material, cut out shapes. They get glued up into big blocks and then machined down again."
In 2015, he was joined by his wife, Ania Ardolino, who oversees company operations. "It was a real watershed moment for us [when she joined the team]," he says. "At that point, the business stuff got serious. Before that, I was doing payroll in a notebook." And while the team is still in its initial New Jersey studio, Ardolino says they're busting at the seams.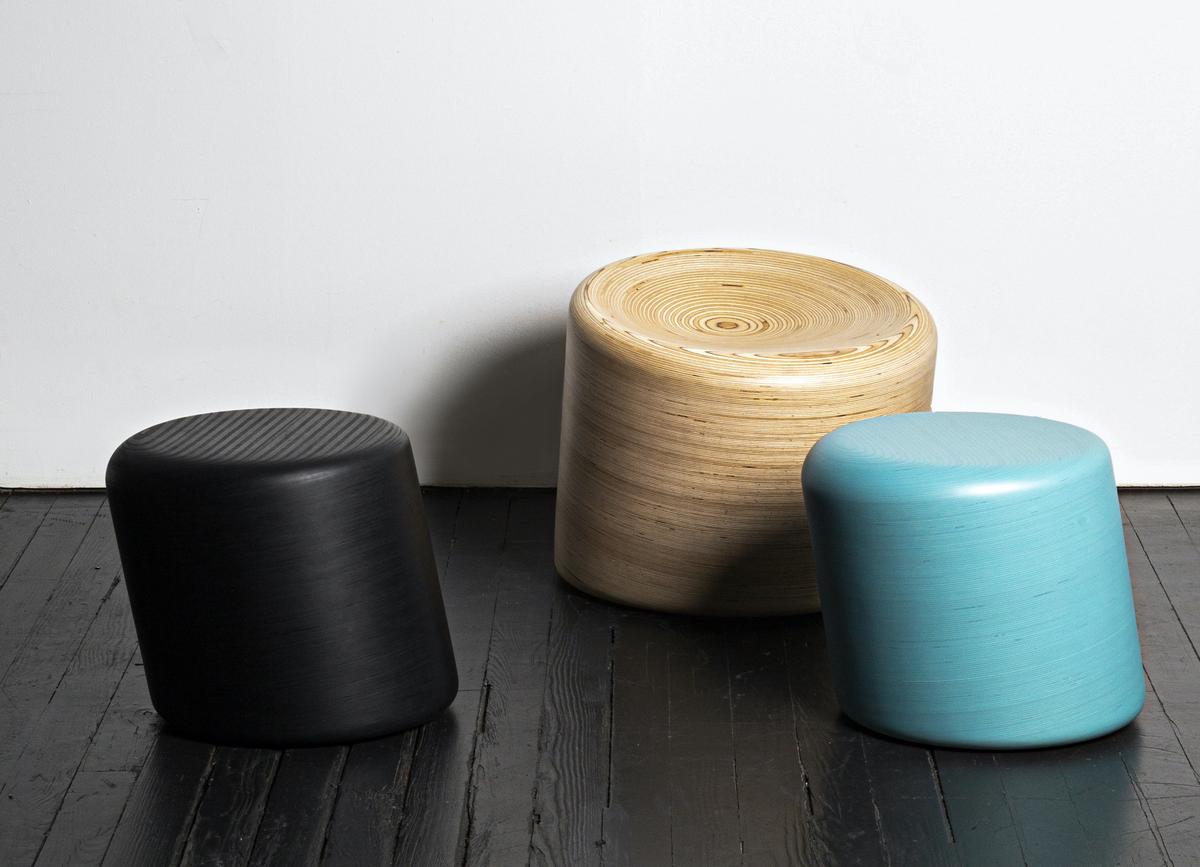 Timbur operates with two main focuses: in-house products and custom fabrication for other designers. Of the products that Ardolino designs under the brand name, there are two collections currently available, Bark and Stack. The former is a series of stools and side tables inspired by tree bark. Using 3D image scans, Ardolino began tinkering with the magnification and orientation of the images, creating furniture pieces that are made of wood and evoke the feeling of wood but are highly technologically advanced in their design and fabrication. Meanwhile, the stools in the Stack collection are a jaunty bunch that playfully seem to lean this way and that, while providing an ergonomically considerate seat.
Looking forward, Timbur is seeking a larger space that can accommodate more robotic technology so that the company can automate more production, which will allow Ardolino's designs to scale in complexity. "I feel like a hybrid of these technologies, being able to use both additive and subtractive methods, can compensate for one another in a really productive way," he says. "That's where I think the future is."
To learn more about Timbur, visit their website or follow them on Instagram.
Homepage image: Ania and Ezra Ardolino | Michael Boylan