In Business of Home's series Shop Talk, we chat with owners of home furnishings stores across the country to hear about their hard-won lessons and challenges, big and small.
This week, we spoke with Cindy Smith, an interior designer who's operated Circa Interiors & Antiques in Charlotte for more than 40 years. Her expertise, and entrée into the world of design, is importing European furniture and accessories, a service that's been compromised by the challenges of the pandemic. Smith's business has survived through it all, she says, by constantly seeking out the new. Ahead, she discusses focusing on products that can't be found online, keeping an eye on the housing market and maintaining happy employees.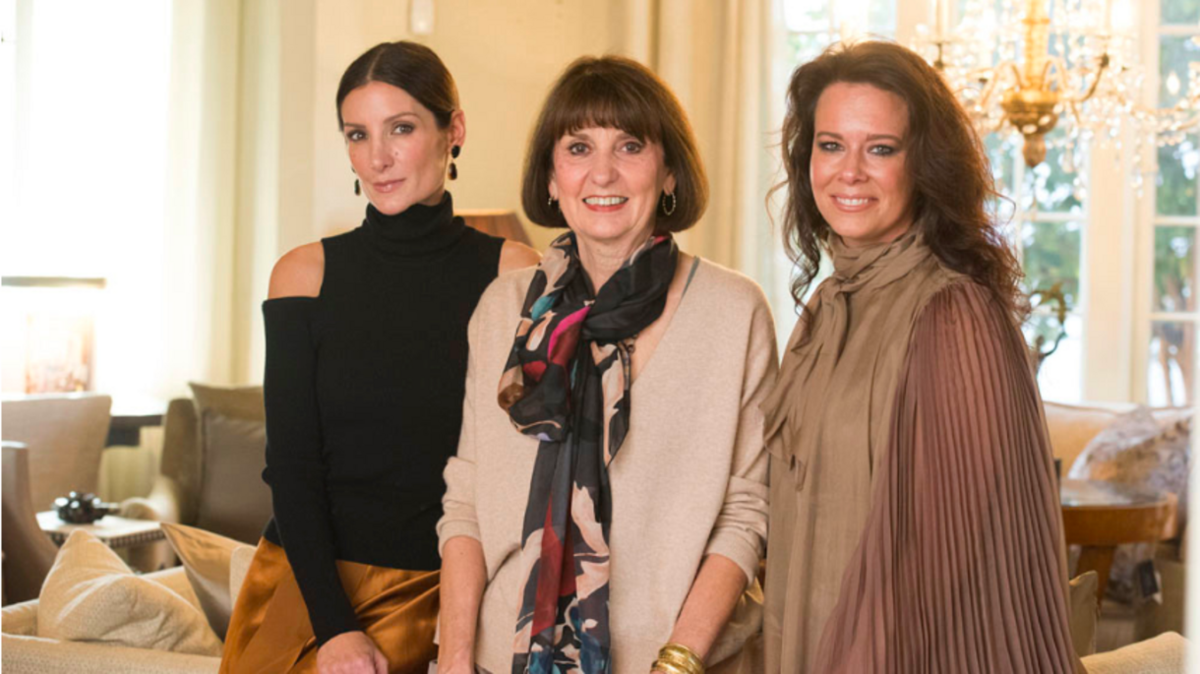 Courtesy of Circa Interiors
What was your career like before the store?
That goes back a long time, because I opened the store in 1980. I was a teacher for three years, and then had children and stayed at home. I had an interest in the antiques business and interiors; I grew up with a mother who had a beautiful home, who was gracious and open to people. I guess I had a little of it in my DNA from her. I spent a summer in France for 10 weeks when I was in college, where I went to the University of Burgundy in Dijon, and that was extremely influential. I got a taste for the lifestyle, and I loved it.
First, I started by selling antiques out of my house. Then, I started buying containers and opened a store, and it grew to interior design. It morphed over the years. As styles changed, I tried to adapt my buying practices, from English country style to Irish pine, to French country to Belgian industrial, Scandinavian to Italian. Our business changed from just antiques to a lot of upholstery, fabrics, wallpapers.
Have you been in the same location since 1980?
Just a few months before COVID, we moved to a new location. We were in the middle of a really beautiful, established old neighborhood and felt like we needed to branch out and be a little more accessible. Charlotte's a pretty big city now. We moved our location from two adorable little houses, where it was crowded and difficult, to a big, open, vaulted space, with our design studio in a loft above it. It's got a little bit more of an edgy vibe because of that.
That was going to be my next question. What's the aesthetic of the store?
It's mixed between the antiques and the new. We have very modern furnishings and upholstery—our tabletops have very slick and cool lines, much more contemporary lines. Some midcentury modern. Of course, we have the antiques mixed in.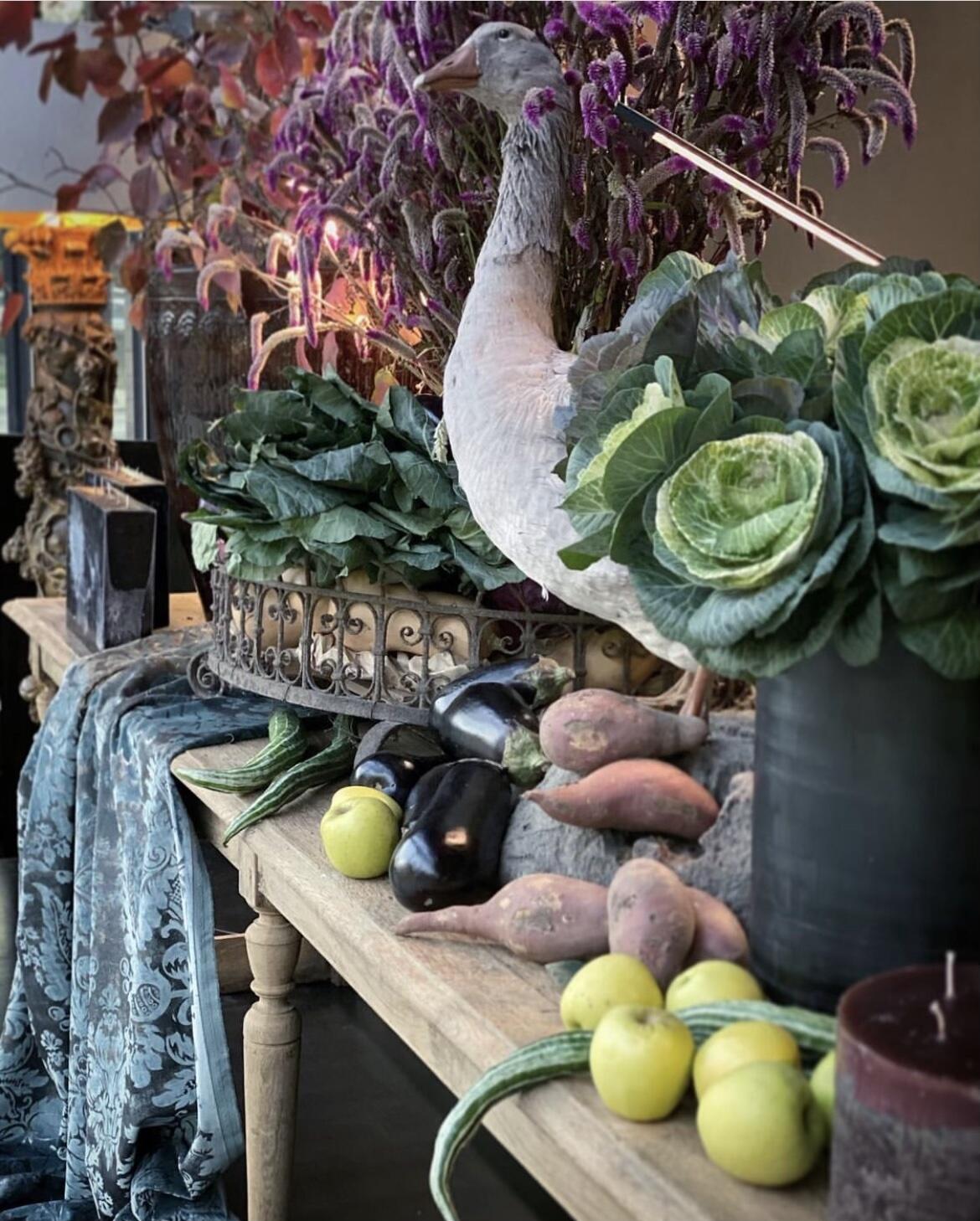 Courtesy of Circa Interiors
Who is your typical customer? How much is the trade?
I would say probably 30 or 40 percent is the trade—they come here when they're installing and they need a unique accessory, lamps or mirrors. The rest of our clients are just well-traveled people who want their homes to be much more expressive than you can find on the internet today. They're educated. They are searching for the unusual.
Tell me about your sourcing. Are you working with the same vendors and dealers that you have for decades? Are you always looking for new dealers?
Always. We're always looking for new dealers. We do have a long-standing relationship with three or four different upholstery lines. We are stocking dealers, so we get a better price, and we can pass that along to designers we've worked with for decades. But yes, we are always looking for something new, and in this business, there's always change. That's part of our point of view—to search for the new and the unusual, because I think that's what keeps you fresh. I'm 76, and I have learned that there's always new out there. There's always innovation and artists doing new things. If you're static, you're going to die. In this industry, you have to adapt.
How do you find new dealers? Do you go to trade shows?
We do pretty much all the trade shows. High Point—we're lucky—is not far. We do the gift market New York, the Atlanta Market, for accessories. We go to Europe three or four times a year. We do Maison&Objet and Salone del Mobile in Milan. I think the European connection is definitely what sets us apart, because our shop is very curated with things that are just not easily accessible. Since we do containers, we can keep the price down.
What is your approach to e-commerce and digital marketing?
There was certainly no such thing [when I first started the store]. Back in the early days, we spent a lot of money on national magazine ads. Now, we have a big Instagram presence, which we nurture. We have events here in the store all the time for designers, trying to keep our name out there. We are working on a new website right now. It is just a necessity these days to have that component in your business. We do get a lot of feedback from Instagram. People buy off of seeing things on our Instagram.
What's something in the store that you can barely keep in stock?
Our glassware from Europe. We do interesting-shaped and -colored vases; a lot of them are from Belgium, and you can't just find them online. You'd have to find them through someone that has gone through a lot of trouble to get them here. They fly out the door. We also stock really beautiful candles from Europe. Our Italian pottery is very unique, and people love that. Those three are probably the biggest.
Given that you've had the store for four decades, what are the top lessons you've learned?
I've lived through three recessions, so this business has seen a lot of ups and downs—and lately, COVID. First, you have to have a passion for this, because it's not easy. It's a lot of physical work and energy and emotion. I don't think you can just write out a business plan and stick to it. I would say, be open to the opportunities. Be looking on the horizon all the time for something new. Surround yourself with really good people who are good at things you're not good at. Build a tribe of your own. Find people that have the same work ethic.
How are you handling inflation now?
It's really interesting, because while all of that is going on, we can't get product. People are more focused on their homes now. The real estate market is crazy. It's kept us alive, because people are moving and building, and that brings business to us. At first, people were frustrated with the price increases, but I think they have realized it's here to stay for a while. They just have to go with it and not wait. We've managed to be busier than ever throughout it all. Our business is tied to the housing market.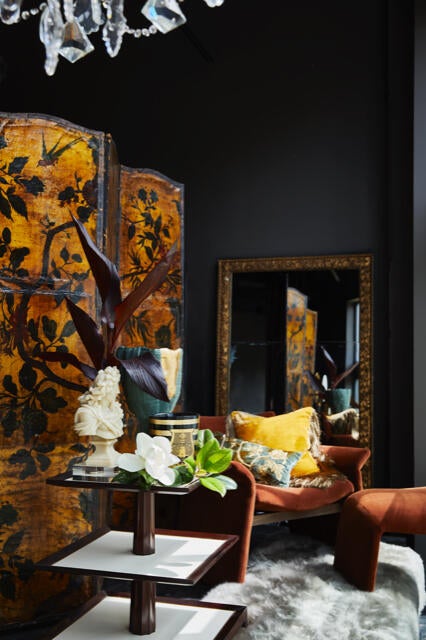 Courtesy of Circa Interiors
How about labor? Have you had a difficult time keeping staff?
No, to be honest with you. I think we are specialized enough, and our environment is just very pleasant. We are not very strict. We adapt to the fact that this is a part of people's lives—it isn't their whole life. We try to make it the kind of environment where people want to be. We have had a problem finding labor for [more niche] things like re-covering or fixing [furniture]. Among those types of workers, there's definitely been a slowdown.
What is your biggest existential problem, the thing that keeps you up at night?
Right now, it's delivery. Just getting things. I've been waiting on two sofas for a client for a little over a year. The delivery backlog is the most frustrating thing. We try to keep a lot of merchandise on the floor, and we used to be able to place orders for the floor two months in advance and keep a flow going—so we've had to adapt. Now, we have to think, "It's going to be nine months before we get this."
How do you manage customers' expectations?
In the beginning, it was a shock to people. Everybody's gotten used to it. They know now if they want to buy a new stove, a new refrigerator, they've got to do it almost a year out. It's not just furniture and interiors, it's everything. We still have a lot of people who want that instant gratification, and that's why the retail store is good—we try to keep a good bit of stock. But when we're working on a whole house, and we are doing a plan for six months down the line, it is frustrating for clients. It's hard on us, too. We like to do an install, and have people walk in and say, "Wow!" I'm hopeful that within the next year to 18 months, the backlog is going to grind down.
What's your favorite kind of day as a shop owner?
Antiques shipment day. It's a complete redo of the entire shop. It gets your creative juices going. Then we have two days of designers coming in to see things. That kind of buzz is always fun. Another thing is someone walking in, and I hear them say, "This is the most beautiful shop. I love coming in here." They feel like they're transported into another world. That feels worthwhile.
Homepage image: The Circa showroom in Charlotte offers a range of antiques | Courtesy of Circa Interiors