"Ceci n'est pas une pipe"—this is not a pipe—are the words floating under Belgian surrealist painter René Magritte's painted pipe in his 1929 work "The Treachery of Images." In the same vein, for Brooklyn-based Nigerian-American furniture-maker and artist Nifemi Ogunro, her chairs are not chairs, nor are her tables tables. This modern-day designer makes it her work to turn furniture on its head.
When Ogunro set out to study industrial and product design at North Carolina's Appalachian State University, a required course led her to experiment with furniture forms—something of a breakthrough for the young designer. "It was really liberating," she tells Business of Home. "I was able to not only have an idea, but three days before it was due, I flipped the frame upside down because I wanted the piece to look different. I just reoriented what I'd drawn and went with it. I really appreciated the freedom to be given permission to do something like that as long as it still worked."
After graduating, Ogunro landed in Atlanta where she accepted a job working for a lighting design company. For a creative outlet, she turned to a membership-based makerspace in 2019. Upon the pandemic's arrival, her original interest in furniture found space to flourish. Having left her full-time post at a solar lighting company, a friend connected Ogunro to work on a large-scale commission with sculptor Michael Beitz in Colorado. "That's where I really learned how to work with materials," says Ogunro. "[Beitz] was really helpful and generous. He allowed me to use his space and pushed me to get work done." With her completed creations photographed and videoed, Ogunro broke onto the scene through a feature in Wallpaper in April 2021, and has been receiving commissions ever since.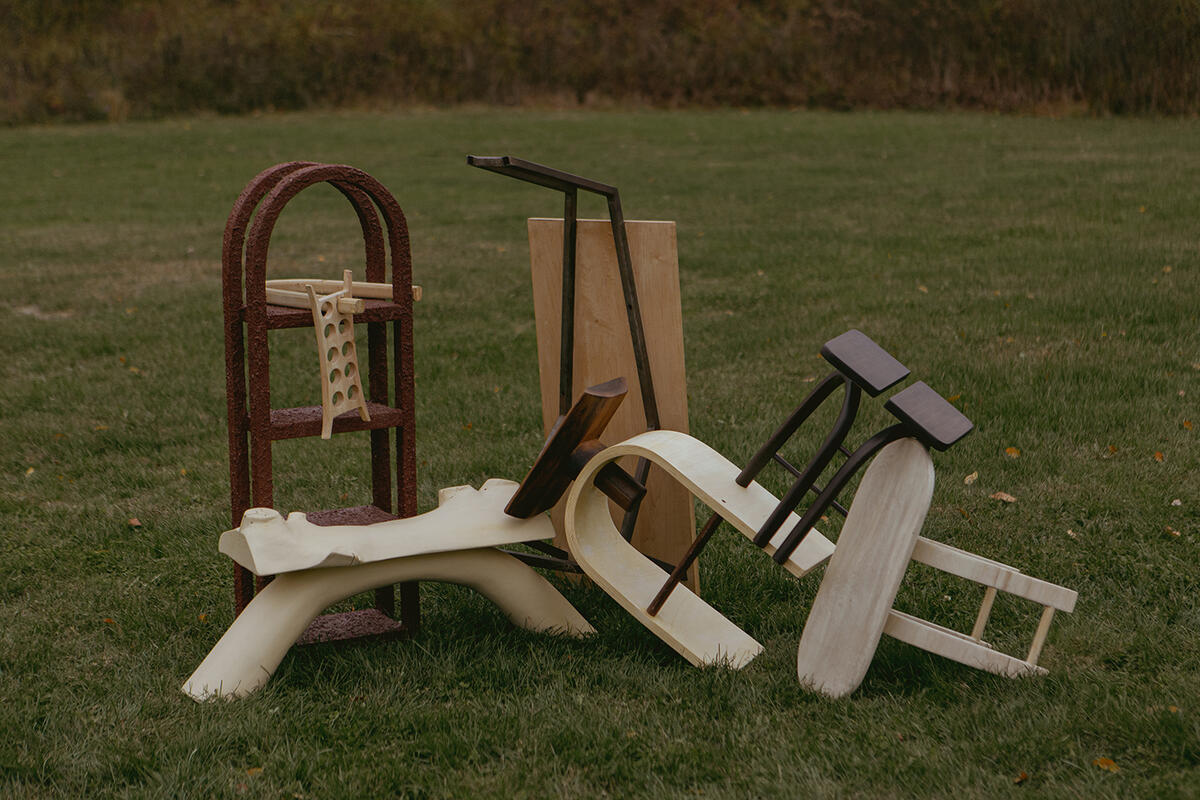 Ogunro refers to her pieces as "functional sculptures" and sees them toeing the line between utility and style. From her Brooklyn studio, in addition to the commissions, she continues to develop her own concepts, drawing inspiration from her immediate environment. "Form is a lot of what I do," says Ogunro. "I'll see something—whether it's in subway stations, my apartment, in hallways or nature—repeat the form and abstract it. As long as you have a flat surface somewhere, it's furniture. All it needs to do is hold something up, whether that be another object, a person, a plate."
The ethos of Ogunro's work introduces a stillness, an almost sacred atmosphere, with each piece. Her designs, made primarily in wood, stand with a deceptive simplicity—each stark silhouette challenges traditional notions of how furniture should look, forging a narrative all their own, imbued with themes of family, heritage and sustainability. "I want to shift this idea around furniture that we have because I think it's easy to associate it with such mundane activities," she says. "I want my pieces to live as pieces of art as well as things that people get to use, and [I hope that] because of that association, people value that piece more than something they got from Ikea, and that they see a reason to keep it."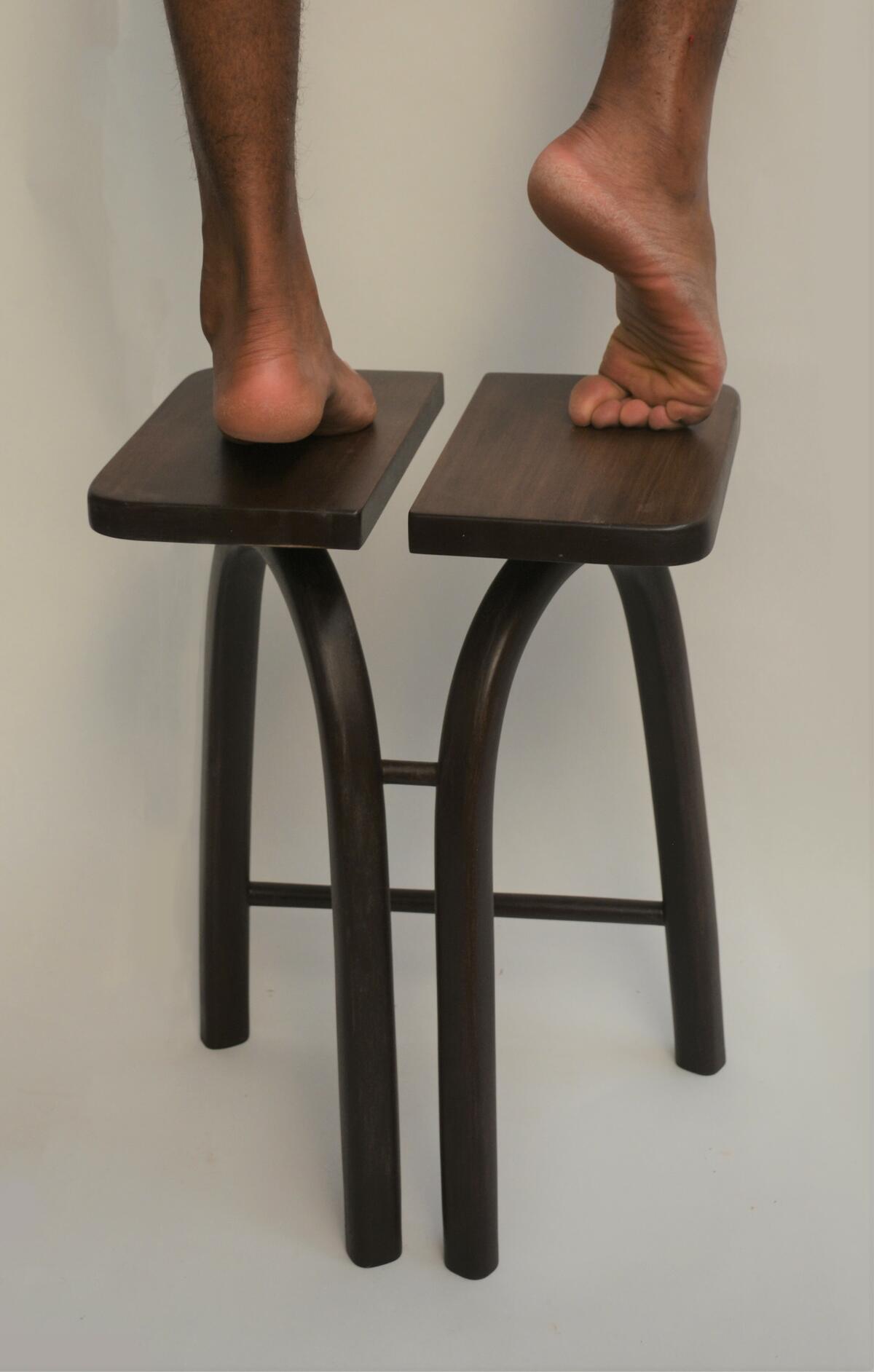 And these words resonate in both her pieces and the way that she markets them. In Ogunro's designs, minimalism meets surrealism to strip furniture of expectation—and she carries that notion through to her digital "marketing" as well. "[When] I'm framing [my work]—you might call it marketing—I always imagine a new way to see furniture," she says. "There's a power in work that challenges the day-to-day, that you can both observe and interact with. I'm excited to have different ideas and to reconceptualize objects and the human interaction with them, exploring that tension through photography and video."
Earlier this year, Ogunro made her debut showing at Salone del Mobile in Milan, and as her practice grows, she hopes that her pieces inspire and provoke the same values of abstraction and subversion that went into their design. "Furniture—specifically, things that interact with bodies—is just a surface," she says. "We see a chair the way that we've been told a chair needs to look, but the second you strip it of four legs and a back, all of a sudden you have different lines and curves. There is this idea of where your inspiration should lie when you're in a certain medium, but everything can be a source of inspiration."
To learn more about Nifemi Ogunro, visit her website or follow her on Instagram.
Homepage image: Ogunro stands with three of her pieces: 'Tob(i)' (Left), 'Untitled' (Center) and 'Tope' (Right). | Dion Lamar Mills