Misha Kahn lives for the idiosyncratic. The Brooklyn-based artist employs a medley of playful yet unpredictable details in his designs to create a sense of the unexpected. "You know that triangle [sound] in the Kelis song 'Milkshake,' that just kind of errantly dings?" he says. "That ding kind of glues the whole song together even though it seems unnecessary. I think really singular objects do that with our lives—they add this little surprising element that we can keep track of to [help us] gather our bearings."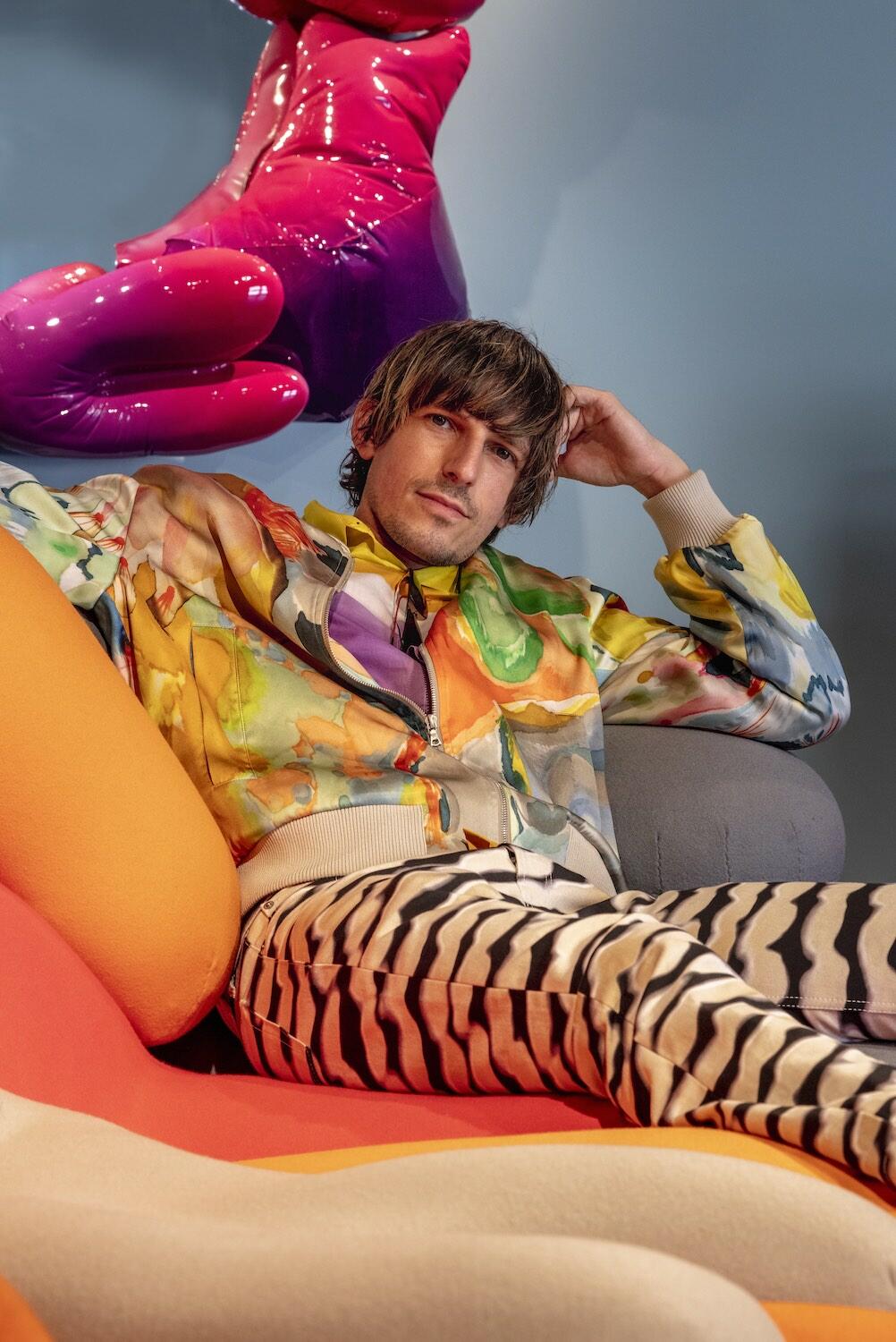 Born and raised in Duluth, Minnesota, Kahn has been a maker for as long as he can remember. As a kid, he grew up sewing clothes and crafting clay animation films, and in college studied furniture design at the Rhode Island School of Design. "I love the scale of furniture and the mix of materials used," he says.
In 2014, he showcased a collection of concrete-based pieces at the Museum of Arts and Design's NYC Makers biennial, and hosted his first solo exhibition, "Midden Heap," three years later at the local Friedman Benda gallery. "I'm not sure when or if it ever 'officially launched' my studio," he says. "I've been with Friedman Benda for almost a decade, and that was kind of the beginning of me being focused [as an artist]."
Kahn's work runs the gamut of form, function and material, with designs ranging from sea creature–inspired floor lamps fashioned from bronze and trash found at the beach to multicolored free-form sofas constructed of wood, steel and wool upholstery. "Formwise, I build a lot around feelings of posture and movement," he says. "I think it's very important that [my designs] can really be used, but I'm never interested in communicating usefulness visually."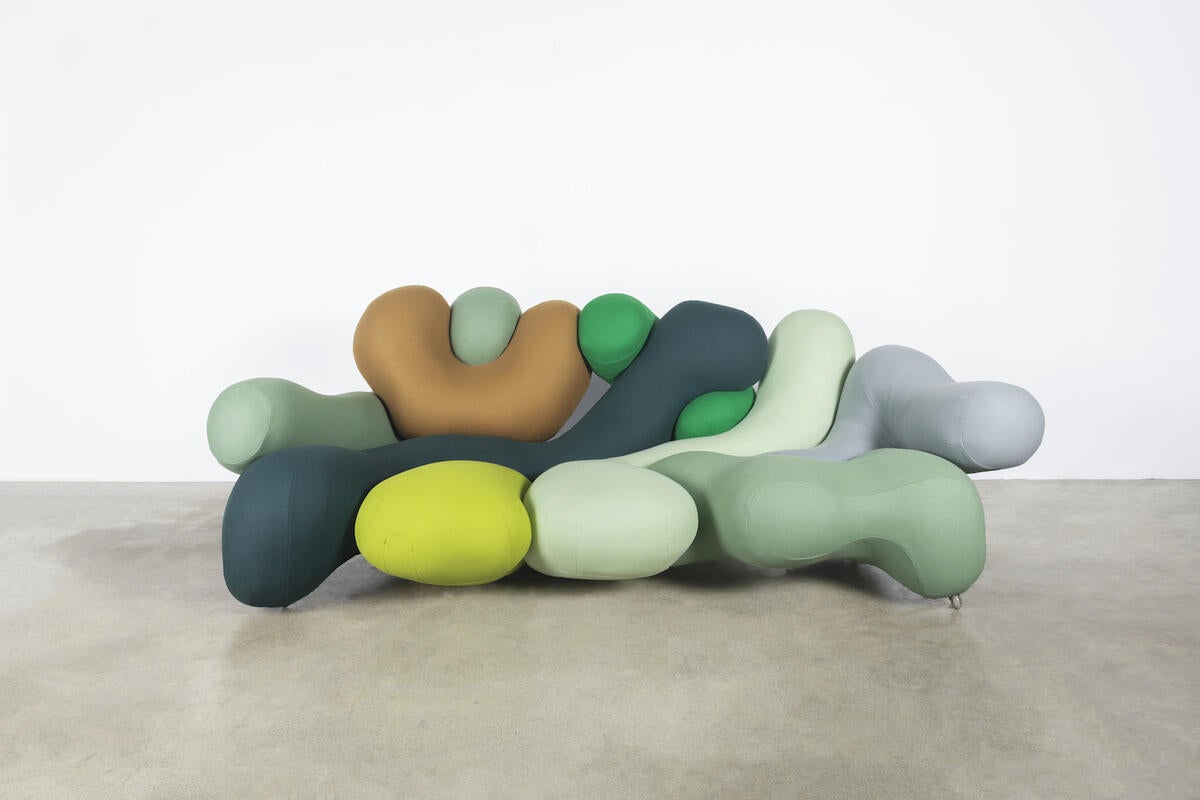 Though some might argue that Kahn's assemblage-style pieces—that is, art made by assembling disparate elements—are strategically maximalist in style, he says that effect is an incidental result of letting the materials do the talking. "I approach the [materials] with as much naive purity as I possibly can, to just enjoy them for their raw selves."
No surprise, then, that his avant-garde furniture designs have earned him a laundry list of esteemed fans such as Peter Marino and Kelly Wearstler, as well as collabs with big-name fashion brands including Hermès and Dries Van Noten. "When a collaboration works, it pushes me out of my comfort zone," says Kahn. "I've often been surprised that the client wants it to be wilder than what I first would draw."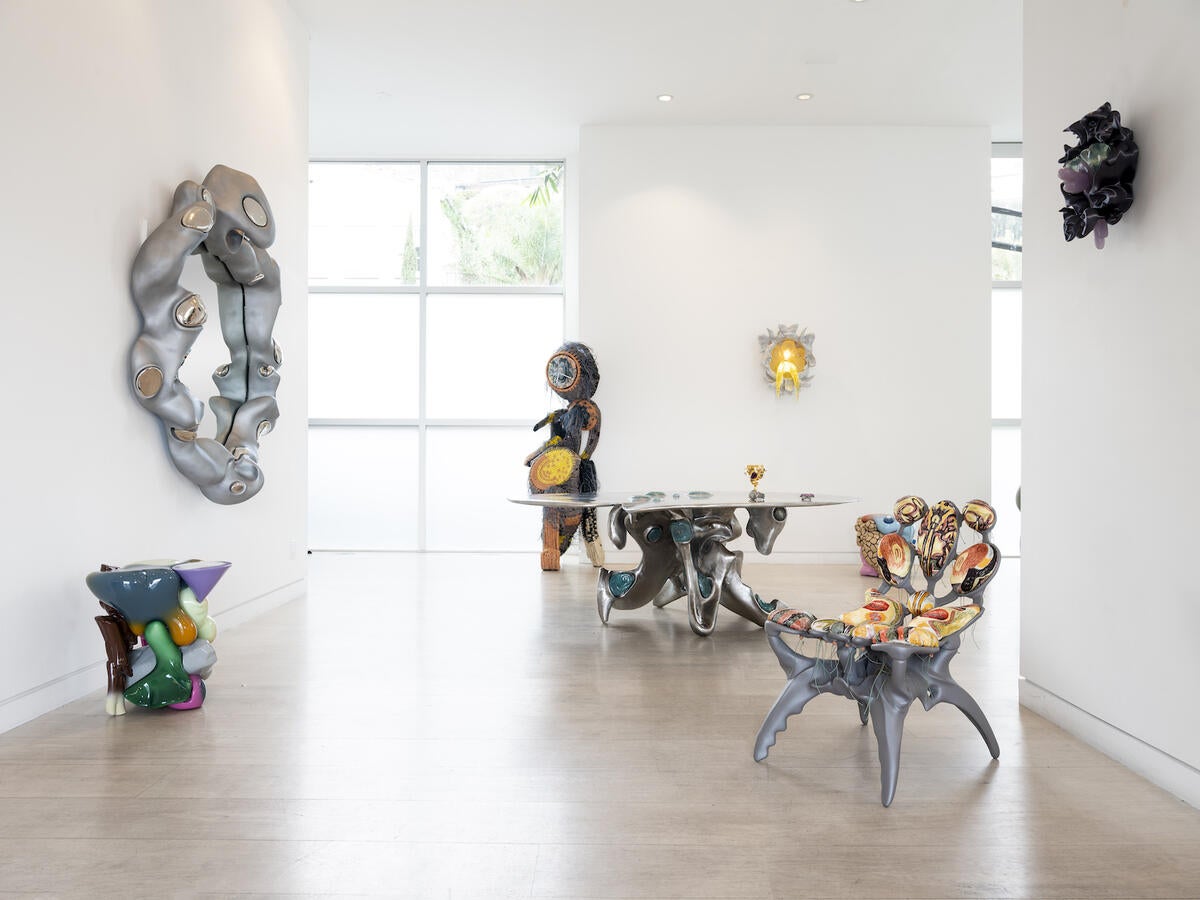 In April, he premiered his latest selection of works, "Staged," at Friedman Benda's Los Angeles outpost. For the exhibit, Kahn outfitted the 2,800-square-foot space in everything from a cast stainless steel–and-glass dining table modeled after a lily pad to a hand-woven mohair rug bedecked in a digitally scanned mixed-media print composed of crumpled paper, sewing thread and a chewed-up piece of gum. "This is the first time I've really shown things in a domestic space," he says. "I thought it was fun to contextualize these objects in a way that normalizes them, because to me, they always seem regular."
Looking ahead, Kahn says there's more to come as he experiments with new types of product designs. "I want to offer more architectural elements, from pillar columns to light switches," he says. "I feel like I've only scratched the surface."
If you want to learn more about Misha Kahn, visit his website or Instagram.
Homepage image: A scene from Misha Kahn's "Staged" exhibit at Friedman Benda Los Angeles | Julian Calero