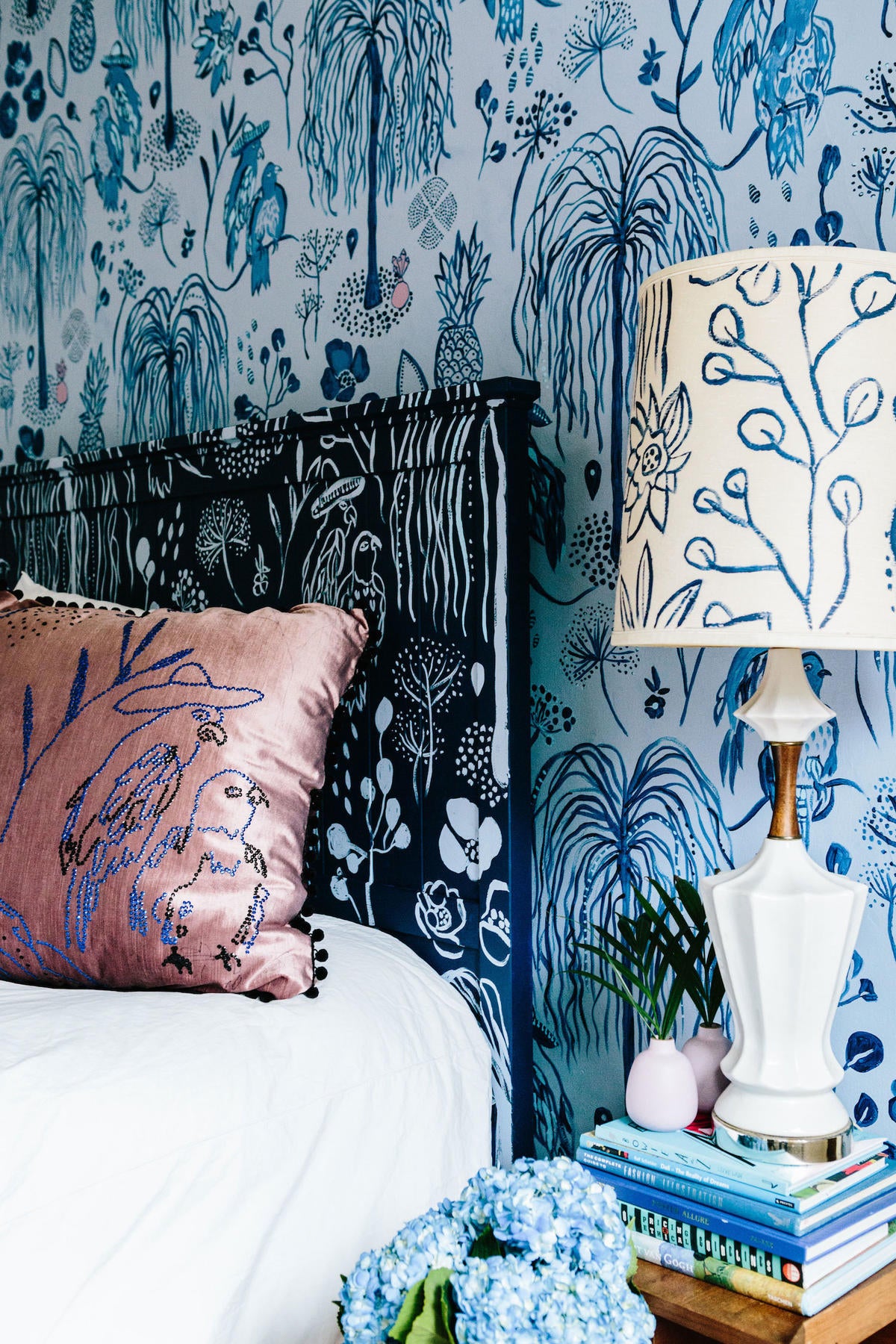 In a world filled with fast furniture and decor accents, Jennifer A. Jorgensen and Kate Worum are on a mission to shake things up. The duo behind Minneapolis-based multidisciplinary studio She She designs each of their fabrics and wallpapers with the intention of making a statement. "We both love art and are drawn to spaces that incorporate artistic moments," Jorgensen tells Business of Home. "Our goal is to bring more art into the interior design world."
Worum, an illustrator, and Jorgenson, an interior architect, first began tossing around the idea of designing a wallpaper line when they were both going through tough breakups. "We were looking for something positive to channel our emotion into," Worum says, "and decided there was no time like the present to be productive."
To get their feet wet with the design process, the pair hand-painted two wallpaper patterns directly onto the walls of their own homes: a free-spirited, forest-themed toile called On a Pony She Named Wildfire and a bold tropical motif named Paco y Maria. After receiving rave reviews of the designs on Instagram, the duo knew they had found their calling. "We set out to cover the world in our art," Jorgensen says.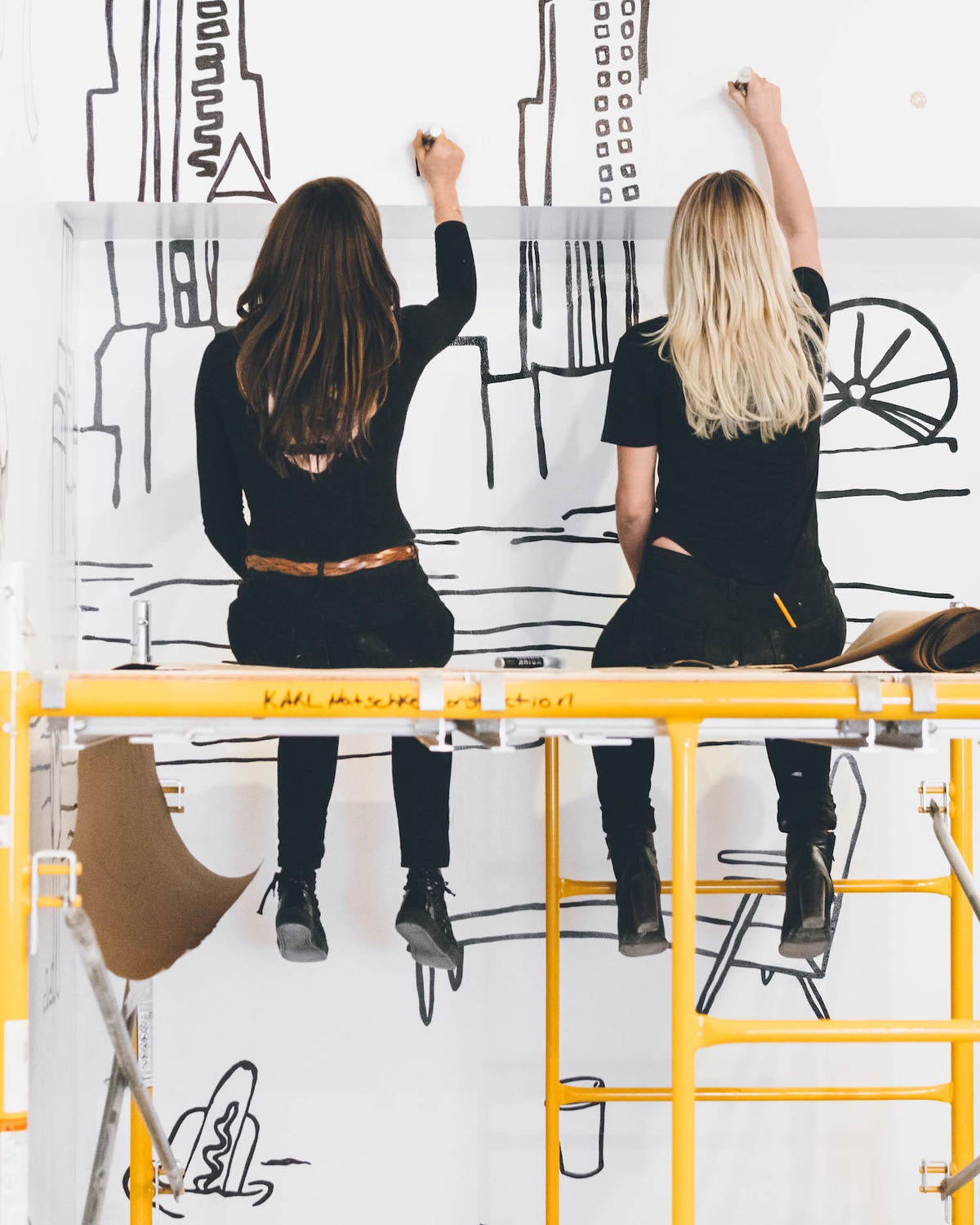 In 2016, they launched She She with a small handful of wallcovering designs, including the aforementioned patterns as well as Lashes, a cheeky blinking eye motif originally designed for an eyelash studio. "They document our memories together and outside of telling our story, they don't have too much cohesion," Jorgensen says of the designs in the inaugural collection. "We spent the next few years diving extremely deep into our custom pattern work and installations, and recently released our second internal collection based off of an inspiration trip we took to Curaçao."
For its second collection, She She expanded into textiles. Along with an array of sprightly wallpaper patterns, including ones printed on raw silk—as well as their popular Bums series which features a repeat doodle of, well, a shapely gluteus maximus—the duo began offering custom fabric design services. "Fabric was the obvious next step after our wallpaper took off," Worum says. "We would have our patterns on every wall and then the client would put a beige couch in front of half the wall. So we thought: We've got to get into fabric."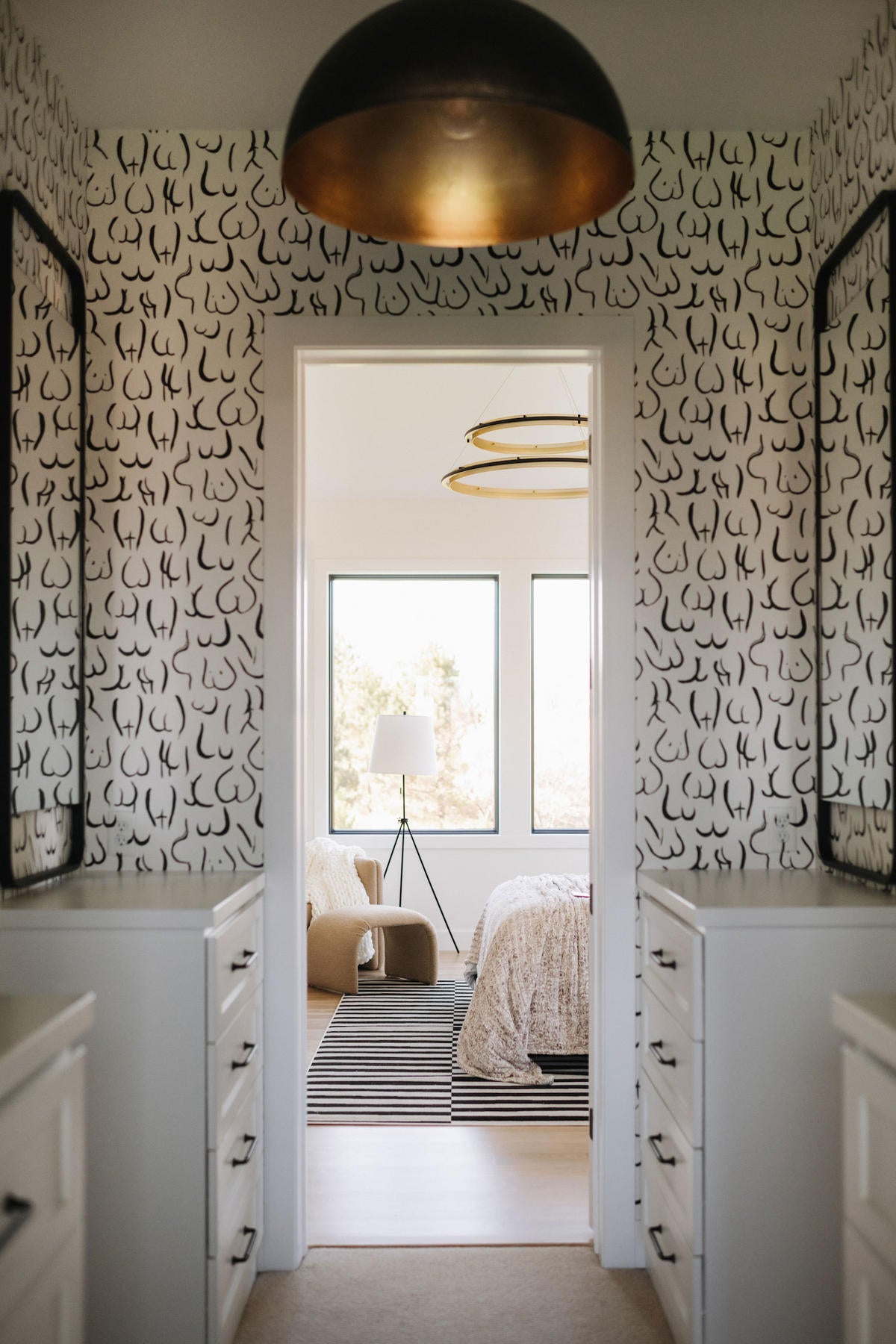 Whether it's wallpaper or fabric, Jorgensen says each She She design begins with a story or memory. "From there, we gather reference imagery from our archive of saved inspirations," she explains. "We let them percolate in our minds and when the idea is fully realized, we sit down to illustrate the artwork with pen and paper. Then it's digitized and sent off to the printer!"
In addition to printed wallpaper and custom fabric designs, She She also creates bespoke hand-painted wallcoverings for clients. "Unlike most hand-painted wallpaper brands, we paint directly onto the wall," Worum says. "We like the permanence and extreme one-of-a-kind nature of this process."
This month, She She drops its latest collection, consisting of 1o new wallpaper and fabric designs. "These patterns will be able to live on lampshades, as we are also working on a lighting collaboration right now," says Jorgensen.
Jorgensen says the duo, who also worked with Mott50 on a swimwear collection last summer, will continue to expand She She's product offerings throughout 2022. "We just released a new line of pajamas and will be adding more products to our home line over the next six months, " she says. "We are focused on taking our designs to the next level by developing not only the pattern for the fabric and wallpaper of a space, but to have those ideas incorporated into bedding, lampshades, towels, china, rugs and more."
To learn more about She She, visit their website or follow them on Instagram.
Homepage photo: Jennifer A. Jorgensen (left) and Kate Worum (right) of She She at work on a custom wallcovering for The Bluebird Group in Minneapolis. | 2ndTruth Photography