Growing up in Australia, Lauren and Kassandra Hernandez learned the value of craftsmanship and self-expression at a young age. The Sydney–based sisters were encouraged to take dance classes throughout their youth, and as a result, got firsthand experience watching their parents handmake their costumes. "Our childhood memories are peppered with our parents sequining or beading our dance costumes after a long day at work," Kassandra says. "They were both committed to our dance practice and, in turn, demonstrated the value of teamwork, patience, and collaboration."
Despite a background and deep love for dance, the two caught "weaver fever" during their adult years after attending an introductory weaving workshop that Kassandra gifted to Lauren as a birthday present. In 2015, they turned this passion into a creative business, Crossing Threads, specializing in one-of-a-kind, textile artworks and tapestries. "We see the brand as an extension of our sisterhood," Lauren tells Business of Home, "and a way to express ourselves through fiber."
The sisters' hand-loomed works are as visually complex as they are emotionally satisfying, composed of recycled materials in earthy colors designed to bring a grounding organic element to a room. Reflective of their sisterly bond, Kassandra says the knotted fabric represents their tight-knit relationship, while simultaneously imbuing a space with a dash of wabi-sabi warmth. "Our art draws inspiration from the surrounding landscape, as well as our family's Filipino heritage and personal experiences," she says.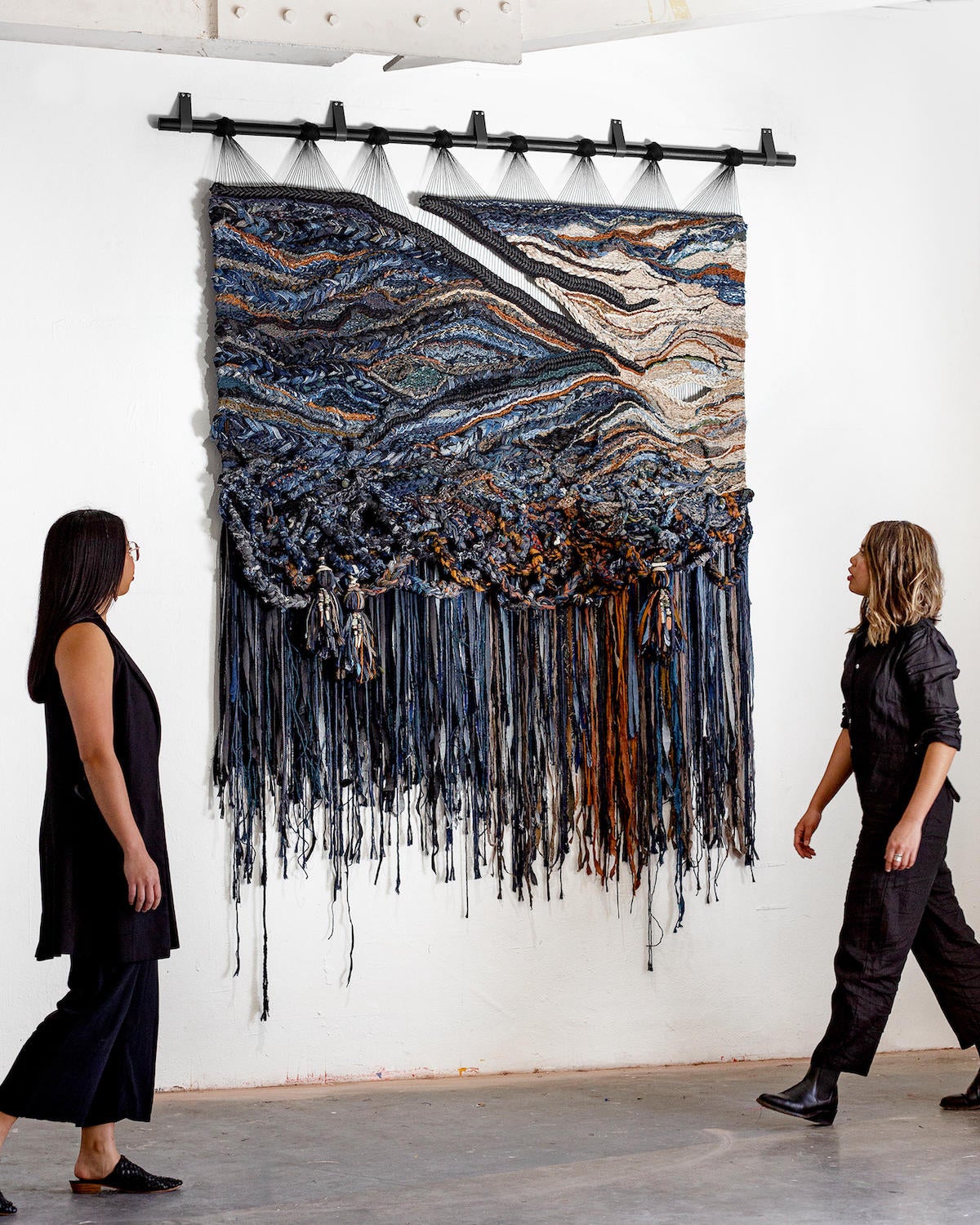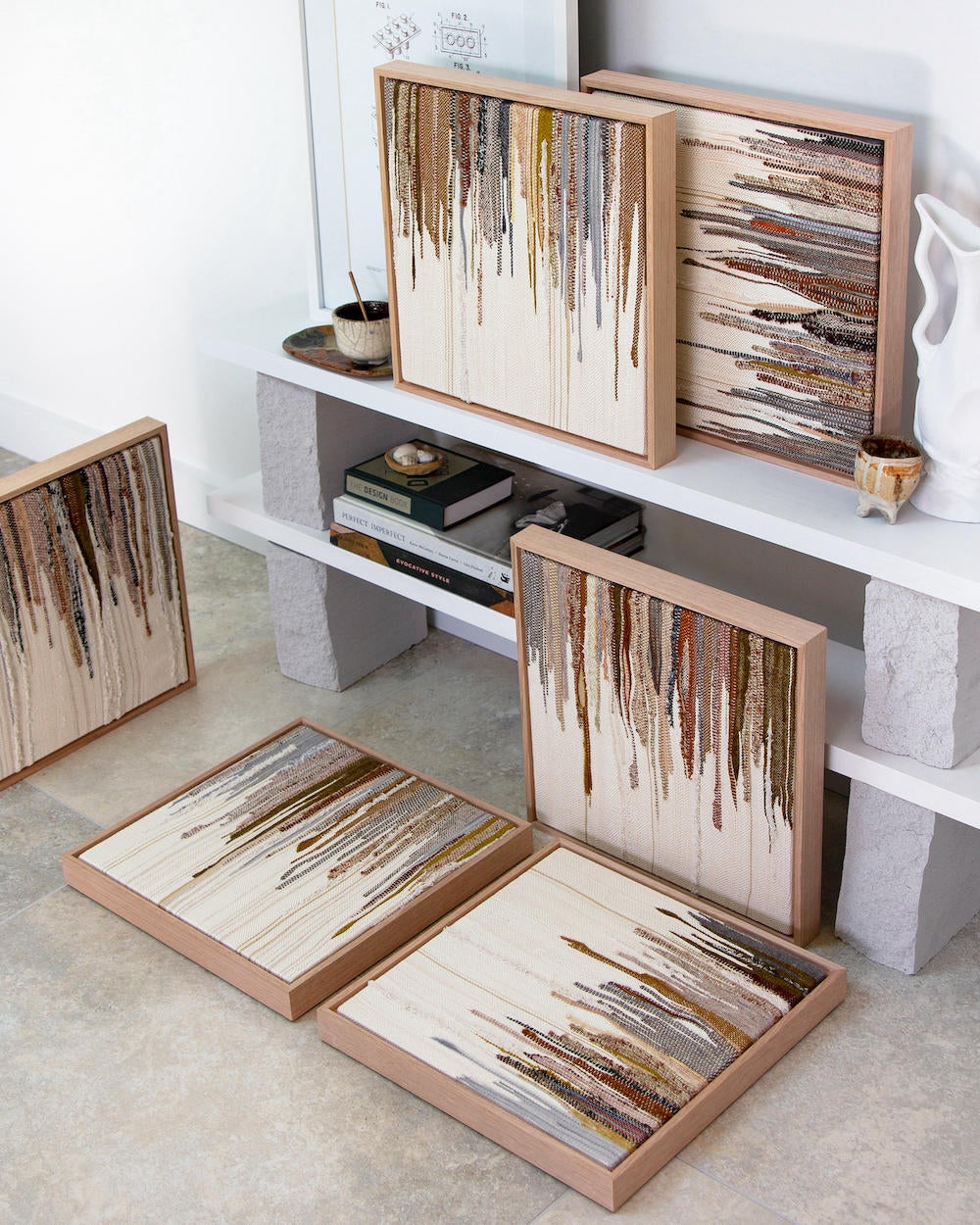 In a world that moves so quickly, Lauren and Kassandra offer slow, handmade goods that reflect their value of emotional connections and their combined craftsmanship skills. For both their large-scale tapestry designs and their smaller, handwoven pieces, the sisters developed an experimental "interknot" technique made up of intertwining hand-knotted chains of varying texture and thickness that graduate to a relief.
In the best interest of their customers and the planet, the Hernandez sisters often utilize plant-based fibres and up-cycled dead-stock fabrics to create their woven goods. Their eco-friendly practice helps ensure that every piece is truly one-of-a-kind and as sustainably made as possible. "Being resourceful and breathing new life into the old is just one way we can reduce textile waste, but it also challenges us to be more innovative with our designs and fiber curations," says Lauren.
Along with an assortment of shoppable works, the sisters also create commissioned pieces for residential and commercial spaces. Every custom order begins with a mood board filled with a client's preferred color palette and fabric swatches, that the pair use to plan out a bespoke composition. By honoring a client's personal style and distinct background or history, Lauren says the weavings become "a medium that relays the client's individuality."
Currently, Lauren and Kassandra are showcasing their latest textile sculpture, The Passage, in a group exhibition at Fairfield City Museum & Gallery in Sydney. Along with being one of their first exhibitions since the pandemic, the piece is especially significant for Kassandra, who was pregnant with her first child while working on the design. "The creative process helped push our art practice into new territory," she says.
Looking ahead, the pair plan to launch a collection of handwoven cushions and frames sometime in 2022. "[Our] constant goal is to create authentically and maintain a sustainable relationship with creativity itself," says Kassandra.
To learn more about Crossing Threads, visit their website or follow them on Instagram.
Homepage photo: Crossing Threads founders Lauren and Kassandra Hernandez pictured next to their work, 'Duality' | Courtesy of the artists