Last week, I took a tour of a covetable 1920s Spanish colonial hidden away in the Hollywood Hills. As we walked from one chic room to the next, the scent of fresh-baked raspberry bars cooling on the kitchen countertop filled the air, and the doors were open to let in the afternoon breeze. In the backyard, an aquamarine pool glistened in the sunlight. Full of original wood beams and tasteful midcentury furniture, the house was every bit the delectable piece of L.A. real estate candy. There's a twist: No one lives there, and it's not for sale.
A concept house owned by ASH Staging—the staging arm of design firm ASH NYC and of the most in-demand teams in Los Angeles—the multipurpose space is part office, part living quarters for visiting partners and occasional party spot (including last year's blowout Halloween bash, replete with Edgar Allan Poe–themed living room). But its primary function is to represent ASH Staging's work. "Properties have been turning over so fast, we don't always have a chance for potential or new clients to experience what we do," says Samantha Atlas, the company's West Coast director.
That a staging firm would invest in an entire house for the purpose of showcasing its work speaks volumes—staging has come a long way from the early days of filling a house with Ikea and leaving out a plate of cookies. Stagers are cool now, and top firms are in high demand. With an influx of new business comes higher costs and changing expectations from clients and pros alike. Sellers may have once questioned the (not insignificant) expense of staging a home, but for stagers in a once-fledgling subset of the design world, the proof is in the pudding and the market is listening.
"I don't know how anyone sells a home without it," says Porter Hovey, co-founding principal of Hovey Design, a hybrid interior design and staging firm based in Brooklyn. "The housing market may be crazy right now, but buyers are getting smarter. Their expectations have grown in terms of what they expect the seller to present, and you have to separate your property from everyone else's. Especially in New York, where the prices are so high, they want to see the seller has put in the effort." Hovey began as an agent staging her own listings, then, along with her sister and business partner, Hollister Hovey, started working with outside clients in 2011. Staging projects took off in earnest around 2015. Soon the Hoveys were infusing their brand of vintage-centric, elevated bohème into new-development glass-and-steel condos for a rush of clients in Brooklyn and Manhattan.
"There's a lot of upfront cost," Hovey acknowledges. "We only do vacant apartments, and people are carrying two homes simultaneously—it's a big ask. But a lot of our clients are investors, finance people. They know how to make money. And if anyone is slow on the uptake as to the value of staging, we have case studies with ROIs tenfold the cost. We wouldn't have a business if it weren't proven time after time that it works."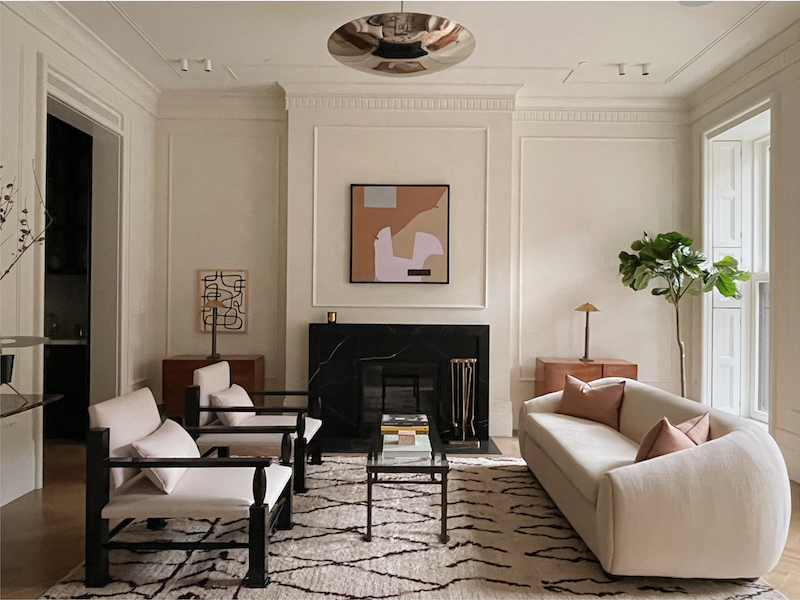 These days, there's less objection to the cost of staging, but professional stagers still get pushback from clients. Sensitivity often runs high. "When dealing with $3 million to $10 million properties or more, it's usually inherent the owners are good businesspeople," says Leia T. Ward, founder and principal of staging and design firm LTW Design. "But even savvy sellers are [emotionally] attached to their homes. It's my job to look with a critical buyer's eye. I'll say, 'Your home is beautiful, but every last detail might give the buyer negotiating power, and that could just be the red-painted walls.' At the end of the day, I'm here to make them money. It's very strategic."
According to Ward, staging as a selling tool was commonplace on the West Coast before making its way to the Northeast, where she founded LTW in 2017. She currently caters to clients (on both coasts) like Bruce Willis and members of the New York Knicks. "Here, it's predominantly a luxury market service, but early on in California they understood the value at varying price points."
Julian Porcino, a Los Angeles real estate agent with the moniker The Home Consultant, established his staging division, White + Wood + Woven, not only because he enjoys the creative challenge but also because he's seen the effect on sale prices. "In certain gentrifying neighborhoods, you need that 'look,'" says Porcino. "I would never sell a property that hasn't been staged, because it really affects the buyer you end up getting. In February 2021, I was the first to sell in Crenshaw Manor [in Inglewood] for $1.4 million, the highest in the neighborhood. Since then, prices have jumped to over $1.6 million. Staging is the only reason we got the price we did."
Less, More or Both?
When it comes to appealing to a range of buyers, and obtaining the best possible market value, what style works? And how personal is too personal?
"Buyers don't really know what they want until they see it, but all they remember is that one red chair they didn't like," says Porcino. (Red is apparently kryptonite for potential homebuyers.) "Agents usually request to add more stuff, but as an agent myself, I don't want people feeling cornered into an aesthetic. I use pieces that allow buyers spatial recognition—showcasing a bedroom that looks small but actually nicely fits a king bed, for example—while still letting them envision the room with their own personal touch. Ultimately, you're staging to sell, not to live."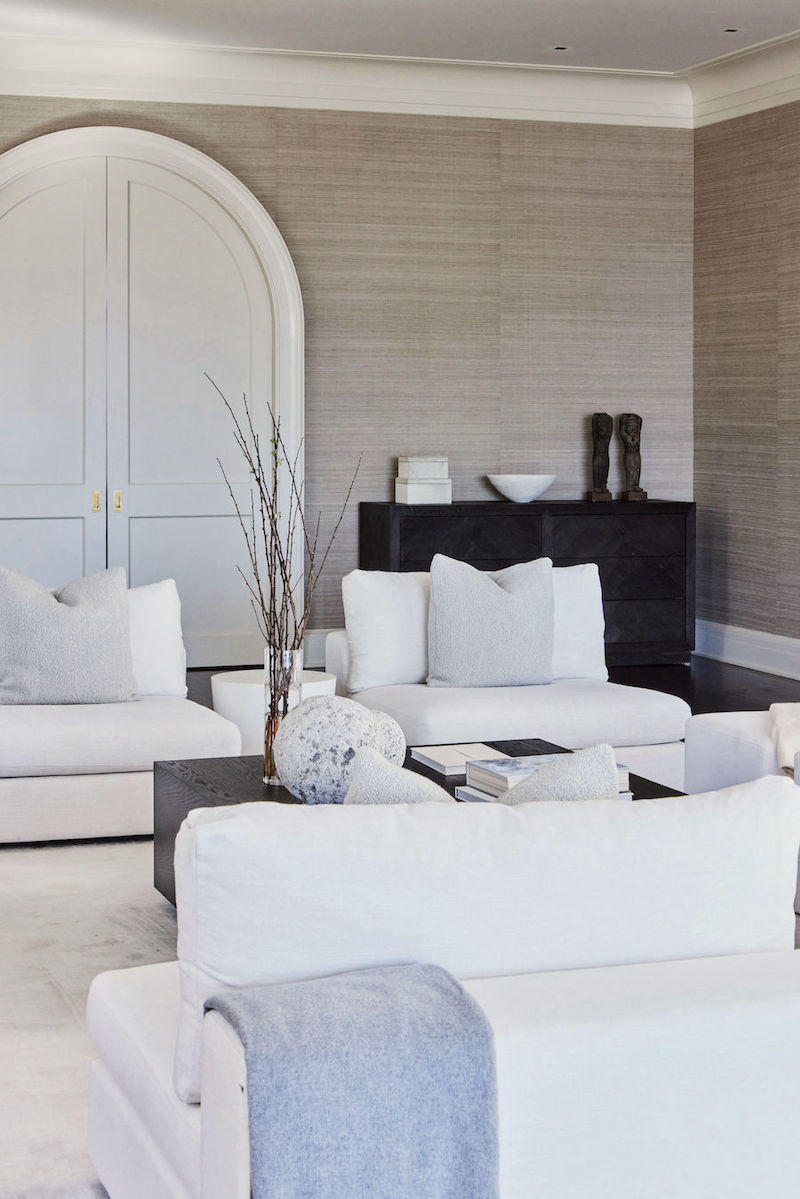 Jenna Cooper, another agent in L.A., counts staging and landscaping as a necessary part of her company's services. Depending on the project, she may outsource to a staging company or use her in-house designers, but every property gets a once-over from her styling team to ensure it reflects her trademark clean and cool California aesthetic. In what's perhaps an example of the prevalence of the industry on the West Coast, she opened +COOP, her retail home store, in part to give her team a place to source from but also because the style imbued into her staged properties had acquired a following.
The Hoveys, meanwhile, have found success with a look that's both accessible and eclectic. They shop high-end vintage at auctions and various sources in New York and upstate, supplementing with individual finds from local artisans or, say, pottery from trips to Mexico City. "We want warmth and coziness," says Hovey. "When we started, staging was either high-living-at-the-W-Hotel style, everything in greige, or supercheap furnishings that lowered the space. When there are 500 white boxes in a luxury high rise, how do you differentiate the one above from the one below that ends up selling on a property tour? We create an idealized setting—but for the coolest, most well-traveled person at your dinner party."
Designed to sell
Different stagers have different styles, but all agree that technique matters—and it's different from interior design. "Interior marketing is not just decorating, it's not just a nice color palette," says Ward. "You're walking the path through the house specifically to view its assets, and I'll do as much or as little as needed. I wouldn't tell clients to spend $150,000 on a whole new kitchen, but there's a huge return on investment in putting $20,000 into new lights. When they start to see the effect of staging prep—re-sanding floors, new hardware and fixtures—no one ever says, 'We're not going that far.' They get on board."
"Everyone thinks they're a decorator who can do their own townhouse after watching HGTV," says Hovey. "But the focus should not be the furniture. It should be the woodburning fireplace, the kitchen you can imagine yourself cooking in. The point is to enhance the property."
ASH Staging splits its projects among a residential clientele, real estate developers, agents and sellers. How do its designers navigate so many different kinds of work? Andrew Bowen, partner and head of the department, oversees teams out of New York, Sag Harbor and Los Angeles. "Staging has been core to the business model since day one," he explains. "During the late 2000s and early 2010s in New York, we carved out our niche as a true design firm but one that specializes in staging. The expansion followed demand, and we opened our Los Angeles office in early 2018."
Whether the firm is doing interior design or home staging, says Bowen, "the design philosophy is the same: beautiful, inspired spaces that encourage a lifestyle. But there are nuances and different goals. Staging is a specialized arena, requiring efficiency and precise attention to detail in a fast-paced, high-pressure environment. This differs significantly from a 'regular' interior design project, where the process is more open-ended. Staging requires a greater deal of strategy, well beyond just the design itself. That can be building PR or partnerships to bring added awareness to a project."
The virtual question
The past two years have added new twists to the staging industry, as uncertainty about materials, supply chain complications and production time overages have increased the advantage of a turnkey home. "Seeing something that's move-in ready, even if you change it out later, brings in a whole new value when people are afraid they won't be able to furnish their new house," says Hovey. "We don't rent our things, but we charge for a complete interior. Buyers need to understand that just because it's magically already in your house doesn't mean it's cheap." As Ward explains, "It's changed my business model. I now keep a split inventory for furniture rentals and charge a high monthly damage deposit. It's beneficial for new homeowners and a secondary revenue stream for me."
Digital solutions have also evolved. "We offer virtual staging and rendering as an add-on service," says Bowen. "Real estate developers find it useful as an interim visual while we complete model residences, and it's an option for those with entry-level budgets."
The majority of designers in the virtual conversation, however, are of a similar mind. "There is absolutely no substitute for in-person staging," Bowen emphasizes. "Even throughout COVID, the demand for in-person work hasn't been negatively affected. In fact, it's continued to increase dramatically." Hovey, too, is firm. "In my mind, virtual staging fails," she says. "There's too much room for the buyer to show up [on site later] and say, 'Oh, I wasn't expecting that.'" Cooper adds from her perspective: "Through all the changes we've seen in our industry over the past few years, this aspect essentially remains the same—buyers and sellers prefer in-person home tours."
Homepage photo: A project staged by ASH Staging | Christian Harder