If life seems increasingly complicated, then simplicity continues to be the holy grail of home design—particularly in the kitchen, the hardest-working room in the house. So here's some good news in light of all the post-pandemic brunches, birthdays and family dinners on your clients' calendars: Heeding the call for convenience and presenting it oh-so-discreetly, House of Rohl now offers high-tech touchless faucets in five distinct collections and several gleaming finishes across its Riobel and Perrin & Rowe brands. The kitchen just got a little bit easier—and a lot more glam.
"We are a luxury company, and our customers expect a sleek, clean, beautiful product," says group product manager Justin Storm. Which is why the active component in House of Rohl faucets is ingeniously concealed, with the sensor subtly located on the side (as opposed to the front) of the base. Whether it's the minimalist silhouette of Riobel's Azure collection finished in polished chrome or the industrial chic of Perrin & Rowe's Armstrong line in burnished English bronze, "there's no noticeable break in the design," says Storm. "We feature the functionality without compromising the aesthetic."
The benefits of hands-free technology in today's kitchens can't be denied: Using the faucet without grabbing it greatly reduces the spread of germs and bacteria in an area of the home where all variety of foods, from eggs to fish to meat, are in use. There's also markedly less calcium and soap scum buildup from slippery wet fingers and dish detergent drips, meaning you don't have to clean the faucet as frequently. From cooking a meal to washing up afterward, everyday kitchen rituals become so much more efficient.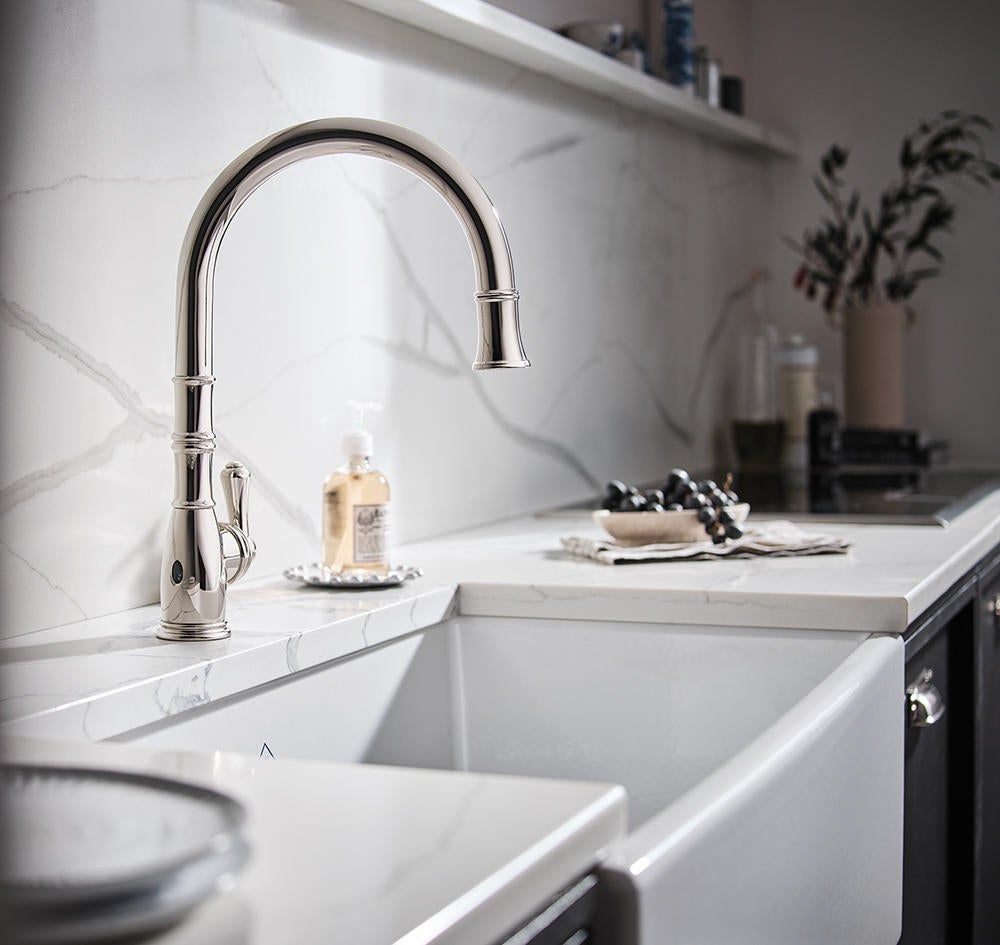 Courtesy of House of Rohl
A simple wave of the hand activates the faucets within a range of three inches—a comfortable distance, but not so close as to cause false starts—and they automatically shut off after two minutes to conserve water. The volume defaults to full flow, with a dual-capacity spray head that operates as a stream to fill big pasta pots or a spray to rinse off sticky sauté pans. Temperature can be standardized as well, so that the water quickly reaches and maintains your preference. "Like a thermostat," says Storm. "Just set it and forget it." Six AA batteries power the touchless component, and there's also the option to plug in via an AC adapter, in which case the batteries act as a backup if there's ever an electrical outage.
At a moment when more and more homes are happily (if messily) multigenerational, perhaps one of the faucets' most appealing aspects is that they offer the same functionality as standard touch versions: Young children and tech-hesitant grandparents can grip the appliance to their heart's content. The handle on the side pivots out to turn the water on; move it back for hot, forward for cold. House of Rohl faucet handles can also remain in a closed position for a more integrated, elegant appearance. "Think of it first and foremost as your main kitchen faucet," Storm says. "Your neighbor could come over from next door and use it without ever realizing it was touchless."
The brand introduced its touchless faucets in fall 2020 via three classic Perrin & Rowe collections: Armstrong, Georgian Era and Holborn. Riobel's take on the technology debuted this spring with the modern, wavelike Azure collection and the more rustic Trattoria, designed for the home chef who makes every meal a celebration. With a style to suit any decor, House of Rohl faucets pair performance with beauty you'll want to reach out and touch—even though you don't have to.

This story is a paid promotion and was created in partnership with House of Rohl.
Homepage photo: House of Rohl touchless kitchen faucet from the Perrin & Rowe Georgian Era collection in metallic gold | Courtesy of House of Rohl