Designed by Le Corbusier, Charlotte Perriand and Pierre Jeanneret in 1928, the LC2 chair is a priceless piece of design history—but rendered in butter, the covetable item might now be (slightly) more accessible for some fine diners. Stay in the know with our weekly roundup of headlines, launches, events, recommended reading and more.
Business News
In 2021, RH signed a four-year lease on buildings in the west end of Miami's Design District, with plans to open a new gallery space there by the end of 2022—a deal that is in peril after the retailer filed a lawsuit last week against its landlord, an entity connected to Apollo Commercial Real Estate and broker Michael Comras. According to The Real Deal, the suit alleges that Apollo and Comras refused to sign off on RH's plans to connect eight neighboring properties to form one combined gallery and store via pathways, preventing the retailer from obtaining the proper permits from the city of Miami. In a motion filed in June to dismiss the lawsuit, Apollo and Comras claim that RH was required to take the lease as written and that the company failed to submit plans for development before a July 6 deadline. The landlord also submitted text messages between Comras and RH CEO Gary Friedman, in which Friedman refers to the site as a "no man's land" that the retailer could help legitimize and advises Comras to "do something big or stay put." Both Friedman and RH's attorney denied The Real Deal's request for comment.
Recent Wall Street woes may be here to stay, according to veteran billionaire investor Stanley Druckenmiller, who said last week that he believes the market will be "flat" for the next decade as inflation, deglobalization, raised rates from central banks and the war in Ukraine increase chances of an impending global recession, Fortune reports. Delivered in an interview last Tuesday, Druckenmiller's prediction came on the same day that the Dow Jones Industrial Average fell more than 1,200 points (the stock market's worst showing since June 2020) following another high inflation reading despite rising interest rates. Druckenmiller compared the coming period with that of 1966 to 1982, when trading was relatively flat—but also noted that the comparison was not altogether negative, as companies like Apple and Home Depot were founded during that time.
In related news, the rate of home sales continues to fall in response to rising interest rates—and the effects of the slowdown are now reaching the home furnishings industry. As The Wall Street Journal reports, August sales fell 1.6 percent at furniture and home furnishings stores compared to a year before, and by 5.7 percent at electronics and appliance stores, according to the U.S. Department of Commerce. Though the impact on consumer spending is what the Federal Reserve intended when raising borrowing costs to curb inflation, it is also delivering a blow to the housing market and in turn the furnishings industry, which has seen companies like Wayfair, Article and Bed Bath & Beyond cut jobs and operations in recent months.
The Getty Foundation allocated $3.1 million for the preservation and protection of historic works completed by Black designers and architects in the 20th century, Architectural Record reports. The new funding will go toward a two-year program called Conserving Black Modernism, in which resources will be allocated toward the conservation and documentation of significant projects executed by the African American Cultural Heritage Action Fund—an organization launched in 2017 by the National Trust. The program plans to open grant applications in November, with winners set to be announced next summer.
Bedding company Purple Innovation received an unsolicited proposal from its largest shareholder, Coliseum Capital Management, to acquire all of its outstanding capital stock for $4.35 per share or $225.6 million, Home News Now reports. In response, Purple has announced plans to review the proposal before determining the best course of action for the company and its shareholders.
Construction materials startup Kojo completed a $39 million Series C funding round led by Battery Ventures, TechCrunch reports. Founded in 2018, the company aims to cut down on waste produced in construction projects by providing contractors with procurement software that connects them with the most accessible and affordable materials. Though the company started out serving only the electrical trade, it expanded earlier this year to include mechanical, concrete, drywall, roofing, flooring, site preparation and general contractors.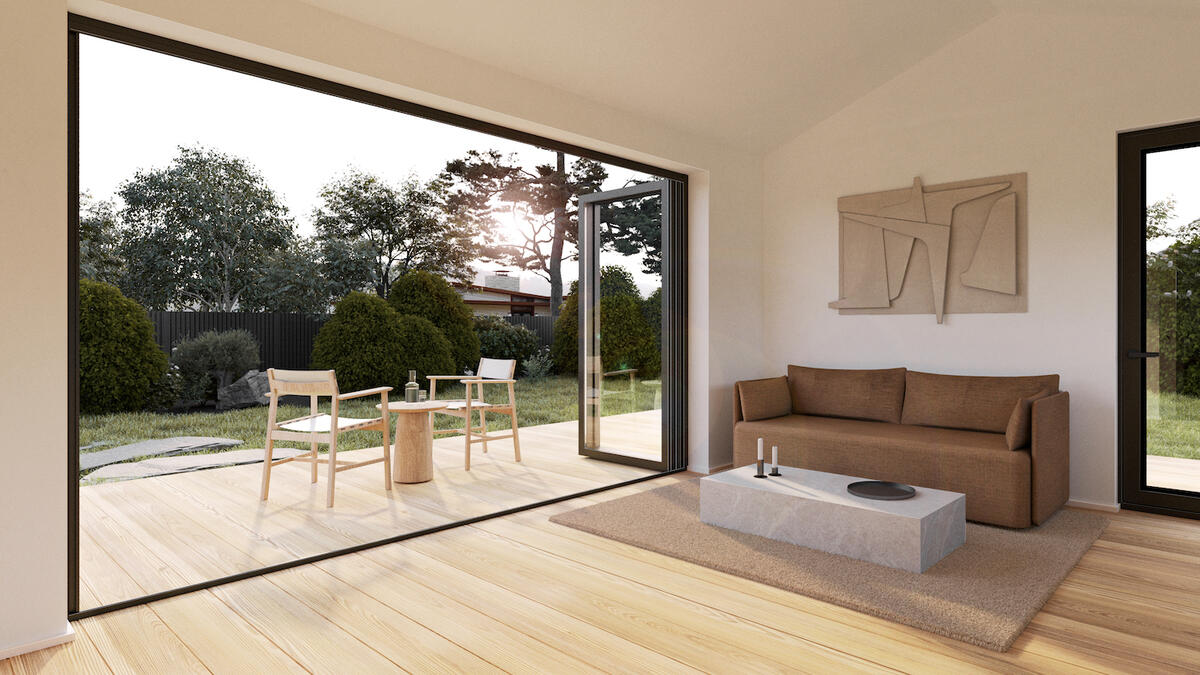 Launches & Collaborations
Dwell announced the launch of its first-ever accessory dwelling unit—a 520-square-foot one-bedroom home complete with a full kitchen and bath. Created in partnership with ADU provider Abodu and Danish design studio Norm Architects, the backyard home is designed to integrate extra living space onto existing homes and properties, with a floor plan that could be utilized as a guesthouse, rental apartment, home office, fitness studio and more. Once purchased, the ADU is shipped to the owner's property fully constructed and then craned into place, with on-site construction time requiring only about two weeks of preparation in an owner's backyard.
Artist and textile designer Serena Dugan of Serena Dugan Studio teamed up with rug designer Erik Lindström for a new collection of luxury rugs inspired by the duo's shared love of colorful art and design. The new pieces set to debut as part of the Erik Lindström Artisan Collection borrow their names from three neighborhoods in Mexico City—Condesa, Polanco, and Roma—and draw influence from the work of midcentury Mexican architect Luis Barragán, known for his vibrant, geometric homes.
British light manufacturer Original BTC tapped Swedish interior designer Beata Heuman for the brand's first collaboration in 30 years. Drawing inspiration from midcentury Scandinavian decor, the collection includes a table light, wall light, floor light and pendant—all hand-crafted from bone china and available in the hand-painted shades of seaweed, natural and coral.
Tanner Moussa and Mackenzie Lewis—the third-generation siblings of the Moussa family business, Arteriors—launched their own furniture brand informed by years spent growing up within the industry, Architectural Digest reports. The company's inaugural collection, Narrative Arc, debuted online this week with a line of case goods, seating and objects designed with a nod to Egyptian aesthetic influences and French deco styles.
Recommended Reading
With home-buying activity stalling in recent months, some are bracing for a U.S. real estate market crash—others, however, are hoping for it. As Alcynna Lloyd reports for Business Insider, new data from analytics firm ConsumerAffairs showed that among the 1,003 Americans surveyed on a potential housing crisis, 84 percent born between 1996 and 2015 said they wanted a market crash, which they believed would help them afford a future home. However, while the current market bears many of the same early indicators as the 2008 housing bubble, a majority of experts believe a correction is more likely than total collapse.
For some homeowners, the joy of an impeccably designed kitchen can be instantly tarnished by the spills, dirty dishes and cooking-related mess. Enter: the back kitchen—a space also known by many other names, including "the dirty kitchen," "the prep kitchen" or "the scullery," to name a few. As Ronda Kaysen reports for The New York Times, the secondary area has become increasingly popular among wealthier homeowners in recent years as a place to relegate the dirty work, allowing the main kitchen area to remain pristine and ready for hosting.
Many vacationers head to Airbnb for an escape from day-to-day life. What they are not expecting is a list of chores, with tasks ranging from mowing the lawn to feeding the property's farm animals. As Preetika Rana reports for The Wall Street Journal, the recent increase in demand for the app's services has empowered hosts to charge higher nightly rates and bigger cleaning fees along with extra chores, with those who do not comply risking a low guest rating.
Major players in the realms of retail and fashion have been making their way into the metaverse in recent months—now it seems hospitality is the latest industry to get in on the space that's described as the 3D layer of the internet. As Alicia Sheber and Will Speros write for Hospitality Design, a number of hotel groups are investing in virtual real estate or offering utility NFTs in exchange for real-life hotel stays, paving the way for what many are hoping will be a consumer migration into cyberspace.

During the early waves of the pandemic, it quickly became clear that most hospitals were not equipped with enough beds, hallways and waiting rooms—and that the configuration of existing spaces lacked sufficient boundaries between the healthy and sick, worsening COVID-19 contagion. As The New York Times reports, many hospitals are now remodeling based on flexible design principles, adding new features such as changeable airflow systems; headwalls behind beds for electric, gas and equipment mounts; and larger floor plans to accommodate specialized equipment like ventilators. Ultimately, administrators hope that more customizable designs will allow medical providers to reconfigure spaces as needed for different diseases and in preparation for future pandemics.
Homepage image: The Condesa rug in the peony colorway from Serena Dugan's collaboration with Erik Lindström | Courtesy of Serena Dugan Studio