In our series, What I Love, we're asking designers to build us a mood board of what's inspiring them right now.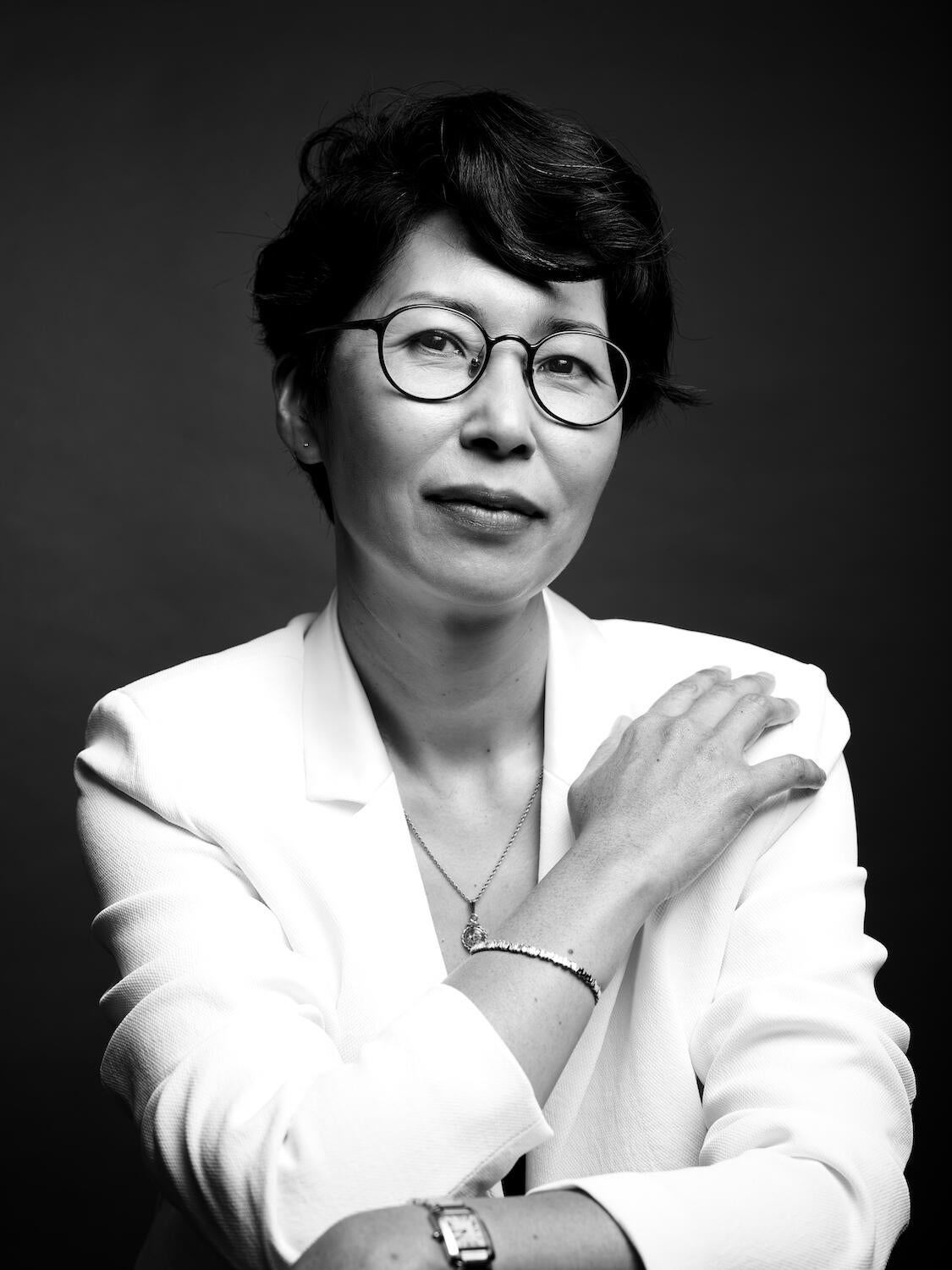 Mia Jung gravitates toward textiles that feel "soft, delicate and tranquil," she tells Business of Home. The New York–based interiors director at Kligerman Architecture & Design prefers understated—yet masterfully crafted—pieces over bold and splashy ones.
Inspired by the idea of her "dream bedroom," she designed a flat lay that celebrates both individual materials and a provenance redolent with purpose. "I gathered items that make me happy," she says. "The pieces in this assemblage have a quiet beauty, and they come from people who have truly focused on their individual crafts."
The final scheme showcases a symphony of artfully executed bespoke styles and hand-made designs, ranging from hand-blown tinted glass light fixtures to multitonal embroideries. "I would describe the mood as happy and appreciative," she says. "The longer you look at them, you start to realize how much skill and thought went into the materials."
Here, she breaks down the details—from pale blue mohair carpets to painterly églomisé panels.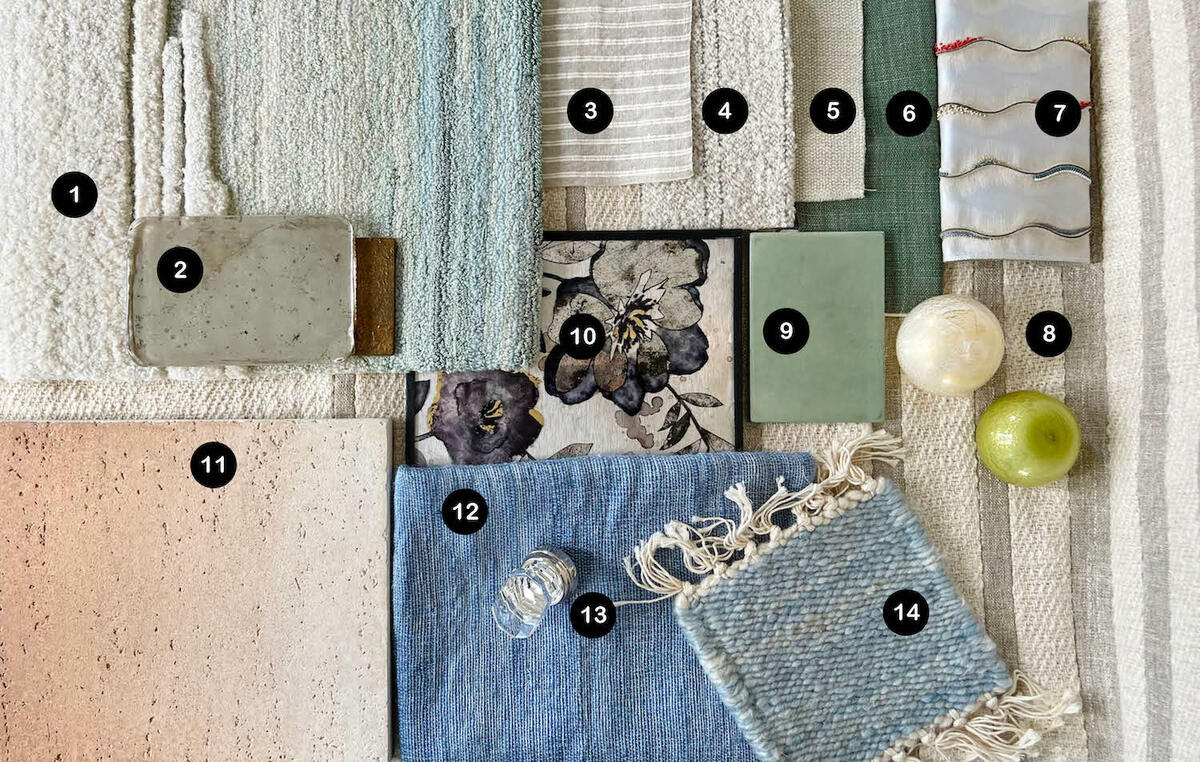 Courtesy of Kligerman Architecture & Design
1. CUSTOM RUG BY SABINA FAY BRAXTON
"This bespoke design is dreamy in look and feel, a perfect bedroom rug. It seems simple, but it has a complex and intricate composition."
2. CLOUD CONSOLE HAND-SILVERED MURANO GLASS SAMPLE BY MIA JUNG AT CHARLES BURNAND GALLERY
"The control and technique used to create this silver-leaf Murano glass is remarkable."
3. KEY WEST FABRIC IN 2002 BY SETTE
"This linen is so satisfying and works well with anything. It's humble and natural, and it releases any heaviness when it's next to more serious decor."
4. DW-149 BESPOKE FABRIC BY MITCHELL DENBURG
"This hand-woven alpaca chenille by Mitchell Denburg is soft and subtle. It adds richness and looks handsome on upholstery."
5. KHADI JUTE FABRIC IN STONE BY LAUREN HWANG NEW YORK
"In terms of basics, I love natural fabric like this and always use it in any room. It becomes the perfect background for layering with other specialty fabrics."
6. BYRAM FABRIC IN JUNIPER BY COLEFAX AND FOWLER AT COWTAN & TOUT
"This has just enough saturation and just enough texture. It adds just enough interest without being overpowering—it complements the other elements well."
7. CUSTOM EMBROIDERY BY LESAGE INTÉRIEURS
"I am always fascinated by anything hand-made by a skilled master in his own trade. Lesage Intérieurs's embroidery adds that depth and enhances any room."
8. CHERRY BOMB PENDANT IN WHITE AND OLIVE GREEN SAMPLES BY LINDSEY ADELMAN
"I love the soft pastel colors of these blown glasses as light fixtures. They hover over you like stars in the night sky."
9. YARROW CABINET IN DYED PARCHMENT SAMPLE BY ROMAN THOMAS
"Dyed parchment in a beautiful color makes such a special material. The simple form of this cabinet by Ronan Thomas allows it to really shine."
10. LIVING WORLD églomisé PANEL IN PEONIES SAMPLE BY CONFLUENT STUDIOS
"Églomisé can be used anywhere, but I like to incorporate it in furniture as an art piece. I especially love this modernized sweet design from the Living World collection by Confluent Studios."
11. CUSTOM SURFACE ART SAMPLE BY STUDIO HK
"This ash rose–colored ombre plaster by Studio HK is stunning on walls and makes a room one of a kind."
12. MOHAIR CURTAIN IN CUSTOM COLORWAY BY FJ HAKIMIAN
"This weave is just wonderful, and this color is even more wonderful. Living with this would make anyone happy."
13. GK SERIES CRYSTAL DOOR KNOB BY E.R. BUTLER & CO.
"I use this crystal knob for a special touch. This shape is feminine and crisp—it feels like jewelry."
14. MOHAIR CARPET IN LIGHT BLUE BY FJ HAKIMIAN
"The mohair in this carpet takes color in such a beautiful way, and the variation throughout makes it interesting."
Homepage photo: A flat lay by Mia Jung | Courtesy of Kligerman Architecture & Design