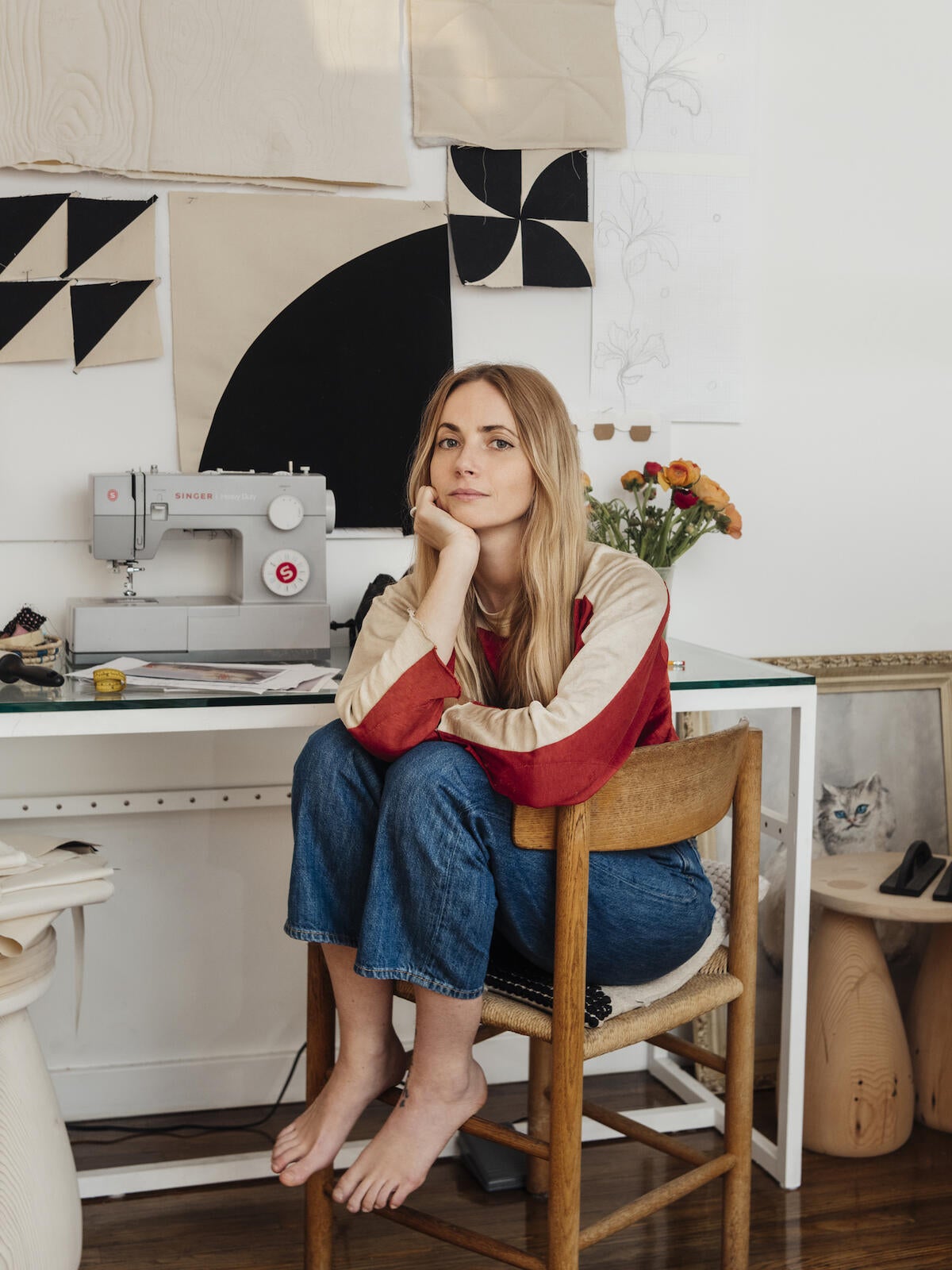 Faced with an empty apartment, most people would take a trip to the nearest furniture store. Sam Klemick decided to head to a woodworking shop. Five years ago, the Los Angeles–based maker, a fashion designer by trade, took up woodworking upon moving to California from New York. "I moved into this big open loft space, and I had the thought that it would be fun to try and make some of the furniture myself," Klemick tells Business of Home.
After years of hustling as an apparel designer at Rag & Bone in New York, a burnt-out Klemick took a job as a knitwear designer at Paige in California, hoping that a cross-country move and a new gig would shake things up. "The West Coast energy is just so much more chill, and all of a sudden, I had all this free time," she says. "I wasn't working late into the night or going into the office on weekends." Space for a hobby emerged, and it wasn't long before Klemick was sitting at a desk that she had made herself.
While her first pieces were relatively simple, she soon developed her signature style of chunky, curvaceous legs on chairs, side tables and benches. The upholstery she uses is largely inspired by poofy, marshmallow-like duvets, which, when coupled with her rounded wooden elements, creates an effect that is both whimsical and modern. She officially launched Studio Sam Klemick (formerly known as Otherside Objects) in 2021.
The studio's first commission was a chair for interior designer Lauren Piscione of the Beverly Hills–based firm LP Creative. The piece was for the designer's own apartment, which was then published in The New York Times in 2021—and Klemick's chair had pride of place in a shot of the designer's living room. "After the apartment was published, it was a domino effect," says Klemick. "It was a stroke of good luck, and it led to my name getting out there and orders starting to come in."
In the two years since launching her studio, Klemick has exhibited work at the London Design Festival and Milan Design Week, and will be showing at Art Basel in Miami this December. In the fall, she'll debut her first foray into lighting. "I've never made a light before, so it's going to be interesting," she says. "I'm inspired by the idea of making wood mimic the look of draped fabric, and I'm using new techniques like 3D scanning, and delving more into woodcarving, exploring the intersection of sculpture and furniture."
Klemick's process is also heavily influenced by sustainability, incorporating salvaged lumber and deadstock or vintage fabrics whenever possible. "I try to be mindful in my materials while also acknowledging that sustainability really can't be black-and-white," she says. "There are times when I have to use new lumber, or a client wants a particular fabric, but I think there's something really interesting about the so-called flaws in repurposed materials. If I use salvaged lumber, there might be cracks or nail holes. As humans, we aren't perfect; we have flaws. So, in a way, these materials can reflect that aspect of our humanity. Why would you want everything to be perfect, especially something hand-crafted?"
Looking forward, Klemick wants her studio to continue to evolve organically. "I don't have a business plan or anything like that," she says. "I just made a chair and a stool two years ago, and everything has been one foot in front of the other since then." She thinks she'll always offer her core pieces—the Bell chair, the Wiggle bench and the Cutie stool. "They're three things I never get tired of making, whereas some pieces I've finished and went, 'Great. I will never make that again.' But I'd like to still be making my signature pieces 10 years from now—that's the goal."
If you want to learn more about Sam Klemick, visit her website or Instagram.