San Francisco interior designer Suzanne Tucker Home and Julia B., a home products company founded in 2002 by CEO Julia Berger, have launched a five-design bedding collection.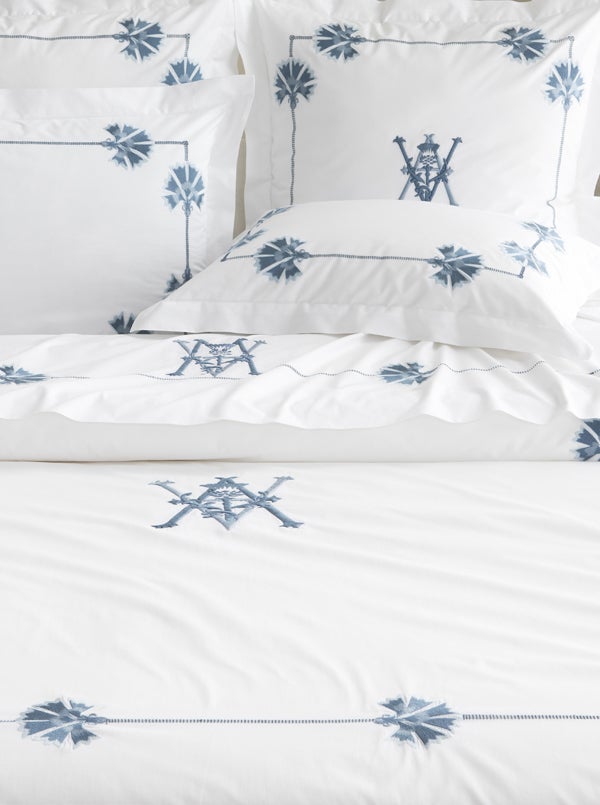 The bedding is entirely hand-embroidered and hand-appliquéd, and is composed of 100 percent cotton and 100 percent linen fabrics.
As Suzanne Tucker tells EAL, "I had been a client and fan of Julia B. for a long time, both for myself and for clients, and this relationship evolved quite organically into a creative partnership rooted in a joint appreciation and love for fine craftsmanship, luxury textiles and elegant, sophisticated designs."
The designs are called Celestria, Tangiers, Treillage, Fraises des Bois, and Papyrus, and require a delivery time of six to eight weeks.
Tucker describes the designs: Papyrus is designed "with a touch of art deco and a nod to Egyptomania; our stylized papyrus leaf pattern is both chic and timeless, the perfect combo for the most stylish bedroom." Of Celestria, she says, "What better way to drift off to the land of nod than nestled in this exquisitely detailed embroidery pattern recalling ancient celestial maps and cosmic dreams." And of Tangiers, she explains, "The seductive patterns of Morocco, Spain and Portugal inspired this elegant yet bold design we christened Tangiers—the exotic gateway between Africa and Europe."