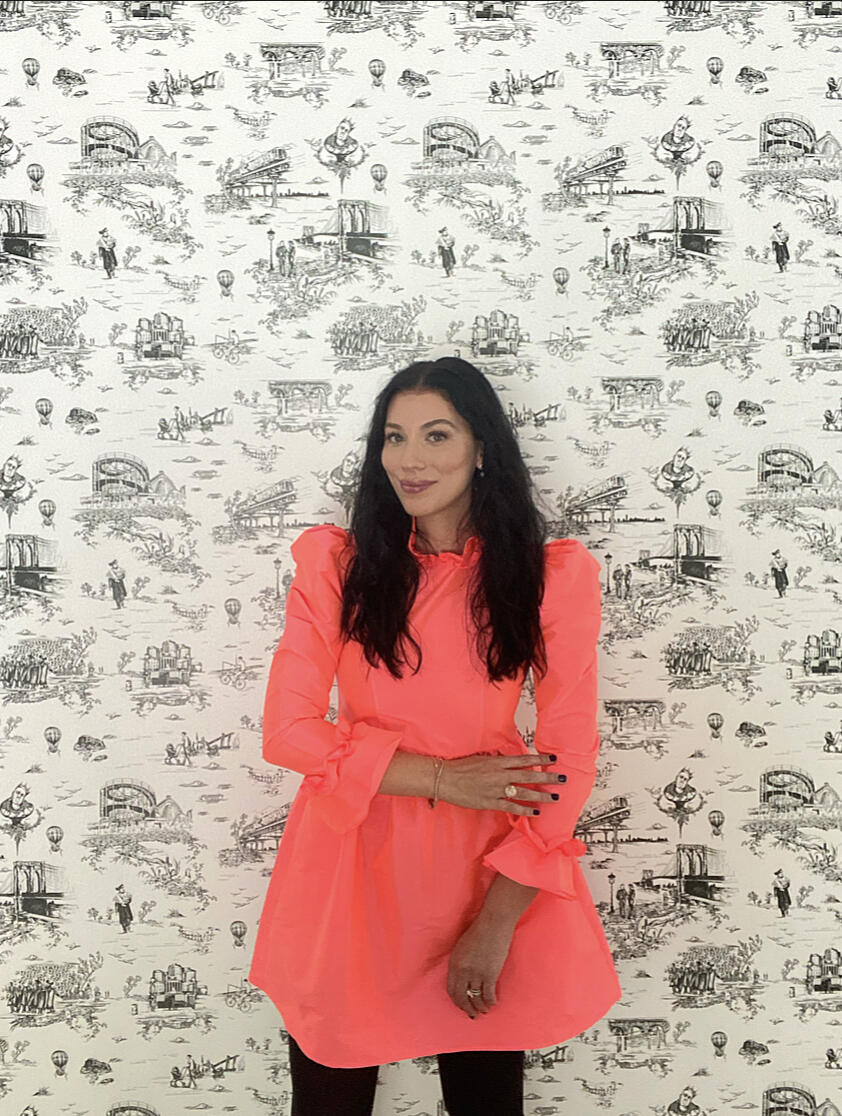 Courtesy of Neon Lace Company
Imane Fiocchi wants to bring more color and joy into the home. The Hudson Valley, New York–based artist and founder of Neon Lace Company uses centuries-old shibori hand-dyeing techniques to craft vibrant, highlighter-hued textiles and table settings. "I want to evoke the brilliant chaos of the neon lights of Tokyo and the deep reverence for the skills I honed whilst in Kyoto," she tells Business of Home.
Fiocchi's love for arts and crafts dates back to her childhood in Sacramento, California. Not only was her mother an avid crafter, but both of her grandmothers were skilled embroiderers and crocheters. In college, she double-majored in art history and studio art at the University of San Francisco, where she honed her painting, sculpting and printmaking skills. After graduation, she moved to New York to work in the beauty industry, and, in her downtime, practiced hand-dyeing vintage linens sourced from local flea markets and antiques shops. "I've always had an eye for color and loved working with my hands," she says.
In 2019, she traveled to Kyoto, Japan, to study ancient shibori dyeing methods under a fourth-generation dye master. The process—which requires "an incredible amount of patience and can be quite unpredictable"—typically involves folding, twisting and binding a piece of cloth with thread before dipping it in dye to forge unique organic patterns. "Traditionally in Japan, shibori is practiced using indigo dye, which results in a deep blue hue," explains Fiocchi. "I wanted to play with color, so I decided to forgo the indigo method and create my own colors with countless formula experimentations."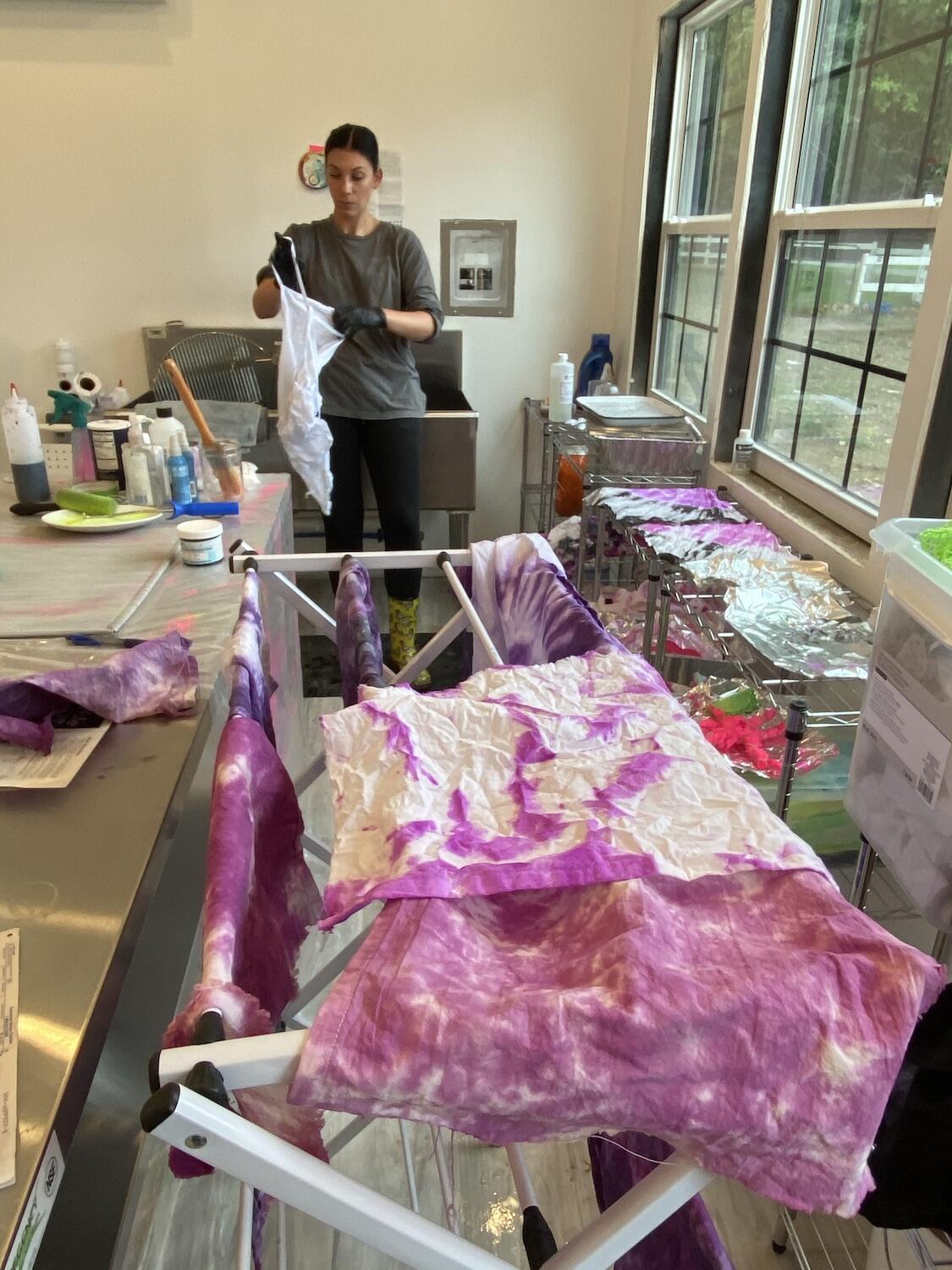 Courtesy of Neon Lace Company
She returned to New York, this time to a modern farmhouse—with an all-black exterior—she'd purchased upstate during the pandemic, and launched Neon Lace Company with a line of upcycled fabrics and linen napkins she'd shibori-dyed in bright neon hues from the studio inside her home. "The entire business was run solely by me for quite some time, but now I have a studio assistant and work in conjunction with a number of artisans and ateliers all over the world," she says.
Fiocchi describes her creative process as intuitive and tactile, with final designs born of "hands-on experimentation" and, of course, trial and error. In addition to shibori, she employs other innovative dye techniques, such as immersion dyeing—which involves immersing fibers into a dye solution and uses less water than traditional methods—to craft a medley of vibrant table settings in bold organic motifs. "There is always an element of surprise to the end result," she says. "I've learned over the years to lean into the uncertainty and not try too hard to control the final design outcomes."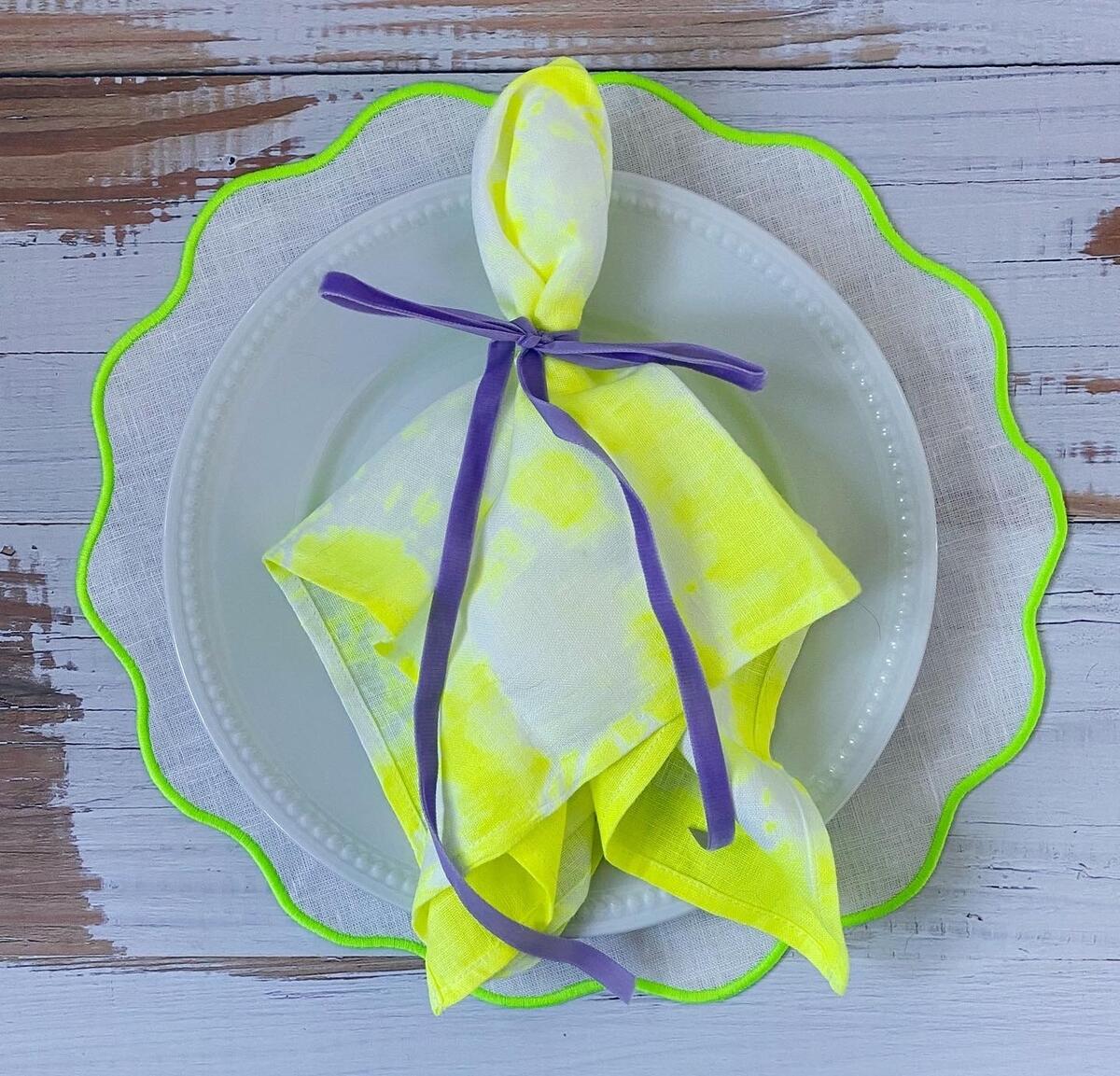 Courtesy of Neon Lace Company
Naturally, color takes center stage in all of Fiocchi's Day-Glo–charged designs. "I spent countless hours in my studio in the beginning, honing in on color formulations that would become brand signatures," she says. "I've always loved color and have always been brave in my use of it."
Recently, Neon Lace Company debuted a collection of delightfully scalloped place mats called Flutter, as well as the Table Talk series, a selection of 100 percent linen napkins adorned in neon-embroidered phrases. The brand also unveiled Pearl & Prince, an extension line offering colorful, hand-crafted pet accessories made from salvaged finds. "Upcycling is an essential part of my business," says Fiocchi. "I'm always on the hunt for vintage pieces—it never gets old and always brings me joy."
If you want to learn more about Imane Fiocchi, visit Neon Lace Company's website or Instagram.
Homepage image: A selection of hand-dyed textiles by Neon Lace Company | Courtesy of Neon Lace Company