Tiara Hughes, a senior urban designer at Skidmore, Owings & Merrill in Chicago, knew she wanted to be an architect from a young age. When asked to submit art for a second-grade project, she drew pictures of buildings she'd seen in books and magazines. The next year, she recalls seeing her first set of blueprints. "I remember looking at those and realizing that someone chose where to place the doors, the windows, everything," says Hughes. "I can even remember the smell of the ink. One of my teachers said, 'I think you want to be an architect.'" When she had the opportunity to take architecture courses in high school, she noticed that she was often the only girl and person of color in the classes, a pattern that continued during her undergraduate studies. "I didn't know it at the time, but it was actually preparing me for how it would be to work in the industry," she says.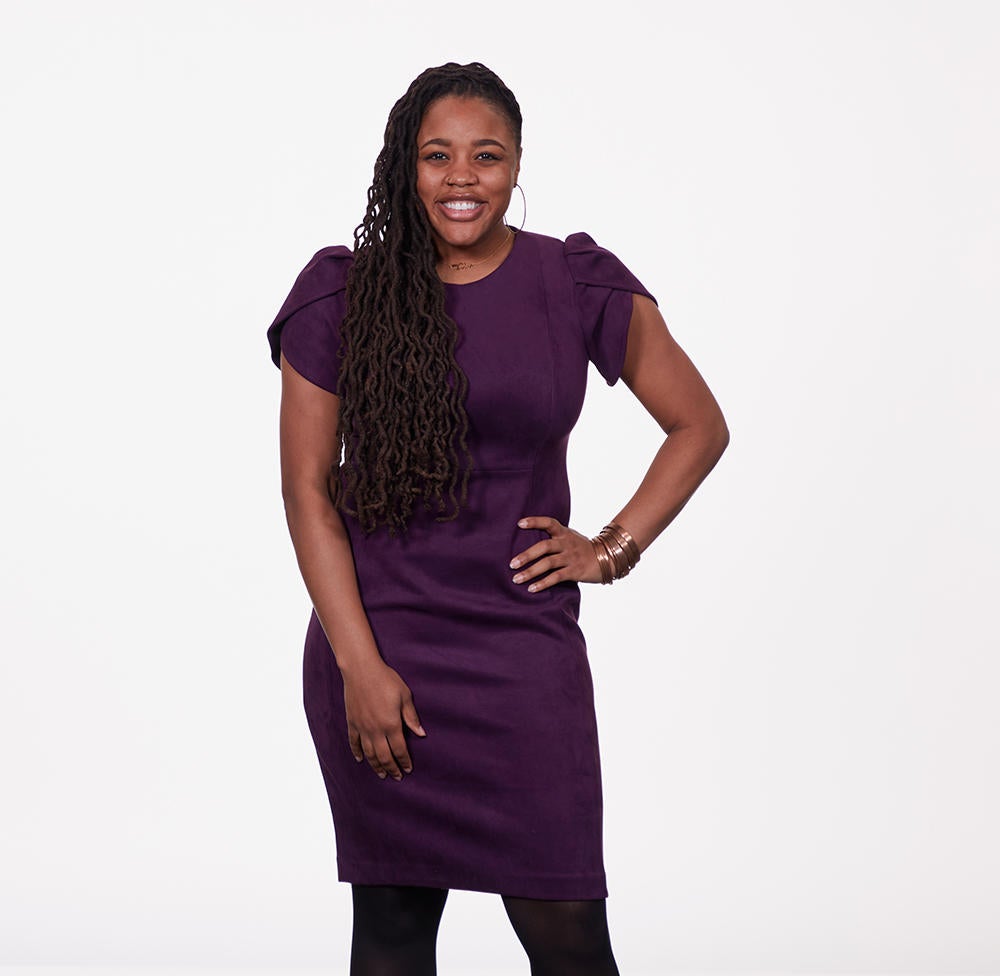 Upon graduating from college in 2015, Hughes moved to Chicago to start her career, confident that the major city would provide her with a community of Black women working in architecture and design. "It proved to be quite a task," she says of finding that community of fellow professionals. "There was no centralized group for women of color in the field." She began to wonder why it was so hard to find her fellow Black female architects. "By 2017, I decided to start doing some digging, and that's when I discovered the astonishing disparity—that, of the 115,000 licensed architects in the U.S., fewer than 500 were Black women. I was like, 'What? Less than 1 percent?'" It was that troubling discovery that led her to found First 500, an organization dedicated to raising awareness about the dearth of WOC in architecture, providing resources to those getting into the field, and creating community for women already working in A&D.
When Hughes launched the initiative in January 2018, her goal was simply to alert people to the startling disparity. She put together a lecture and traveled the country, speaking about the issue at schools, industry events and even major architecture firms like Gensler and SOM. In 2020, the onset of COVID brought her speaking engagements to an abrupt halt—and then, in May, following the murder of George Floyd and the subsequent surge in the racial justice movement, Hughes knew it was time to expand the goals of First 500.
"At that point, it felt like the world had kind of collapsed," she says. "We were in lockdown, there were no sports, no entertainment—nothing to distract from what was happening. It pushed me to become hyper-focused and reflect on the mission of First 500 and reshape my vision, because I knew then that only raising awareness was not going to translate to more Black women becoming licensed architects."
She called on her growing network and, earlier this fall, assembled a leadership board of seven architects—Adaeze Cadet, Danei Cesario, Dawne David-Pierre, Kiwana McClung, Latoya Kamdang, Lisa Cholmondeley and Valarie Franklin. They are supported by an advisory council that includes Anzilla Gilmore, June Grant, Gabrielle Bullock and Dina Griffin, all of whom have been named to the American Institute of Architects College of Fellows.
Hughes also decided to add two additional pillars to the organization's mission: building a visible community and providing resources for girls interested in pursuing architecture. Launching a website was key to achieving both, and First500.org went live last month. The website features profiles of the board members and other prominent design professionals, including links to their social media platforms, making it easier to both learn about other women in the field and connect with them. The site also includes a resources section, complete with recommended reading and information on scholarships and design competitions for school-age girls and women. "Creating a roadmap for other women to follow was really important to me," she says. "When I was in college, we didn't read a single book by a Black architect or have a single Black architect as a guest speaker over the course of four years. I want to make sure these resources exist for students going forward."
Looking ahead, Hughes envisions the creation of a First 500 foundation, which would include a more formal membership structure, as well as providing scholarships and more educational resources. "There's that saying: 'If you can't see it, you can't be it,'" she says. "I want the next generation to see that they can follow this road and that they can be architects."
Homepage photo: © Red Diamond/Adobe Stock