The 50 States Project is a series of candid conversations with interior designers across the country about how they've built their businesses. This week, Ames, Iowa–based designer Casee Burgason tells us why she convinced her family to become developers, how she's building a community that combats urban sprawl, and how she's getting strategic about pricing on sustainable materials.
What was your path into the design industry?
Growing up, my parents always built their own homes—and their own businesses, too—and getting that exposure early on triggered my love of design. I went to college at Colorado State University, which was one of the only accredited programs in the country at the time that also had an interior architecture program and an emphasis on construction management. It was great, because we would go from art history class to hand-drafting to learning about HVAC systems, then we would be building various truss types in the construction lab.
Were you always interested in the construction side?
My aunt lived in the Bay Area, so she offered to let me move out there in the summers. I ended up doing a couple of internships there with these older-school designers, and it was a great opportunity for a farm girl from Iowa to see all of the glitz and glamour on the West Coast. They were the kinds of firms that built whatever they wanted—if they couldn't find it or source it, they would find an artisan to create it. They were also very heavy-handed in all of the architecture and had in-house architecture teams, but they were, as interior designers, leading the whole process. That experience helped me realize how important it was to be well-versed in the construction process, and how it makes me a better designer if I understand all of that. Plus, I never wanted to get on a job site and be the designer that doesn't understand what the contractor is talking about. That motivated me, too.
Where did your career take you after graduation?
I moved down to Miami with a couple girlfriends from college and took a job with a high-end residential and commercial company. It was a small boutique firm with lots of famous clients—she did projects for Versace and Don Johnson and all the crazy celebrities that moved to Miami in the early 1980s, and that was where she got her start. We also did some hospitality projects and high-end high rises, and she had a furniture company that she started in Italy, so we did a lot of custom furniture as well. It was a really fun experience, and I got to see all different sides of the design world there.
That sounds like such a good training ground.
She didn't hand-hold me a lot, either—she just told me to go for it, and when I made a mistake, she was patient. Taking on that responsibility was just really helpful. I worked there for four years, then started my own company.
How did you know you were ready, and what made you want to take that leap?
It's definitely the harder path—there's part of me that wishes I would've stayed on longer, and maybe eventually the torch would've been handed down to me. But when you work under a senior designer, it's their vision, and I just really wanted to be the lead visionary. I felt that I was ready for that. In reality, I had no idea what I was doing. And if I had, I probably wouldn't have done it—but you just take leaps. And because my parents are both entrepreneurs and I grew up watching them take risks and work their butts off, that was the model I was used to.
Where did you find some of those first clients in Florida?
My husband at the time had a high-end moving company, and I got leads through that. I started taking on small projects, one at a time, and it grew through friends and word of mouth. But then I went through an awful divorce and decided to move back to Iowa with my two kids—they were three and five at the time—because all my family was here. I spent a year in Iowa feeling sorry for myself, and at the same time I was deciding: Should I work for a firm? Should I start my own company? I did a couple interviews, then decided to restart my company here in Ames about seven years ago. By then, I knew the types of projects that I wanted to work on and I wanted to be in control of the projects that I was getting, so I decided to take the leap and go for it.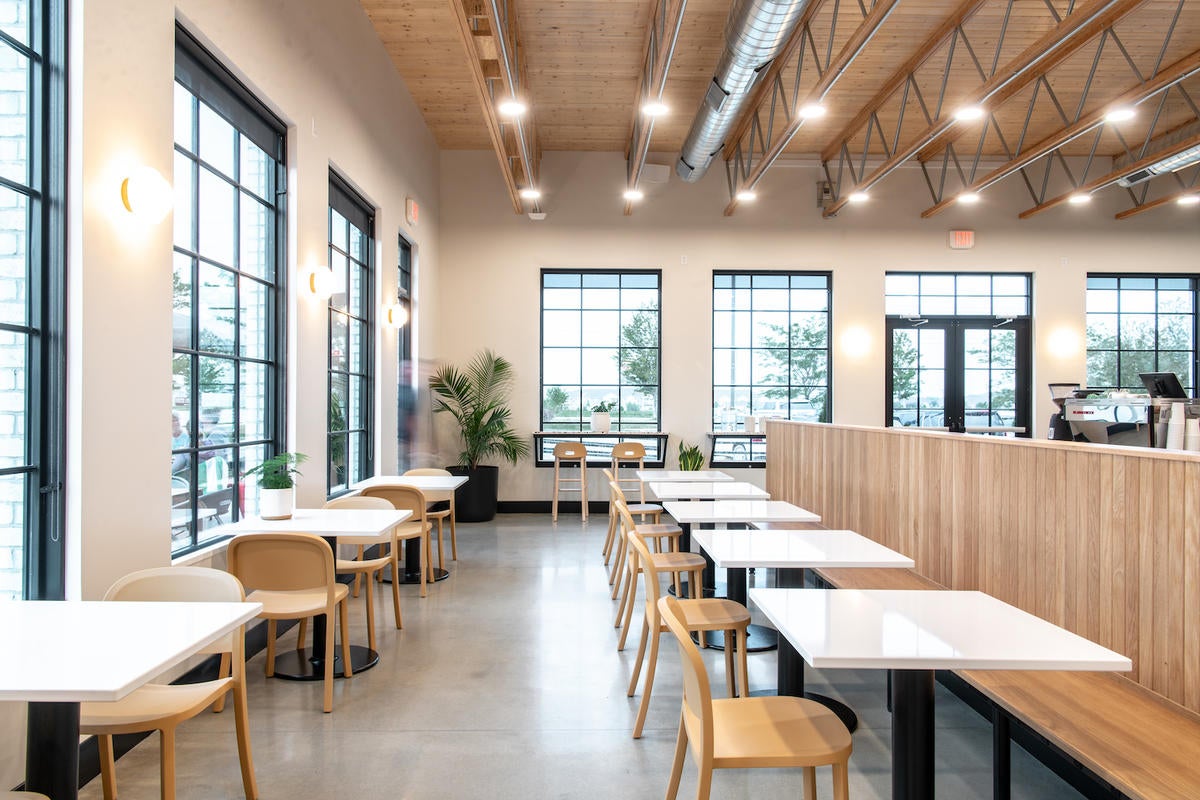 How did you market yourself in Iowa to let people know that you were open for business?
I started out with a website. In my head, I was thinking, If I have a decent social media account and a website, they will just come. And I quickly learned otherwise! For the first two or three years, I did a lot of those projects where you're just trying to make people happy and you're not making any money at all. My only goal was that my client was satisfied with the project and happy with the process at the end of the day. If there were any issues, I asked them. And even though I walked away probably in the negatives for the first few projects, I had happy clients, and that ended up launching my business with some great referrals.
I do commercial work, too, and I've found that sometimes gives you a little bit more exposure. More people see what you've created, and you'll get a bit more press. I did a big barbecue restaurant in a historic building that got some attention, and that helped. But I also had to drop my ego, put away the Prada and stop kissing people on each cheek. I put on my work boots and figured out where my niche was.
That's a great visual—from Prada to work boots. How else did the day to day realities of the job change for you?
The construction industry here is not used to working with designers like they were in Miami. It's gotten a lot better in the past few years, but I'm still often working with a builder who does their own design as well. I've really tried to draw the line in the sand: Builders, you stick to building. Designers, you stick to designing. Architects, you stick to the architecture. Everybody do what they're really good at, and don't try to do everything at once. It's been an interesting process, just educating builders on how to work with designers and vice-versa. Some builders are awesome to work with, and others are still learning that skill.
The other thing I encountered was people not understanding what interior designers actually do. They have the "HGTV syndrome" where they think it costs $20, and that everything is done really quickly. I know designers all over the country say that all the time, but it is multiplied by 10 here in Iowa. It really helps if people trust you—or you have to figure out how to make them trust you—and then I spend a lot of time clarifying the process. In the beginning, I would adjust my process to the client's needs, but I finally realized that's not the way to do it. I've gotten more emboldened now and try to guide people through my process—and if they're not wanting to work with my process, then they're not the client for me.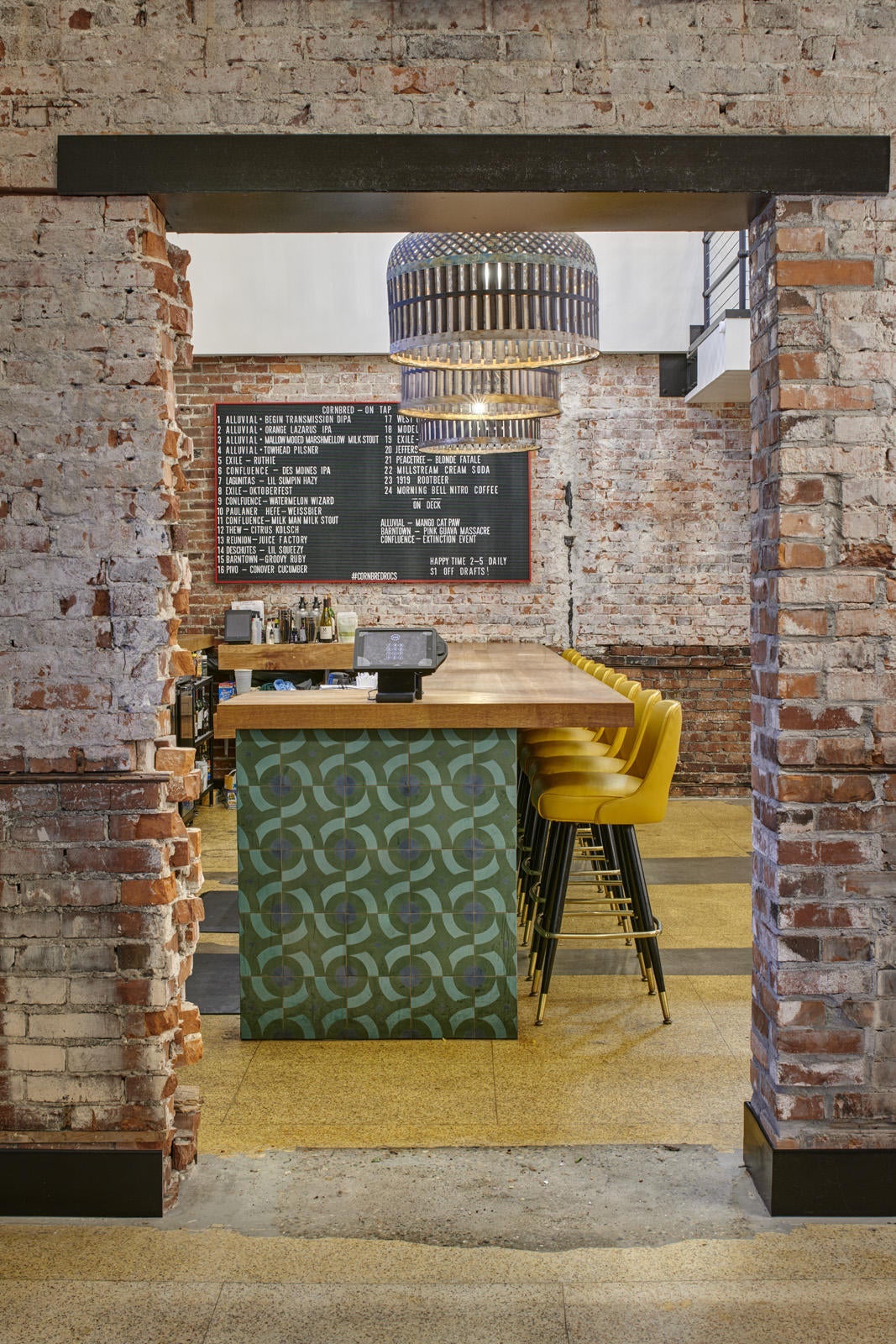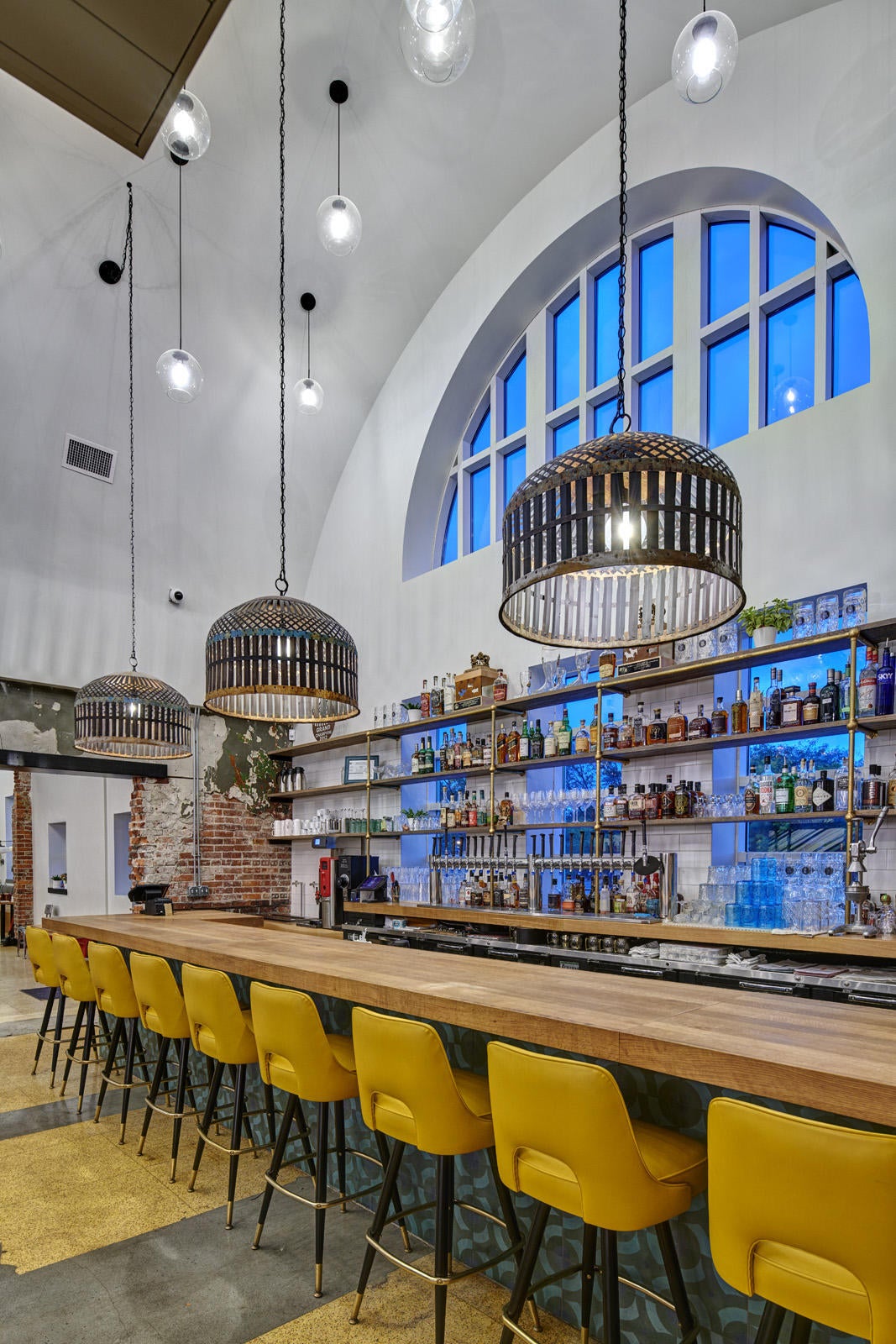 What does your business look like today?
We have a design-driven construction process where we contract and project manage our smaller construction clients. We'll come in after drywall and do all of the finished carpentry and manage all the trades. Before, I was doing that anyway for people when I was working underneath the contractor, but I found that they were just not executing our designs in the way that we wanted them to get done. We can't do it for the bigger projects, just because we don't have the time, but that part has been very successful on our smaller projects.
So you're the GC for those jobs?
Yes, I am also the general contractor, too, which is pretty unique. We also do projects where we are just coming in to do the design work, then we hand it off to a contractor; for those projects, we'll check in a few times a week. We've been doing a lot of remodels, and with the Ansley development project we're working on, we're going to be transitioning into doing a lot of new construction.
In terms of our team, I have a full-time designer and a part-time designer, and then I have a full-time draftsperson for CAD work, as well as people we can outsource to locally. It's helpful to have someone in our network that I can hand things off to if we get overloaded.What about the procurement, ordering and expediting? Who tackles that?
A lot of the time, it's me. We have a bookkeeper who helps with billing. But for ordering, I never want to get so big that I'm not able to oversee all of that—though I probably need to get better at outsourcing and delegating.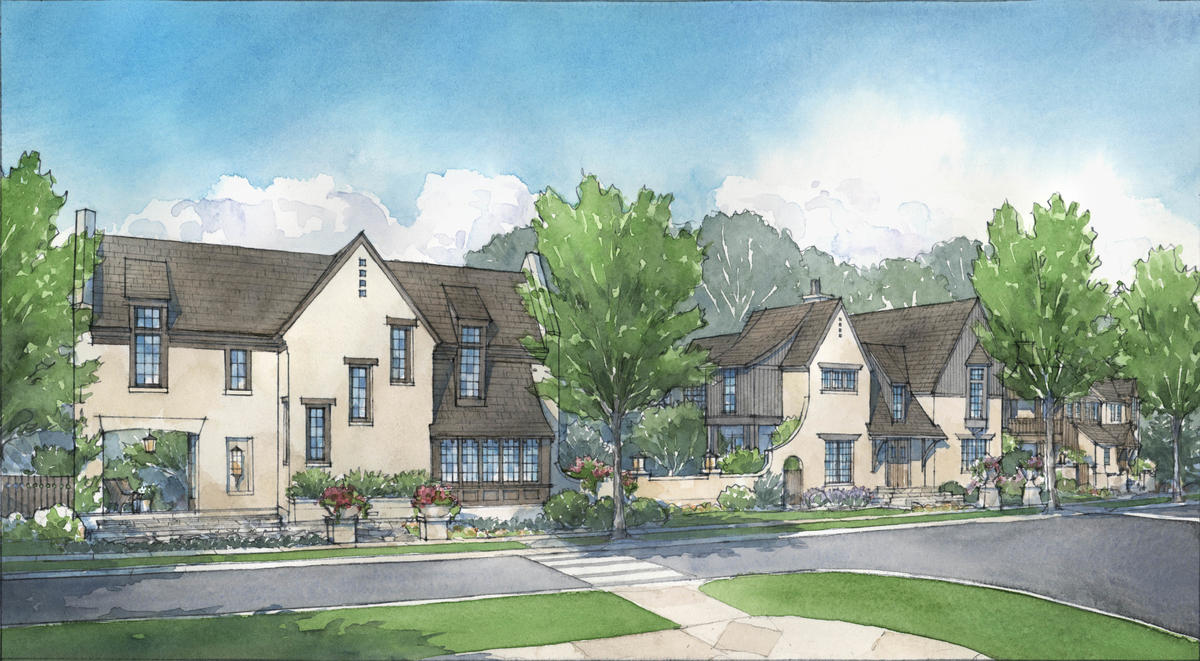 Courtesy of Casee Burgason
You mentioned the Ansley project you're working on, which is an entire planned neighborhood. How did that project come to be?
When I moved back to Iowa from Miami, I was just struck by the urban sprawl that I was seeing across our state, and even in our town. In 2018, as my family started talking about selling the family farm to a local developer, I started researching town planning and higher-density communities. I was hoping to find some sort of provable model so that I could convince my family to do that instead of selling to a traditional developer that would just plot it out on a grid. I came across Serenbe outside of Atlanta—an entire thoughtfully planned community with award-winning architecture, beautiful interiors, recycled granite curbs and sustainable biophilic design. They just had it all: edible landscaping, a CSA program, connected walking trails. I fell in love with the whole concept.
To make a long story short, I called my aunt in the Bay Area, and she helped me convince my parents to take a look at this. We went down to Serenbe and attended a developer's conference—and the next thing we know, we were self-declared developers. That was five years ago. So Ansley will be a 60-acre development in south Ames, and we should hopefully be breaking ground here in the next couple months.
Five years! What has that process looked like?
We met Rhinehart Pulliam & Company at the developers conference. They did some of the design for Serenbe—they're just fantastic architects who also do land planning, and we really connected with them. We were on the same page with what we were looking for aesthetically. And so we've developed this team—Robert Pulliam and Eddie Rhinehart, my parents, my aunt and myself—and we've built this together.
This is their wheelhouse, so they're very much leading the design on it, but we have our hands on everything too. We're also going to the city to change zoning codes around street widths, adding alleys and changing setbacks—things that really help with the overall design and connectivity of the entire community.
A lot of what has guided that process is just asking: Why are we doing it this way? Like, why are we always laying out streets on a grid? Why aren't we creating walking trails in neighborhoods that are meandering to create some sort of mystery as you're walking down the sidewalk? It's thinking about the importance of how that actually builds community and can bring people together. That also impacts how the homes are positioned on the lots, and how close they are to the streets. We are pulling the homes closer to the sidewalks to encourage people to communicate with each other, so if you're sitting on your porch, you're not yelling at your neighbor who is walking by on the sidewalk in front of you. That's something they do down south all the time, but it has gotten lost, I think, as towns have developed in northern communities.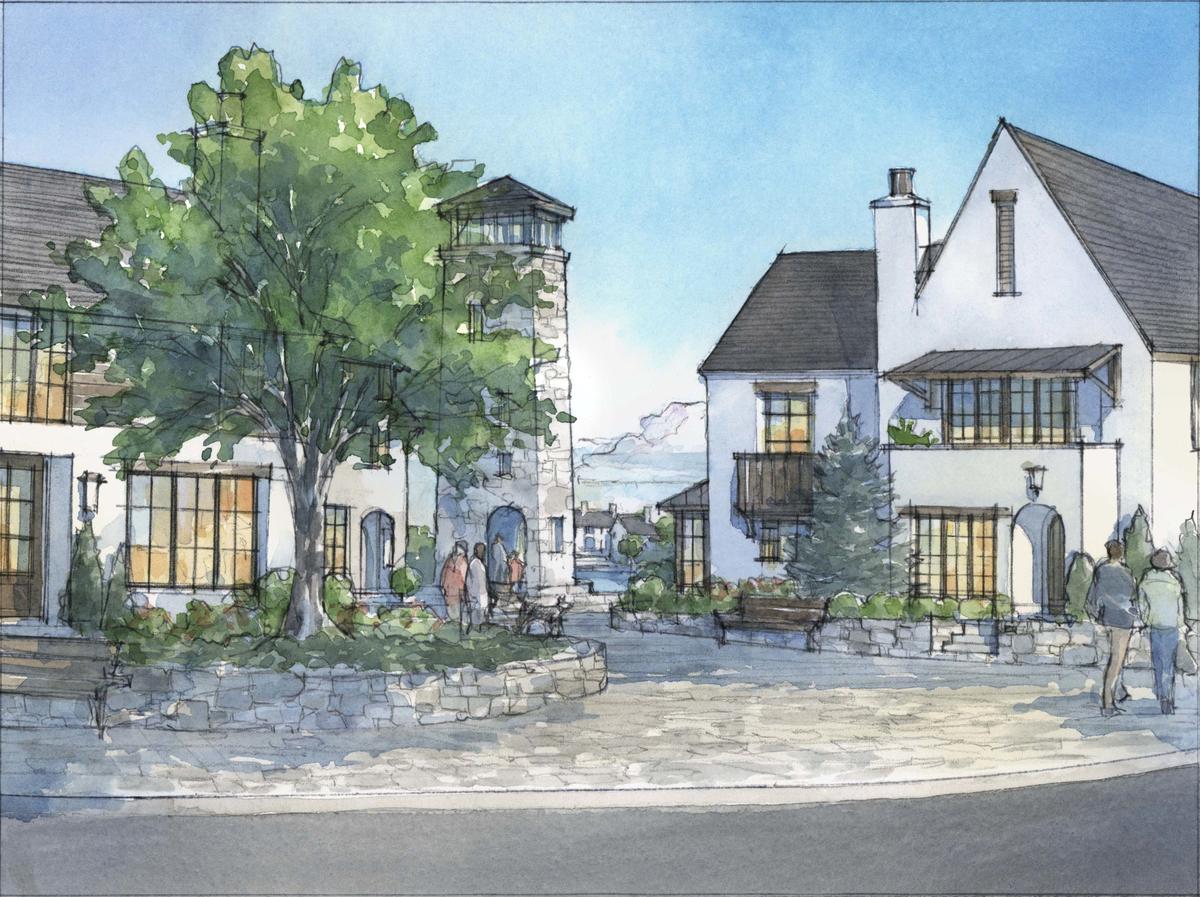 Courtesy of Casee Burgason
What does this mean for your firm as you break ground?
We're developing all of the house plans for the development in order to simplify the process. Right now, we're working through all of the floor plans to make sure there's no wasted space. We're also coming up with modular floor plans that we can adjust to buyers' lifestyles without having to change exterior walls, which means they're not making tons of costly changes to the plans. And then our interiors team will come in and establish a curated palette of selections that buyers will be able to choose from, because I've realized that people have way too many options. Pinterest overwhelms and overstimulates them. Then they go to the showroom and they have 100,000 more options. It's too much. We're weeding out all the unnecessary options, but still giving them enough variety so they feel like they're personalizing their space, and so that we're meeting their needs. It also streamlines the buying process, which is more profitable for everybody, and I think in the end we'll have happier clients.
How is the development resonating in the marketplace?
It's been very well received. Even though it took five years to get through planning and zoning with the city, this is exactly what they wanted—it was just figuring out the red tape to get there, but they were very much on our side. It's been so special to see the reactions and emotions people feel when they see a development like this—something that isn't just going to be built and then abandoned. We want to put community back into the development process, and to foster the relationships of the people who decide to buy in. But we also don't want it to feel like a country club or a golf course. We want it to be approachable, like a town that would've developed naturally 100 years ago. It doesn't look like it was just contrived and thrown into the middle of the prairie.
But to answer your question, we have not presold yet. We are releasing pricing in the coming week, and that's when people will be able to put down deposits. We'll hopefully have our website up by the end of the month so that people can pick from the lots and house plans. The entire community is 150 single-family homes, and we'll have some cottage homes and town homes as well. There will also be an event barn with a small cafe and a restaurant area, and we'll be able to host farm-to-table dinners and dance nights or pottery classes—things that will help encourage community within the development.
Do you see this kind of development work being a major part of your firm moving forward, or is it a one-time thing for this family project?
Our goal is to at least repeat the interior process we've built here with other developments across the country so that developers have a little bit more control over the final feel of the development they're creating. It takes the decision-making out of the hands of the builder and gives it to the developer, but we're streamlining it for them. We're already working with another project in central Iowa—that's two or three years out, but they're excited about the same things we are.
Will that impact the other work your firm takes on?
We will still take on commercial projects and higher-end custom projects, but we'll probably step away from the residential remodels that we've been doing. I don't really have a desire to get really big as a firm, which requires picking and choosing. I want to be thoughtful and look at a project holistically—not just a little part of it. I want to have my hands in everything.
What's unique about the design community in Iowa?
It's not necessarily a bad thing, but trends that you see happening elsewhere don't really hit here for at least five years. So when everybody else was doing these big, open-concept kitchens, living room and dining room areas six or seven years ago, nobody in Iowa was doing that—and now everybody wants to do that in Iowa, even as the rest of the country is starting to realize that that's a really loud way to live when you have no separation of spaces or privacy. So now we're thinking about how to give people that open feeling and bring in tons of natural light but still give people a place where they can sneak off and make a phone call or work quietly.
What resources are available locally when you're sourcing?
We're not very close to a design center, so we shop out of Chicago or Minnesota. Sometimes I'll go down to Atlanta, too, just because I have a lot of friends down there, and so I'll combine trips. But either way, it's a lot of looking outward because there's just not a ton of inspiration here. It's encouraged me to draw inspiration more from the natural surroundings and the prairie. It's pretty unique living on a prairie and not having a lot of trees around you, but there's a lot of beauty in that too.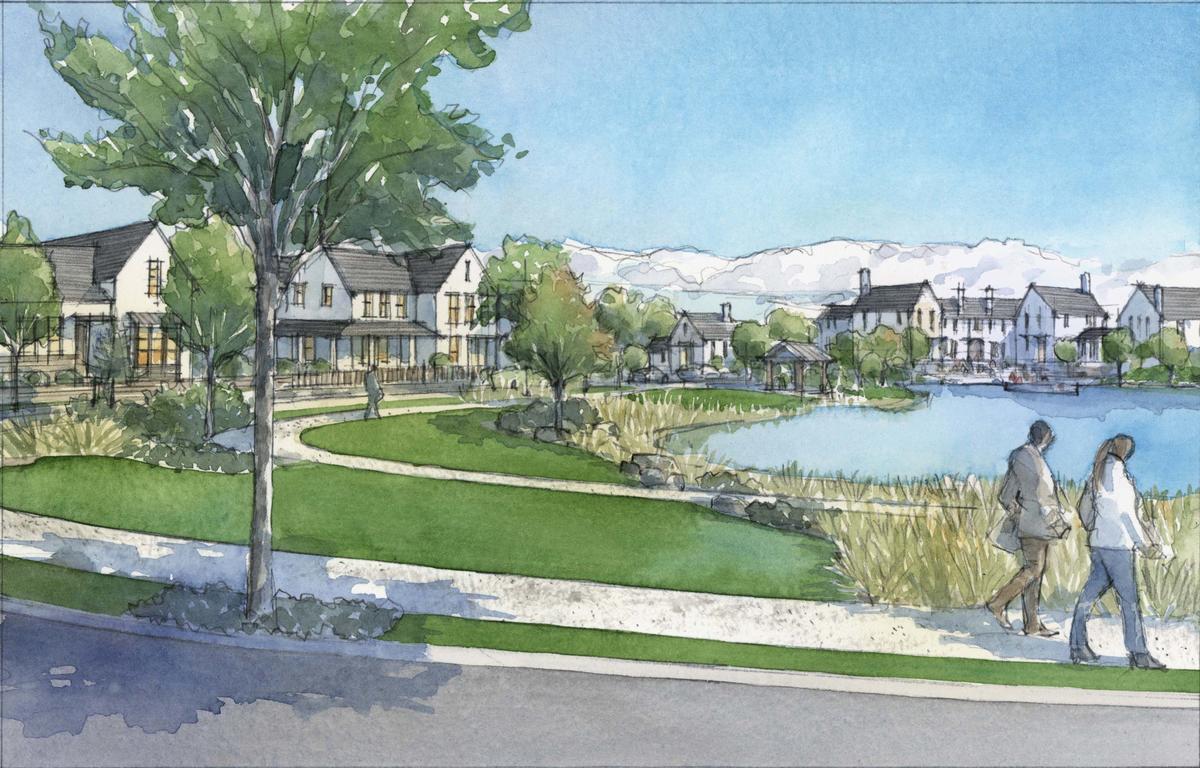 Courtesy of Casee Burgason
How have you navigated billing for your work?
Well, one thing I've always done is make sure I have older mentors around me whom I can go to. It's given me a sounding board where I can get some good feedback and not make as many mistakes. Like most designers, I started out charging hourly and just doing very detailed time billing. Now, as I've gotten more comfortable with projects, I am able to estimate how long things will take and give people a flat fee, which I think people like.
For contracting and commercial work, we typically bill on a percentage of the total project cost. We have a design phase, then a project management, construction or contractor phase. So we separate the process, and that way if somebody has a preferred contractor that they want to use and they just want to use us for the design phase, that's fine. But most of the time, they want us to walk through the whole project for them. In those cases, we charge a design fee, then we'll move on to the project management phase and charge a percentage.
And for Ansley—is your firm earning revenue on that work now, or will that just be something that pays off down the road when the properties sell?
None of us have made any money during the five years of working on that. We're hoping we will make money, but it's just been something that we're building toward. We'll charge a design fee or a percentage of the price of the home for those projects [as they sell], but right now we're in the zeros on that.
Where do you see the most opportunity to grow?
I don't know. I know I don't want to get too big, and I want to be able to do meaningful projects. This community planning project, and being able to think about everything from the ground up design-wise, and how it affects even the interior of a home—I really enjoy that process, so I want to continue going toward projects where I really feel like I'm connecting people with design. It's a lot like seeing how the culture develops when we design a restaurant. Obviously, we only play a very small part in that, but it's amazing to see how good design can actually make people feel dignified and appreciated. When they realize that somebody was thoughtful about the space they're walking into—that's the rewarding part. So I want to keep doing projects like that where we're able to influence people's lives for good.
I'm also interested in all of the talk about biophilic design, and about the need to bring the outside in. Especially at Ansley, we are really working hard to make sure that we're using materials that are not only sustainable but also reclaimed. We're not using vinyl and all these plastics but materials that you would have used 100 years ago if you were building a home. We're thinking about that in the architecture and the construction process but also as we bring people inside, making sure there's not a total removal from the exterior to the interior. Obviously, some people might want some more extreme designs catered to their own taste, but we still want the inside to be reflective of the outside and be respectful of nature and hopefully encourage that biophilic sensibility.
From a cost perspective, some of those materials can be a lot more expensive. How are you navigating that?
They are—but they don't have to be. That's where you have to get very creative with sourcing. That's one of the reasons we're curating the palettes on the inside and outside. This allows us to go back to these manufacturers and distributors and say, "Listen, we want to use this brick all over our development. Can we get better pricing on that? We have these four builders all working in our development. Can you give them better pricing on windows if we guarantee that we're going to use your windows?" That's where we're trying to lower our bottom line, but also make sure that we're building with quality.
The other thing is just the floor plan. That is the biggest place where we're able to save money, help the builders save money and make sure that there are different options for people with different lifestyles, and that you can fit different arrangements. It's incredible how many times you'll see a house plan that you can't even put a sofa and two chairs in. So it's not rocket science—it seems very basic—but it's surprising how quickly those details get left out when you rush through things over and over again.
To learn more about Casee Burgason, visit her website or find her on Instagram.