In a new series, Ask an Influencer, Business of Home explores the creator economy. This week, we spoke with Barry Bordelon and Jordan Slocum—also known as the Brownstone Boys, a design, renovation and restoration team based in Brooklyn.
Barry Bordelon and Jordan Slocum each had a somewhat long and winding path into the world of design. Slocum, who started out baking cakes for a mom-and-pop bakery in Red Hook, Brooklyn, ended up overseeing the bakery's kitchen redesign, then eventually nabbed another position designing ice cream shops for a local franchise. Bordelon, meanwhile, pivoted from architecture studies to a business degree, then started a job in software sales, all while renovating his own apartments on the side. When they met, however, everything changed—and fast. In 2018, just six months after they started dating, the couple bought their 130-year-old Brooklyn brownstone. On the same day they closed on the house, they launched a blog and an Instagram account titled The Brownstone Boys. Within a year, it became their full-time job.
Now, with an Instagram audience of 79,000, the duo has built a business around design and project renovation management, all of which is further monetized through a suite of social media channels that also includes YouTube and TikTok. Ahead, they share the challenges of an algorithm-driven business, the benefits of enlisting an agent in brand partnerships, and why they've handed over the task of optimizing their online presence to their first hire.
When did you realize social media was an opportunity for you?
Jordan Slocum: When Barry and I got together, the blog was supposed to be a helpful resource because there were a lot of questions that we had, even in the buying process, that we just weren't finding the answers to. The amount of questions we got in the first three or four months after starting our blog really opened our eyes to the local community that needed help with their own historic renovations. So we decided: Let's take a risk together and own this and really be experts in the space, and act as a guiding hand throughout the renovation of something that was very near and dear to our hearts. At this point, we've done a lot of work in commercial spaces in Manhattan too, but we still have a really strong passion for brownstones.
When did you start to approach social media with a strategy?
Slocum: Slowly over time. We started in 2018, took our first client toward the end of 2019, and at the beginning it was mostly a way for us to get new clients. We enjoyed sharing on social media, and it was part of what gave us the confidence to be able to start our business. We were getting a lot of inquiries—and we still get more than we can even respond to and more than we could ever take on—and every single person that reached out to us started with, "We've been following you for years," so social media is really important to us because people feel like they know us already. It's not like they're reaching out for a proposal or they're considering five other people—they already know our work, and they want to work with us.
Is your social media presence a complement to design services?
Barry Bordelon: First and foremost, we're a project management design service. We usually work with our clients, sometimes even prepurchase of the building, so they have an exact estimation of the renovation costs and know whether it will be a worthwhile purchase. Then we develop the entire team for the brownstone renovation. To get the job license or permit, which we usually do, we bring in architects for a quote. We work with a Rolodex of general contractors that specialize in historic renovation and preservation of plaster molding, stained glass, woodwork. From there, we work with the client on the interior—including all of the elevations and drawings and sourcing materials, interiors, furnishings. And then we do all the construction management. So we're there from demo to move-in day, and we make sure that everything is making great progress throughout the renovation.
Slocum: We also sometimes just do consultations with clients. If we can't take your project on, we'll help you out as you go and price things out separately. And we're also on [video consultation platform] Intro, so people can book us for a one-time conversation to ask any questions.
What does your content production process look like?
Slocum: A lot of it has to do with how the building or the home that we're working on inspires us. We deal with some pretty drastic before-and-afters, so we make sure that we really spend ample time at the beginning of the project getting all of our core content because we know there's going to be such extremes with the after. So it's really important for us to kind of strategize each project a couple of weeks before demo kicks off.
Our YouTube house tours do really well, so we love working with a videographer on that. We'll definitely hire out when necessary. If not, we shoot content ourselves, especially for our evergreen and our everyday content, and we use a Canon that is not our iPhones—though they sometimes take just as great video as a regular camera. For editing, we like using the Splice app—you can layer in multiple videos, so if you get all the footage, you can produce a video that's very professional looking.
Do you follow a content schedule?
Slocum: Right now, it's a little too organic. We have a new hire that we're really excited for, who's going to get our calendar together and brainstorm creative ideas moving forward. As opposed to worrying about quantity, we're gonna start really focusing on quality.
What made you want to bring someone on in that role?
Slocum: Up until now, Barry and I really have been doing everything ourselves. Right now, we're juggling nine different brownstone renovations. We have a full-time job with our clients, but our social media has also turned into a job—a job that we're both very passionate about, and we love any content that we put out to the universe, but we live in a world where social media is very external. Sometimes you can't capture every single moment of every single day, and because of that, we discovered that we needed help with everything that we have going on, and we thought that the best role for our first hire was to help us with intake and creative stuff, so we're excited to bring somebody on to kind of help us get to that next level.
Bordelon: We have a bunch of social accounts—Instagram, YouTube, TikTok are the main three—and we also know Pinterest is very important, but we just haven't had time to build it out, but we want to focus there too. And then we also have our blog, which we haven't been as active on as we'd like to be.
We do brand partnerships as well. That's an important part of our business and those are really busy—and there's so much work that goes into that, including looking at a brand's creative brief, coming up with the concept, scheduling, getting products, bringing in a photographer or videographer, coming up with the deliverables, editing and getting them back to the brand. That's all going to be part of this role—social media, marketing, brand partnership, general creative.
How do you work with brands?
Slocum: We've been fortunate, in that I would say 90 percent of our partnerships and collaborations have been brands reaching out to us. Sometimes if a client is really interested in a piece of furniture or a tile, there might be a creative way to tell a more engaging story if we do it through a social partnership, so we'll reach out to the brand and see if they would be interested. But most come to us.
Bordelon: We also have a [talent] agent, who helps with negotiating the contracts. When we were doing everything ourselves, we weren't paying attention to exclusivity—so we'd have a contract with a brand, and then we can't do a contract with a similar type of brand for a certain number of months after that. She keeps track of all that stuff. It's very helpful, and it took us a while to get to that point. We did it ourselves for years before we decided to go with the agency, but that has been a really big game changer.
What about the contract process has changed since you brought the agent on?
Bordelon: The contracts are fairly straightforward, but there are some things that you want to be consistent with. Exclusivity is a big one: If you partner with, say, a mattress brand, then the brand that's paying for that campaign doesn't want us to do another massive campaign [with their competitor] two weeks or a month later. And they may ask for something that's unreasonable, which can be negotiated gradually. If they want exclusivity for a year, then they might have to pay us more. As content creators—or no matter what industry you are in—you want to make sure that you're not being taken advantage of.
Understanding what the usage is with each contract is important. Being consistent with your rates, too—we were horrible about that before we had an agent. We'd have [a brand] come in at half [the rate we'd decided to charge], and we'd say, "Sure, why not? Let's do it." Our agent helps us with when to say no. Or if someone asks for too many deliverables, maybe it's not necessarily about the rate, maybe they're just asking for too much. And we have to bring what they're asking for in line with their budget. That's a big one. Frankly, our agent asks for more than we might, and she takes a cut of everything. But the contracts are higher because she negotiates them properly.
Slocum: That's something that's super helpful that we didn't have a full grasp on before. We're providing brands with marketing materials—so while they used to pay thousands of dollars for a magazine advertisement, now influencers are coming into the space and helping brands market to new reaches and new platforms. [Ultimately,] they might end up using our photos in unlimited places [from social media to their website and other marketing materials]. So our photos or videos might be showing up across multiple channels without us getting the money for it.
We were just so excited that brands wanted to work with us on something that is very special to us and near and dear to us, but then it's like, no, everything has to have a price and we have to measure it this way because that's the only way we're going to grow.
How much of yourself do you show on social media?
Slocum: I think there's still a lot that social media doesn't capture—and that's healthy. I think it's important, especially in the day and age that we're in. Sometimes you just shut it off; the world doesn't need to know everything about everyone. I mean, we are an openly gay couple, and I think that's really special. Our following loves us for that alone. That's something that I'm really proud of putting out in the world.
I'm really thankful for social media for allowing us to get closer to the community. In a lot of campaigns, we've paid it forward, and if brands are providing us stuff, we want to donate that to somebody in need. It really has brought us closer to not only neighbors but to neighborhoods, and I hope to do more of that this year.
How do you field comments and DMs?
Bordelon: It's very important to engage on social media—you can't just post and then not respond or engage. Of course, we have the infamous algorithm, so if you want your account to grow and prosper, you have to be engaging with other people, and that's not something we force ourselves to do because we really do like and feel like it's a community. A lot of people ask questions about redesigning or renovating their own house, and it's important for us to be part of the community and help as much as we can. We try to respond to every single comment on a photo, or at least like it and let the people know that they're appreciated for commenting.
Is maintaining a presence on social media ever overwhelming?
Slocum: It definitely is, especially because I feel like there's a new platform every other week. For us, it's really about understanding the intention that we want to bring to each platform—for us, it's beautiful interiors for Instagram, and for TikTok we utilize more tutorials and raw, everyday content. And then for YouTube we like a polished house tour and vlog-style videos. After you recognize what each platform can do for you, or whatever you're trying to get out in the world, it helps you mentally prepare for the evolving programs that are coming out.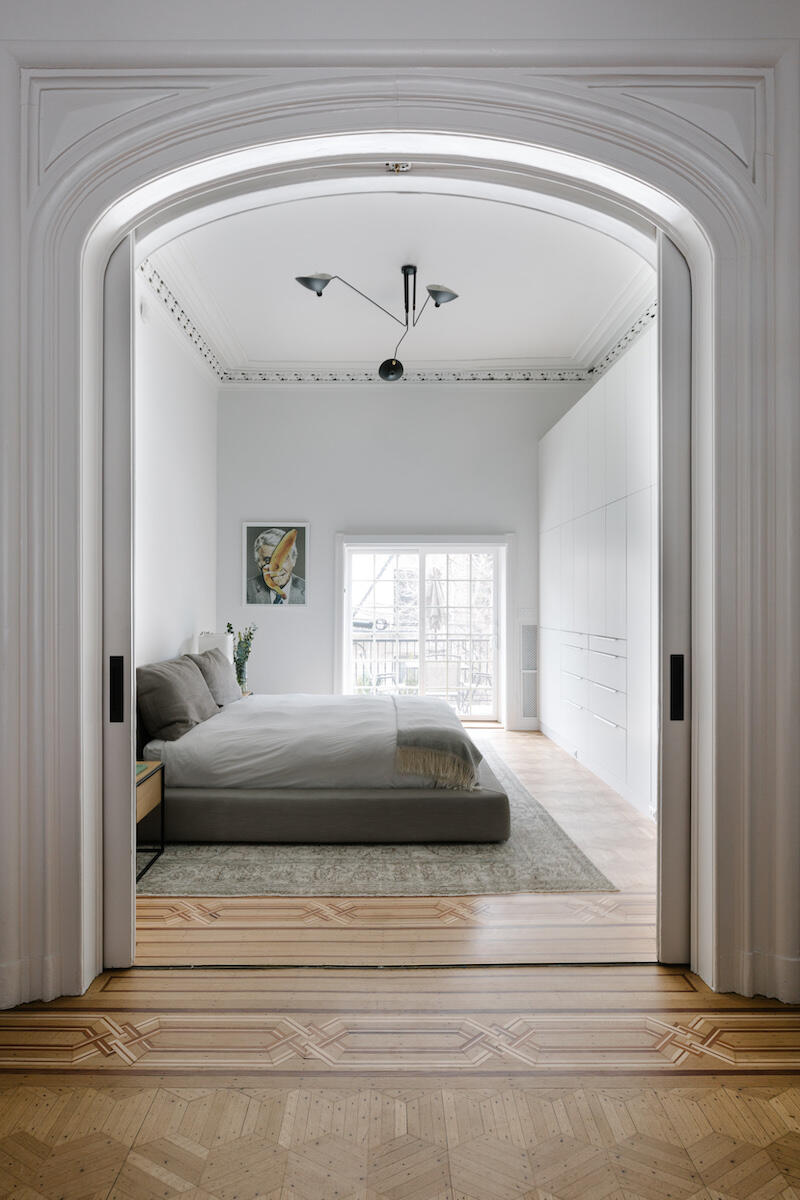 How do you approach platform updates and algorithm shifts?
Slocum: It's been frustrating. It's hard to try to discover what the algorithm even is, but also it is frustrating because we're in a world where we get stuck comparing ourselves to peers or other people in the space whose account may be showing a lot more [or faster] growth, while we are working really hard on that and it's just slower. That's not saying that we don't do well, but it's sometimes hard when you don't have a true understanding of who is even seeing your content.
Bordelon: It's frustrating that because of the algorithm, there is content that we put out there that some of our followers don't even see. We've heard from a lot of other longtime influencers with big [followings] that have really struggled with it, and all of a sudden saw a lot less engagement. Unfortunately, it's just not something you can change overnight.
What are you working on right now from a business strategy perspective?
Slocum: Specifically for Instagram, it's understanding the algorithm and how we can work with it and educate everyone that's in the space. We're very thankful that we're part of a community where we learn a lot from our peers on Instagram, and I think it's such a special community, whether you're in the home or lifestyle space—I really just love being part of it in a small way. It just would be helpful if we had a [better] understanding [of what drives] our own specific page.
We're really excited for this year to develop a better social content creation strategy. But we're also really excited to really [implement] quality over quantity, and get back to our roots and what started our passion for putting this out in the universe.
Homepage image: Barry Bordelon and Jordan Slocum, the duo behind the Brownstone Boys | Nick Glimenakis