The recent collapse of WeWork's $47 billion initial public offering has brought a newfound sobriety to certain corners of the financial markets. Many on Wall Street have suddenly become far less tolerant of companies that sport lofty valuations but seem unable to demonstrate a clear path to profitability.
So when Wayfair (the online furniture company that wants you to think it's a tech company) announced its 21st consecutive quarterly loss since going public in 2014, the market was not in a forgiving mood. Shortly before the stock exchange opened on Thursday, as news hit that the company had lost another $272 million in the quarter, its shares quickly dropped by 15 percent in premarket trading.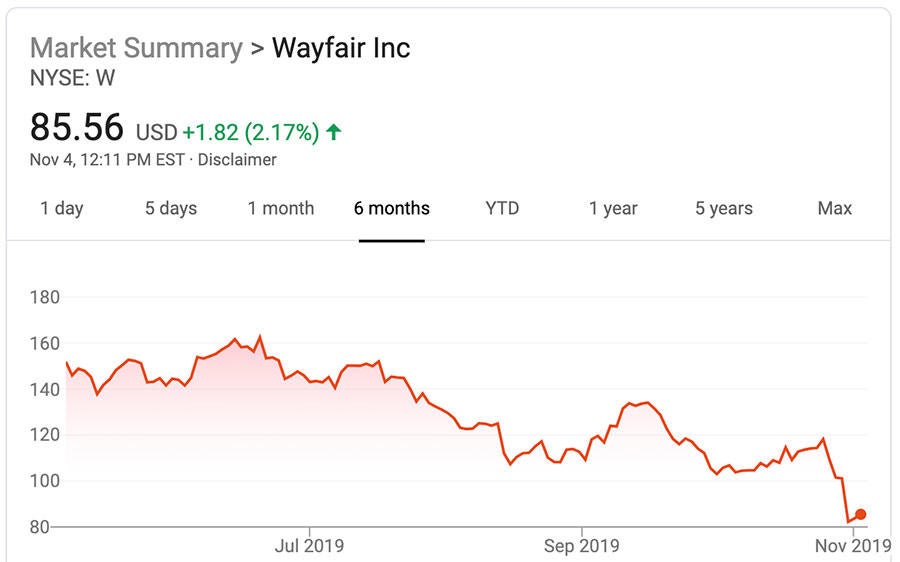 It wasn't that the market was surprised by yet another loss. On the contrary: Wayfair shares had fallen more than 5 percent just the day before the earnings release in anticipation of another disappointing number, and have been in a clear downward trend since June.
Instead, the steep drop was the result of an ever-increasing chasm between Wayfair's revenue growth and the magnitude of its operational losses, with news that revenues reached $2.3 billion in the quarter—an increase of nearly 36 percent from year-ago levels—drowned out by losses that increased by almost 80 percent.
Wayfair's losses are driven primarily by its massive advertising spending, which increased by 39 percent in the quarter. At 12.2 percent of revenue, the company's ad spending is on track to exceed $1 billion by the end of 2019.
SG&A (selling, general and administrative) spending is the other major expense for the company—it ballooned by nearly 60 percent in the quarter and is already well past the billion-dollar mark for the year.
These immense expenditures have contributed to Wayfair's operational loss of $642 million in the first nine months of 2019. The company's accumulated deficit (how much it has lost over time) now stands at $1.735 billion, and the aforementioned path to profitability seems more uncertain with each passing quarter.
Fortunately for Wayfair, it secured a healthy round of financing over the summer. Before the recent froideur set in on Wall Street, the bankers at Goldman Sachs led the effort to help Wayfair secure a much-needed $825 million loan in August.
In what's known as the Wall Street two-step, a Goldman analyst began covering Wayfair's stock a few weeks later, issuing a buy rating and a price target of $145 a share—a far cry from Friday's closing price of $84. (And some say capitalism isn't working!)
Wayfair has proven consistently that the only thing it does better than deliver mass-produced furniture to your doorstep in record time is burn through money. Thanks in part to the generosity of America's investment banking system, the Boston-based company now has another billion dollars on its books to use as kindling to get through the brutal New England winter.
Wayfair's shares have fallen by more than 50 percent since March, and its market capitalization has been reduced by more than $7 billion. Many have begun to wonder if the company is starting to look a lot less like Amazon—the online behemoth that has repeatedly demonstrated its ability to control its earnings power at will—and more like Uber, the ridesharing and food delivery company that looks as though the one thing it might never deliver is a profit.
We've been here before, though—this is now the fifth time since the company went public that Wayfair's shares have declined by more than 40 percent. Each time, the company has been able to lure the faithful (or gullible) back into its fold and shares have recovered. In the words of the great Pete Townshend: "I'll get on my knees and pray, we don't get fooled again."
____________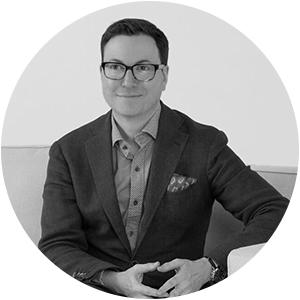 Dennis Scully is the host of the weekly BOH podcast, where he explores the changes and challenges facing the interior design community through interviews with industry thought leaders, entrepreneurs and creatives. Scully was previously a business development consultant for major trade brands, and has held sales and marketing roles at Domino, Waterworks and Twill Textiles. In his Market Watch columns, Scully calls upon his background as an analyst and longtime securities trader as he explores the ins and outs of the home industry's publicly traded businesses.
Disclaimer: The author does not hold shares of the companies featured in this column at the time of the story's publication. The views, thoughts and opinions expressed here belong solely to the author, and do not necessarily reflect those of BOH. The material is for informational purposes only, and does not constitute any form of financial advice.
Homepage photo: Shutterstock.com