The 50 States Project is a series of candid conversations with interior designers across the country about how they've built their businesses. This week, Santa Fe, New Mexico–based designer Lisa Samuel of Samuel Design Group tells us about elevating the regional aesthetic beyond kitsch, how she tunes into clients' unspoken needs, and how she poured her soul into her new rug collection.
What was your path into the design industry?
That's a loaded question. When I was growing up in Santa Fe, I had absolutely no idea what interior design was. I grew up in a really big family, and we had very few resources or opportunities for any education outside of our regular public school education, but I learned about architecture from encyclopedias and dictionaries, where I used to look at a lot of pictures, and I knew I loved it. The other layer on top of that is that I had a really hard childhood—it was sad and lonely. But I realized that if I could manipulate the space around me to make it something that I felt was beautiful, I knew that it nourished me and lifted me up out of some of my despair.
In school, there were no programs for interior design—or none that I had any idea about—except one day [walking] in downtown Santa Fe, I happened to notice this little interior design studio, and that was fascinating to me. I thought, "I've got to look into that more." Then I became a mother at age 17, which is not atypical for New Mexico teens.
That changes how you look at your future, I'd imagine.
It certainly does. I didn't have the opportunity to go to college or anything like that. By the time I was 19, I had another child, and to be very honest, I knew that my life was only going to become very stagnant or go downhill unless I did something really big and scary. I knew that I needed to leave New Mexico. So I applied for government grants at the public library, and I got one. So I sold all my belongings, including my car, and I moved to California with $900 in my pocket and a small little suitcase of our clothes. I got my high school equivalency, then I went into a course at a college to study architecture and construction—all as a single mother of two in a place where I didn't know anybody. It was a really hard time. I was just a kid with kids.
After a few years there, I came back to Santa Fe. I tried to work for architects, but nobody would hire me. In many pockets, New Mexico was—and is—still very patriarchal. Especially back then, in the early 1980s, because all of the companies were owned by men. They looked at women in the industry as very unwelcome, and they just don't value women. So I did lots of other things: I worked for mechanical and electrical engineers, learning about being a support to those kinds of companies. I worked for an interior designer for a couple years. I worked in a lighting store. Plus, I was raising children.
When my kids were grown up enough for me to actually go to college to get a degree in interior design, I did that, and I started my company at the same time that I started school. Now I've been in business for over 25 years, and I have a very successful business. Sometimes I pinch myself and say, "How did this happen?"
There's a lot of hard work and perseverance in your story.
My whole philosophy at the root of it all is that I want to share spaces that make people feel nourished. You know, the space surrounding anybody can either be nurturing or not, and so my mission is to make people feel good.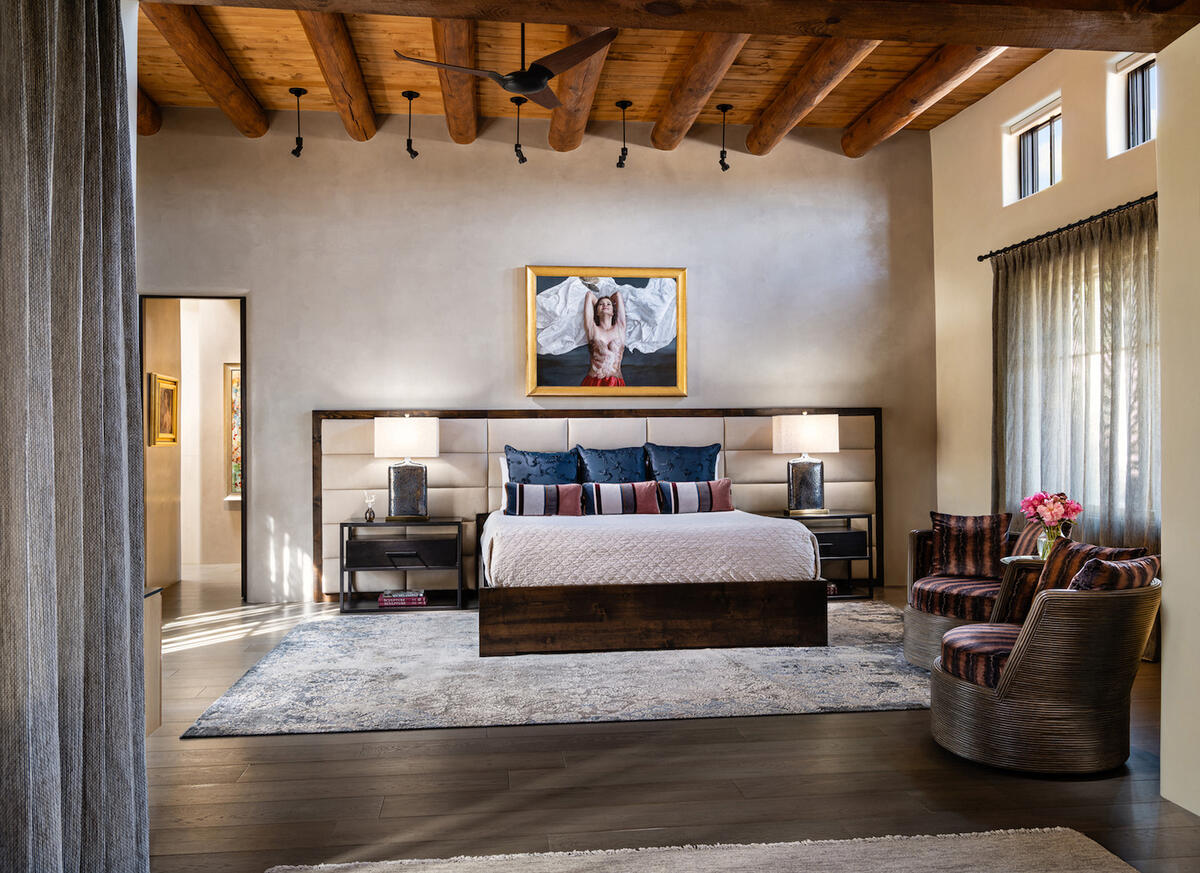 Wendy McEahern Photography
You said you went to college and started your business at the same time. What was the rationale there?
I had to earn money and I had to get that degree—it was so important to me. I know a lot of people that just hang a shingle, and I probably could have done it because I had enough of a background in so many areas. But it was important to me to get the education and to be able to say that I did that.
And the program I was in was definitely helpful. I felt like everything that I had learned before was validated by what I learned, and like I [brought] something to the other students because I had such a rich background. There were some students who said, "Oh, this isn't a good program—it's not as good as this school or that school." But I said, "You know what? It's really all about what you put into it." I'm probably the most successful graduate in my industry of that particular little community college.
When you started your firm, where did those early projects come from?
A lot of my clients came from contacts at my [previous] jobs—the painters and builders I knew from along the way would say, "Hey, I have a client, maybe you should take a look at this project." The projects were smaller, and a lot of them were very much in the Santa Fe style, which is a complete vernacular and not my favorite. We have a lot of very quirky buildings in Santa Fe—homes that started out as a one-room place where a family lived, and then they added on this room, and then years later they added on more rooms, which creates a lot of strange spaces. But I was really good at designing furniture that would function, look beautiful and fit in a weird space, and it was so much fun.
This is another layer that I need to tell you about, because it's really important: The way I work with people is also key. You can create a beautiful space, but if you're not a nice person doing it—if you're not kind to the painter, or to the guy who sweeps up the floor, or to the plumber, then I'm sorry, but why do you even do this? I believe that everything is energy, and when someone is working—you know how they say that a meal tastes better if someone prepares it with love? I feel like it's the same way with my work. If the tile setter is working, and I'm yelling at him to hurry up and just being an awful person, that energy goes right into the walls. I really think that everybody deserves respect and dignity, and when you approach a project that way—and everyone working on it, and your clients—then the results of the project at the end are going to be much better.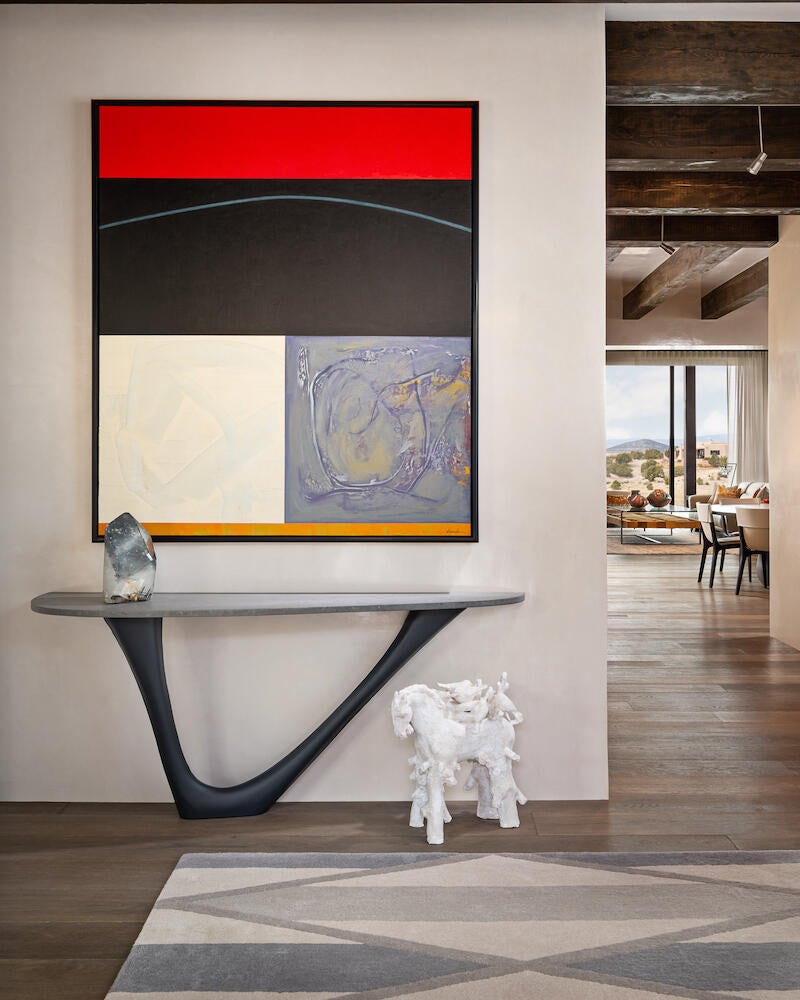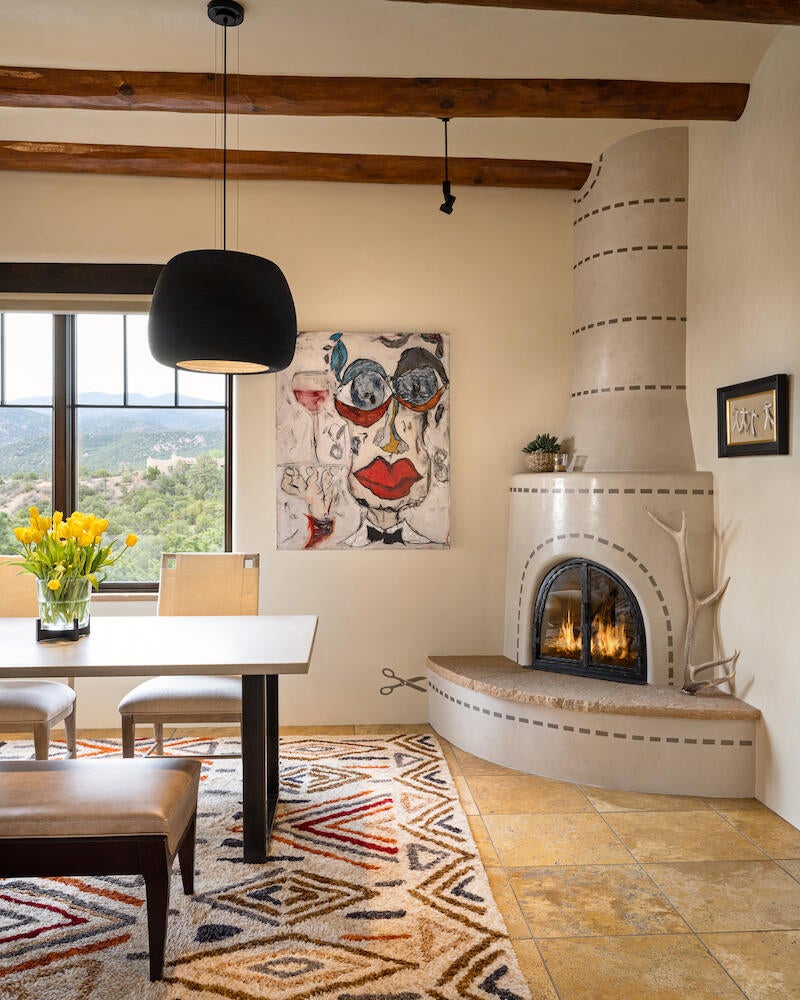 What does your business look like today?
It has fluctuated over the years. One of the things that I found myself repeating over and over was hiring young people just coming out of design school, and mentoring and training them. It's been exhausting but gratifying—and some of them appreciated it way more than others. But eventually I got really tired of running Samuel Design Group University. So now I have three designers—they're all really good—and we have transitioned the business so that everybody works remotely. It's a whole different setup, but it's working out really well and I'm loving it. My dog loves it, too, staying home with me!
How did that shift to remote work impact the size of your team?
We have eight on the team, working on about 20 projects at any given time, and our business [brings in] over $2 million a year.
Whether the team has been more people or less people has been very organic over the years. But right now, I'm a lot more clear about what I want personally in my life. I was a caretaker for 15 years while my [late] husband battled cancer. I have worked hard all my life, and I know that now my life needs to be focused on other things besides work. It has made me more particular about what clients I will take on and what clients I say no to—I want my life to be more simple and more easy, but I also want to do my very best at any job that I do, and I want my clients to feel that they are getting everything that they should be getting, and that I can service them in a way that is exceptional rather than par for the course.
What makes you say yes to a project now?
I have learned to trust my intuition. And it's never the size of the project. Some interior designers that I know here in Santa Fe are great designers, but they'll only take on projects that are a certain volume, or if there's a certain budget. But for me, it's more about: "Do I like these people? Can I help them? Can I stretch them? Can I make their place magical, and not just do an interior design job?" Anytime I've gone against my intuition, it has not been a great experience. Well, it's been a great experience in learning something, but sometimes those lessons are painful.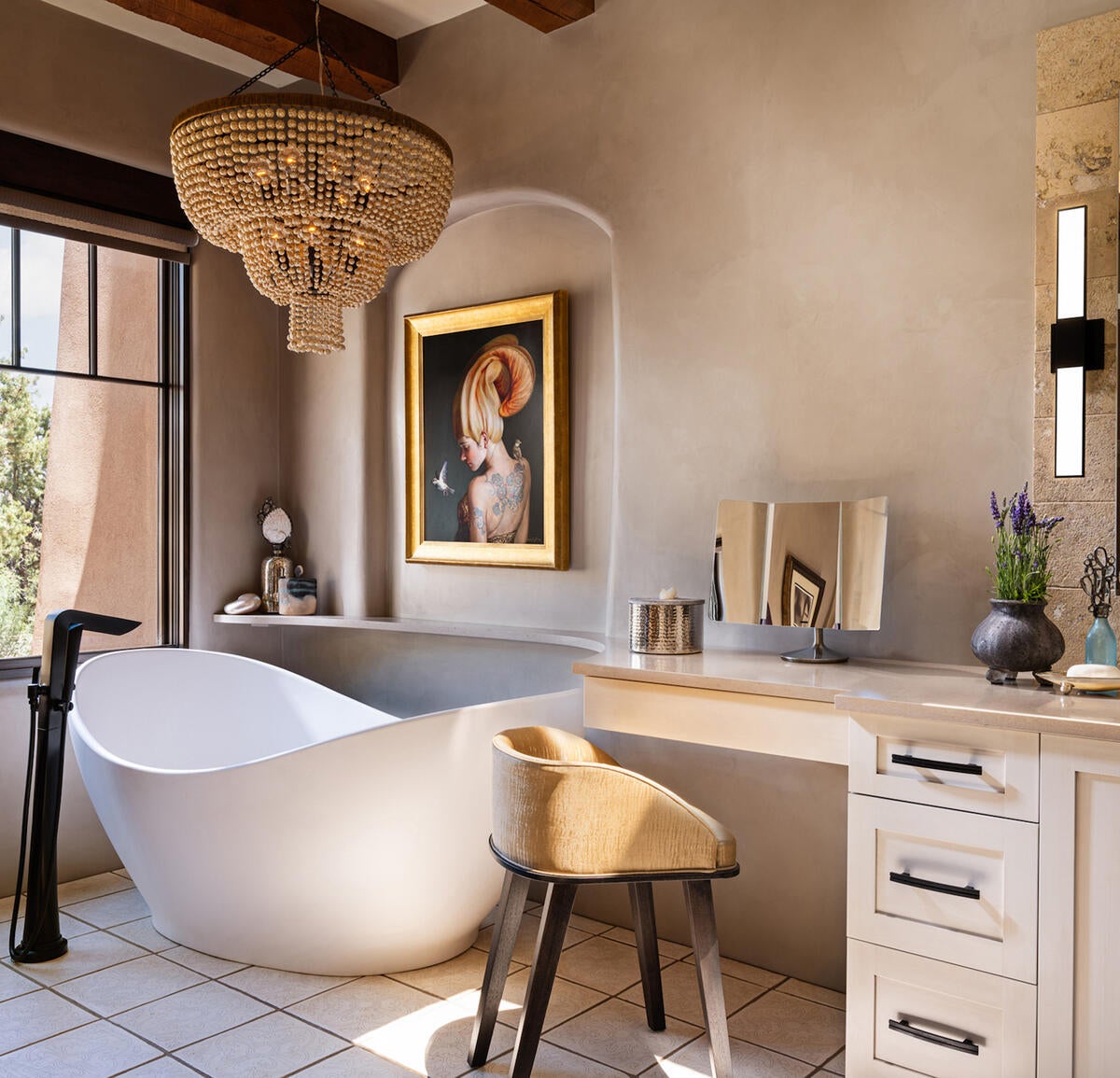 Wendy McEahern Photography
You mentioned those early jobs in that traditional Santa Fe style. What does it take to evolve away from that?
​​Le Corbusier said, "Space and light and order"—these are the things that men need just as much as a place to rest their head. That's always been my favorite quote, and that has been the foundation of how I want to evolve. I think that in the beginning, Santa Fe style was simple. But over the years, it got very kitschy and overdone. I don't like that because you need to rest in a space. If your eye is going crazy all the time, you can't rest. A simple, sophisticated and inviting space is always much more nourishing than something that's too fussy. And because I grew up here, I recognize when it is overdone.
So right when someone comes to me and says, "I want Santa Fe style," I have to have a serious conversation—playful, but serious—about how we might temper that a little bit, because it's something you can get tired of. If they have a guest room or a guesthouse, I tell them how we could sort of amp up that Santa Fe style in those spaces because that's what people come to Santa Fe for. But in the spaces that they live in, let's do it in an understated way so that you still have that sense of place and that heritage, but it's not overtaking everything. Otherwise, it's like putting too much salt on a beautiful dish. I also think texture is a really important element in evolving Santa Fe style, because when you look at the landscapes in New Mexico, that's really what is so special. You can bring that in in a way that is so powerful, but yet at the same time, so understated.
You mentioned wanting clients to feel nourished. How do you work with the client to create something that makes them feel that way?
One thing that's innately part of my being is that I can talk with someone and really understand what it is that they want. That's not only listening, it's observing everything: the way someone puts themselves together, the way they speak. It's the spoken, but it's also the unspoken. If you can tap into the unspoken, I think that you can get there.
There's always an element of stretching your clients, because if they always do the place themselves, then they're only going to get what they always got, right? If you're trying to solve a problem using the same techniques, you're always going to get the same answer. So I try to stretch people and sometimes that's a little bit uncomfortable, but there's no growth in the comfort zone, and there's no comfort in the growth zone. But you have to do that with finesse, you have to do it very gently. And you have to kind of hold their hand along the way and explain why you're doing something specific.
I worked on a second home for one client, and when the project was done, she called me and said, "Every time I come to Santa Fe, I walk through the house, look at every room, and I say to myself, 'Wow, this is me, only better.'" And that is my job.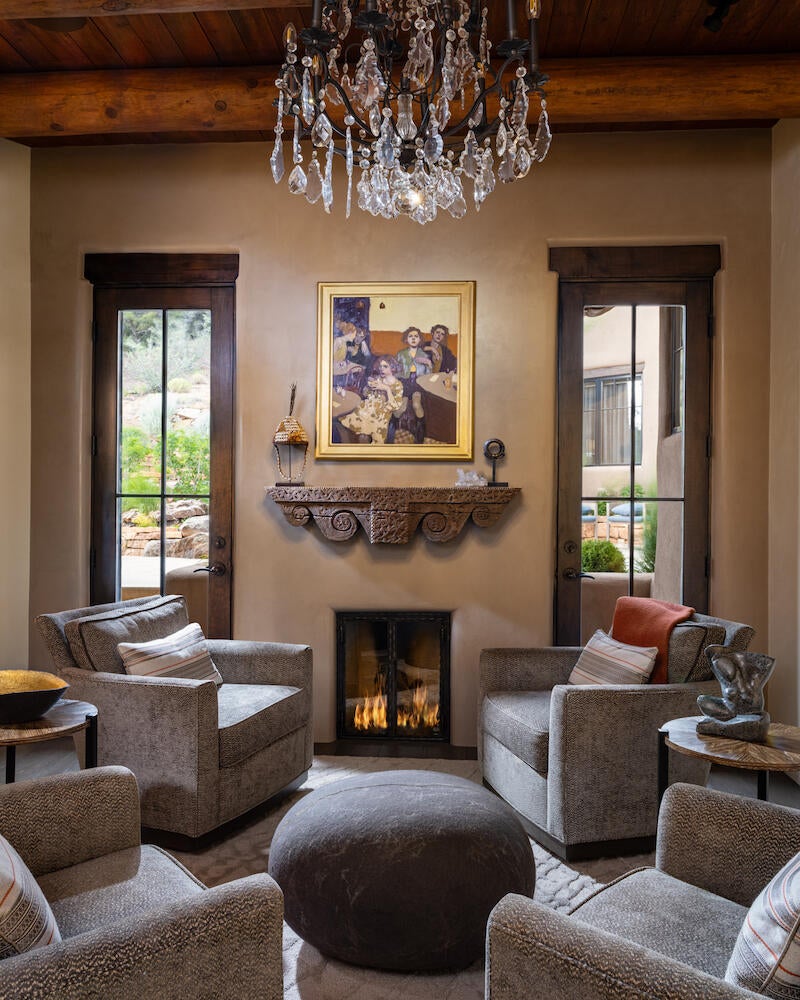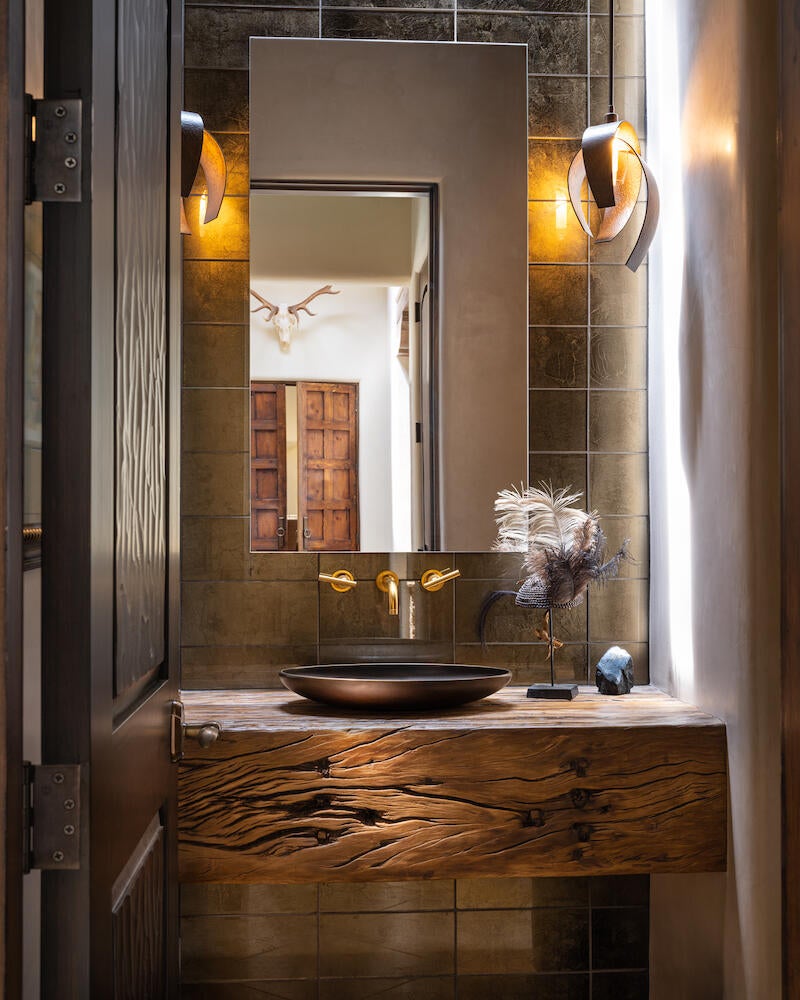 What is one thing you know now that you wish you had known when you started your business?
I don't have to say yes to every employee or every client about everything. I can say no. And that means a lot of things. It can mean, "No, we really can't do that fabric," or "No, we really can't do that color." And I'm not afraid. So learning how to not say yes to everything was what I know now.
We talk a lot about saying no to clients, but less often about saying no to employees. Can you tell me more about that?
I want to mentor anyone who works for me, and I want them to explore and have autonomy and gain confidence and make selections and suggestions. At the same time, I can't let the design get diluted if they choose something that's off—and for some reason, I always know when it's not the right thing. Maybe I know that it would be rejected by the client, or I know that the scale of the pattern is wrong. Or maybe it's [technically] right, but we could elevate it or amp it up by doing something unexpected.
It's important to be able to explain to a [staff] designer, "You know, I don't think that's the right choice." When I worked for another designer, she didn't want to teach me anything or share anything with me, and I promised myself that I would never be that person. So if I say no to something that a designer brings to me, I always follow it up with, "And here's why: I think that Mr. Smith isn't going to resonate with that for this reason, and I think that we could make it a lot more dynamic by doing X, Y, Z." I explain it to them. Now, is it always accepted graciously by the employee? No, because sometimes employees are very attached to a choice that they make. But I always say, "You know what? It's not about you, it's about the client, and it's about the project."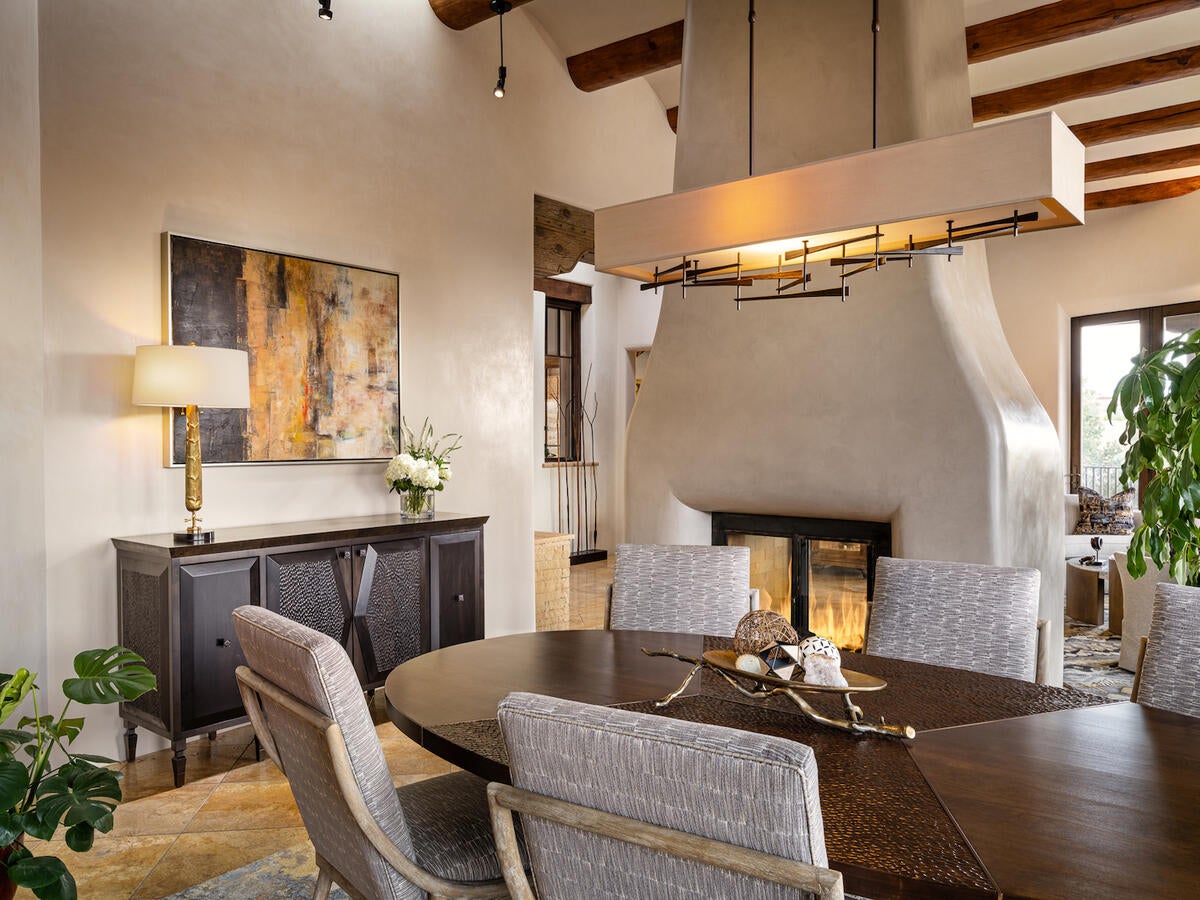 Wendy McEahern Photography
How have you approached billing for your work?
I did a flat fee for many years because I thought that was the sure way to get a project. But I learned a really hard lesson, in that it can get really sour for the company if the clients are difficult or not decisive. If something happens on a new construction site where the building is going to take a lot longer than you expect, that just drags the project out. So now I don't do flat fees. I charge hourly and charge a markup on furnishings.
How have you gotten comfortable talking to clients about what design costs?
It's always been a huge challenge, until maybe the last five years. I just say, "This is what it's going to be." And it's interesting because I used to think, "Oh, well, people are definitely going to say no," but they don't. They don't! If they perceive the value, they're not going to say no. And when someone says to me, "My budget is $100,000 to furnish a 5,000-square-foot house, and I want really high-quality everything," I have finally gotten to the point where I say, "I'm sorry, but that's not going to happen. Maybe we could do it with lower-quality pieces in the guest rooms, but that's not a big enough budget to do justice to this house."
What did it take for you to get comfortable saying, "Here's what it's going to cost, and here's what we can do for you"?
Having a supportive mentor and coach helped me realize what my value is. Very early in my business, I sought that out. Like I said, I had a hard childhood, so I knew I had some limitations generated by my thinking and my conditioning about myself. So I've always tried to get better in every way and help myself be a better person.
What does success look like for you?
I recently designed a collection of rugs that will launch next spring. It felt really good to me because it was really from my soul—it was really heartfelt and I didn't even realize it as I was doing it, but it really was all about my life's journey. And when I think of it, it just really makes me emotional. They wanted a modern Southwest collection. But because I am so averse to that sort of kitschiness, I wanted it to be anything other than that. I was very nervous about it, because the only thing that I could come up with was my history and experience here, so that's what all of the designs are based on. I hand-drew every single one of [the designs], and they were very well-received by the rug company.
Success looks like being able to add value and inspiration to people that I work with, and feeling the gratification in knowing that I've made someone feel really happy about their sanctuary. The other piece is supporting other people. I've provided a living for so many people [over the] years and that feels really good to me. And I guess the final thing is to continue to grow creatively. Then that means that I've been successful.
To learn more about Lisa Samuel, visit her website or find her on Instagram.