The first U.S. solo show of designer Wonmin Park will debut on January 24 at Carpenters Workshop Gallery in New York, and will run through April 14. Park's collection, known as Plain Cuts, features limited-edition patinated aluminum works, and first debuted in Europe late last year.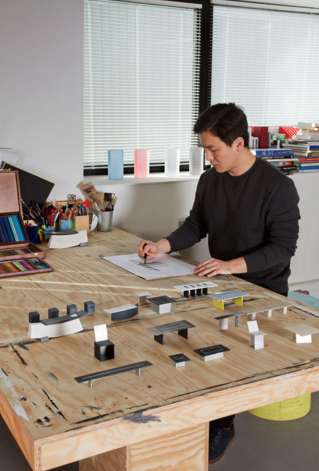 "In my designs, I want objects to speak for themselves. To be beautiful, attractive and engage with their surroundings. My work embraces simplicity, purity and subtlety," says Park.
The designer, who is originally from Seoul, South Korea, graduated from the Design Academy Eindhoven, in the Netherlands. He later founded his own studio in Eindhoven and a creative studio in Paris. His work can be found in collections including the Triennial Design Museum in Milan, and also the National Museum of Modern and Contemporary Art in Seoul. He is also known for his research on the resin process called haze.
This latest exhibit, says the gallery, spotlights "abstract geometry of construction and virtual lines," and launched last October, first at PAD London and then at Carpenters Workshop Gallery in Paris.
In an interview with the gallery, Park explains of his influences, "The idea of this new collection, Plain Cuts, is to provide a minimalist and drastic process based on the construction of aluminum sheets with patina technique. Structures are exposed to the surface and it becomes part of the work itself. Patina on aluminum is like painting on a canvas."
Park says of his materials, "I try to use the character of aluminum, which has its own color variation with patina and raw color itself, strength with lightweight and texture. I use these elements with a minimal form and structure, in order to maximize the quality."