Simon Hornby is CEO of Crozier, an art logistics company specializing in the care of fine art and decorative objects (clients include notable collectors, gallerists and museum registrars). He chatted with EAL about common errors in art care and what designers should know about the process.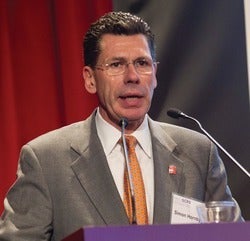 What are some of the most common mistakes when caring for fine art and decorative objects? The most common damage to collections occurs during the installation process and by not accounting for the long-term impact of the elements on collections once installed.  
A little investment in quality handling services and installation services will go a long way. We often see the use of inappropriate installation hardware that will not properly function due to the nature of the wall construction or weight of the work, leading to an eventual failure, which damages the work when gravity takes over. Companies such as Crozier put our art handlers through a rigorous training program before ever handling a client's collection, and provide expert supervision that inevitably comes at a higher cost, but is essential for the majority of collections to avoid instances like these.  
Once installed, exposure to environmental changes is one of the most commonly found causes of damage. During the winter months, the relative humidity in apartments and offices is far too low for many framed works, and objects are subject to movement with the changing humidity level, which is compounded by the fact that most heating systems do not introduce moisture. On the other end of the spectrum, installing art in bathrooms will likely be subject to high levels of humidity. This humidity will stress the work with a constantly changing environment.
Curiously, photography is often placed in bathrooms, and the humidity levels here will crack the emulsion and lead to separation. Similarly, a lack of UV protection on windows will cause massive discoloration for many artworks and furniture, often to an extent that the damage cannot be reversed. There are simple films that can be applied to windowpanes, or in the case of renovations, replacement windows can have UV protection built in. The same applies to the selection of lighting systems; either using non-UV bulbs or sleeve protections will do a world of good.
What should designers know about Crozier's services? 
Crozier offers comprehensive care and logistics services for fine art and decorative objects—this can range from transportation to project management, care, inventory management, and even disaster response. Behind all of these services are our team of art handlers, the majority of which are artists themselves, who represent decades of training experience.
As a New York company, our facilities include locations close where many interior designers have their clients: Manhattan, Williamsburg, the Hamptons, Fairfield County and northern New Jersey. We network these facilities so that a client could, for example, smoothly transition a piece from a loft in Williamsburg to a Hamptons beach house seasonally, with minimal client involvement.
When beginning a project, we work collaboratively with designers, and where appropriate, architects, structural engineers, etc., to plan and execute an installation. Time invested up front through meticulous planning will avoid later complications, cost overruns, client displeasure, and worst of all, collection damages. This often includes participation in site inspections, planning meetings, detailed operational plans and estimates. By having our team on-site from the beginning, we can assess the space and identify any potential issues before they arise and then perform the actual move as efficiently as possible. 
How do you work with designers? Are there particular services that are popular with designers? 
Our project managers become members of the designer's team, fully supporting the style of working in a collaborative way while staying mindful that our role is to service the designer and their mission without interceding in their client relationship. One focus is ensuring that a design is incorporated throughout the entire project—such that a designer fully understands the restrictions that the space may impose on art and furniture selection or, conversely, that the nature of art work may require additional modifications not originally anticipated in the design.
For example, while a painting may fit on a wall, it may not fit through the doorframe. Similarly, while the dimensions of a sculpture may fit within a room, its weight may require reinforced flooring to support it. To help a designer visualize and re-create their plans, we will photograph and document a collection with markings for scale, which then also enables our team to install in the most efficient time possible.
All of our services are coordinated and performed in-house, including deploying different specialist teams for packing, rigging, inventory management, conditions reports, staging mock-ups, transportation (locally, nationally and internationally), workflow sequencing, vendor relationships, and of course, our dedicated project managers with extensive hands-on experience.