Protesting their employer's deal to furnish the migrant detention camps along the southern border, dozens of Wayfair employees walked out of the office at 1:30 p.m. on Wednesday, taking to Boston's Copley Square in a show of moral solidarity.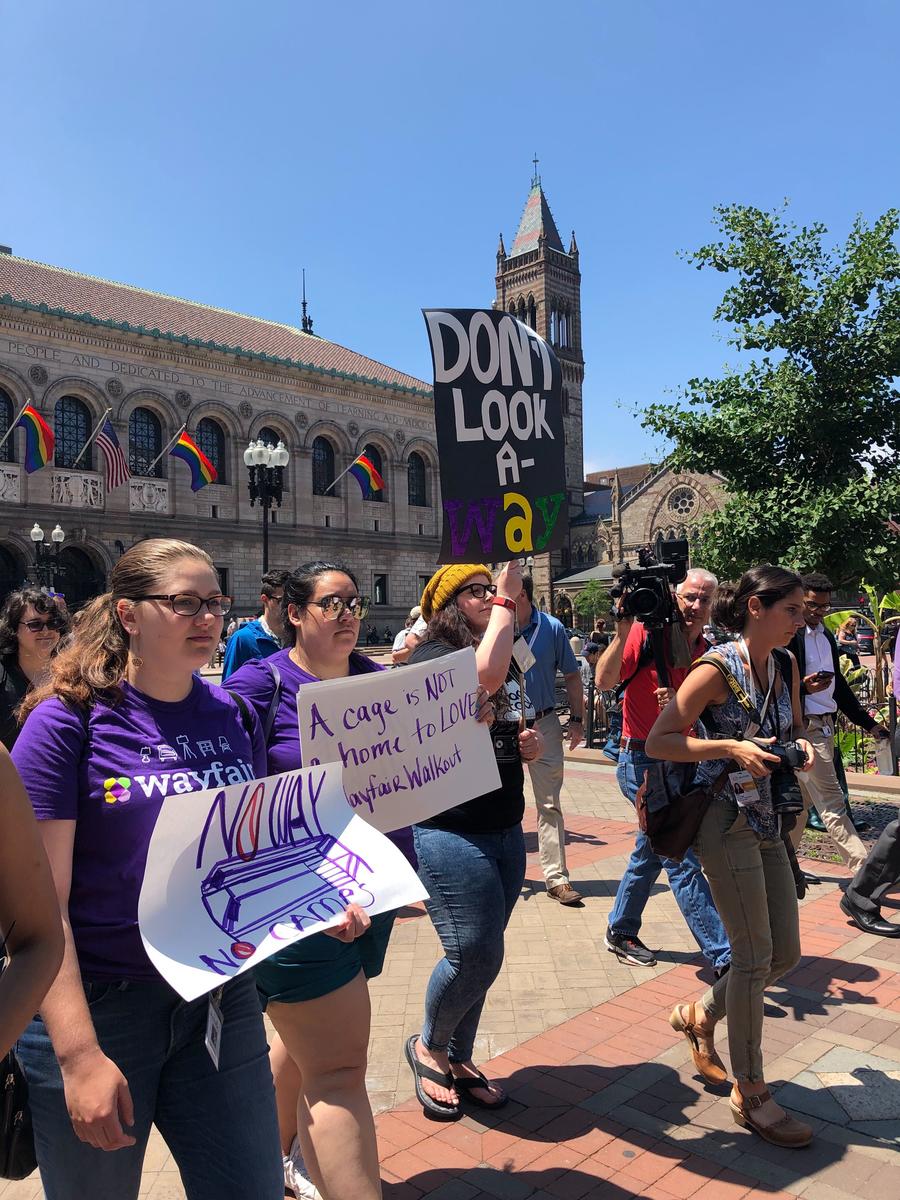 Tensions over the business deal had been building over the weekend and, according to Wayfair employee Madeline Howard, the mood in the office on Wednesday was "tense and empty."
"A lot of people worked from home to avoid thinking about it or having to do it," she told Business of Home.
Right on time, the Wayfair staffers streamed from their Prudential Center headquarters to applause—and some jeers. ("Build the wall!" one passerby shouted.) But the unfazed employees were soon met by throngs of cheering protesters, music, and a media frenzy once they reached Copley Square.
"This came together really fast," said Tom Brown, 33-year-old engineer at Wayfair. "We weren't expecting all this, but we know what we believe, and we want to do what's right."
Wayfair's troubles started at the end of last week when hundreds of employees signed a petition asking the company to halt the sale of furniture to the nonprofit BCFS, a government contractor formerly known as Baptist Child & Family Services that manages several detention camps on the U.S.–Mexico border. Wayfair refused. According to a CNBC report, a leaked receipt details a June 13 sale of about 1,600 mattresses and 100 bunk beds, totaling more than $200,000, which were destined for an emergency influx shelter to house unaccompanied children in Carrizo Springs, Texas.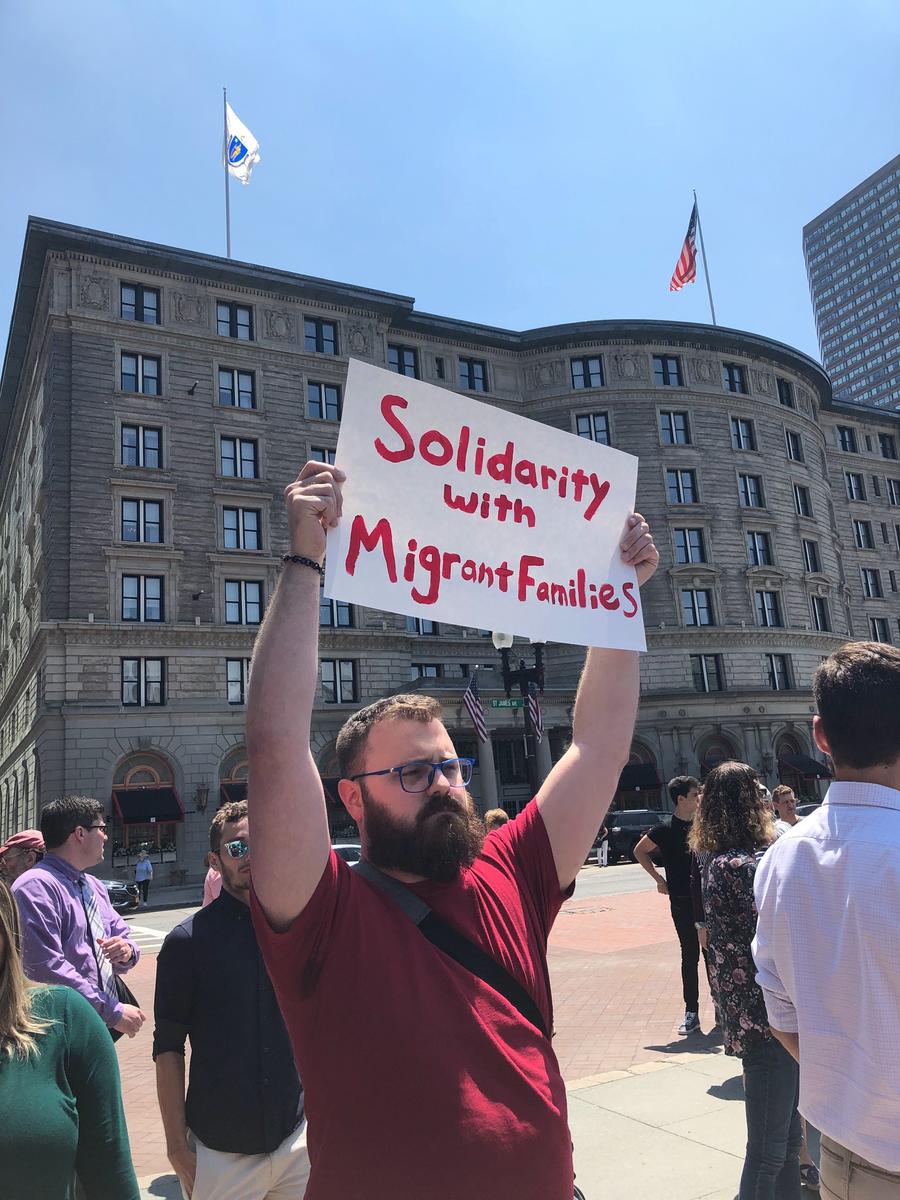 By Tuesday morning, the Twitter account @wayfairwalkout had published an employee-authored letter to Wayfair's executive team requesting a cease-and-desist of current and future business with BCFS. The letter also stipulated that Wayfair donate all profits from the sale to RAICES, a legal nonprofit supporting asylum seekers, and establish a code of ethics going forward for the company's business-to-business sales.

"We found out last week about the sale and we weren't comfortable with it. Somebody in the company showed us the order with BCFS," Brown told BOH during the walkout. "We're engaged people and when we see an injustice like this, we're going to do something about it."
Brown said that after employees learned about the deal with BCFS, employees took to Slack and started organizing right away. "We're not trying to come out here and unilaterally demand anything," he said, "but we want to start this conversation. We want to figure it out together."
Support for the walkout was widespread, including from Massachusetts senator and presidential candidate Elizabeth Warren and New York representative Alexandria Ocasio-Cortez.
Wayfair employees were both shocked and surprised by the number of citizens who showed up. "This is so cool," said a breathless Brown, who paused mid-interview to soak in what was happening.
"I've worked at Wayfair for six or seven years, and this is the first time I've felt like I needed to hit the streets to make sure I'm proud of my company," said Howard, utilizing a megaphone to reach the amassed crowd. "Everyone deserves a home they love."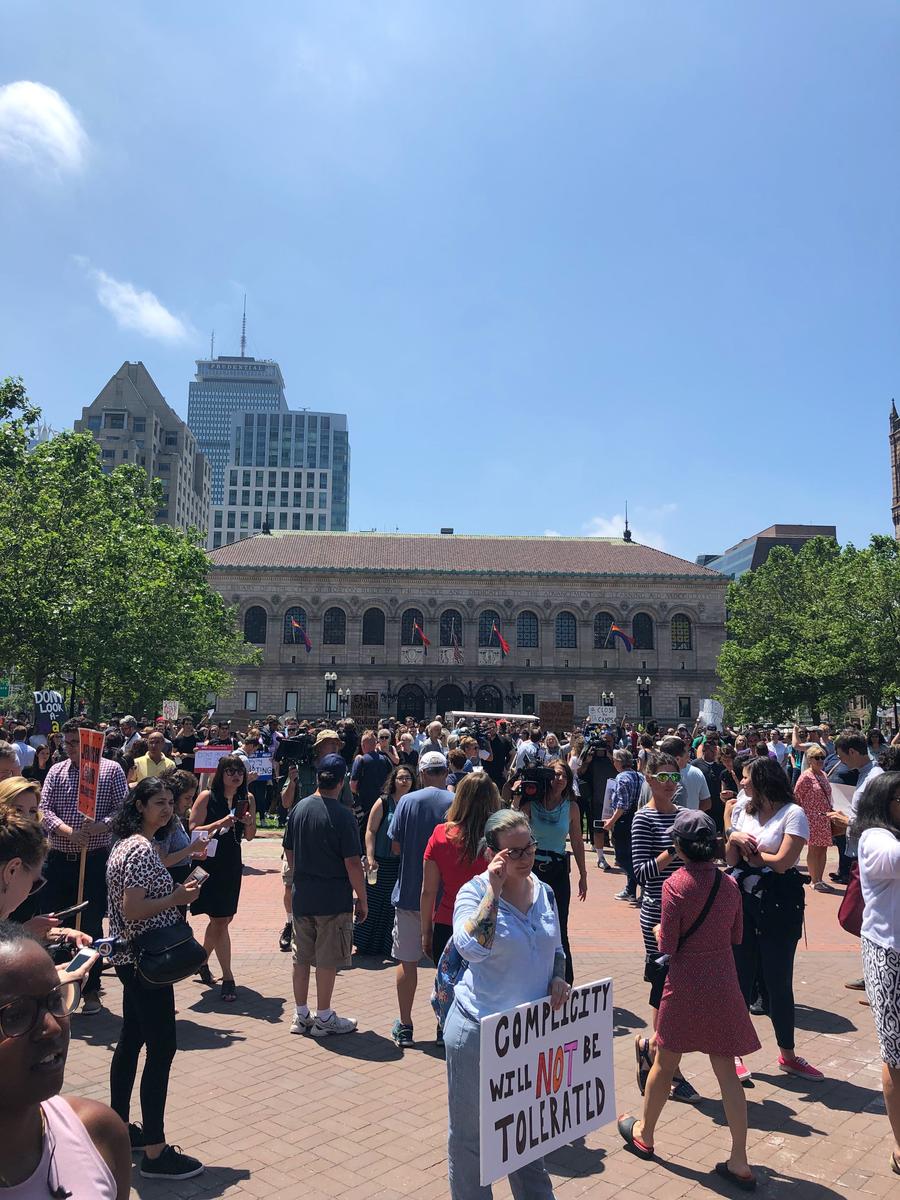 Following the employee backlash, Wayfair agreed late Wednesday afternoon to donate profits from the sale to the Red Cross. But for many employees, the gesture wasn't enough to stem their frustration. "@Wayfair stated in an email today that they will be making a donation of $100k to the @RedCross," posted the Twitter account of the walkout organizers. "This is great news! And proof that Wayfair can & does do good. However, the Red Cross has nothing to do with these ICE-operated facilities."
"It's not what we asked for," said Howard.
"We at Wayfair are always looking for the best and the brightest, and those people care the most," Brown told the crowds. "There's injustice in this world and we're going to do something about it."
Homepage photo: @wayfairwalkout