The Creatives, three collections of furniture and textiles designed by pros whose primary careers are not in design, are now available for purchase at Bernhardt Design. Designed by actor Terry Crews, Airbnb co-founder Joe Gebbia and musician Tift Merritt, the collections draw influence from a number of sources: ancient Egypt, a personal textile collection and a building block.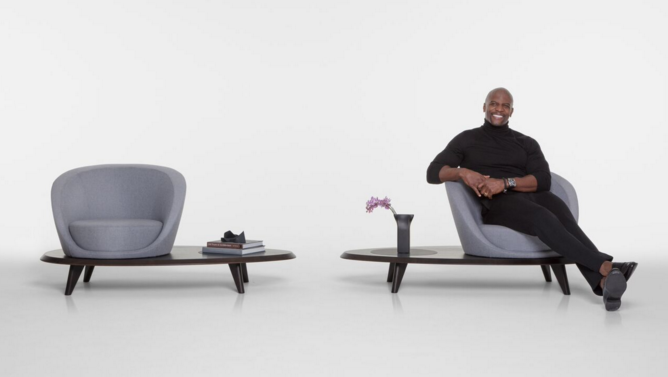 Jerry Helling, president and creative director of Bernhardt Design says, "For many years, I have been fortunate to work with the most talented people, regardless of their primary creative discipline, which has included photography, fashion, graphics, set design and art. A mix of passion, commitment and a love for creating is more important to me than a design résumé. These designers don't come to the table with preconceived notions of how it should be done or what isn't possible."
Design and art have long been a passion of Crews's. He grew up drawing and had dreams of becoming a graphic designer, but received a football college scholarship and eventually became an NFL player, then a successful actor.
His collection for Bernhardt is inspired by ancient Egypt. "When I began my collection, I was very aware of the significant influence of many modern contemporary designers like Le Corbusier, [Eero] Saarinen, [Paul] McCobb, Charles and Ray Eames, etcetera," says Crews. "My mind really started to expand when I began to explore fantasy elements of other cultures. Once again, I began asking questions: 'What if Genghis Khan and Mongolian culture were still the dominant world empire?' Greater still, 'What if the empires of ancient Egypt still ruled today?'"
"The Ibis sofa is my vision of a modern design that would reside comfortably in an ancient Egyptian palace," he says, while "the Float tables and Aire benches allude to the smooth rocks and pebbles along the shore of the Nile. I had visions of water flowing over these rocks and the soothing, ambient sound it would make. The table and bench shapes are irregular and organic, because I wanted them to appear as if they had been shaped over thousands of years."
"Lilypad represents exactly what its name suggests. The floating leaf of the water lily is culminated by a blooming lotus flower. The Egyptian sky god Horus was often depicted in ancient art sitting on the Egyptian blue water lily. This image inspired the unique combination of an oval table, with a beautiful chair, which appears to be a blossom rising above the table."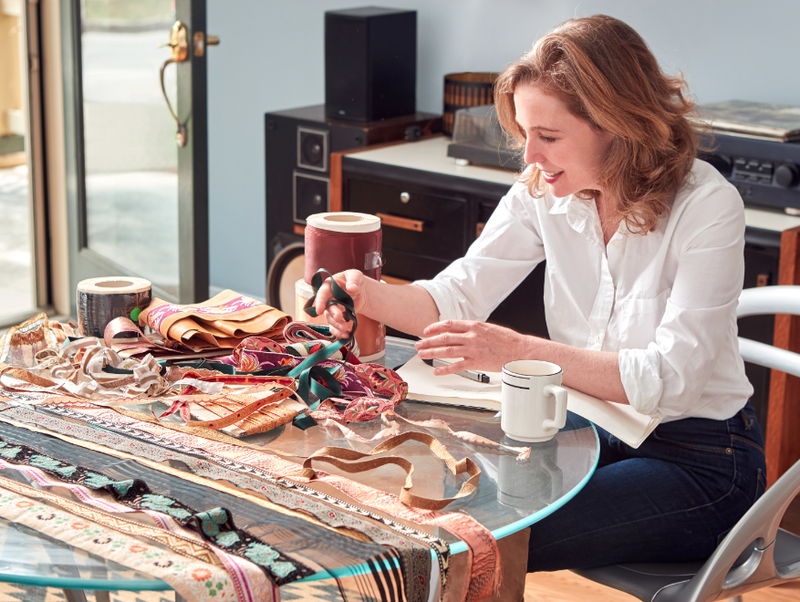 Grammy-nominated singer-songwriter Merritt drew her inspiration for her six-design, 51-colorway collection of striped textiles from a collection of textiles she culled the world over during her time on the road as a musician.
"As a devotee of craftsmanship and the human hand, I wanted to do this the old-fashioned way rather than trying to re-create the special feeling of materials using a computer," she says. "I went to work at a Xerox machine with a huge box of colored coils. I poured a jar of red vintage buttons on the glass. I concentrated on inverting, subverting, reversing, and trying to determine scale and repeat sizes. Placing ribbon next to ribbon, I played with chunky and smooth textures and experimented with the supple shadows of folded leather. It was important to give voice to the seams, the knots, and to amplify the spatial difference in a velvet-and-lace stripe. This experience seemed so familiar to me, because this time I was writing a visual song."
Of working with raw materials, Merritt says: "There is a particular kind of happiness one feels ... creating something that transcends the nature of each individual material. I hope these fabrics speak to the pleasure of this rich process, the feeling of being a thread in a thread."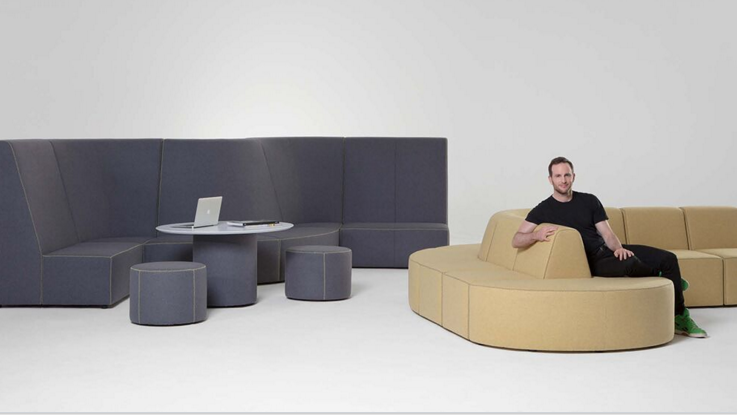 Airbnb co-founder Gebbia was inspired by his startup office's moves and the difficulty he and his staff had while transitioning and adapting their furniture. He has a background in design: An industrial design graduate of Rhode Island School of Design, Gebbia was selected for the Designboom Market at the ICFF with a product he designed called CritBuns, back in 2007. For this collaboration, he used the idea of building blocks to achieve adaptable, transitional office furniture.
Helling says, "Joe's idea of using two simple building blocks to create an entire community of flexible products was ingenious. The beauty of the line is that it can be easily and instantly adaptable by the people using it, rather than relying on an installation team to reconfigure a workspace. I appreciate the utility of the product and its unassuming form, but for me, the unique zigzag stitching on each piece makes it incredibly special and elevates the entire offering."