Ian Love used a massive flamethrower to char the roots of a tree. Then he wired a lightbulb through the center of the trunk and roots—managing not to shock himself—and in the end, he had created a one-of-a-kind chandelier. "I didn't set out to get into design at all—it just kind of happened," he says of his eponymous New York–based design company.
He wasn't always a designer, though. He began his career as a musician, touring with alternative rock bands and then producing music for TV commercials. Then, six years ago, music took a backseat when he became the caretaker for his mother, who was dying of cancer. One day, he decided to make a wood bench with his daughter as a bonding activity. Although she soon grew bored, Love found that the creative process offered relief from the anxieties of caregiving.
"It opened up a creative aspect of my brain that I didn't realize was there," Love tells Business of Home. He purchased a chainsaw and found an arborist who offered him access to acres of fallen trees about 20 minutes from his second home on Long Island. Drawing inspiration from the shapes of the original logs, Love began hand-carving one-of-a-kind headboards, benches, stools, coffee tables, sculptures and lighting. The experience was transformative: "I didn't realize you could make things out of something you didn't buy from Home Depot—I just had no idea," he says.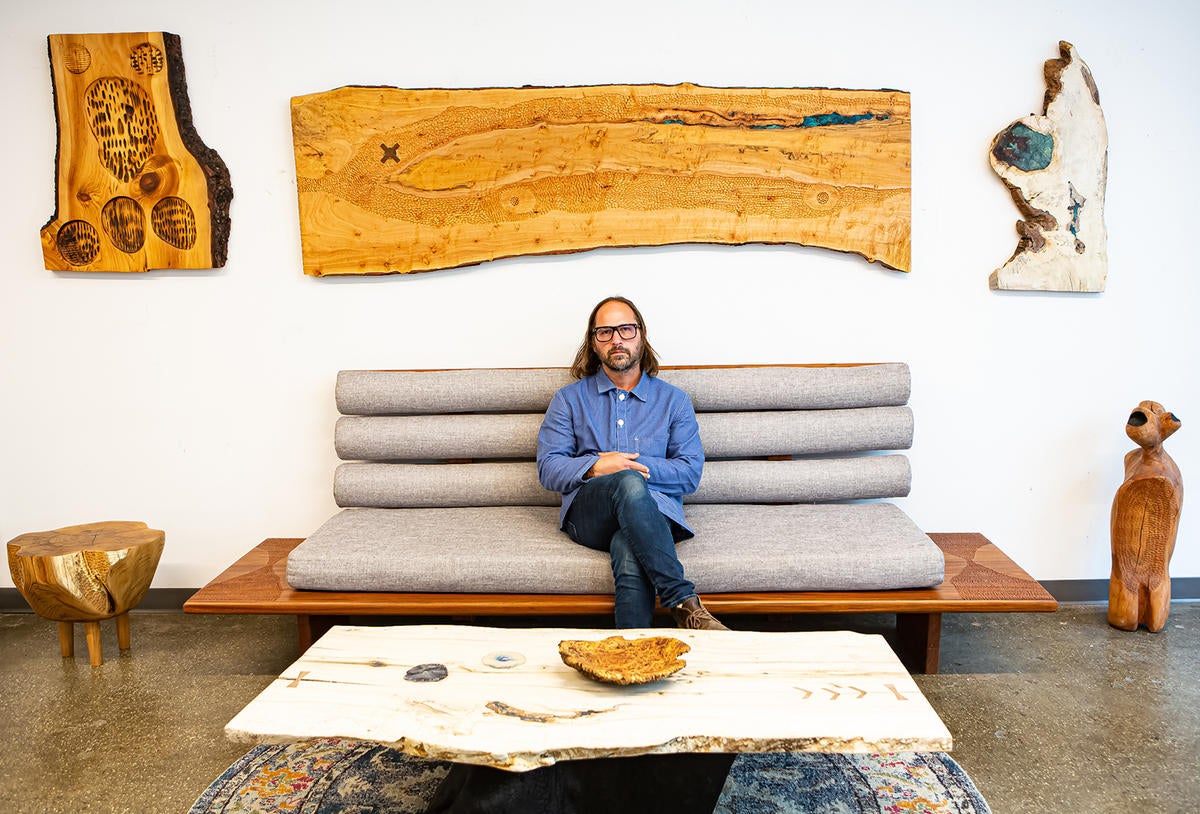 Love's pieces rarely start with a plan. As an entirely self-taught maker, he takes a more freeform approach and embraces any mistakes along the way. "I'm a high school dropout, so I clearly am not good at being taught things in a traditional way," he says. Yet he continued to invest in new tools, space and trade shows, and expanded into new materials like concrete, resin, stone, and dehydrated mosses and flowers.
In 2019, Love took a big step and opened a showroom in the Makers Guild in Brooklyn's Industry City. However, he says that didn't make him an instant insider. "I still don't know much about the business and the industry, so when people ask me what my new collection is, I don't really know—I guess my collection is the last thing I just made," he jokes.
His main collection, called The Singular Tree, is a series of items carved from the same tree. "The idea is to get everything I can from that one tree and use every aspect from it so there's pretty much no waste," he says. Typically, each tree results in a collection of about 20 pieces.
The designs are sold through his website and online wholesale marketplaces InCollect and Field + Supply. Otherwise, the majority of Love's business is commission-based. A year and a half ago, architecture firm Gensler found him through a word-of-mouth referral and ordered a 16-foot hanging sculpture for an office inside One World Trade Center. That commission led Love to his largest project to date: a 27-foot reception desk and 18 furniture pieces for the new Amazon Music office in Williamsburg, Brooklyn.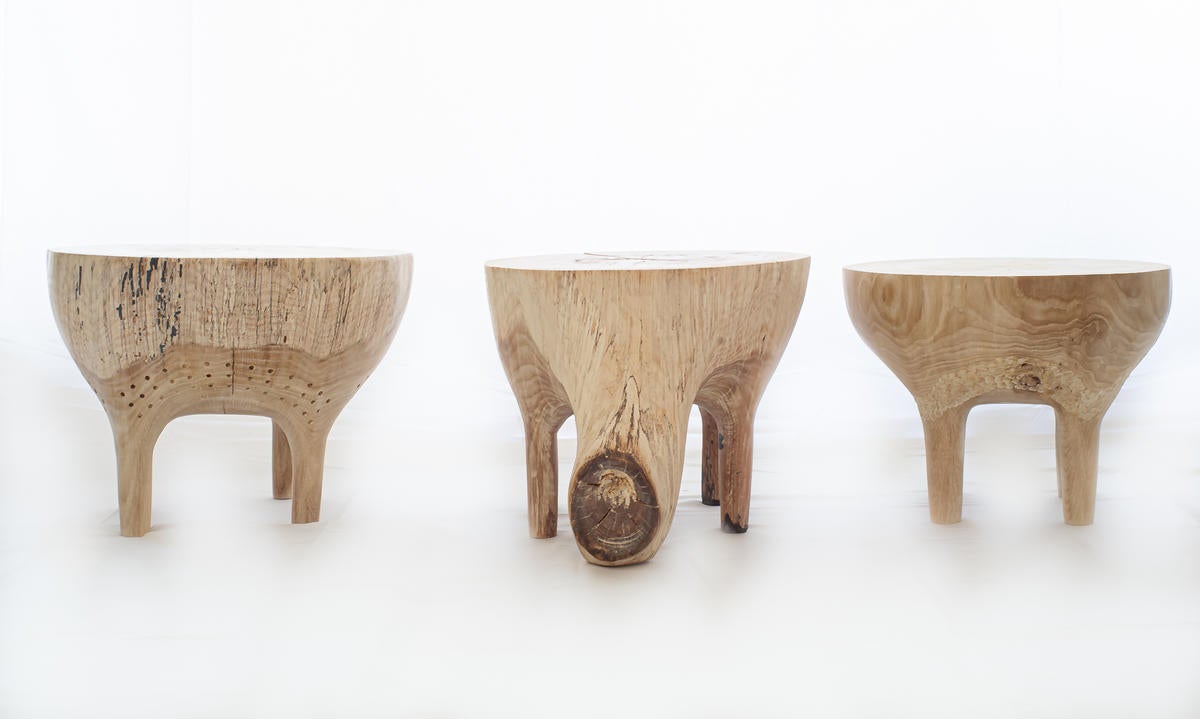 The large-scale project has presented new challenges. The elevator in the building is only 10 feet wide, so he has to build the desk in multiple pieces and then assemble it on-site. "The desk is so big I couldn't build it at my house—I had to rent this big garage to build it in," says Love. He expects to install it early this month and then deliver the rest of the furniture soon after.
With each new commission, Love is gaining confidence in his business. "The last six months or so is the first time so far [when I've felt] like, Oh, this is it," he says. "For someone who doesn't know what they're doing so much and is new at it, this Amazon Music job is really big." He's excited to grow his brand by continuing to make distinct pieces and build relationships with designers, architects and clients.
"I've invested everything I have in this," says Love. "I'm all in."
Homepage image: A living room vignette styled with Love's pieces | Courtesy of Ian Love