Hurricane Harvey began its path of destruction on August 25 and has continued to flood and inflict major damage across areas of Texas. A number of home furnishings and design businesses are rallying resources, funds and support on behalf of the storm's victims.
Jim "Mattress Mack" McIngvale, owner of GALLERY FURNITURE, located just outside of Houston, has turned his 160,000-square-foot showroom into a refuge for more than 300 hurricane evacuees. The showroom is now listed as an official shelter location, providing essentials to those in need as soon as they enter the store.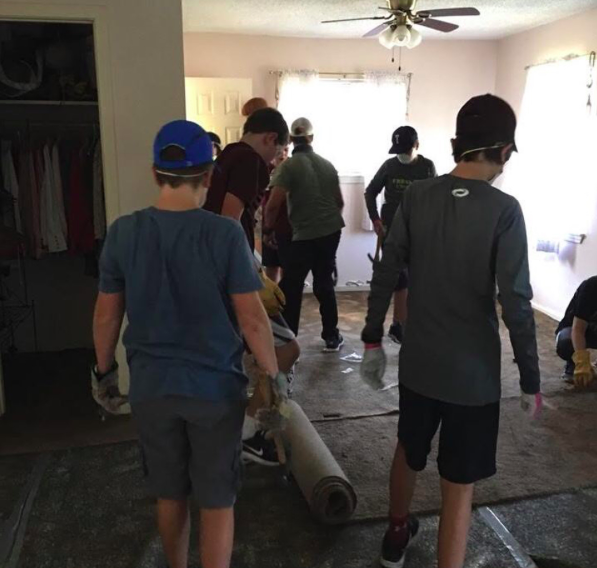 Starting today, McIngvale is partnering with construction company REBUILD-TX and INVITING VOLUNTEERS to help in the restoration efforts. The initiative is one of many underway in the industry serving victims of Hurricane Harvey. Read on to learn about other home brands establishing relief programs and how designers can help:
The National Kitchen + Bath Association (NKBA) announced a fundraising effort to support its member businesses that have been affected by the storm. Its goal is to raise $1 million, and the organization will match up to $500,000 in donations.
"The NKBA knows how devastating the effects of this record-breaking disaster will be for many of our members, and we are proud to be able to help them offset some of the costs of getting back to business," says Bill Darcy, chief executive officer of NKBA. "We encourage all our members to contribute in this unprecedented time of need."
The money will go directly to the members who need help restarting their businesses, and if there are any funds that go unused, NKBA will distribute them to general relief agencies. Donations will be anonymous and can be made HERE.
Mattress Firm, a national mattress retailer based in Houston for more than 30 years, announced it would be donating $1 million to the hurricane relief efforts, reported FURNITURE TODAY. Ken Murphy, the company's CEO, also announced that a percentage of purchases from the company's stores received through today would be put toward another $1 million worth of pillows, blankets and mattresses to be given to people affected by the storm. Stores are also able to accept monetary donations that will go to the American Red Cross relief efforts, and the Dallas–Fort Worth location is also able to accept supplies.
FURNITURE TODAY also reported that Exclusive Furniture, another Texas-based furniture company, announced a Kids Sleep Free Program to provide 750 to 1,000 twin mattresses to kids and families affected by the storm. CEO Sam Zavary set up a YOUCARING PAGE to accept donations. Zavary has also been checking in with his employees and six area stores to assess damage and determine how they will move forward.
Late last month, the Dallas Market Center announced the launch of DMC Cares, a two-part disaster relief program. In the immediate stage, DMC will host a collection station in the World Trade Center, asking for toiletries and clothing that will be donated to shelters in the affected areas.
"This catastrophe is unprecedented, but I am confident that the supportive spirit we create and the actions we are taking together will help our neighbors today and tomorrow," said Cindy Morris, president and CEO of Dallas Market Center. "We call upon our industry to unite and to support DMC Cares in whatever way possible."
In the second, long-term segment of DMC Cares, the Center will be accepting home decor and lighting products from exhibitors to help support the rebuilding efforts. More information regarding shipping and drop-off of donations can be found on the DMC's website. The DMC will also be offering special travel assistance packages for trade professionals in the affected areas to attend upcoming DMC events.
Following 2012's Hurricane Sandy, Airbnb established its Disaster Response Program, designed to provide emergency accommodations for relief workers and neighbors in need. When disaster strikes, Airbnb alerts nearby hosts and waves all booking fees for those willing to open their rentals for free.
Magnolia Market, the retail venture of HGTV's Fixer Upper stars Chip and Joanna Gaines, announced on INSTAGRAM that 100 percent of the proceeds from sales of the brand's 'TEXAS FOREVER' SHIRTS bought now through the end of September will go toward supporting relief efforts.