The premium qualities of Benjamin Moore products make them the must-specify paint for all sectors of the design trade. With more than 3,500 shades—the "why" behind the brand—and formulas that address everything from humidity and sustainability to wear and tear, the company has a paint for every purpose and place. By creating its own colorants and resins (the binders that determine film and finish), Benjamin Moore is able to consistently deliver a level of richness, depth and durability that ensure the colors you love will last for years to come.
Building an impeccable industry reputation since its founding in Brooklyn in 1883, the brand is now available in more than 72 countries, making it the gold standard for industry professionals around the globe. Its expert representatives and vendors support designers and architects at every stage: consulting on color, recommending products and helping refine specs for residential, commercial and industrial projects. That's why designers demand Benjamin Moore paints—they know the exclusive compositions can't be matched.
paints for all projects
"There can be a disconnect between what's proposed in the plans and the type of product the project needs. A lot of designers have schedule templates that specify 'Wall sheen: Eggshell.' But I can't trust a default finish if I don't know the paint brand and formula first. Benjamin Moore's Regal Select is my company's default when estimating on projects. I'm familiar with the quality and consistency in color and finish, meaning there will be continuity from what's first written down to what ends up on the walls. Of course, designers we work with regularly already know we prefer Benjamin Moore—that's one benefit of having long-term professional relationships. In addition to Regal for interiors, we use Command because it resists cracking and peeling on industrial surfaces like metal and vinyl. And for moldings and millwork, we choose Advance: It brushes out well, which is an important but uncommon quality in a trim paint. If a client has young kids or a big, slobbery dog, I'm using Scuff-X, which stands up to stains and scratches. For commercial projects, Ultra Spec is great since it dries so quickly. At the beginning of my career, when I was painting houses that were just about to go on the market, it was my go-to for prelist, quick-flip work." —Jessica Rowland, founder, CEO and painter, Rowland Paint, Minneapolis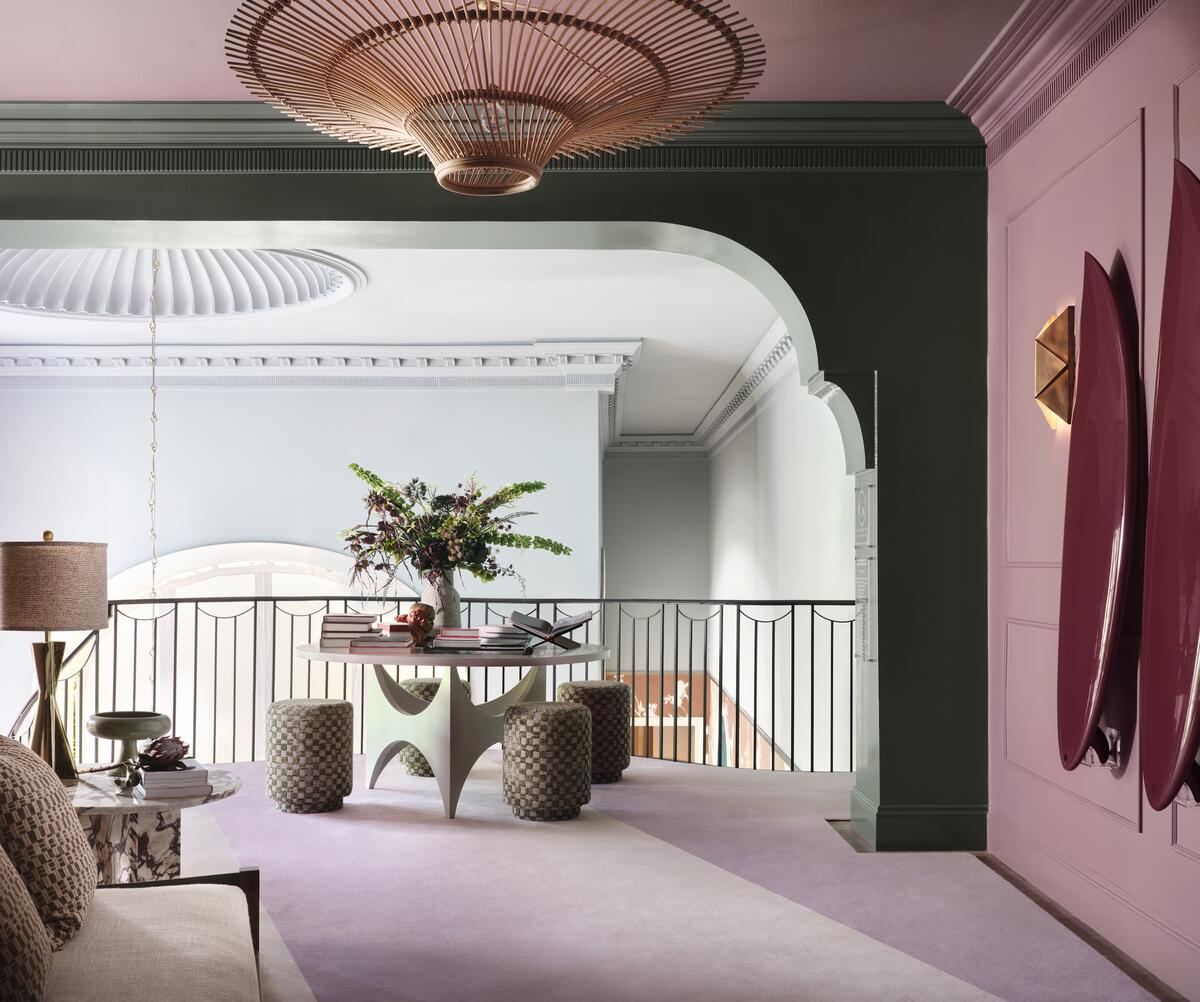 Photography by Lisa Petrole
coverage where it counts
"For interiors, I use Aura. First, because it covers nicely. Sometimes even white paints can be problematic; they'll look like primer if you don't use a high-quality formula, and even after two or three coats, you can still see the sheetrock underneath. The other reason I always choose Aura is drying time. We're often on tight schedules, and the painters have to finish before the furniture and appliances can come in. Quick drying keeps things on track." —Christina Kim, creative director, Christina Kim Interior Design, Manasquan, New Jersey
taking the heat
"Living in a historic neighborhood, I've found that older homes can be at risk for mildew, which is why I use Aura matte on walls: It's mildew-resistant, there's no rub-off and the color doesn't fade. Even in the Florida heat and humidity, it stands the test of time. Plus, it's paint and primer together—that's a sweet combination. You don't have to apply a primer even if you're painting over a dark wall, so you use fewer coats in less time." —Fitz Pullins, stylist and interior designer, Fitz Pullins Interiors, Jacksonville, Florida
mad for matte
"Most people told me it would be too much, but I painted everything in my house, all the trim and walls, in Aura matte. It's so rich. It's almost like a pool of color. There's just something about it. My kitchen has Whitewater Bay matte walls and I use it day in, day out, and can wipe it down with a paper towel and some water. I wouldn't necessarily recommend matte on trims for high-traffic areas in client homes, but in my own life, I'm not that precious." —Dane Pressner, director of design, D'Aquino Monaco, New York
beautiful bathrooms
"Paint isn't just about color. It's not just facilitating the design. It's providing a service in two parts: by sitting well on top of what's already there, provided the prep work is done; and by performing over time as the top protective coat. With Aura matte, it's easy to clean and doesn't take the oils out of your hand when you touch the wall. It looks soft instead of glossy. We use Aura Bath & Spa to extend this effect to high-humidity rooms. When I consult with designers or clients, I let them know that with Benjamin Moore, we can do a matte throughout." —Rowland
Photography by Brett Beyer
the artist's medium
"If a color for a project has been specified from another brand, we'll have it custom-made by Benjamin Moore instead because we know we can count on the quality. We use Aura and Regal, though not in the traditional sense, but by turning it into a glaze or varnish and applying it in lots of different layers in a highly decorative way. Twenty years ago, you'd have to paint a red wall 20 times to get full coverage, but now, with Aura and Regal, we're done in one to two coats. We use the eggshell finish, and it gives us the perfect surface with a little sheen." —Caroline Lizarraga, decorative artist, San Francisco
eco-friendly in every color
"Because it is a zero-VOC, low-odor product, I specify Eco Spec for the whole house, but especially bedrooms, nurseries—anywhere people are going to be spending a lot of time or sleeping. If you can avoid adding to the internal pollution of a project, why wouldn't you? It also comes in a bunch of colors—Benjamin Moore is even able to custom-match a Pantone! Ultra Spec 500 also has zero VOCs and is quick-drying while delivering consistent coverage, so it's perfect for commercial spaces." —Gala Magriñá, principal designer, Gala Magriñá Design, New York
from homes to grand hotels
"We always specify Benjamin Moore—for homes, corporate offices, even the Ritz-Carlton in Grand Cayman. The old designer adage is that painting is the most inexpensive way to change a space, so quality is always worth the investment, and Aura is the best of the best on the market. If budget is an issue, we'll use Regal Select, which is slightly more affordable. The scuff-resistance of Scuff-X is incredible, and we just started using Advance for millwork and moldings. The floors in the living room and library of my country house are painted in Floor & Patio—it has held up amazingly well." —Pressner
creative contrasts
"Pairing matte walls with satin trim creates a luxe contrast that complements my aesthetic. For doors, trim and cabinetry, I use Advance satin. The application is perfection, the feel is velvety smooth and the coverage hides every flaw." —Pullins
tough enough for kid stuff
"A few years back, I designed a pediatric dentist's office where I used Scuff-X in the waiting area, treatment rooms and kitchenette and trim. I realized, 'Wow, this is an incredible product!' Kids were coming in and out, being hard on surfaces, and the paint really held up. So now, even though it's intended for commercial environments, I'll sometimes use Scuff-X for residential basements or rec rooms. If it's good enough for a dentist's office, it'll stand up to a playroom." —Kim
customize the kitchen
"The vast majority of our kitchen cabinetry is custom. We install it unfinished and paint it in Advance satin; that's our signature look. Advance has a really hard finish that holds up over time, the satin reflects just the right amount of light, and clients feel comfortable that it's so easy to clean. Depending on the project, I use either Aura or Regal for walls, and exclusively specify matte. Most of our surfaces are prepped to a level-five drywall finish, so layering that matte paint on top creates a beautiful silky-flat effect. Clients sometimes worry about the finish, especially in the kitchen. They've grown up hearing 'eggshell for cleanability, eggshell for families.' But on an untextured wall, I love the pigmentation of a matte. It's a mood we continue in bathrooms with Aura Bath & Spa. And increasingly, especially from our clients with young kids, we get requests for Eco Spec, Benjamin Moore's greenest paint. Having products that are durable, easy to apply and with the added benefit of humidity resistance or zero VOCs expands our options." —Laura Pankonien, interior designer, The Pankonien Group, Austin
This story originally appeared in the summer 2023 issue of BOH magazine and is a paid promotion created in partnership with Benjamin Moore.
Homepage image: An unexpected choice for the ceiling, the rich terra cotta of Benjamin Moore Flower Pot completely transforms a dining room by designer Gala Magriñá | Photography by Joseph Kramm