In Business of Home's series Shop Talk, we chat with owners of home furnishings stores across the country to hear about their hard-won lessons and challenges, big and small. This week, we spoke with Michael Cox, the co-founder of the Hudson, New York–based Foley&Cox interior design firm and home-goods store.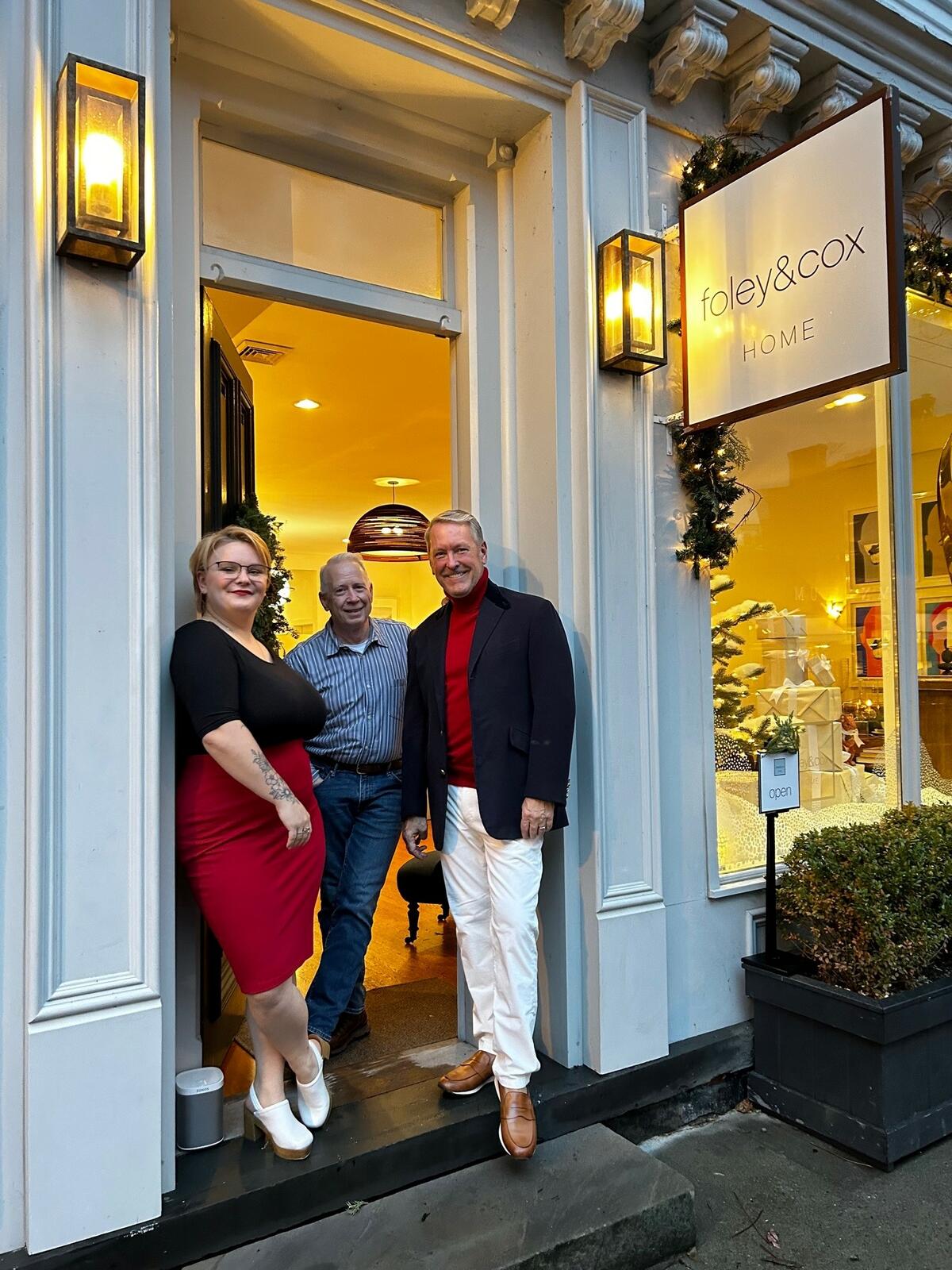 Since opening the brick-and-mortar extension of his and partner Mary Foley's design services 15 years ago, Cox has watched the industry transform—but never more so than in the past three years, when the pandemic fundamentally changed Hudson and other small towns along the river in upstate New York. Ahead, Cox discusses these recent challenges, as well as his hunting genes and why he loves a browsing day-tripper.
What was your career like before the store?
After university, I was at Ralph Lauren for 10 years. It was a phenomenal opportunity that gave me exposure to so many different aspects of the home industry. I worked in retail, in product development, in furniture design. Toward the end, I was tasked with setting up and launching Ralph Lauren interiors to offer interior design services to Ralph Lauren retail clientele. In 2002, I started Foley&Cox, the residential interior design business that just celebrated 20 years. By 2007, my entrepreneurial spirit was driving me to be like, "What's next?" My career before, during and after the store was really interior design.
How would you describe the store's aesthetic?
It's a bit of an eclectic treasure trove. It is a broad reflection of things that I love, designs that I discover, artisans that I admire, and cultures that I discover and immerse myself in through travel.
Tell me about your approach to sourcing. Is it in-person markets, digital platforms like Juniper? Do you have dealers and vendors abroad?
It evolved from an ever-growing warehouse of treasures bought on buying trips. We were five years into Foley&Cox, and we would be on specific buying trips for a project in the markets of Paris, or antiquing in Copenhagen. We'd find something that we loved and be like, "It's not exactly right for that project, but how could we leave it here?" After three or four years, it was, "We now have this whole section of a warehouse. What if we considered letting other people have eyes on this stuff that we love?" We opened up our store at 317 Warren Street in Hudson, and we've been in the same location for 15 years.
To celebrate that anniversary, we just expanded and opened up the second floor. We've transitioned from feeling like a retail store to a little bit more like a showroom—more focused and highly curated. It is for people like me, who love the thrill of the hunt, and to discover things not in a fully merchandised environment.
I still love to go on a treasure hunt. A lot of our sourcing is through markets. I'll be going to Paris for Déco Off and Maison&Objet. The latter was where we went when we opened the store and discovered fantastic artisans in Spain who were doing beautiful, unglazed ceramics. We found another woman in Italy doing beautiful, hand-made cashmere. In Paris, I'll go to the flea markets and look for unique, antique items to mix in. When travel was restricted during the pandemic, we had to identify some new and creative sourcing outlets; because I had been going to these marketplaces for so many years, I was able to tap into some of those relationships I'd cultivated with vendors, dealers and pickers. If I couldn't get to Paris, I had someone who was in Paris—and London, Brussels, Copenhagen—looking for me.
How has it been to operate in Hudson the past two and a half years, and how has it impacted your business? I remember reading that it's the town that had the biggest population change in the entire U.S. during the pandemic.
Isn't that interesting? I've felt it. I went to Winter Walk, an annual holiday event where they shut down the street with fun vendors and carolers and artisans. Walking up and down, I really found it fascinating that there has never been so much fashion on Warren Street. Some big antiques dealers have retired, and where there were antiques, there is now fashion. Lots of trendy restaurants have popped up, and The Maker [hotel] opened. There's a much higher level of hospitality. There's definitely this vibrancy.
Part of the reason we identified Hudson as a location was that 15 years ago, 1stDibs had launched. You know 1stDibs's origin story: Michael Bruno was bringing the Paris flea markets to the world. After that, he started identifying other key cities, and Hudson was the first U.S. city that launched on 1stDibs. It was known as an antiques and vintage destination. We started to cultivate relationships with designers who, coming from Texas or the South or the West Coast, would come to New York and tie in a Hudson weekend. It was destination shopping, but maybe once or twice a year. Now, it's very much a weekend destination, with a thriving local economy.
Did you have an influx of business during the pandemic, as people were filling in new homes that they'd just purchased?
I'll share this very happy accident: At the end of 2019, I started telling the joke, "Just because we sell antiques doesn't mean we have to have antiquated systems. We should probably think about moving to e-commerce." In January, we engaged with a fantastic company to help us launch an e-commerce platform, and we know what happened in March. We launched in June. That was really helpful, obviously, to be able to present ourselves to a wider audience, especially when in-store shopping wasn't really considered a safe option.
What is an object or a category that you can barely keep in stock?
Two items pop into my head. On one of my trips to Madrid, I discovered this artisan who does beautiful woven heads; we have them in the shape of a bull, a ram or an antelope, and we just keep selling them. I love them, and people really embrace the charm and whimsy.
And on a trip to Portugal, I discovered the history of Vista Alegre and fell in love with their Bordallo Pinheiro collection. We carry their cabbage collection, and that's been so well-received. People come in and buy the full service, or a set of salad bowls, or a serving platter as a house gift. It really hits the mark.
What about your own personal favorite objects in the store?
I have a personal affection that borders on an unhealthy obsession with chairs. Whenever I'm in a Paris market or someplace like that, I try to identify really unusual, special chairs that are incredibly well-designed and good examples of whatever period. I have a broad appreciation for different periods and styles, from French art deco to Swedish Gustavian. People have jokingly said, "Are you going to eventually open a chair museum?"
To go back to the pandemic, how have you handled some of the issues of the past few years, like inflation, labor shortages and shipping delays?
The shipping delays and skyrocketing shipping expenses definitely had an impact on us. Luckily, I was able to offset some of that by saying, "My travel budget's been eliminated, so I'm going to give that to my shipping budget." We definitely started really identifying more local—when I say "local," I should say in the U.S.—markets or auction houses. For example, I weekend down in Bucks County, Pennsylvania, and there's a great town down there called Lambertville [in nearby New Jersey] with a collection of shops. I started cultivating relationships with some of the owners, and they would help find things at estate sales. There's a fantastic auction house in Lambertville as well.
In terms of inflation, we broadened our range of price points more than we had before. For example, in the table linen category, we were previously focused on more vintage textiles, suzani and things like that. Now, we've supplemented that with some beautiful manufacturers based in New York that are doing special things with trims. It's a more approachable price point.
With all that Hudson foot traffic, they can come in and find something to buy on a smaller budget.
Exactly. We also launched our own Foley&Cox home candle, called Inspiration. We worked with these scent developers, and we've sold through it three times already. We worked really hard to get a scent that represented the core of our design philosophy, and there's something about it that is very clean, soothing and nonintrusive.
How do you feel about the customers who "shop" the store, who look up the vendor and try to buy it themselves online for cheaper? Or does the way that you stock things make it difficult?
First of all, we are not for everyone. Even in Hudson, we present a very elevated aesthetic and price point. It's not a typical retail store; it's the retail store of an interior designer. We love having people come in just for inspiration, and we merchandise with that in mind—to show people how you can mix vintage, custom and new in a really creative way. So we love the browser. We love hearing, "This is so beautiful, and now, we can imagine going home and reupholstering our grandmother's rocking chair." When it comes to a manufactured item, like the Vista Alegre, there's a suggested retail price. In e-commerce, everything has to be competitive, and it's basically transparent pricing.
Then again, if it's an antique or a vintage piece, there's no price comparison. If it is a known and signed designer, you can go on to 1stDibs and search that. Maybe someone is going to have the same set of chairs that we have, and they're going to be in Chicago at a similar price point. Maybe they're a little bit less because they chose to upholster them in a less expensive fabric, or more because they were a museum-quality restoration. In that sense, I think it's transparent and competitive.
This is a gigantic question, but how do you feel about the future of small businesses like yours, and has your opinion changed over the pandemic?
I think I have recognized the value of my little store more than I ever did. With the combination of Amazon Prime and the pandemic, there's a new awareness of local economies and small businesses, for the authenticity that only a small, privately owned store can bring. I think that people are more globally aware of the health of the planet, and so much produced at low-quality levels ends up in a landfill. I often say we're in the ultimate green business—antiques and vintage. It takes some time in an individual's life for them to understand and appreciate antiques and vintage. You cultivate an appreciation for quality.
What is your favorite day as a retail owner?
I have to go back to the thrill of the hunt. I was raised in Pennsylvania, in a family of hunters, and my dad would go out for pheasant and deer. I inherited the gene, but it slightly shifted. I was with a colleague the other night, talking about when she joined me shopping in Clignancourt, in Paris. She was like, "I never saw that side of you. You went into this whole different mode!" I do love that. That's the fundamental passion that drives the business.
Homepage image: Cox opened the store at 317 Warren Street in Hudson 15 years ago and has been in the same location ever since. | Courtesy of Brad Stein