Fernando Mastrangelo is inspired by instability. Whether it's climate change, impending war or the ongoing pandemic, the New York–based artist believes that above all else, life is unpredictable—and therefore his creations should be, too. "So much of my work has aimed to pay tribute to the beauty and destruction that we see going on all around us as the planet becomes an uncertain place to live," he tells Business of Home. "I guess that's how an artist's career and work changes over time—it gets thrown out of whack by disasters, society and change, then we respond."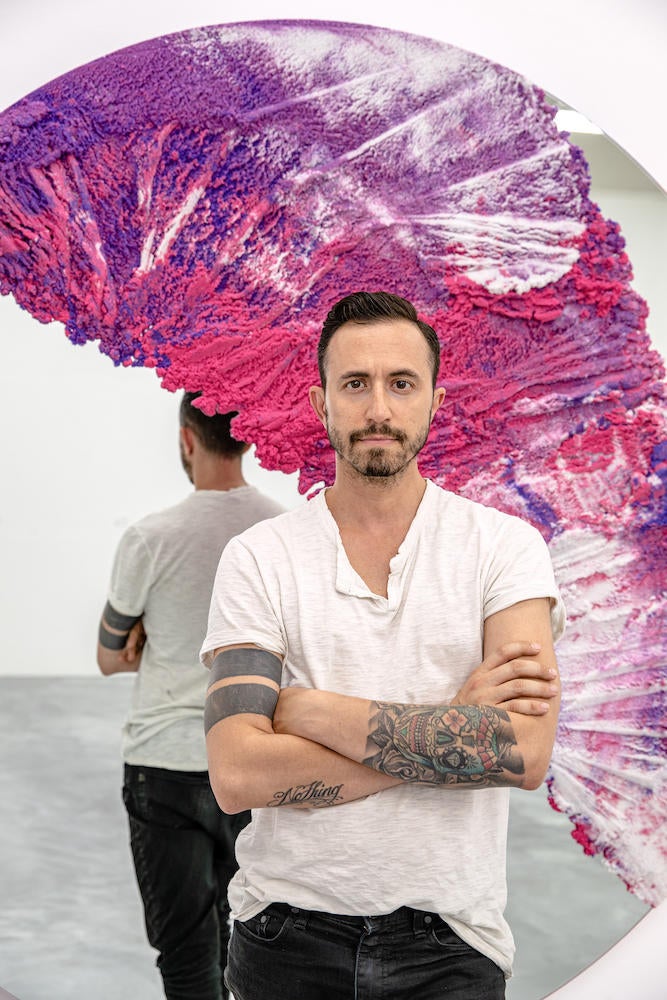 Courtesy of Fernando Mastrangelo Studio
Born in Boonton, New Jersey, but raised in Monterrey, Mexico, Mastrangelo studied sculpture while working on his undergraduate degree at the Cornish College of the Arts in Seattle before earning a master's in fine arts at the Virginia Commonwealth University. He spent the first decade of his career struggling to make a living as a sculptor in Los Angeles before a chance encounter with a young tech entrepreneur led to funding for a large-scale sculpture project he'd been working on. "I went from rock bottom to being able to reopen a studio in Brooklyn, which eventually led to a series of commissions where I was able to re-establish myself, but under a new premise," he says. "I was going to independently sell my work moving forward and refused to ever work with a traditional gallery again."
In 2013, he was commissioned by an interior designer to create a bespoke rock salt bar for a project, which eventually garnered the attention of the interiors team at Stella McCartney. This prompted Mastrangelo to forge his first ever line of furniture, a series of side tables, consoles, mirrors and a cocktail table made of coffee grounds, which he unveiled at the Sight Unseen Offsite show in 2014. "I fell fast and hard for furniture," he says. "The 10 years I made sculpture, no one really cared much for my use of unique materials and my conceptual approach to sculpture-making, but once I turned it into a side table it was groundbreaking."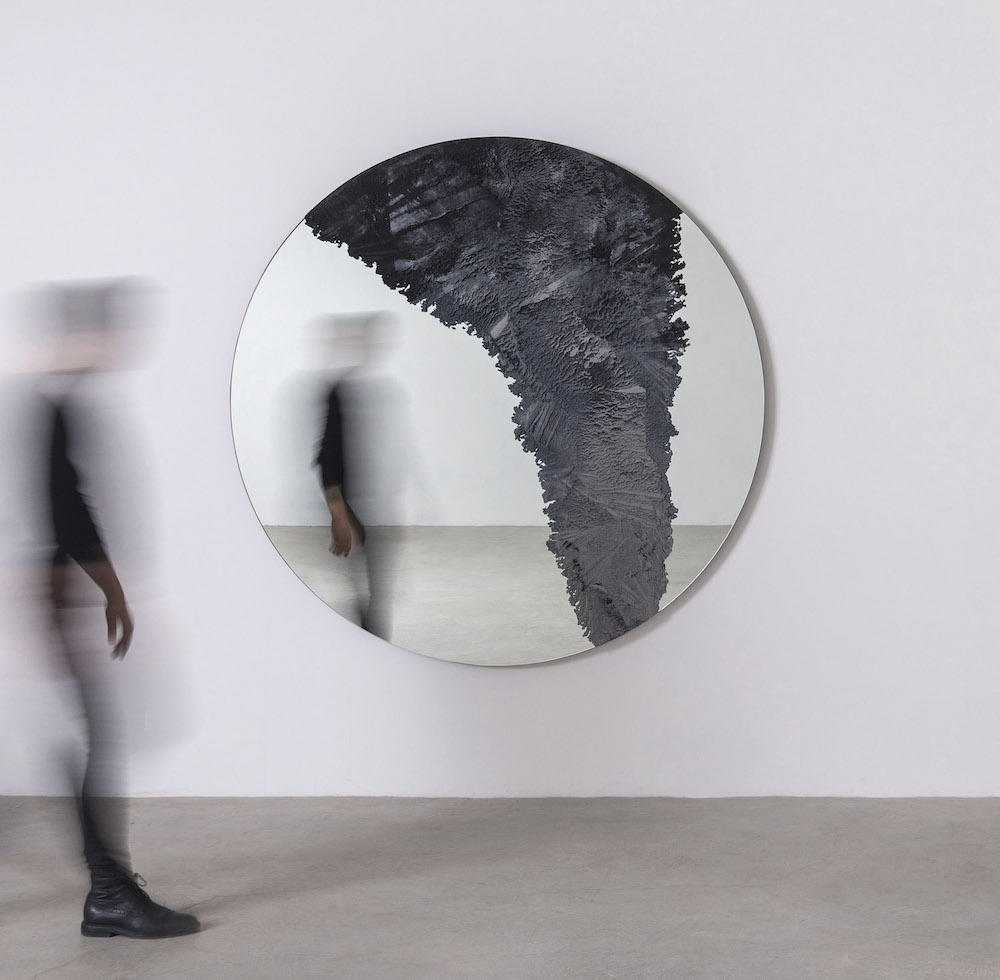 Courtesy of Fernando Mastrangelo Studio
Form and materiality reign supreme for Mastrangelo. He often uses unconventional—and controversial—materials in his work, ranging from cement to cocaine, salt and cremated ashes, to convey a message about society at large. "Whatever concept I'm trying to convey becomes best represented through a particular shape," he says. "Then I choose a material to best support the form and the content."
For his Capital collection, for instance, he applied hand-dyed sand to irregularly shaped mirrors to represent the desert, sunsets and waterside infrastructure of the city of Dubai. "An intrinsic part of my artistic process is interpreting the landscape, history and essence of a unique region through my sculptural language," he says.
While Mastrangelo's creations may moonlight as works of art, he keeps practicality in mind when designing each piece. "I try my best to make things as functional as possible, but I always prioritize beauty over function," he says. "I make things that are fragile and hard to clean, and that need care to live a long life, but it's a metaphor for how beauty is fragile and needs to be preserved."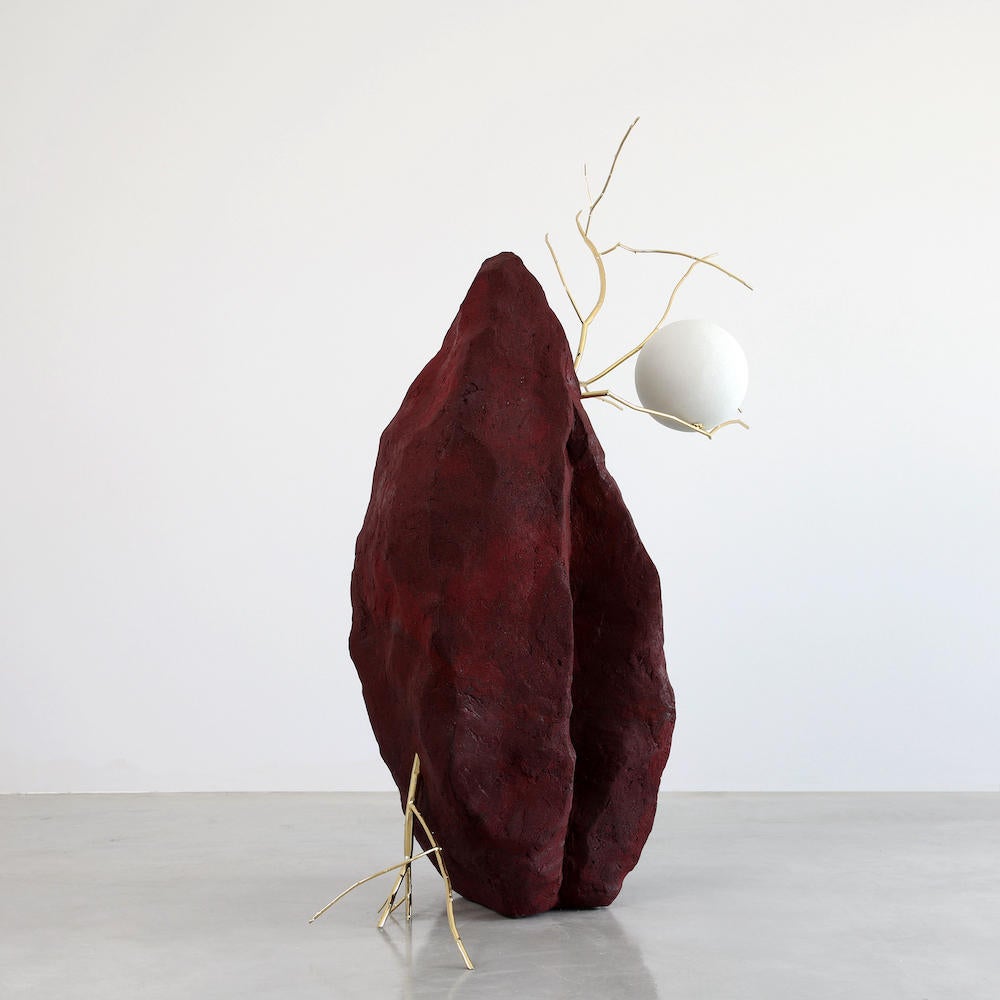 Courtesy of Fernando Mastrangelo Studio
His recent lighting design, named The Persistence of Nature, provides a compelling case in point. Sculpted with branches that appear to grow out of a rock formation, the floor lamp pays homage to surrealist artist Salvador Dalí and his legendary painting The Persistence of Memory. "I explore the idea that even though we have pushed nature to its breaking point, it will persist well beyond our global warming," he says. "It will evolve into whatever it wants, no matter how strange or surreal."
Currently, Mastrangelo—who served as a judge alongside Brigette Romanek and Scott Foley on Ellen's Next Great Designer on HBO Max—says he's taking a break from designing until he can make better sense of what's happening around the world. "I'm itching to make a new collection, but I'm not ready yet," he says. "I don't know what the collection would be about, and all the social turmoil and devastation in the world today doesn't make for a good time to present furniture. I'm waiting for some peacefulness to set in so I can reflect on this time and figure out what the right things are to say or to talk about in my work."
To learn more about Fernando Mastrangelo, visit his website or follow him on Instagram.
Homepage photo: Selections from the Capital collection Fernando Mastrangelo | Courtesy of Fernando Mastrangelo Studio