Jomo Tariku is driven by his heritage. The Springfield, Virginia–based artist and co-founder of the Black Artists + Designers Guild is on a mission to ensure that African makers claim their rightful place in the continuum of design history. "Our contribution is often only recognized when making pieces for Western companies," he tells Business of Home. "Or when these companies use our culture as inspiration for their new products."
Born in Kenya and raised in Addis Ababa, Ethiopia, Tariku first began experimenting with woodworking as a teenager, while employed at a small furniture workshop on his summer breaks. In the late 1980s, he moved to the United States to study industrial design at the University of Kansas, where he completed a thesis on contemporary African furniture design.
After graduating, he briefly served as a guest lecturer at the university before opening a multimedia design studio that he was forced to close in the late 2000s because of the recession. In 2011, he began working as a data scientist for the World Bank Group in Washington, D.C.—a job that he held until 2021. "My background in data plays a role in my design," he says. "Whatever shape and idea I conceptualize has to be both functional and visually unique."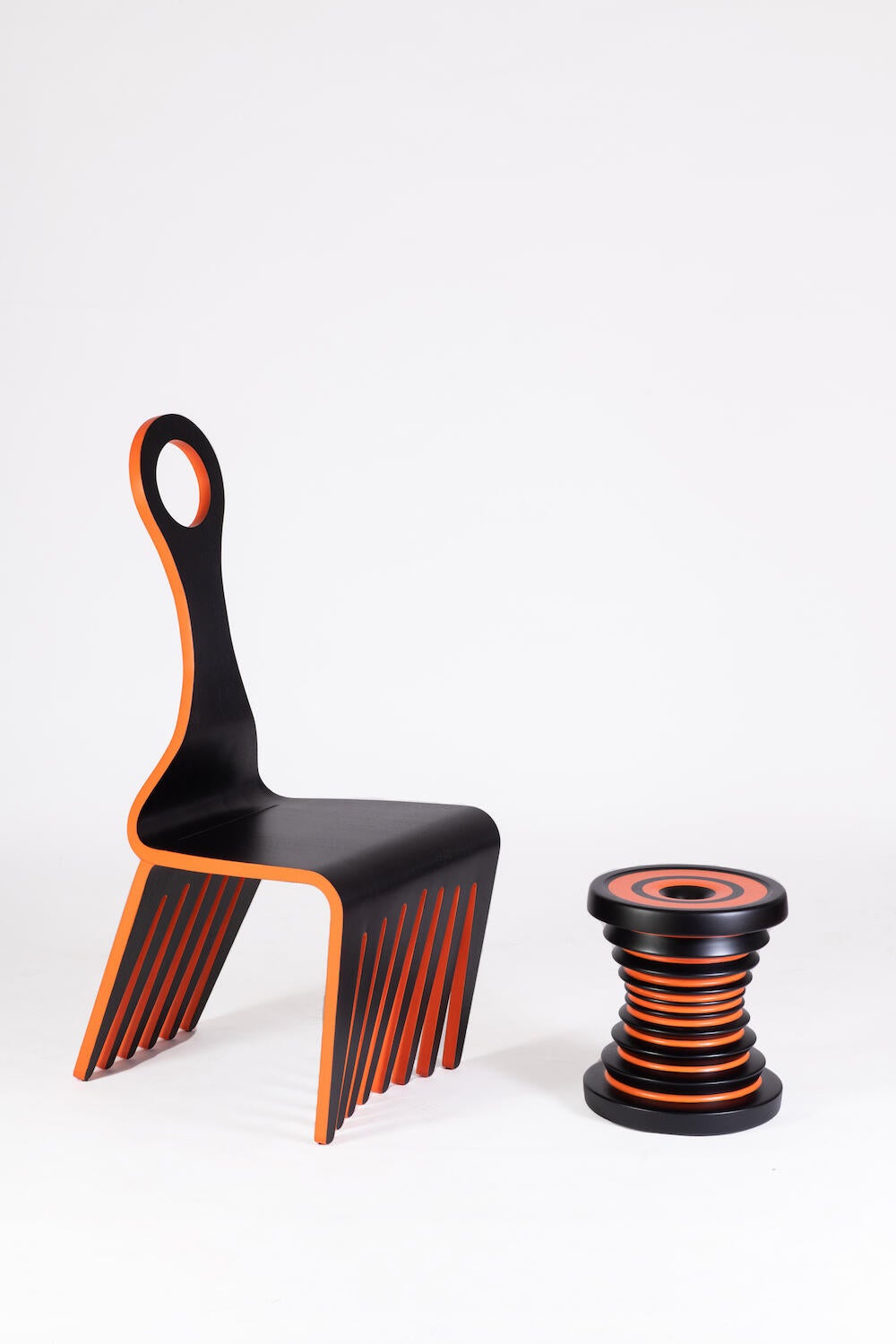 Courtesy of the Wexler Gallery
In 2017, he launched Jomo Furniture with a small selection of hand-sculpted wooden chairs and stools featuring geometric silhouettes inspired by traditional African symbology. "Wood is the most accessible of all materials," Tariku says. "Its finish and grain complement the designs beautifully."
The bulk of Tariku's designs begin with research, which includes poring over his personal archives of African art and design books. "As I research, I make thumbnail sketches of any shapes and elements that interest me," he says. "I don't worry about whether or not they would look good in furniture."
Once he's settled on a design, his pieces are fabricated using a medley of artisanal techniques. "My Meedo chair, for example, is made from molds that are cut out of MDF and then assembled by hand," he says. "Then we bend stacks of veneer to make 1-inch-thick parts that are glued to the front and back, and then delicately cut with a wood router to create comblike legs." One iteration of the Meedo chair is now a part of the permanent collection at The Met.
Due to the products' dexterously assembled construction, Tariku says a single design can take anywhere from three weeks to six months to complete. "It depends on the current volume of orders, as well as access to materials due to supply shortages," he says. "Obviously, the more complicated chairs, like the Meedo, take longer to come together."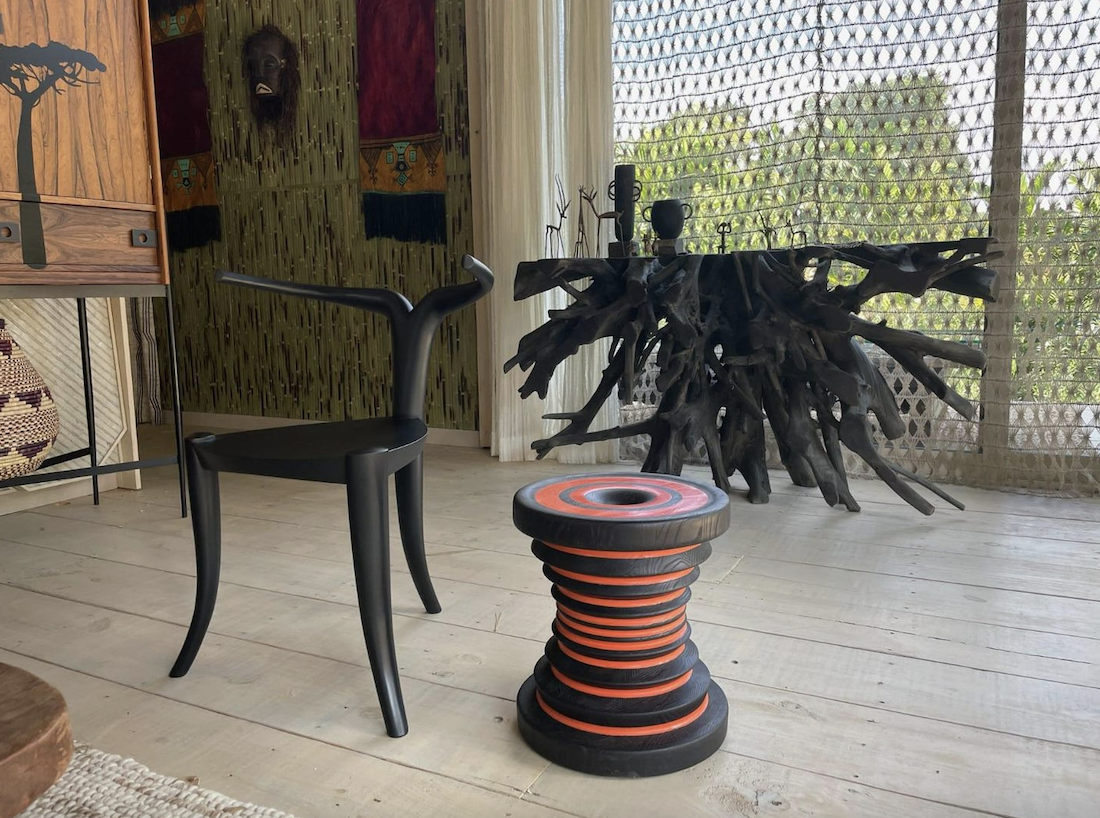 More recently, Tariku designed three custom chairs and a stool—two of which were used in the set design for the award-winning film Black Panther: Wakanda Forever—for the Wexler Gallery in Philadelphia, including re-imagined versions of his signature Meedo and Nyala chairs and the brand-new Quanta Totem design, which showcases two different types of wood and 20 layers of ash veneer. "All my works are inspired by the continent of Africa," he says. "The Quanta Totem chair, for instance, combines elements of traditional African birthing chairs and totems."
Looking ahead, Tariku has plans to release a series of tables and cabinets this year, as well as collaborations with other African makers. "My goal is to practice, understand and collaborate with artists of the Black diaspora and Global South so our work is recognized in the canon of design," he says.
If you want to learn more about Jomo Tariku, visit his website or follow him on Instagram.
Homepage photo: The Mukecha stool by Jomo Tariku | Courtesy of the Wexler Gallery